How To Run A Viral TikTok Contest To Get More Followers, Likes & Fans
Last updated on September 28th, 2023 at 07:41 pm
With supercharged growth and ridiculous engagement numbers, there are many reasons you'd want to run a TikTok contest to get more followers, likes, fans, influence, and conversions.
TikTok has over 3 billion downloads across iOS and Android, and in the first quarter of 2020, the app was downloaded a whopping 315 million times, the most quarterly installs for an app ever! 35% of TikTok users are aged between 19 and 29. They're also obsessed with TikTok spending an average of 68 minutes per day on the platform (source).
TikTok has more than 1 billion active monthly users worldwide, exceeding established platforms LinkedIn, Twitter, Pinterest, and Snapchat.
For a third of the apps out there, users download them once and forget about them. This is not the case for TikTok, as 90% of users access the app multiple times a day.
Despite these crazy numbers, TikTok represents an incredible opportunity for organic reach as the demand for content exceeds the supply.
Contest marketing is the perfect strategy to take advantage of TikTok's virality to get more followers and likes, which is why we're going to show you how to run a giveaway on TikTok.
Table of Contents:
Let's get started!
Step 1. Set a goal for your TikTok giveaway
Before you start your contest, you must take a step back to think about how this campaign fits into your overall marketing strategy.
Do you want to get your brand in front of a younger audience? Drive product sales? Build a massive following to kickstart your very own media company?
You know by now that TikTok presents an incredible opportunity to increase your influence. But to grow on TikTok, like any social media platform, you need to think about what works best natively to yield the best results.
As this post is published, there's no way to add links to individual posts on TikTok, drawing many similarities to Instagram and Snapchat. So you need to get creative on how you can leverage TikTok in your business.
Given the viral nature of TikTok, we suggest you focus your giveaway campaign on increasing engagement meaning comments, views, follows, and shares.
When you increase engagement on your TikTok videos, the algorithm will push your content in front of a larger audience, taking advantage of the organic reach. Do this enough times, and you'll have a new marketing asset in your portfolio!
The best place to start is by studying popular content on TikTok. Look at what's trending and what posts you're drawn to. Is it the tempo, music, storytelling, usefulness? Try to incorporate these themes into your content strategy.
Step 2. Choose an enticing prize
Now that you've set a goal to increase your fans and engagement on TikTok, it's time to choose a valuable prize that excites your audience.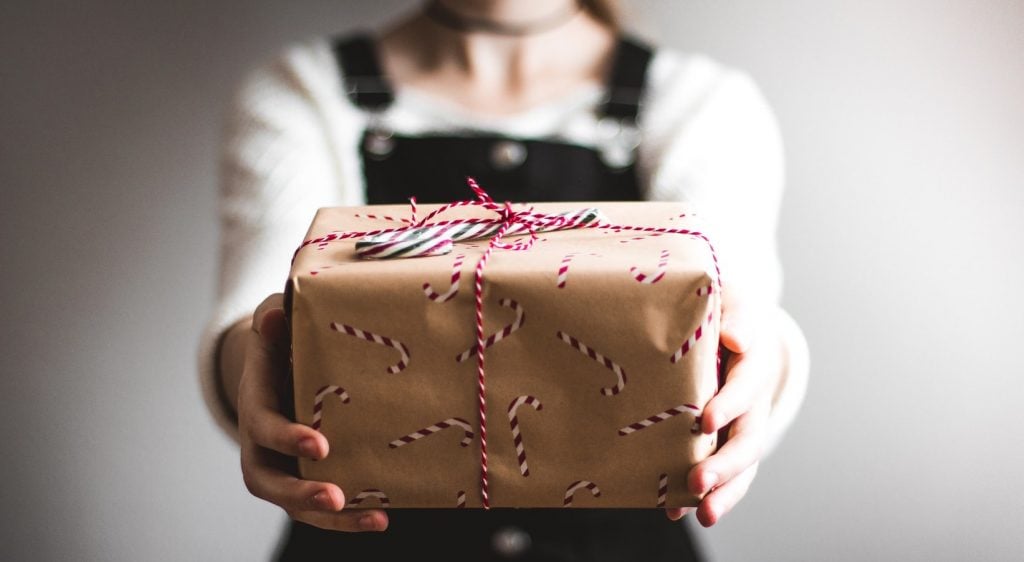 It's simple. Fans won't enter your TikTok sweepstakes if your prize isn't desirable. We covered this in our how to run a successful giveaway post, but it's worth mentioning again. Some tried and true prizes tend to perform well in Sweepstakes competitions.
If you have a large brand with a healthy marketing budget, you could invest in more valuable prizes like:
Tickets to exclusive concerts and events
All expenses paid vacations
Large cash prizes
Premium jewelry
Motor vehicles
A fantastic example of a high-end giveaway prize is Contiki's TikTok competition.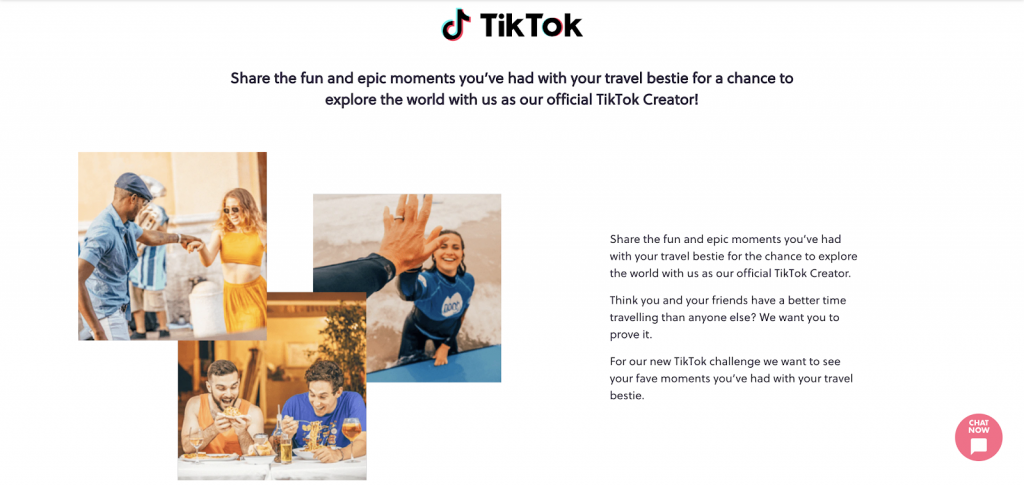 Contiki encourages users to use their branded hashtags on TikTok when sharing inspiring travel moments. The winner gets to travel with Contiki for free as an official TikTok creator.

Smaller brands who don't have the budget to spend on expensive prizes can offer up these ideas:
Gift cards
Electronics (Apple AirPods are popular!)
Toys & crafts
Music gear
Beauty & cosmetics
The key here is to find a prize relevant to the audience you want to build on TikTok. The goal is to share an award that is:
Enticing
Relevant to your audience
Relevant to your business
So if you have a valuable product or service, give it away for free or offer a gift card or discount towards your offerings. This approach not only grows influence on TikTok but can potentially be a customer acquisition channel.
Step 3. Set the TikTok contest rules and guidelines
After you've selected a desirable and relevant prize for your giveaway, it's time to set your TikTok contest rules. There are various contest entry methods available, which is why you should be intentional about which ones best suits your campaign goals. Fortunately, SweepWidget makes it easy for you to manage this. They're the best contest tool for managing user entries, entry methods, and picking winners. First, create a SweepWidget account. Once logged in, click the + New Giveaway link at the top of your user account or to the side.
SweepWidget makes it easy for you to fill in all of the basic information about your contest. You'll need to:

Add a prize title.
Set a start date/end date.
Choose how many winners there will be.
You can auto-generate the official rules for your giveaway as SweepWidget will pre-fill your terms and conditions.
Step 4. Determine how users can enter your TikTok contest
SweepWidget makes it easy to get more likes and followers TikTok. You can allow fans to join your TikTok giveaway using any or all of the following actions.
Visit a profile
Follow your profile
Watch a video
Like a video
Comment on a video
Share a video Branded hashtags
Navigate to the Ways Users Can Enter tab and click TikTok.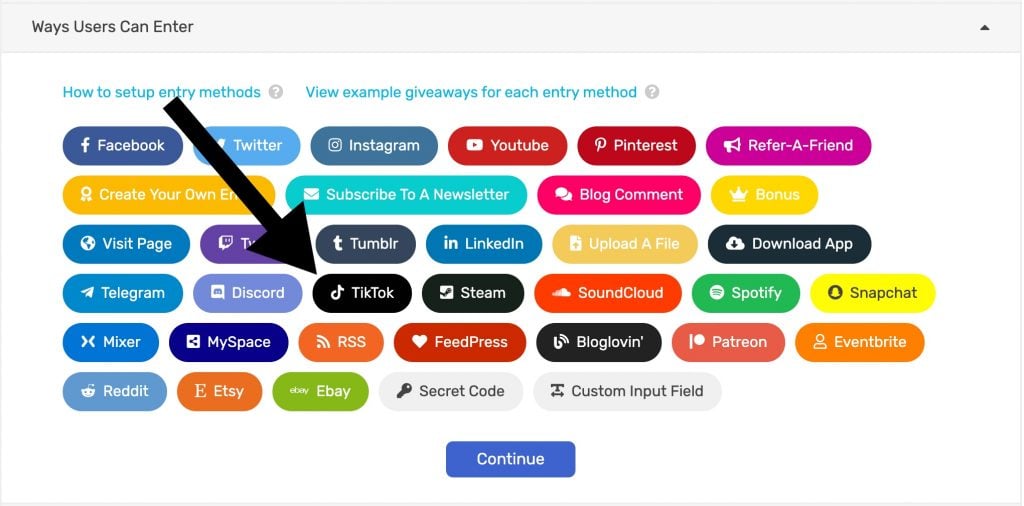 From here, you will see 6 options for fans, followers, or new users to enter VIA TikTok.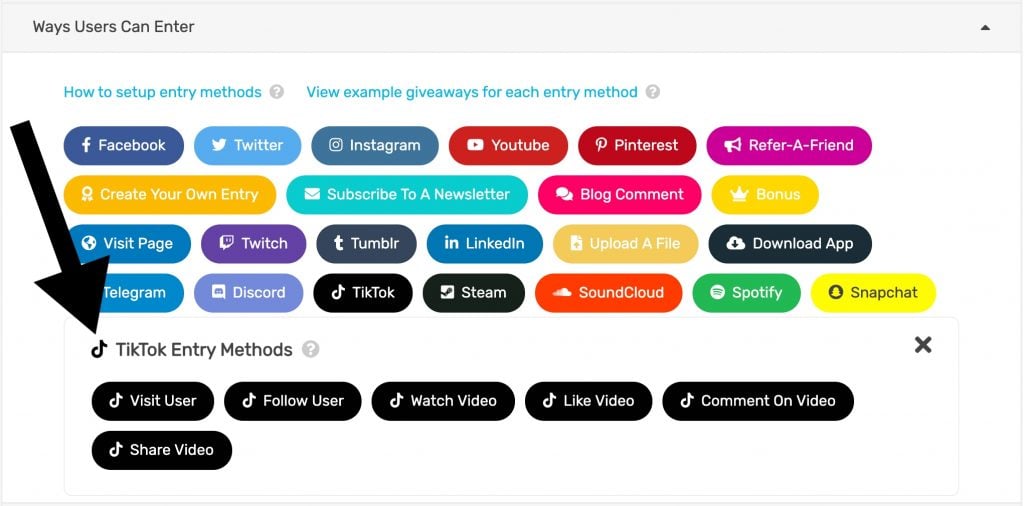 These actions play a vital role in boosting the reach of your content in TikTok to give it the best chance of a viral video.
How to set up TikTok branded hashtags?
An effective and engaging entry method is leveraging branded hashtags. They build a sense of community around your business on social media, driving targeted impressions and user-generated content, which gives your brand a powerful community element.
Monitoring branded hashtags also provides valuable feedback on how your audience perceives and interacts with your business, which is valuable data to improve your future offerings. You can set up a branded hashtag entry method with SweepWidget using the Create Your Own Entry Method option. Simply tell the users to use your hashtag on their TikTok profile. Then ask the following verification questions: What username did you use? What's the link to where you used our hashtag?
Step 5. Launch your TikTok contest
After you create a TikTok giveaway using SweepWidget, you can easily embed it into your website or use a free hosted landing page.
To embed your giveaway into your website, simply copy/paste a short snippet into the HTML of your site.
Here's how your completed TikTok account giveaway can look.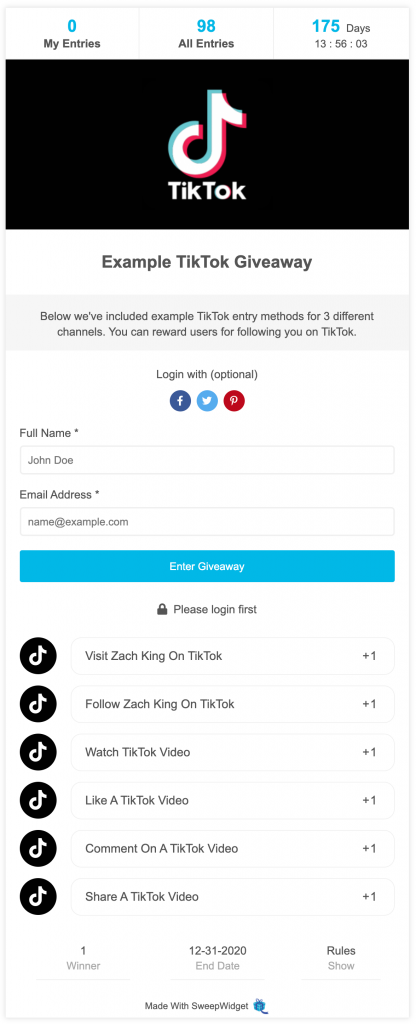 You can also download the SweepWidget WordPress plugin to easily add it to your WordPress site. Or, you can use a free hosted landing page on SweepWidget to host your giveaway. You can add a custom background image, a custom logo, custom styling, colors, etc. You can view examples for all types of giveaways here. Here's an example of how the hosted landing page can look.
Once you've published your giveaway on your website, you can add the link to your TikTok bio or share it as part of your promotional activities.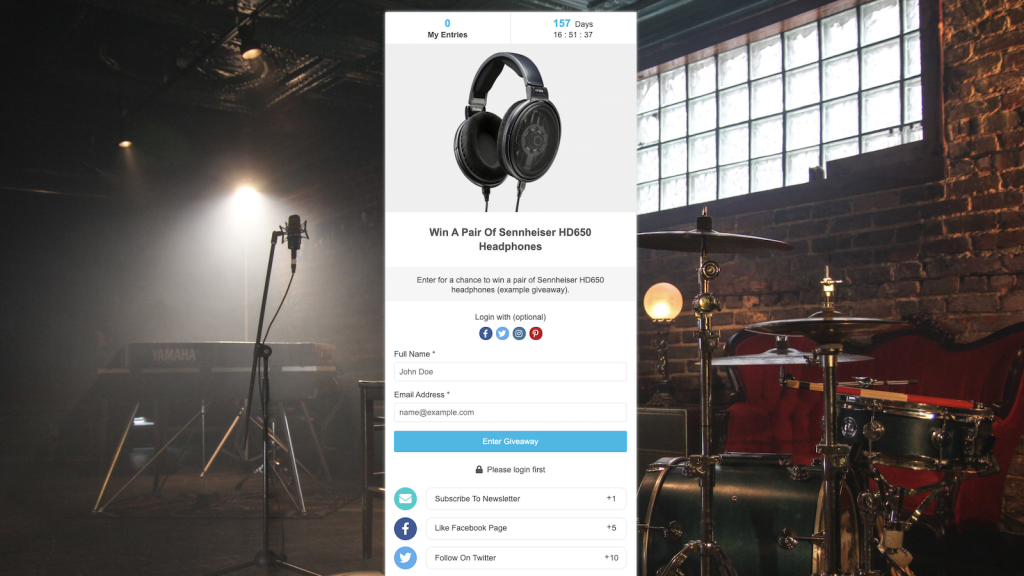 Step 6. Promote your TikTok contest
Once you set up your TikTok contest, it's tempting to set and forget. After all, you've done all the hard work, right? Not so fast!
Promoting your giveaway is one of the most important steps to creating viral engagement on TikTok. But luckily, this part doesn't have to be so daunting, and we've got some suggestions to help you maximize your results. First of all, make sure to take advantage of SweepWidget's viral share giveaway entry. This is a refer-a-friend action that sits alongside your TikTok entry methods.
The benefit of the viral share giveaway is that it encourages fans to share your TikTok contest landing page with their network in exchange for more entry points.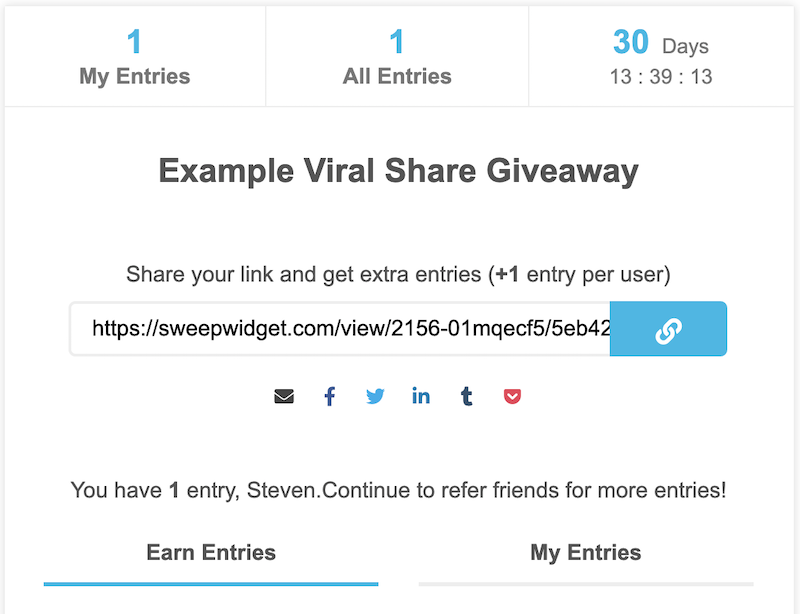 In addition to this strategy, we recommend you try the following promotional methods:
Announcement video: record and post a short video on TikTok announcing your giveaway and how contestants can enter. As TikTok is known to be a more casual platform, try to have some fun with your video by either exaggerating your message with intense music, dancing, or incorporating the call to action at the beginning and end of one of your standard videos.
Other social media profiles: promote your TikTok contest across all your social media accounts to maximize reach and engagement.
Email list: there may be a portion of your email subscribers that are active on TikTok. Make sure to mention your contest in your newsletters during your contest.
On your website: if you generate regular traffic to your website, add links to your contest landing page in an announcement blog post, in your sidebar, or in your hello/notification bar.
To get the most out of your giveaway, consider posting regular update videos on your TikTok account, as it will keep your audience engaged and eager to find out the results.
Step 7. Pick a winner
After you've promoted your contest and let it run its course, it's time to finalize your campaign. The first thing you need to do is to select a winner. There's no dedicated TikTok giveaway picker in the platform; however, In SweepWidget, this process is incredibly smooth! You can either manually select a winner randomly select a winner, depending on how you've structured your competition.
Next up, publish a TikTok video update announcing the winner to your audience. In the video, hit the following points:
Remind the viewer what your giveaway was.
Share how many entries you received.
Announce the lucky winner.
Thank your followers for their participation, and ask them to keep an eye out for the next giveaway.
Step 8. Measure your results
How you measure your TikTok contest's success is directly linked to the goals you set at the beginning of your campaign.
So it's time to review your targets and see how your contest marketing influenced your results. To do this, you need to access TikTok's pro account to view your analytics. This will enable you to see useful data on your TikTok account like:
Overall video views and followers
Individual content performance
Follower demographics
If you're familiar with Instagram analytics, TikTok is very similar. Here's how TikTok analytics work You can also view the Google Analytics stats directly through your SweepWidget account.
With this data, you can get a good idea of how effective your TikTok contest was, as well as some ideas on how to make improvements for your next campaign.
Finished!
So that's it! You now know how to do a TikTok giveaway. Now it's time to follow these steps and set up your viral TikTok contest on the hottest social media platform on the planet.
Are you stuck trying to find an idea for your Facebook giveaway? Do you need that Facebook giveaway idea that would attract participants in droves…