How To Do a Giveaway on Shopify (Examples + 6-Step Guide)
Last updated on July 5th, 2022 at 12:20 pm
Marketing strategies for eCommerce merchants are usually focused on:
Social media
Blogging
Collaborations/influencer marketing
Email marketing
Advertising
But there's another channel that's often overlooked.
Giveaways.
Sneaker retailer, Above The Loop, ran a contest that attracted over 150,000 comments and thousands of followers and traffic to their store.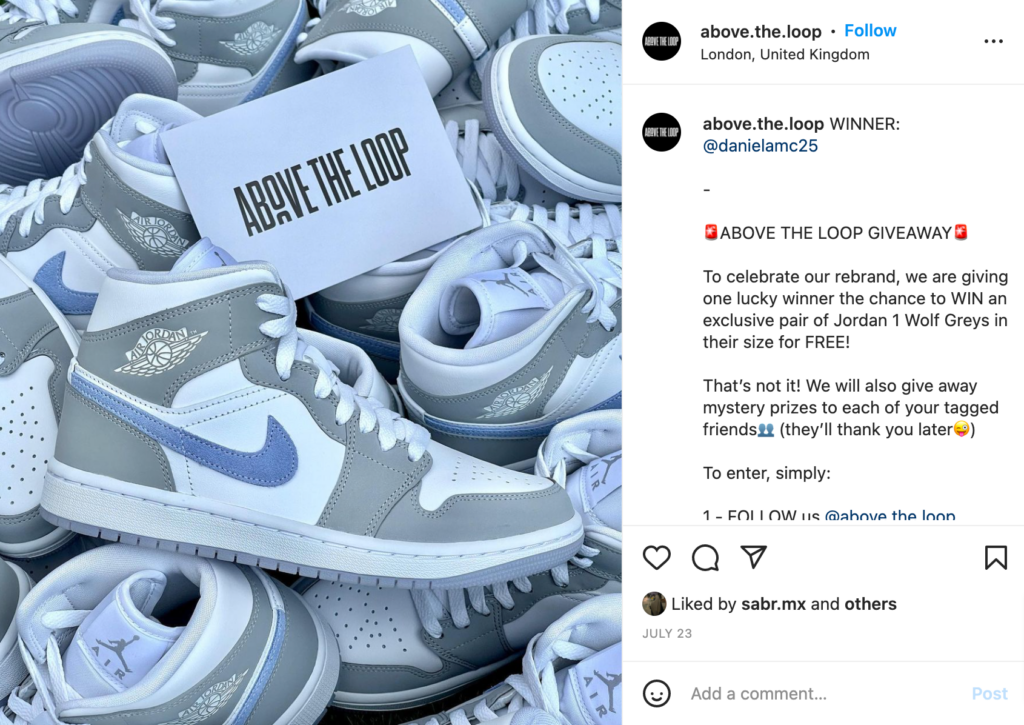 Running competitions is a fun way to create awareness and sales for your Shopify store. But you need to do it right. Don't let this be another half-baked attempt at marketing your products.
This guide will walk you through the steps on how to do a giveaway on Shopify to reach more customers. But first, let's look at some giveaway ideas for your online shop.
Giveaway inspiration for online retailers
Before getting into the technical execution of your contest, you're probably wondering what a giveaway for your online store looks like.
Well, sit back and enjoy some #giveawayinspo for extra motivation to run highly-effective competitions.
Ohuhu mastering drawing challenges
Ohuhu is an online art supplies store that regularly runs art challenges to build community and awareness.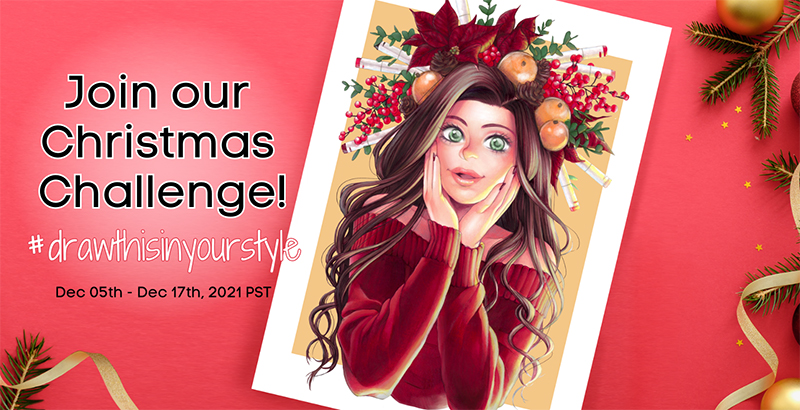 To enter, contestants re-create an illustration with their unique flair and post it to their Instagram feed. To complete the entry, users must add a branded hashtag and tag Ohuhu.
These contests create hundreds of user-generated posts that adds social proof and increases brand awareness.
Winners get art sets ranging from $30 to $200 in value.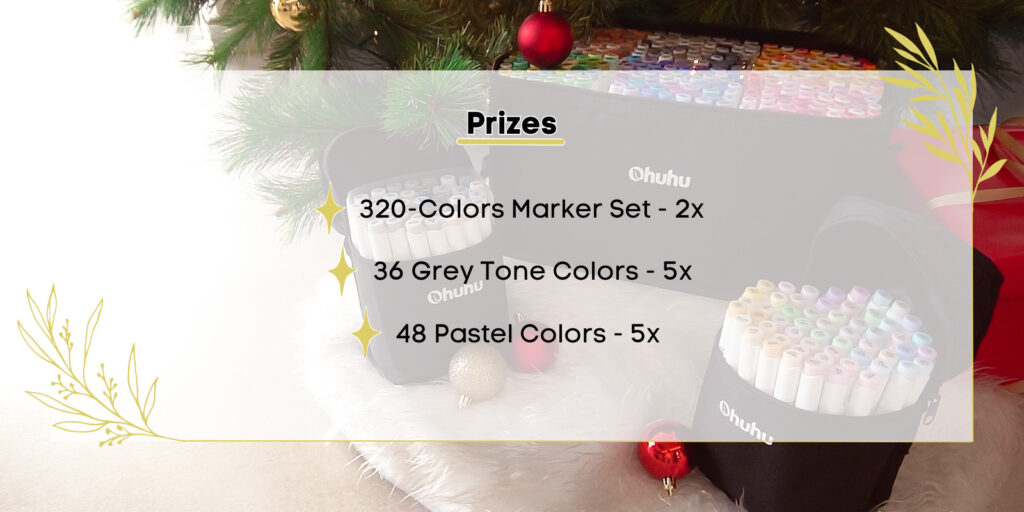 To create an inclusive vibe, Ohuhu has a dedicated community page showcasing all of the art entries from previous competitions.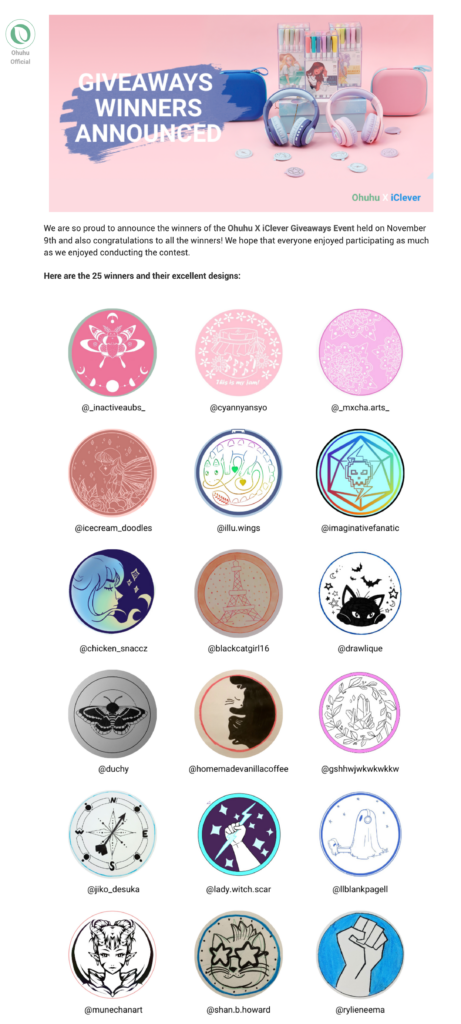 Rare Beauty creating buzz around new collections
Rare Beauty is a beauty brand founded by famous singer Selena Gomez, and they routinely leverage giveaways to drive traffic to new collections.
In this example, participants needed to:
Retweet the tweet
Reply to the tweet with a branded hashtag explicitly made for the new collection
Follow Rare Beauty on Twitter
The 2 winners each receive Rare Beauty products from the new collection.
The result? Thousands of retweets, comments using the branded hashtag, and website traffic to the new collection.
Sixthreezeo Pedaling driving app downloads
Sixthreezero, a bike shop in California, is best known for doing epic Instagram giveaways. However, recently, they ran a contest to get more downloads to their new mobile app.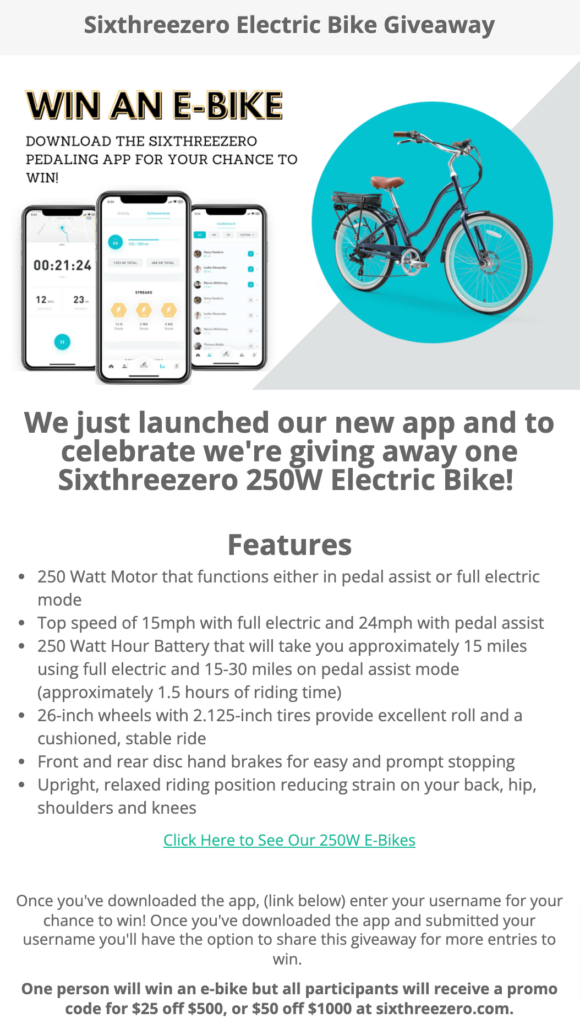 To enter, all you have to do is download the app, and the winner gets an electric bike. That's pretty cool! And runner-ups get coupon codes.
So if you're launching a mobile app for your Shopify store and need some early traction, a giveaway can help you drive downloads and reviews.
Hopefully, after seeing these examples, you're feeling pumped about contest marketing. Next up, we share 6 steps to creating effective giveaways for your shop.
1. Define your goals
Determining a goal for your contest is straightforward. The answer lies inside your sales funnel.
If you're not familiar with funnels, here's a brief overview for Shopify store owners.
(Insert graphic of a sales funnel)
Awareness: when your brand first gets on the radar of your prospect, e.g., advertising, walking past your market stall, social media, Google, etc.
Audience: someone who subscribes to hear from your brand but is not yet ready to buy your products. Examples include signing up to your email list or following you on social media.
Browser: the prospect is seriously considering purchasing from you. Think browsing your products, categories, or adding items to the cart.
Sale: someone trusts your brand enough to pull the trigger and make a purchase from your store.
The top of the funnel starts with awareness. It's at this stage you need to reach the most people. Only a fraction of the folks aware of your store will become part of your audience. And only a tiny portion of your audience will consider purchasing from you. Lastly, 1-2% of the people who visit your Shopify store will order.
Note: you can check your sales conversion rate in your Shopify dashboard.
With this knowledge, you can work backward from the bottom of your funnel back up to the top.
If your current conversion rate is 0.5% and you want to increase it to 1.5%, you could run a giveaway campaign with your existing customers to encourage more product reviews.
Or, if you're struggling with awareness, then run a social media contest to increase your reach and build your audience.
2. Choose your prizes
A giveaway with ordinary prizes is doomed to fail.
Your award needs to stop folks in their tracks to enter. You want participants telling their friends and family that they're in with a shot to win your giveaway.
To grab attention, your prize needs a high perceived value. But to reach your goals, your prize also needs to be related to your business.
Luckily for retailers, prizes are almost always going to be your products. It's just a matter of how much stock you're willing to invest into your campaign.
There are a couple of ways to approach this.
First, you can pick less valuable inventory as a prize. Think out-of-season or underperforming stock. If your participants resonate with this offer, then it's a win-win as you build awareness while getting rid of low-value products.
But if you're not getting many entries for these items, then you'll need to consider giving away your more popular products.
Either way, by offering your range as prizes, you're not only creating awareness and audience, but you're also increasing traffic to your website as users browse your products to see what they might win.
Another option is to giveaway store gift cards. Again, experiment with the value. The higher the value, the more entries you'll receive.
3. Develop a plan
Now that you have clear goals and creative prize ideas, it's time to write a simple plan for your giveaway. This plan will be a template for all of your future contests, and soon enough, you won't even need to reference it.
Below are 4 questions to guide the setup of your giveaway.
What's your giveaway duration?
Choose a start and end date for your giveaway.
Generally speaking, you don't want to make your campaign too long. If you run your contest for months on end, you're likely to annoy people, or worse, they forget you exist.
The most successful giveaways are 3-7 days, 14 days at the longest. A tighter duration creates urgency while giving you enough time to win over new followers, so they're more likely to stick around after the contest.
Another option is to do a flash contest where winners are announced in 24hrs. This can be effective if you're a more established brand looking to surprise and delight your customers.
But if you're just starting, 24 hours won't be enough time to build up a significant following.
It's decision time. Choose your giveaway's start and end date and book it in your calendar. You can always experiment with different timelines in future campaigns.
What are your guidelines?
Make a note of who can enter your competition. Are you targeting an audience in a specific age group, gender, or something else?
Perhaps the most important consideration is the locality of entrants. If, for example, you only ship products within the U.S., then it makes sense that you only target U.S. residents.
Participants must understand your guidelines before entering your contest—otherwise, it could lead to disappointment from mismanaging their expectations.
How do people enter your giveaway?
How people enter your competition should reflect your campaign goals.
For example, if you want to improve awareness, focus on getting people to follow and engage with your brand on social media. These entry methods include:
Like
Share
Comment
View
Tag
Use branded hashtag
The more engagement you have on your posts, the higher chance you have of increased organic reach—thus, more awareness.
If though, your goal is to drive more leads and browsers to your online store, then get participants to sign up to your email list or visit a new collection on your website.
Lastly, if you want more to increase your conversion rate, get contestants to submit photos with your products or leave reviews, write testimonials, etc., to improve your social proof.
There are no strict rules with this. You can have a combination of entry methods at each stage of your funnel if you'd prefer.
How will you announce your winners?
How will you decide on a winner? When will you announce the winner? Will there be multiple winners? If so, how many? Answer these questions and communicate them upon launching your giveaway to get participants excited about winning your prize.
4. Integrate the right tools
There are a few moving parts for running a successful Shopify giveaway. And sure, you can manage these tasks manually, but it'll be incredibly time-consuming—especially if you have a lot of activity (a good problem to have).
We suggest you use a giveaway tool like SweepWidget to handle all areas of your contest start to finish, including:
A customizable landing page for people to enter your contest which can be shared anywhere
Auto-generated rules and guidelines
Tracking and organizing participants
Target specific locations, so people in other regions don't accidentally enter
Automated winner selection (more on that later)
Beyond the logistics, SweepWidget has features that'll help you increase your entries.
SweepWidget allows you to engage with users across 30+ social media platforms, including Instagram, TikTok, Facebook, Twitter, Youtube, Pinterest, and many more. You can also collect emails to grow your list.
In addition to a standard giveaway, you can run leaderboard competitions, instant prizes/coupons campaigns, and viral refer-a-friend giveaways. There are over 90 entry methods you can run on SweepWidget, in addition to creating custom actions tailored to your marketing targets.
You can combine any entry method into one campaign, meaning you can build your list, drive views to your TikTok videos and have users unlock secret coupon codes all within the same contest. This ensures you're getting the very best return on investment for each giveaway you run.
5. Promote your giveaway
Running a giveaway gives you a small window to make an impression on your new followers. The best thing you can do is to be active on the platforms you're trying to promote so users can get a taste of what it's like to engage with your brand.
Once you have start and end dates for your giveaway, plan your content schedule. For a 7 day competition, your posting schedule can look something like this:
Day 1 – Announce your giveaway on social media.
Day 3 – Create your usual content but in the caption, mention that you're running a giveaway and encourage followers to check out the original post.
Day 6 – Post on your feed, stories, and reels to remind that the competition closes in 24 hours.
Day 7 – Update announcement post with the winner and post stories, reels, and newsletter subscribers to thank everyone who participated in the giveaway.
During your campaign, post quality content across your platforms. Just be sure to create on-brand content that genuinely adds value to your followers. In other words, don't just repeatedly post about your giveaway.
6. Pick winners
Your contest needs to be ethical and fair. Nothing will hurt your brand more than being accused of favoritism or rigging the competition.
It's best practice to select winners at random. But how do you do that?
You could use a random number generator by finding some tools on the web. However, this can get tedious and cumbersome, especially if dealing with lots of data.
SweepWidget has built-in functionality to select random winners from your contests automatically. This feature makes your selection effortless. You can set advanced filters to select random people with a minimum required amount of entries or choose winners manually.
Then once you've selected your winners, you can notify them directly in SweepWidget. It's at this point your giveaway is complete.
So that's how to do a giveaway on Shopify
When executed thoroughly, giveaways present a unique opportunity to create activity at each stage of your sales funnel.
And the exciting part is that you'll get better with each contest you do. Follow this framework, rinse, repeat, and you'll create a high-converting community in no time.