How to Run Twitter Giveaways to Achieve Your Marketing Goals
Last updated on November 10th, 2022 at 12:31 pm
Twitter is an excellent platform for interactions between brands and their followers.
But how can you boost these interactions further to achieve your marketing goals? By running a successful Twitter giveaway.
Fortunately, unlike social media networks like Facebook, Twitter has relaxed rules for running giveaways. In a moment, you'll find all the information you need.
With 330 million monthly active users, Twitter is one of the largest social media platforms. And this means you'll find hundreds, even thousands, of potential customers that you can convert.
How can you run a Twitter giveaway to successfully exploit this huge opportunity?
Here's a step-by-step guide that will take you through the process from start to finish. 
1. Define Twitter giveaway goals
Without a giveaway goal, it's easy to waste your time and money with nothing to show for it. Your giveaway goal affects various aspects of your strategy such as the gift, entry criteria, metrics to track, and more.
If you're running a Twitter giveaway, some common goals you might be looking to achieve are:
Gaining Twitter followers
Increasing brand awareness
Improving Twitter engagement
Acquiring user-generated content
Acquiring leads
While setting your goal, you need to set it in such a way that achieving the goal becomes easier. And to set practical goals, remember the SMART acronym.
This means your Twitter giveaway goal has to be specific, measurable, achievable, relevant, and time-bound.
For instance, if you're trying to acquire user-generated content, your goal could be: obtain 50 images from 50 customers within 2 weeks of running the giveaway. Beyond that, you have to ensure that you have enough followers to achieve this goal and that the goal is relevant to your overall marketing strategy.
2. Decide on giveaway entry criteria
How do you want participants to qualify for your giveaway gift? Naturally, your goal should dictate the entry criteria you'll settle on.
For Twitter giveaways, common entry criteria include:
Retweet (API verified to ensure real engagement)
Post a tweet (API verified to ensure real engagement)
Replies/Comments
Mentions
Hashtags (API verified to ensure real engagement)
Follow account (API verified to ensure real engagement)
Tag a friend
Mentions + hashtags
Post a photo + hashtags (API verified to ensure real engagement)
Submit details on a landing page
Here's a Twitter giveaway post from Punico stating the entry criteria: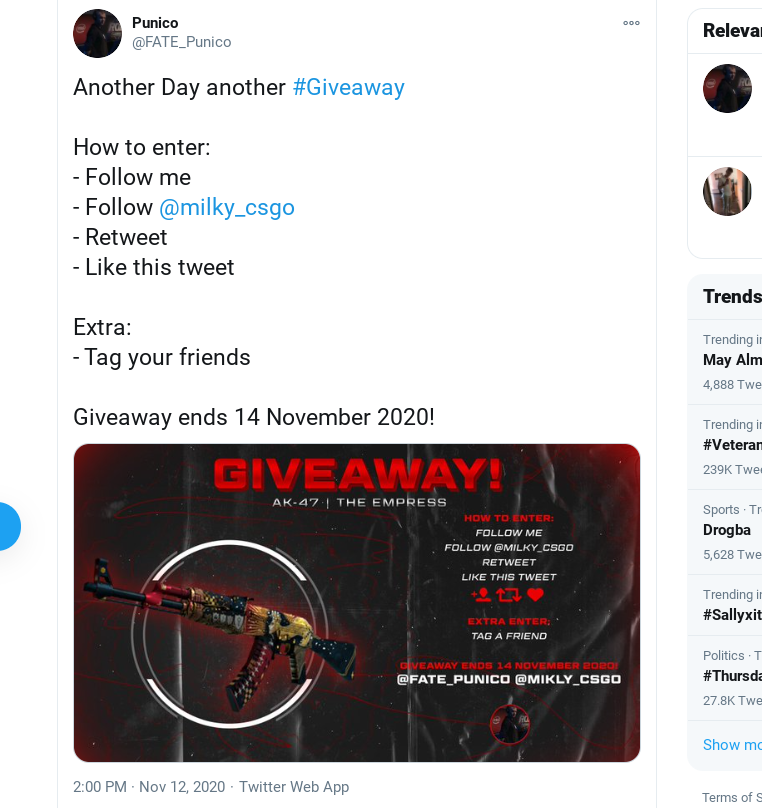 One potential problem to look out for is using retweets as your sole entry criterion. Through some Twitter bots, fake accounts might enter your giveaway and win.
A remedy to this is to have additional entry criteria. For instance, after retweeting, you can also ask them to follow your account, reply to your tweet, or tag their friends.
This way, it becomes easier to weed out bots trying to enter your giveaway. Apart from that, you can combine many entry criteria if your gift is valuable enough to your audience.
3. Select the right giveaway gift
Put simply, you need to select a giveaway gift that helps both you and your participants achieve your individual goals. First of all, you have to find a gift that's attractive to your audience and relevant to your industry.
Fine, giving away an iPhone can attract thousands of participants to your giveaway. But how many of these participants are interested in your industry and likely to become customers down the line?
By using a gift related to your industry, such as one of your products or services, you'll attract many participants who can become customers.
Beyond that, the value of your gift has to align with your giveaway goal? Is your gift valuable enough to help you achieve your goal?
If you're looking for retweets, then a $5 gift card can work fine. But if you want participants to visit your landing page and submit their email addresses, you'll need a more valuable gift.
In the Twitter giveaway below, Offer Games is using "Call of Duty" as their gift.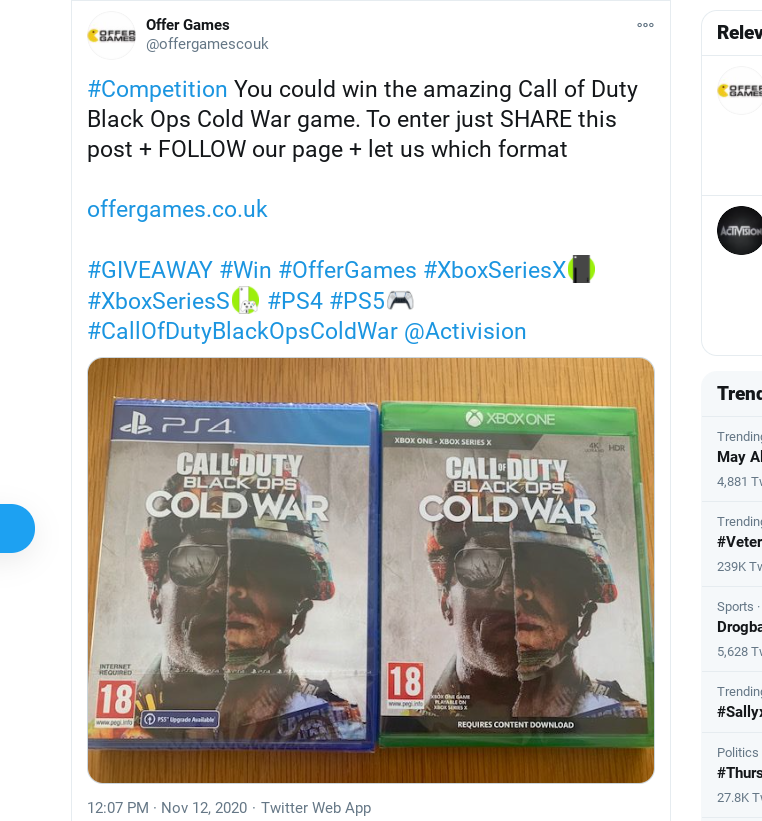 This gift will attract gamers who can likely become their customers in the future.
In a nutshell, the best giveaway gift will be related to your industry and valuable enough to help achieve your goal.
4. Set giveaway terms and conditions using Twitter recommendations
Your giveaway terms and conditions contain information that participants need to know before entering your contest. But since you only have 280 characters for a tweet, your terms and conditions won't fit into your tweet.
In light of this, the solution here is to have your terms and conditions on an external page and link to it in your giveaway post.
Here's Hotwire's giveaway post featuring a link to their terms and conditions page: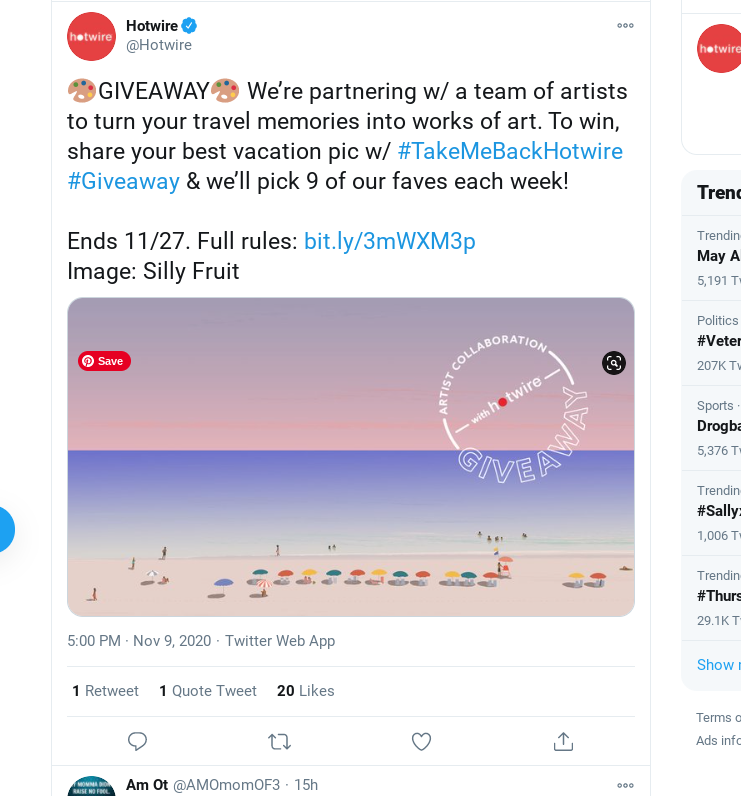 If you click on that link, you'll land on this page: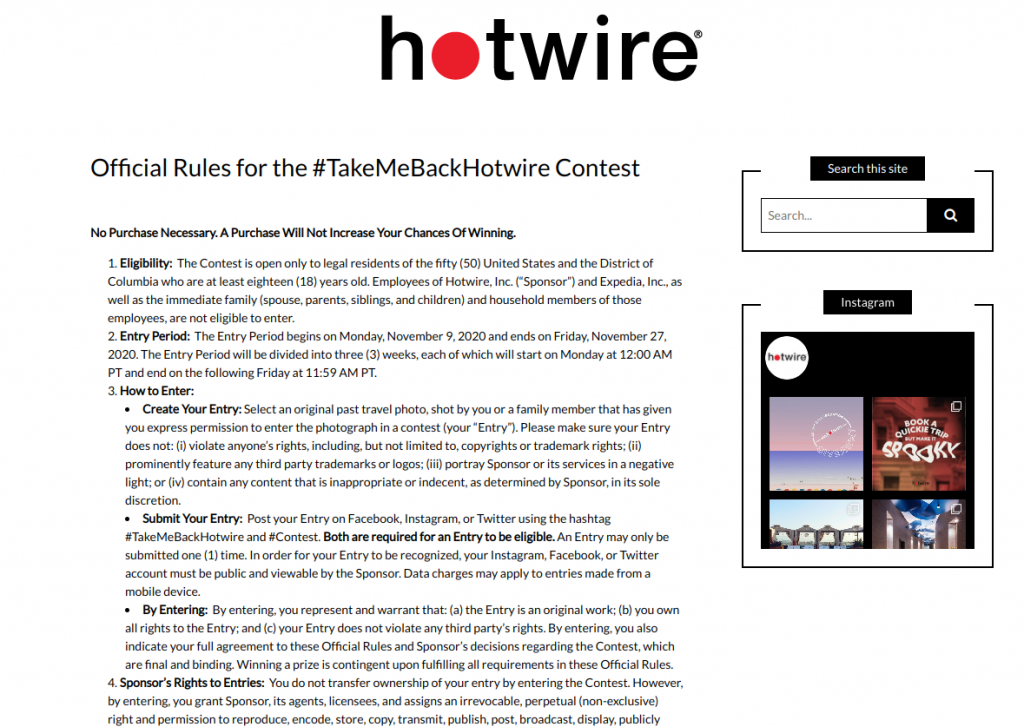 A terms and conditions page contains details such as:
Prize
Closing date and time (with time zone)
Eligibility criteria such as age and location
Entry criteria
How you'll pick the winner (randomly or judged)
When and how you'll contact the winner
What can make participants ineligible to win
To create your terms and conditions page, you have to consider Twitter's promotion guidelines as well. First of all, Twitter wants you to state that any participant using multiple accounts to enter the giveaway will be ineligible.
Then, you have to state that multiple entries in a day will not be accepted. Furthermore, Twitter encourages you to ask people to mention you in their updates so that you can track entrants more effectively.
With your terms and conditions, you can provide the information participants need while protecting yourself against potential legal problems.
5. Set up your Twitter giveaway
After settling on a gift and entry criteria, now, you have to set up your giveaway. But to do it successfully, you have to use the right giveaway tool.
With SweepWidget, you have a simple and effective tool with features to help you design an attractive giveaway within minutes. To set up your Twitter giveaway, click on "+ New Giveaway" on your Twitter dashboard.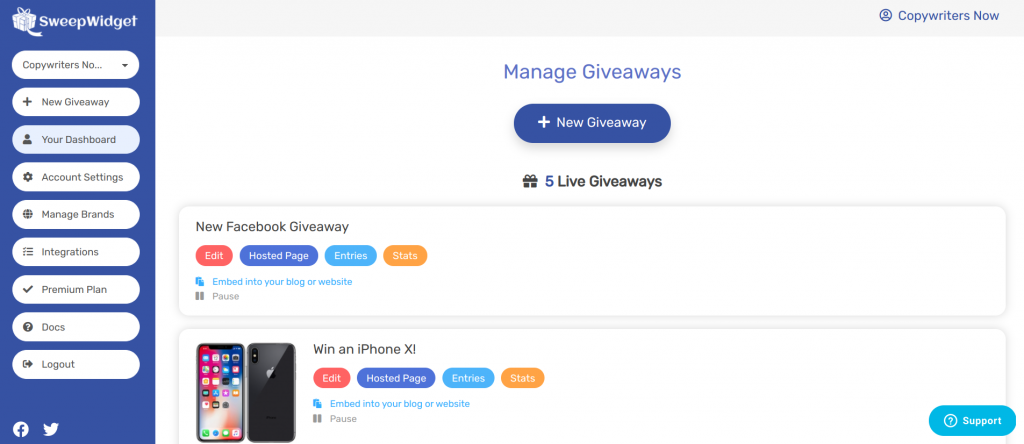 Once you do this, SweepWidget will take you to the setup page. Here, you can duplicate one of your previous giveaways. Otherwise, you have 6 sections to create a new giveaway.
These sections include:
Basic information
Ways users can enter
User login steps
Style and design
Leaderboard, milestones, and instant coupons
Pre and post entry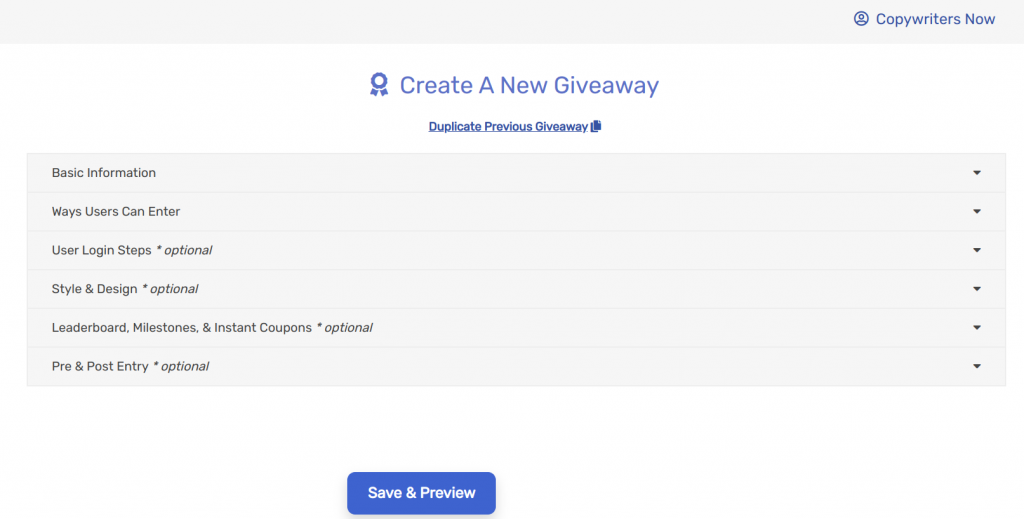 In the basic information section, you can enter details such as prize title, start and end date, time zone, and the number of winners. Below that, you can enter the prize description and official rules.
Also, in this section, you can set the countries allowed to enter, language, and prevent cheating by blocking duplicate IP addresses.

In the second section, you can see all the entry options for Twitter. These are:
Follow
Post Tweet
Retweet
Dedicated hashtags

The post tweet option can be used for replies and user-generated content as those are technically tweets too. For hashtag campaigns, you can add your campaign hashtag to the tweet in the "Post Tweet" option. Dedicated hashtags can also help you track the popularity of your giveaway.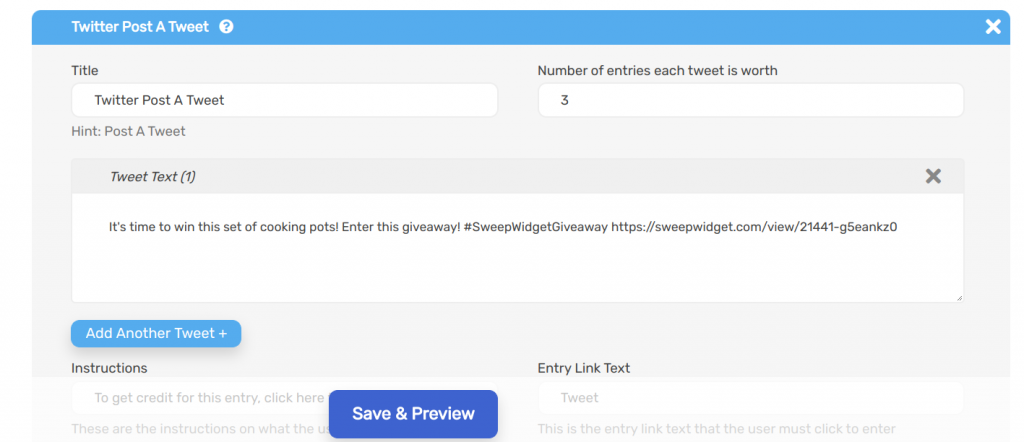 Beyond Twitter, there are more options you can integrate into your giveaway such as running a quiz. Below this, you can edit the other settings according to your need, and click "Save & Preview."
This will bring up your giveaway. Luckily, you have the option to test the giveaway by using some of the entry options.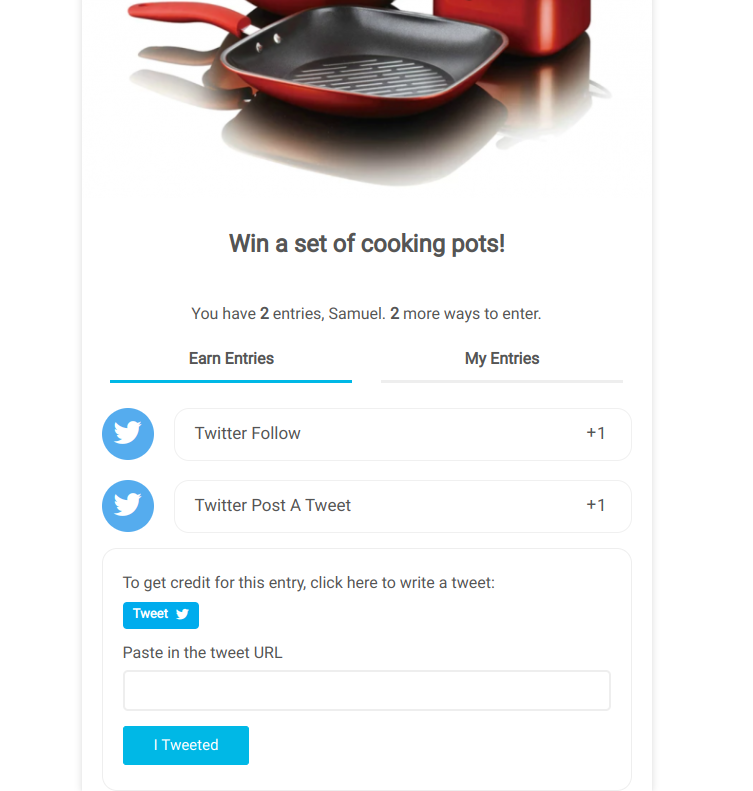 Once you're done with the setup, you can move on to the next step in your giveaway.
6. Create Twitter giveaway post
As the first point of contact with your audience, your Twitter giveaway post must provide information that will attract them to become participants.
Now, how do you create an ideal Twitter giveaway post? Here are some elements that must be present:
An attractive image
Entry criteria
Start and end date
The right hashtags
Terms and conditions
Here's a Twitter giveaway post by paysafecard that has most of what you would expect from an ideal Twitter giveaway post: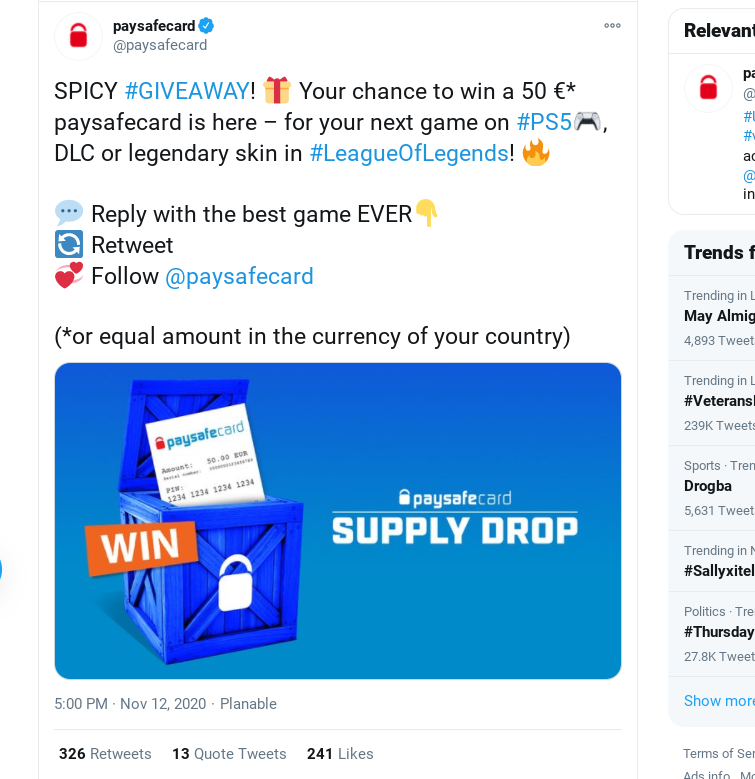 To add all the details, they added a reply to the original post to create a thread: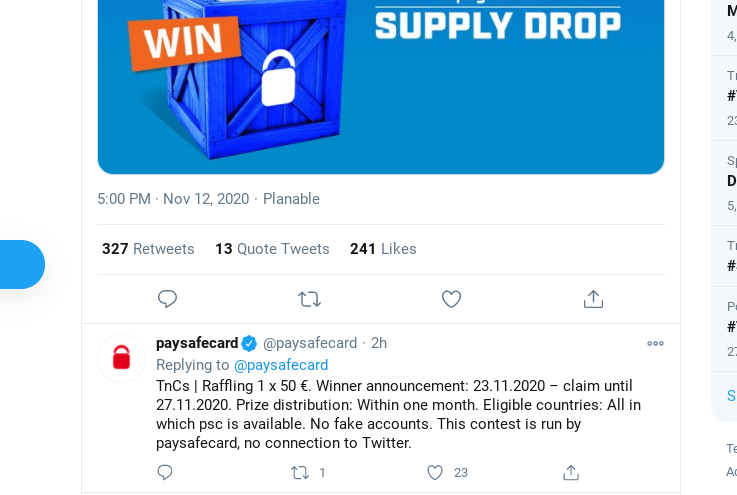 By creating an effective Twitter giveaway post, you can increase engagement for that post and attract more participants to your giveaway.
7. Promote your Twitter giveaway
Frankly, you can build a great giveaway and still suffer through a low number of participants. To prevent this problem, you have to get the information about your giveaway to as many ideal participants as possible.
So, here are some promotion strategies to implement for your Twitter giveaways:
Announce giveaway before the campaign commences.
Pin the giveaway post to the top of your Twitter page during the campaign.
Share on your other social media pages.
Share on giveaway sites.
Publish a blog post on your website to announce the giveaway.
Send messages to your email subscribers.
Run ads to promote your giveaway.
In some cases, an entry criterion like tagging friends is a promotion tactic itself. If 100 participants tag two of their friends, then you have promoted your giveaway to 200 more people.
Check out CryptoKitty's pinned giveaway on their Twitter account: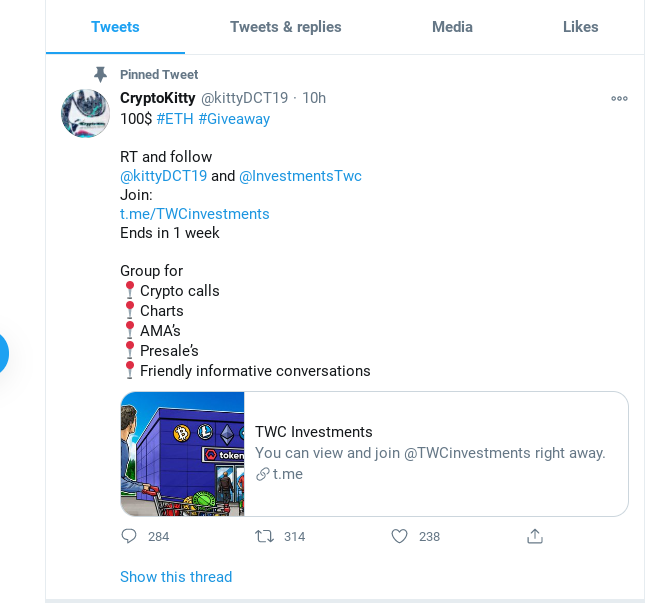 Going further down the page, you'll find another tweet reminding their followers of the ongoing giveaway.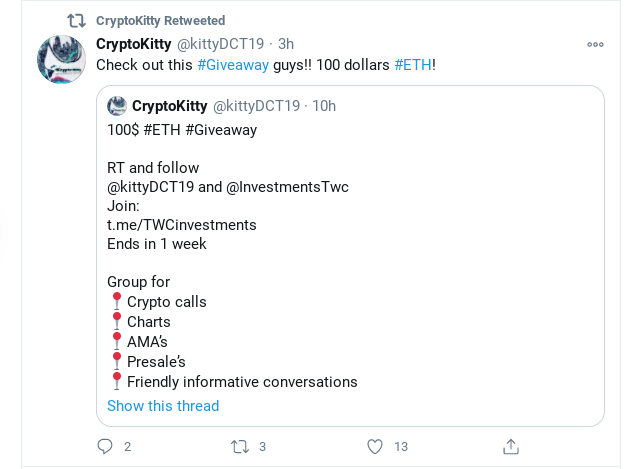 Having the right promotion strategy will provide maximum exposure for your giveaway. As a result, you'll increase the chances of achieving your giveaway goals.
8. Select and contact giveaway winner
At the end date of your giveaway campaign, the next step is to go through your entries and select a winner. On SweepWidget, you'll see all your entries in a single place, which makes it easy to select a winner.
All you have to do is click on "Entries" among your giveaway options. Here, you can also identify participants who have violated your guidelines and disqualify them.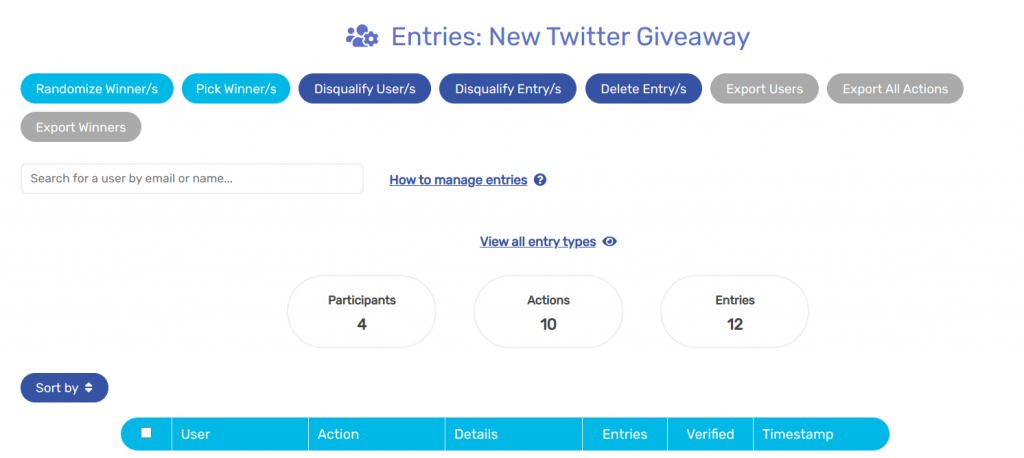 If you want to pick winners randomly, click on "Randomize Winner/s" and SweepWidget will select a winner. However, for judged entries, you can track their entries on both Twitter and SweepWidget. In fact, Twitter recommends that you ask participants to mention your Twitter handle for this particular reason.
On your entries dashboard, you'll see participants' actions and details. For instance, for the "post a tweet" option, you'll see an entrant's tweet and a link to that tweet.

After picking your winner, SweepWidget will display their contact details. With this, you can contact them about their win and how to receive their gift.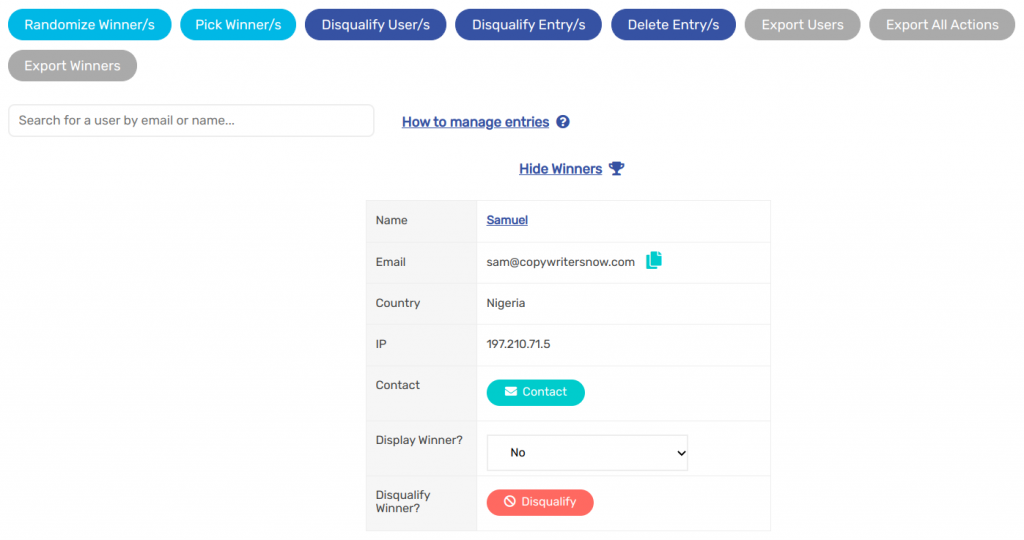 While selecting your giveaway winner, you have to ensure the process is as transparent as possible to maintain credibility with your audience.
9. Announce giveaway winner(s)
Once your giveaway is over, every participant is on the edge of their seat waiting to know the winner. For a logical conclusion, announce the giveaway winner in a tweet and how they won.
This is especially important for a judged giveaway. Here's an example of an announcement from Virtue Homeware: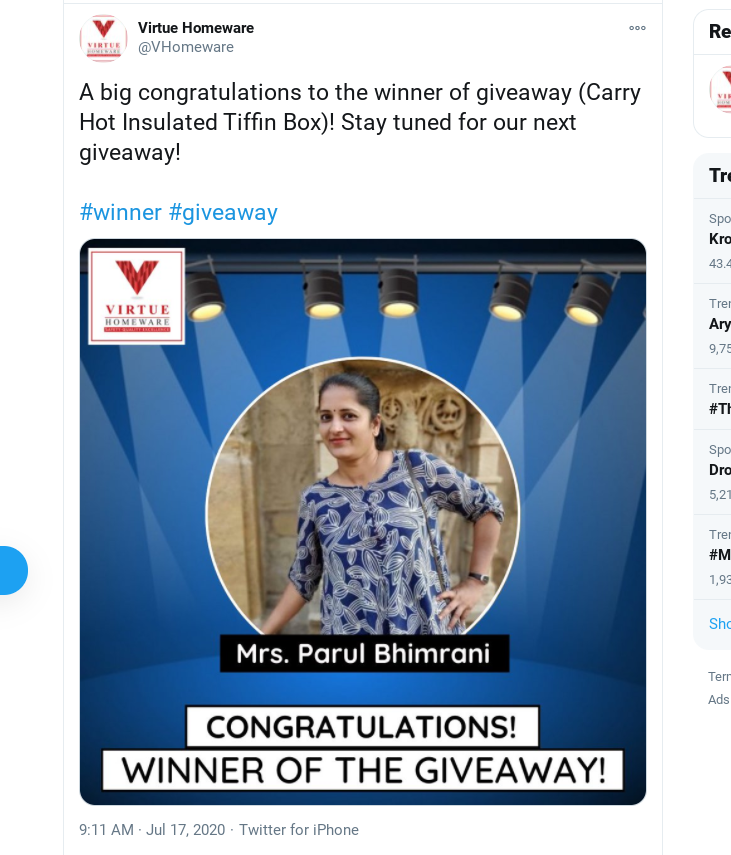 Another detail participants want to know is if the gift has been delivered or when it will be.
While announcing the winner, you also have to appreciate every participant for participating. If possible, you can share a coupon code for their next purchase on your website.
Announcing your giveaway winner helps to build a positive reputation for your brand and encourages participants to enter your future giveaways.
10. Analyze your giveaway numbers
For marketing campaigns, tracking your numbers is vital. They show whether you've succeeded in achieving your goals or failed. And this applies to giveaways too.
Considering that you set a giveaway goal, you need to analyze your performance after the giveaway. What are the numbers that help you track your giveaway goals?
First of all, you can use Tweet analytics to track the performance of your giveaway post.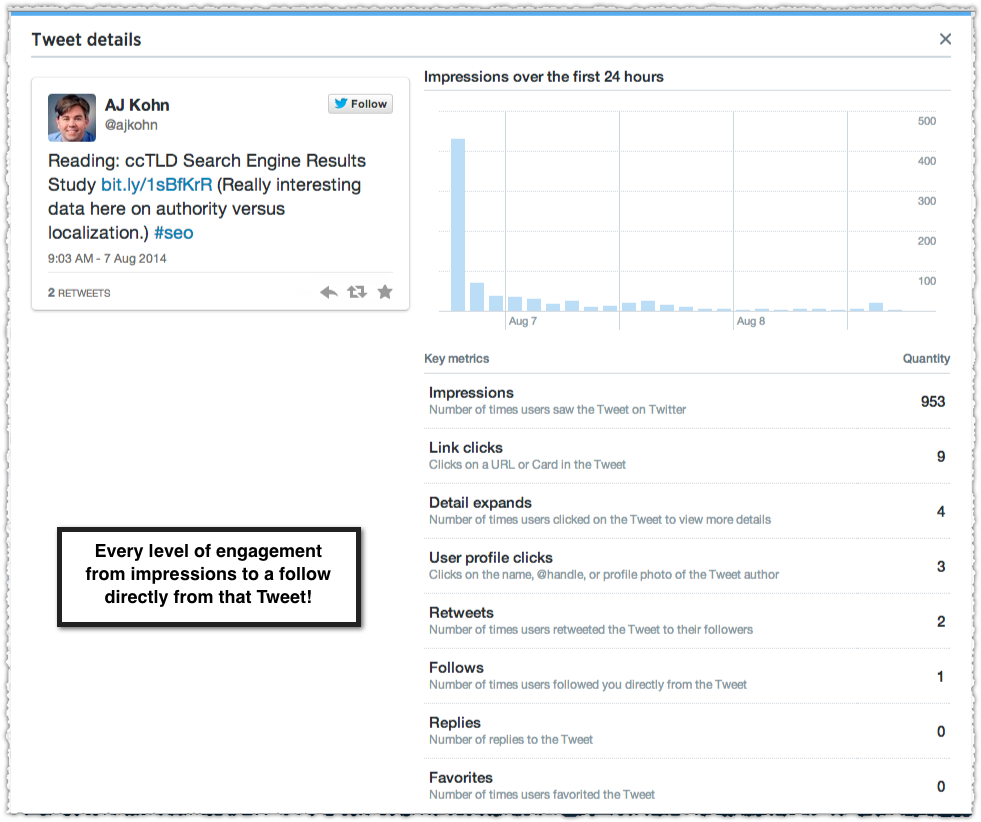 Beyond Tweet analytics, a tool like SweepWidget also provides statistics such as the number of widget views, unique widget views, and more. All you have to do is click on the "Stats" button beside your giveaway.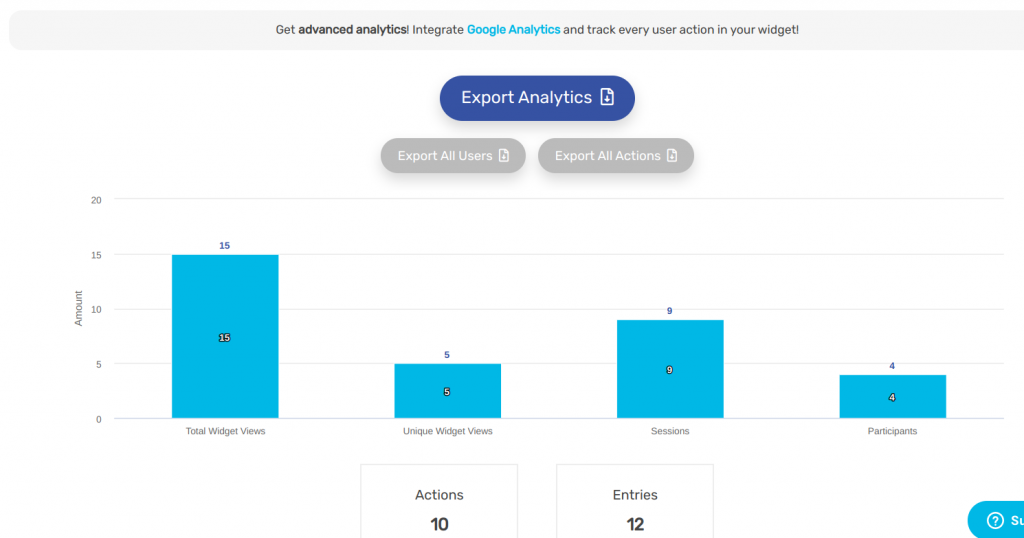 If you've hosted your SweepWidget giveaway on your website, SweepWidget's integration with Google Analytics can provide more details about their behavior on your website.
Furthermore, if participants have submitted their email addresses, SweepWidget's integrations with email marketing tools can help track your leads and launch email campaigns in the future.
Apart from understanding your current giveaway campaign, analyzing numbers can provide insights to improve your future giveaway campaigns.
Conclusion
Running a Twitter giveaway can help boost your Twitter account metrics and capture more leads. But to achieve these goals, you have to run your giveaway the right way.
Bookmark this page so that you can always refer to it when launching your Twitter giveaway. You can also check the SweepWidget plans to discover the one that fits your needs for your next giveaway.
Moreso, if you want to run giveaways on other platforms, check our detailed guides on how to run successful giveaways on Facebook and Instagram.