How to Run an Instagram Giveaway: 9 Straightforward Steps to Success
Last updated on November 10th, 2022 at 12:32 pm
How would you like to connect with your audience and turn them into loyal customers using your Instagram business account?
After all, 90% of Instagram users follow at least one business on the platform.
So, if you want to improve Instagram account metrics such as follower count, likes, comments, or even drive traffic to your website, one of your best bets is running an Instagram giveaway.
But, frankly, you need a sound strategy to run a successful giveaway.
What are the steps you need to take? Here's a step-by-step guide that will take you through the process of setting up your giveaways, running them effectively, and selecting winners.
Let's go into the full details. 
1. Define your Instagram giveaway goal
Running an Instagram contest is more than just giving gifts away. While that's a noble gesture, what benefits will your business gain?
You have to state them clearly as your giveaway goal. Some common goals while running Instagram contests include:
Increasing Instagram account engagement
Increasing Instagram followers
Increasing brand awareness
Increasing traffic to your website
Acquiring email subscribers
To set the right goals for your campaign, you can use the SMART acronym. This means your goal should be specific, measurable, achievable, relevant, and time-bound.
For instance, if you're running a giveaway to increase your Instagram followers, how many followers do you want to acquire? How long will your giveaway campaign run? Will these followers be relevant to your business down the line in terms of sales?
Having a clear goal in writing is vital as it dictates the strategy for your overall giveaway campaign. Here's a giveaway from an art account: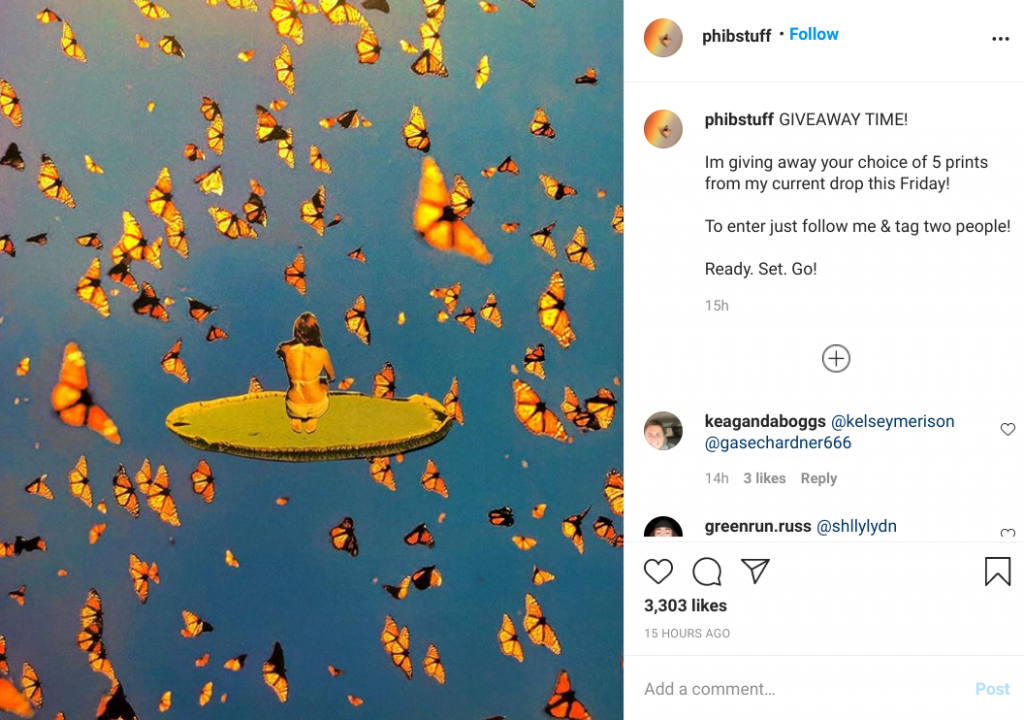 From the entry criteria, it's evident that the goal is to increase Instagram followers.
2. Select a gift for your giveaway
For every giveaway, the primary motivation for participants is your gift. After all, that's what they're looking forward to winning.
The first factor to consider when picking a gift is your giveaway goal. Will the gift take you closer to your campaign goal or away from it?
The rule of thumb is to pick a gift that is related to your business. By doing this, you'll attract people who are interested in your business and are likely to become customers in the future.
In this contest, AO is giving away a Dyson hot and cool fan.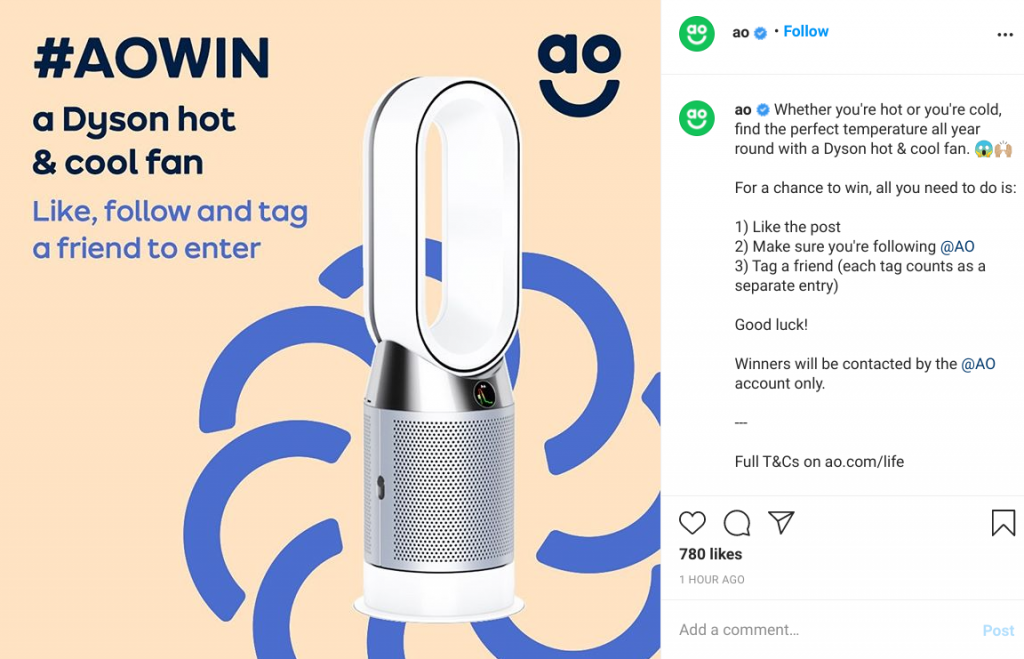 Considering that AO is a tech and electricals company, this is a gift likely to attract its ideal audience that can become customers.
Furthermore, your giveaway gift should be big enough to encourage your audience to take the intended actions. For highly valuable gifts, you might have more entry criteria for participants.
Having said that, your gift shouldn't be so big that it will eat into your profits or lead to losses.
3. Specify giveaway entry criteria
Just like your giveaway gift, your entry criteria depend on your goals. For example, if you're looking to increase the number of your Instagram followers, then using comments and post likes as entry criteria would be counterintuitive.
However, if your goal is to acquire more leads, then one of your entry criteria for participants could be to submit their names and email addresses. Whatever your entry criteria will be, you have to state it clearly in your giveaway post.
Here's a giveaway post by Goodnight Macaroon Boutique, where they specify the entry criteria in a list that's easy to understand for their audience.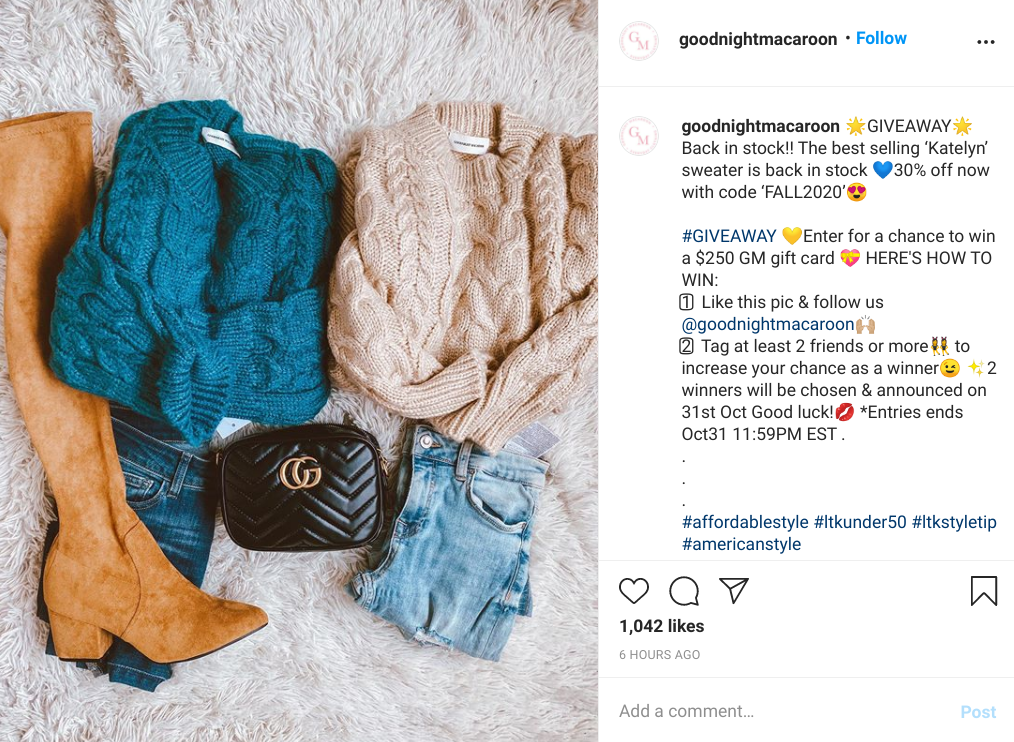 Some common giveaway entry criteria you'll find on Instagram are:
Visit the Instagram post
Visit the Instagram account
Follow the Instagram user
Like an Instagram post
Leave a comment about the giveaway
Tag your friends in the comments
Publish an Instagram post about the giveaway and tag the giveaway brand
Post about the giveaway on Instagram Story and tag brand
Beyond that, you have to state the giveaway rules and specify the duration of your giveaway. This calls for a balance between giving people enough time to enter your giveaway and discouraging them because of the duration. In some cases, the worth of your gift can affect the duration.
Considering that Instagram is a global platform, you probably have followers from around the world. But if you run a local business, you might want your giveaway beneficiary to be from your business locality.
In this case, you have to state the participants' location as part of the entry criteria. In this giveaway by Cosatto, they're giving away a pram.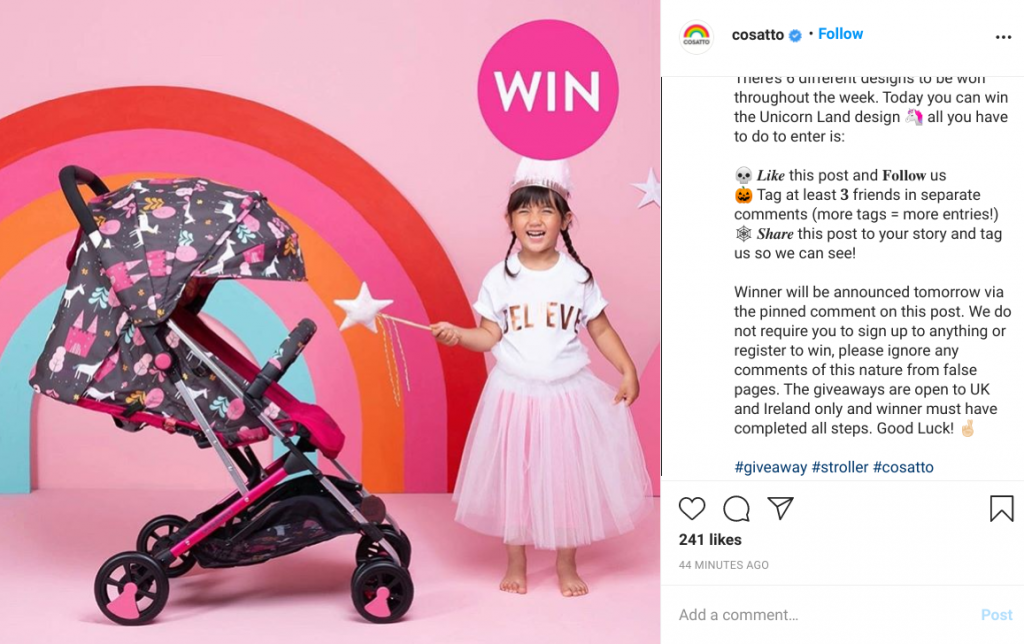 The duration is clearly stated as the giveaway runs for a single day. Likewise, it states that the giveaway is for users in the UK and Ireland alone.
With SweepWidget, you can set your giveaway to only show up for visitors from that location. We'll get into the details later in this post.
4. Follow Instagram rules for giveaways
To avoid abuse, Instagram has rules for any marketer or business looking to run giveaways. First of all, Instagram encourages you to provide giveaway rules and eligibility conditions to your audience. This is to avoid misconceptions that may arise.
Furthermore, Instagram expects you to state a complete release of Instagram by each entrant. In other words, you have to state clearly that Instagram is in no way associated with your giveaway.
You can use this quote at the end of your Instagram caption:
"We release Instagram by each entrant or participant, an acknowledgment that this is in no way sponsored, endorsed, or administered by, or associated with Instagram."
Here's Vuelo Arts using a disclaimer at the end of the Instagram giveaway post: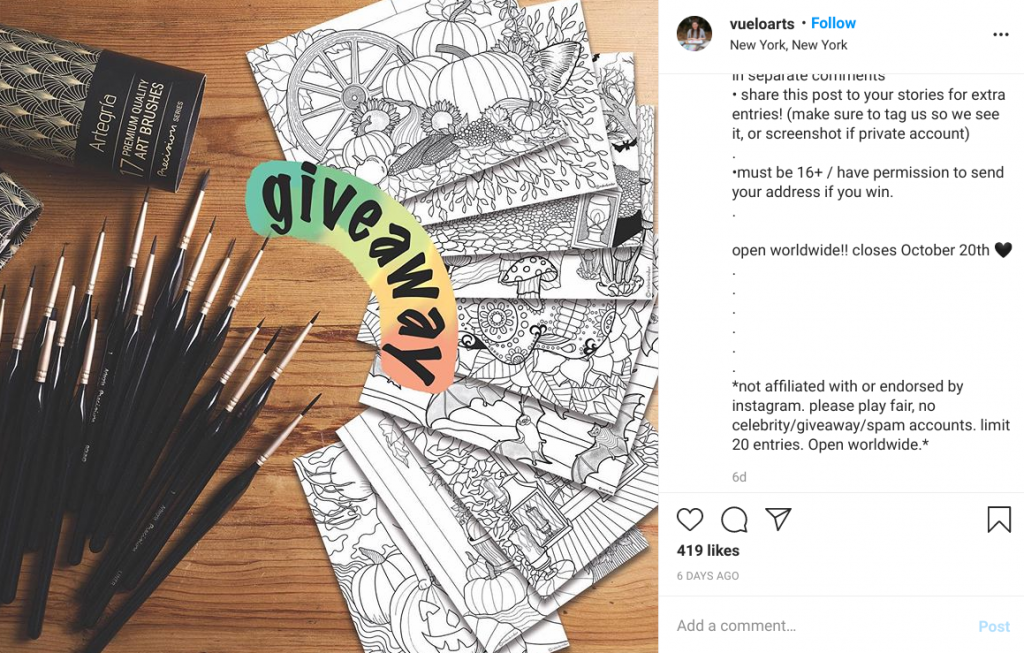 Another action to avoid is encouraging inaccurate tagging. For instance, it's against Instagram's rules for users to tag themselves in photos they don't appear in.
Likewise, you need to keep in mind that Instagram would not assist you during the process of running giveaways, and you run them at your own risk.
5. Use the right Instagram giveaway tool
Running Instagram giveaways is clumsy if you have to do it manually. In fact, you'll miss out on many participants and make a mess of the whole process. Even worse, rather than obtaining your audience's goodwill, you might end up infuriating them.
That's why it's vital to pick the right Instagram giveaway tool for your campaigns. With the right tool, you can effectively create your giveaways, track entries, pick winners, and track giveaway performance. Also, it becomes easier for your audience to enter your giveaways.
In light of these needs, SweepWidget is a tool that can help you host successful Instagram giveaways.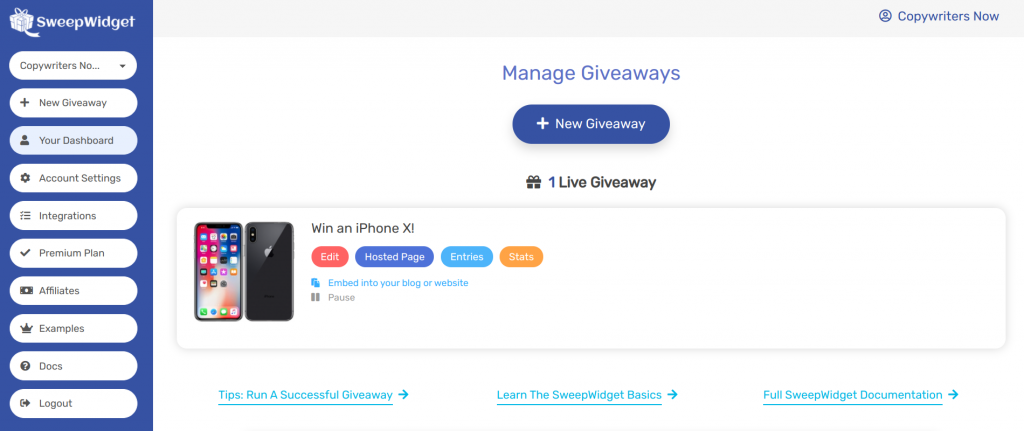 First of all, it's so easy to use that even building your first giveaway will be a breeze. The setup for your Instagram giveaway on SweepWidget includes 6 steps:
Basic information
Ways users can enter
User login steps
Style and design
Leaderboard, milestones, and instant coupons
Pre and post entry
View a live example of a SweepWidget Instagram contest.
The basic information includes information about your giveaway. In ways users can enter, you have access to 6 Instagram entry criteria which are:
Visit post
Visit profile
Follow
Like post
Repost
Submit post

Beyond Instagram giveaway, SweepWidget allows you to have up to 100 entry criteria for each giveaway, which is more than you need.
Apart from the entry methods for Instagram, SweepWidget also allows you to run quizzes and hashtag giveaways. For quizzes, select "Custom Input Field" among the options. Here, you can set the questions and provide the answers.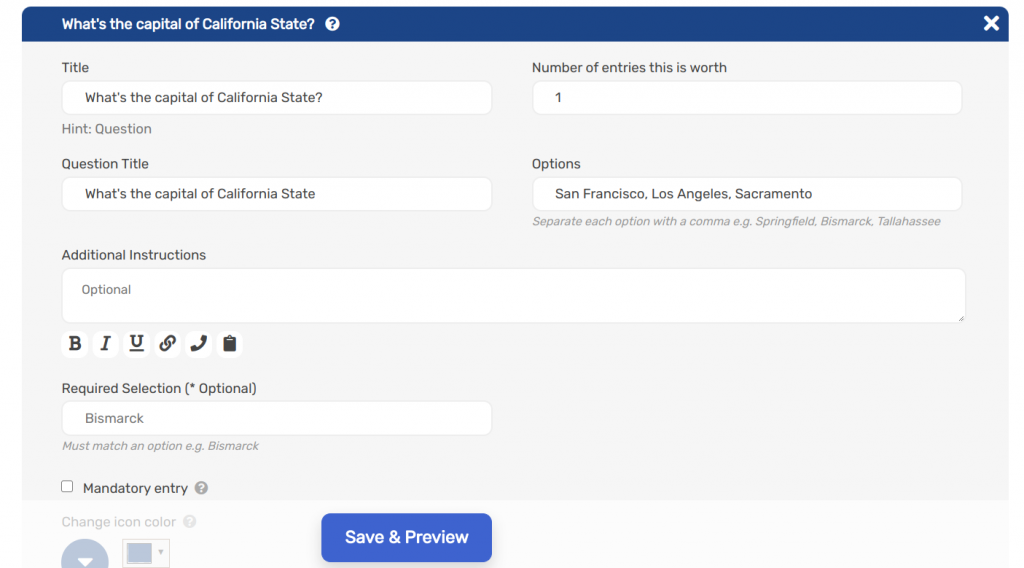 It's important that you leave the "Required Selection" box empty so that participants can select the wrong answers. For hashtag giveaways, click on "Create Your Own Entry." After doing this, you can instruct participants to submit the Instagram post link that features the hashtag.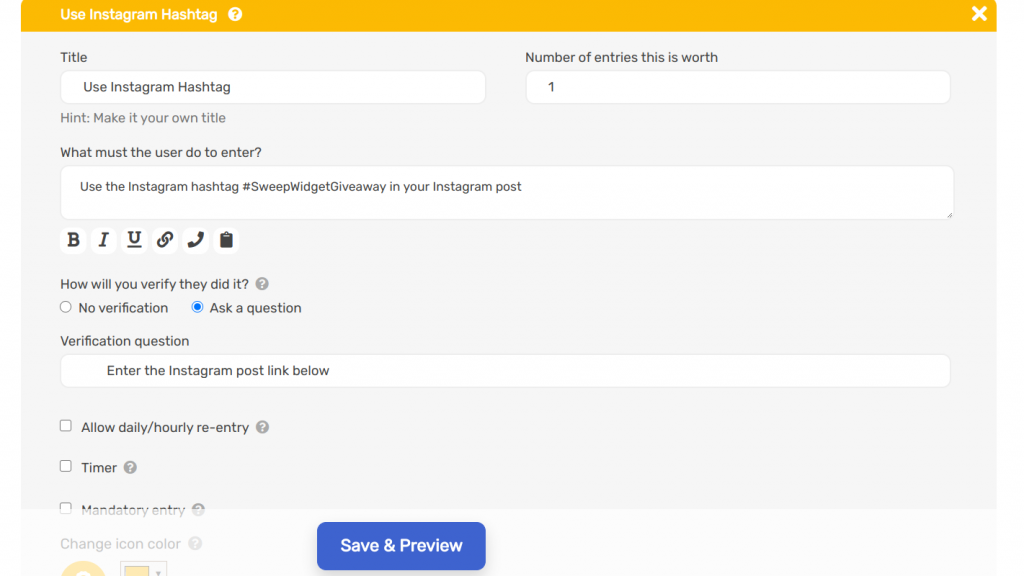 As you add these options, your giveaway options become longer.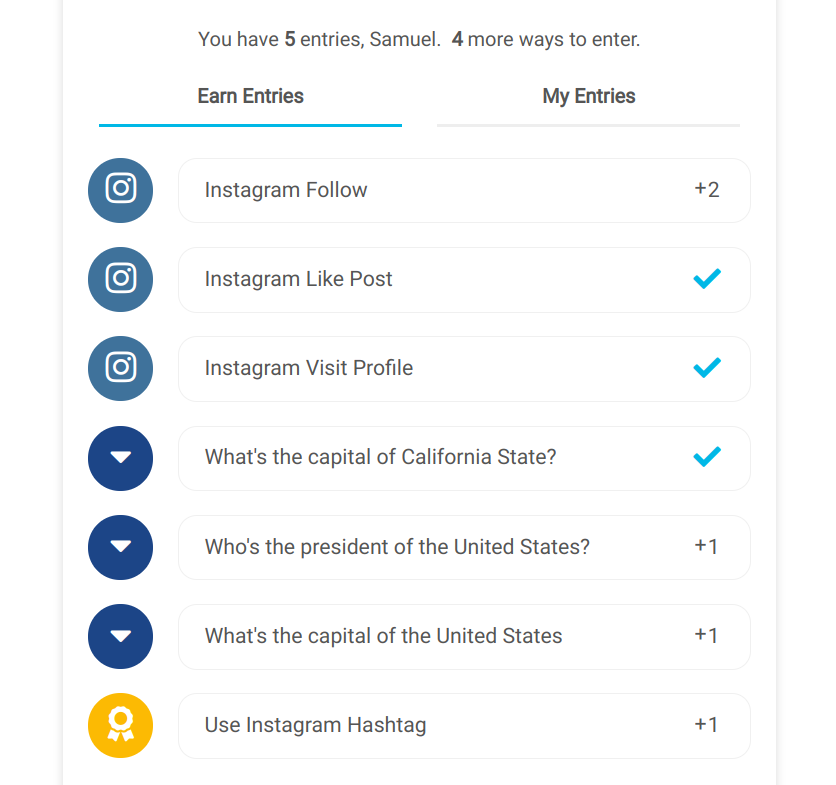 While setting up your giveaway, you can specify the location for giveaway participants, create email signup forms, and set giveaway duration.

You can also prevent cheating when you block duplicate IP addresses from entering. Once you dive into the other parts of the setup, you'll find even more options to help you run a successful Instagram giveaway.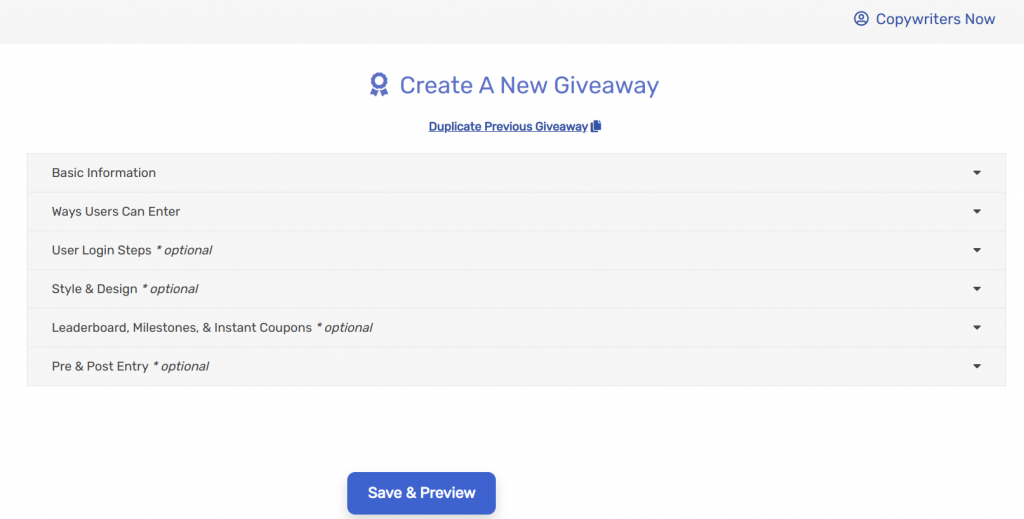 When you're done with the setup, click on "Save & Preview." When you launch your giveaway, you'll have a page like this: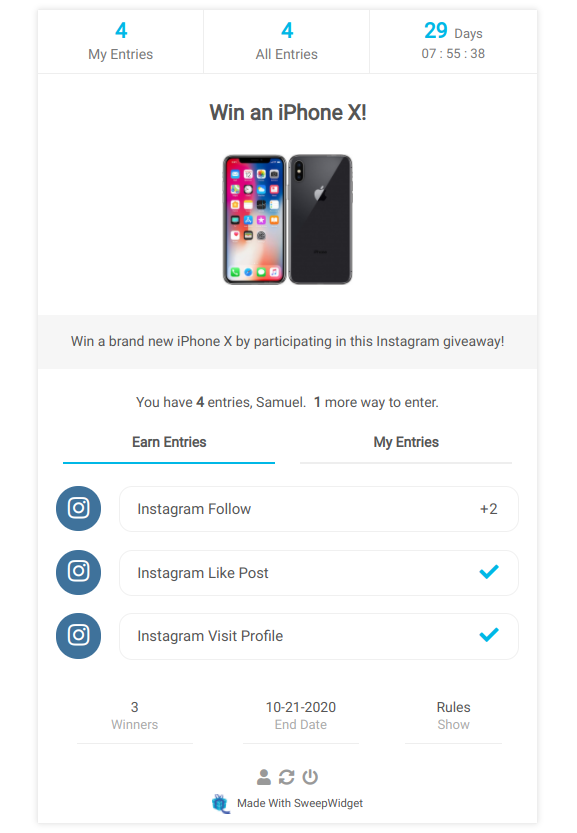 Now, you can start taking the next steps in your giveaway campaign.
6. Employ the right hashtags
Using hashtags is a vital aspect of using Instagram, and that applies to giveaways too. The right hashtags help to improve visibility to your ideal audience.
Some common types of hashtags to have in your giveaway post include:
Popular giveaway hashtags: these are hashtags featured in most giveaways. Examples include #giveaway, #giveaways, #contest, #giveawaycontests, and more. Even though it's difficult to rank high for these hashtags, they help to identify your post as a giveaway.
Industry hashtags: People searching for these hashtags are interested in your industry and likely to become customers in the future. Examples of these hashtags include #fashion, #fashiongiveaway, and more.
Branded hashtags: these are hashtags unique to your brand. They include your business hashtags and hashtags dedicated to giveaways. Examples include #SweepWidget and #SweepWidgetGiveaways. If you run giveaways regularly, these hashtags will make it easy for your audience to find your giveaways.
Check out the hashtags Posca USA used in its Instagram giveaway post: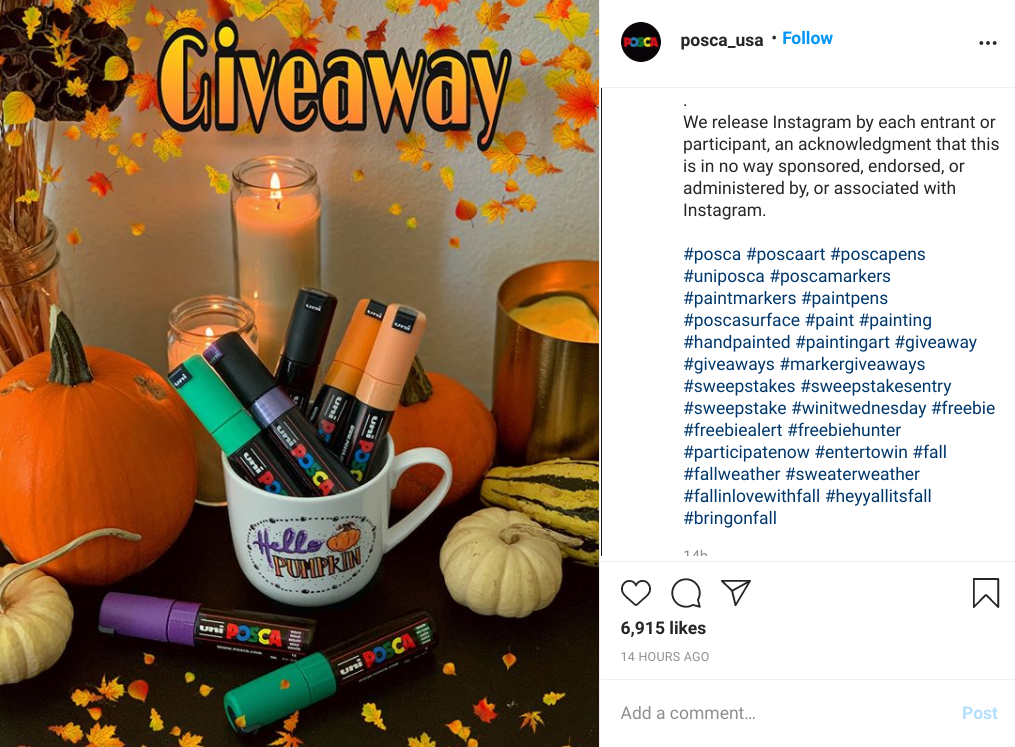 Here, you have general hashtags such as #giveaway and #giveaways, industry hashtags such as #paintingart and #markergiveaways, and branded hashtags such as #poscaart and #poscapens.
By using the right hashtag and attracting engagement, your giveaway post can land on the Instagram Explore page. As a result, you'll drive even more engagement from your ideal audience.
7. Promote your giveaway on effective channels
Even though people love free things, they can't take advantage if they're unaware of your campaign. That's why, even for Instagram contests, promotion on your ideal channels is essential.
These channels could include your social media pages, email newsletters, paid ads, and website. To achieve the best possible results, your giveaway promotion should start before your campaign.
This way, you can tease your audience about your contests and create anticipation.
After launching your giveaway campaign, you can embed it on your website and share on your social media pages to inform your audience. During the contest, you can post reminders and use paid ads to reach even more users.
SweepWidget provides an HTML link to host your giveaway on your website. You also have access to a link if you're hosting your page on SweepWidget.

Using these two, you can promote your giveaway on different channels.
Effective promotion brings in more participants and increases the chances of reaching your giveaway goal.
8. Select Instagram giveaway winner
Despite how straightforward picking a winner might look, giveaway participants want to feel that the process was fair.
If you're picking a winner for a quiz, then you need to show their answers and why you think it's the best. If the answers are in the comments, you can easily browse through the comments on your SweepWidget dashboard.
Click on "Entries" beside your giveaway. On this page, you can check the box beside your winner and click on the "Pick winner/s" button.
Once you pick a winner, you'll see their contact details, and you can then reach out to them.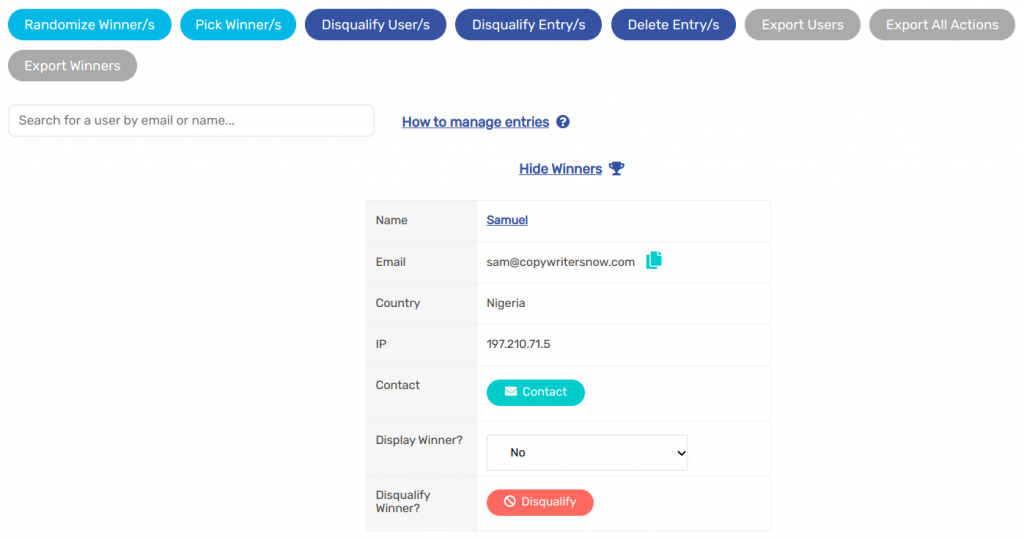 For random winners, this is easier. Click on "Randomize Winner/s," and you'll have your winner in a moment.

After informing your winner(s), you can then announce on your Instagram account. With this step, every participant can confirm that a winner actually emerged from your giveaway.
9. Track giveaway campaign performance
After selecting your giveaway winner(s), there's more work to do. You need to analyze your campaign results. Have you achieved your campaign goals?
To answer this question, you need to track the accurate numbers associated with your campaign.
This is where you'll find the SweepWidget analytics page useful. Click on "Stats" beside your giveaway to access this page.
Here, there are details about your campaign such as the number of total widget views, unique widget views, sessions, and participants.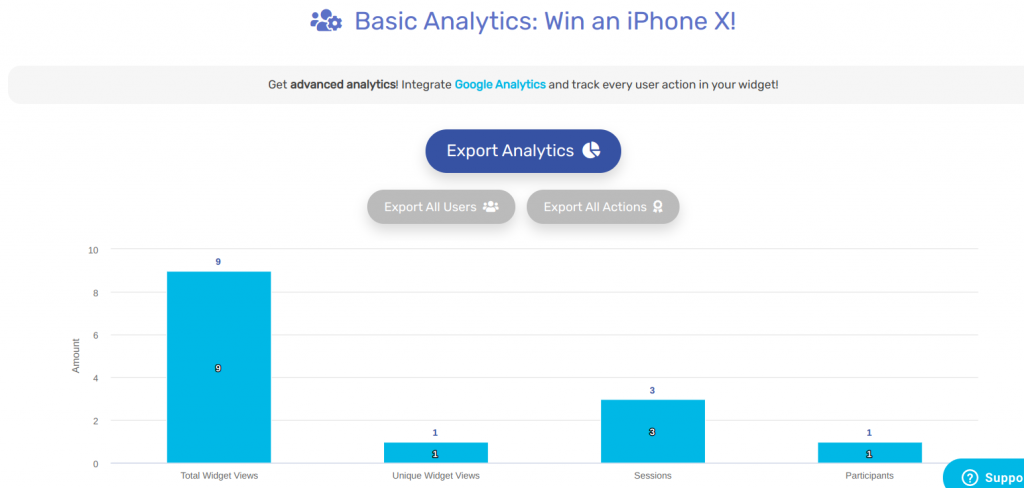 If your goal is to drive traffic to your website, SweepWidget's integration with Google Analytics will help track web page statistics. Beyond that, you can see how these visitors behave on your website.
Likewise, if your goal is lead acquisition, SweepWidget's integrations with email marketing and CRM tools will make it easier to track the number of leads acquired.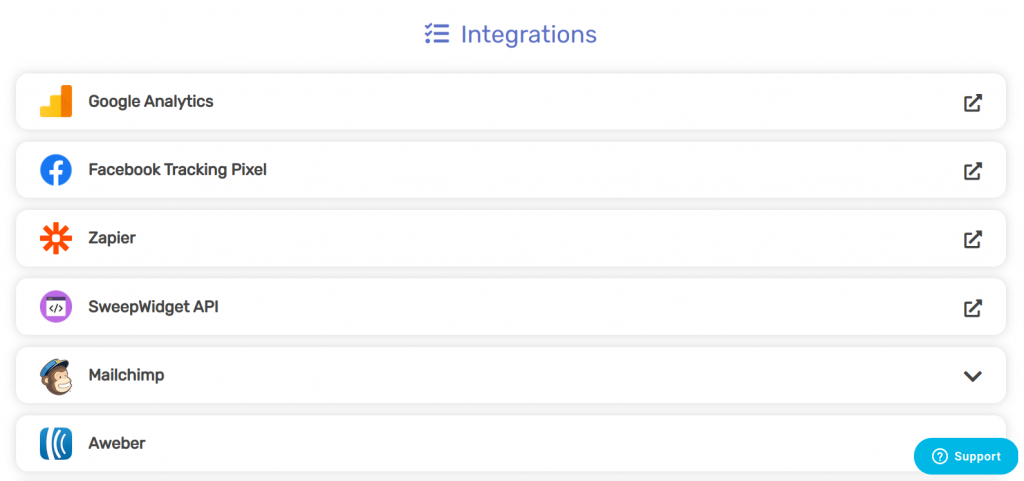 These numbers will determine the success or failure of your campaign. Furthermore, you can apply these insights to improve your future giveaway campaigns.
Conclusion
Running a successful Instagram giveaway is more than just buying a fancy gift and hoping for the best. To obtain lasting benefits, you have to be strategic by following the right process.
Follow this step-by-step guide, and you can start running successful Instagram giveaway campaigns in no time.
To even increase your chances of success, SweepWidget provides all the tools you need to start creating your Instagram giveaway within minutes. Check out SweepWidget to find out more.