How To Run A Winning Instagram Contest And Increase Your Followers
Last updated on May 8th, 2021 at 07:35 pm
Do you need to learn how to run an Instagram contest? Want to get on some successful instagram ideas to help you meet you goals? This article will cover all of the necessary steps to increase your Instagram followers, likes, shares, comments, and overall brand awareness.
Businesses on social media host giveaways with a specific end goal in mind.
Maybe your objective is to drive more traffic to your pricing page, boost your social media following, or grow your email subscriber list. 
Ideally, you'll be able to achieve all of these goals with the same giveaway. But to start, it's important to hone in on one specific goal rather than them all.
The reason?
If entering into a giveaway requires 10+ steps — visiting this website, subscribing to this email list, downloading this app, following this account, etc. — the process starts to feel more like an overcomplicated maze than an Instagram contest.
If social media users are confused or overwhelmed by your giveaway's criteria, they might shrug off the opportunity rather than seize it.
In this guide, we're sharing a few strategic tips to create Instagram giveaways that help you attract and retain more Instagram followers.
Instagram Giveaways & Follower Growth: Why it Works
Giveaways, contests, and sweepstakes have a pivotal role in any social media marketing plan.
While paid ads and branded content are certainly beneficial, posts that include a giveaway or contest receive 64x more comments and 3.5x more likes than the average post.
To put this in even more perspective, a business that is running a social media giveaway can grow their following 70% faster than a business that doesn't — and that's just in three months time.
These stats speak for themselves. A giveaway is a prime opportunity to increase brand awareness and engagement, not only with new followers but with your existing follower base too.
Creating and running an Instagram giveaway with the main intent of gaining more followers is a strategic move for a number of reasons, but one reason in particular:
Any big picture goal that you've set for your business — i.e., to meet this quarter's revenue goal, gain x amount of email subscribers, etc. — begins with outreach and retention.
If you have 10,000 followers or more but low engagement, this can hurt your chances of getting picked up by Instagram's algorithm. If the algorithm doesn't prioritize your content, this can make your outreach efforts less effective and your follower growth more stagnant.
An Instagram giveaway incentivizes social media users to engage more, which has a domino effect on your business's growth on and off the platform.
Before sharing our tips for running an effective Instagram giveaway, let's take a closer look at Instagram's algorithm.
How Giveaways Impact Instagram's Algorithm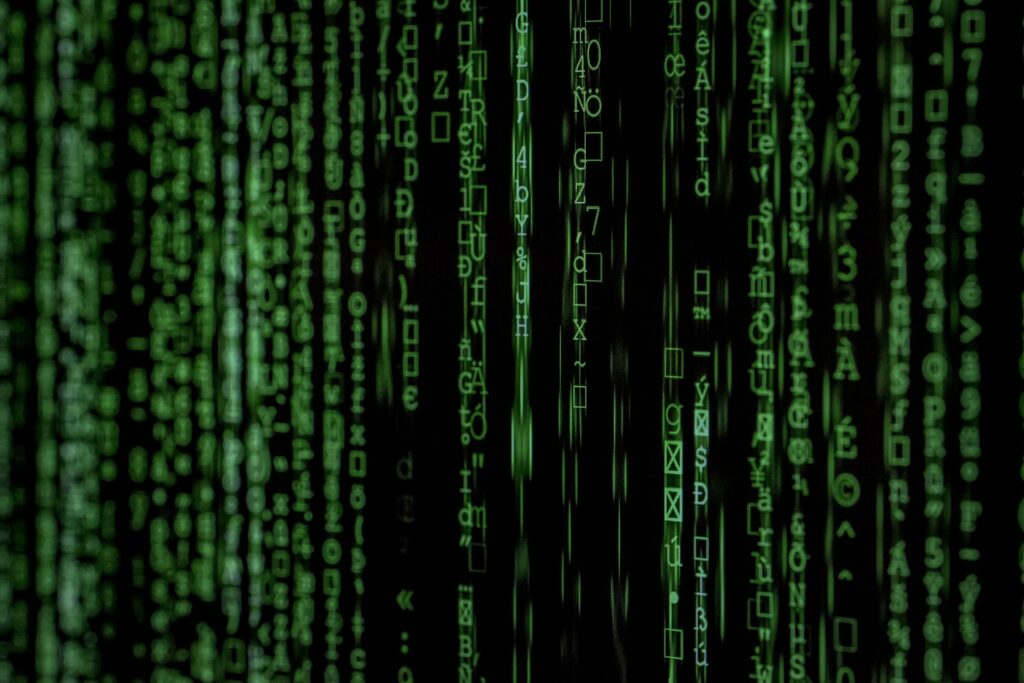 One of the main benefits of hosting a giveaway is increased visibility, and this has a lot to do with Instagram's algorithm.
The algorithm tracks user behavior and, specifically, these six factors:
How interested a user will be based on their past behavior.
How recently the new content was shared.
How one user interacts with another's content (and vice versa).
How frequently a user opens the Instagram app.
How many accounts a user follows.
How much time a user spends on the app.
The amount of likes, comments, shares, and views a post receives affects how the algorithm ranks a user's content in the future.
If a post has high engagement, Instagram's algorithm registers that this post is popular and should be visible to more people. This increased outreach can also lead to higher levels of engagement.
When you host a giveaway, you're incentivizing prospective and existing followers to take some sort of action to engage with your content — liking, commenting, following, and/or tagging friends.
This boost in engagement puts your Instagram account in a better position to be prioritized by the algorithm both now and in the near future.
What To Do Pre-Giveaway
1. Define Your Giveaway Rules, Restrictions, and Incentive(s)
Though hosting a contest might seem like a simple feat at first, you can run into major legal issues if you don't cover all of your bases in the giveaway post. (To learn more about the five biggest mistakes businesses make, check out this blog post.) Additionally, it's important to read Instagram's official rules and regulations to make sure you run a legal Instagram contest.
Successful giveaways have straightforward guidelines and a clear incentive. As you prepare to host an Instagram giveaway, make sure that you can answer the following questions:
Who is eligible for the giveaway?
What are the registration steps?
When is the deadline for giveaway entries?
What is the incentive?
It's important to consult your business's legal team before a giveaway goes live because opening the giveaway up to international users can lead to legal complications, if you're not careful.
Be transparent about your giveaway rules and restrictions. And make sure that you include not only the date of the giveaway's deadline but also the time and time zone.
If your intent is to increase your Instagram following, one of the registration steps should be to follow your Instagram account. To improve engagement even more, you might ask followers to comment on the post and tag their friends for extra entries.
The more appealing the incentive is, the more engagement you're likely to get.
Maybe the winner or winners will get a gift package with your top products or a new discount every month for a year.
Whatever the case may be, the idea here is to give your followers a reason to be excited about the giveaway and eager to participate.
2. Use a Third-Party Tool to Run Your Instagram Contest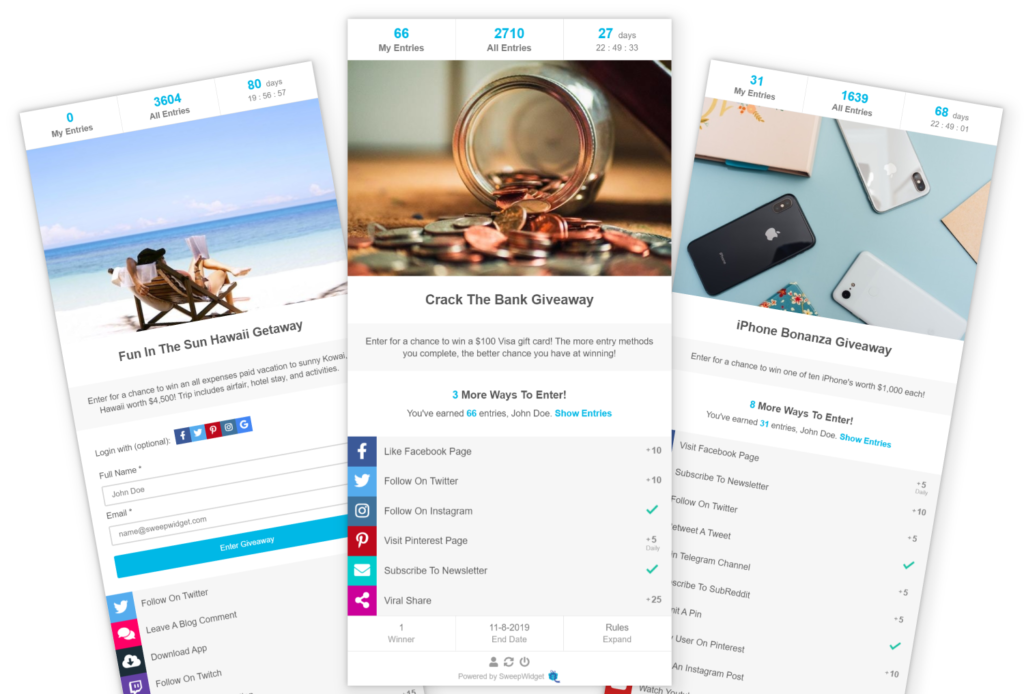 Hosting a giveaway on Instagram or any other social media platform involves a significant amount of preparation.
You want to make sure that your giveaway is legally sound and will go as smoothly as possible, especially when the best case scenario occurs and you receive tens of thousands of entries.
This is where enlisting help from a service like SweepWidget can really pay off.   
SweepWidget is a social media giveaway tool that manages the entire process for you, so that your team can let the giveaway run its course without worrying about making an unfortunate and avoidable faux pas.
This service also handles the selection of winners, so you and your followers can rest easy knowing that your giveaways will be fair through-and-through.
Instagram Giveaways That Really Work
While there's no shortage of Instagram giveaways that your business could host, two types that should definitely be on your radar are giveaways with partnered brands and influencers. 
Let's explore how these particular giveaways could work to your business's benefit.
Brand Collaborations
A collaborative giveaway with one or more brands is strategic because 1) co-marketing is cost-effective and mutually beneficial and 2) the other brands' followers are more likely to become your followers as well.
In the example below, the brands Elle Effect and Tuchuzy collaborated on a giveaway to grow their email subscriber lists and boost revenue at the same time. Both brands offered participants an incentive — a $500 voucher from Tuchuzy and a year's supply of Elle Effect. 
Influencer Partnerships
Another option is to work with influencers on an Instagram giveaway.
Let's say you organize a giveaway with four of your business's influencer partners. You could sponsor the giveaway by offering the incentive — a compelling prize in the form of a voucher, free subscription, etc.
This type of giveaway is effective at boosting brand awareness, followers, and engagement for not only your business's Instagram account but also your partners' accounts.
Similar to a brand collaboration, an influencer partnership giveaway would be mutually beneficial for all parties involved.
What To Do Post-Giveaway
From the moment you Instagram contest goes live until the moment it closes, SweepWidget allows you to track how successful the giveaway is in real time. You can randomly or manually select winners, disqualify/delete invalid entries, and export all user data to an organized CSV file. This streamlines the whole process and lets you keep everything organized in one place.
If you find that engagement peaks early but plateaus well-before the deadline, this is something that your team can analyze and improve on for the next giveaway.
We hope this article helps you create and run a successful Instagram contest! By following these steps, you'll be sure to grow your Instagram followers to new heights.
Mackenzie is a copywriter at Soundstripe, a royalty free music company that provides filmmakers, creators, and advertisers with a range of royalty free background music options.