How to Run a Successful Facebook Giveaway in 10 Simple Steps
Last updated on November 10th, 2022 at 12:32 pm
Facebook is the king of social media.
If you're looking to achieve better results on social media, then running a Facebook giveaway is one of the best steps you can take.
Because no matter what type of product you're selling, you'll find a huge number of your ideal customers on Facebook.
This is no surprise considering that Facebook boasts of over 2.7 billion monthly active users.
Running Facebook giveaways help you raise brand awareness, acquire more leads, among other benefits. How can you get these benefits from your giveaways?
In a moment, I'll show you step-by-step how to run a Facebook giveaway that will help you achieve your goals. 
1. Set Facebook giveaway goals
Even though your audience sees a giveaway as an opportunity to win a gift, to you, it's a marketing strategy.
That's why you need to define goals for your giveaway campaigns. After all, your Facebook giveaway goal will determine your overall campaign strategy.
For example, your strategy to acquire leads will be different from a strategy to increase engagement. That said, there are some common goals that businesses have when running Facebook giveaways.
These goals include:
Increasing brand awareness
Increasing customer engagement
Increasing page followers
Collecting user-generated content
Driving traffic to your website
Acquiring leads through email signups
Obtaining audience feedback on products and services
Announcing new products
To increase your chances of achieving your Facebook giveaway goals, you can employ the SMART acronym. This means your goal should be specific, measurable, achievable, relevant, and time-bound.
For example, a smart goal for your giveaway could be: "We want to acquire 60 leads within 2 weeks of running our giveaway."
Beyond that, you have to ensure that you have the audience size to achieve it and that achieving this goal is relevant to your overall marketing and sales goals.
2. Decide on giveaway gift
For any giveaway, your gift will influence the type of audience and engagement that your campaign will attract.
Frankly, some valuable gifts will appeal to the general public. But these gifts might be obstacles to achieving your goals.
So, you want to use a gift that will appeal to your ideal audience. At the same time, this gift has to be one of your products or services.
By using such a gift, you'll be attracting giveaway participants interested in your industry and can become customers in the future. Here's an example by Casdon, a toy company giving away toys: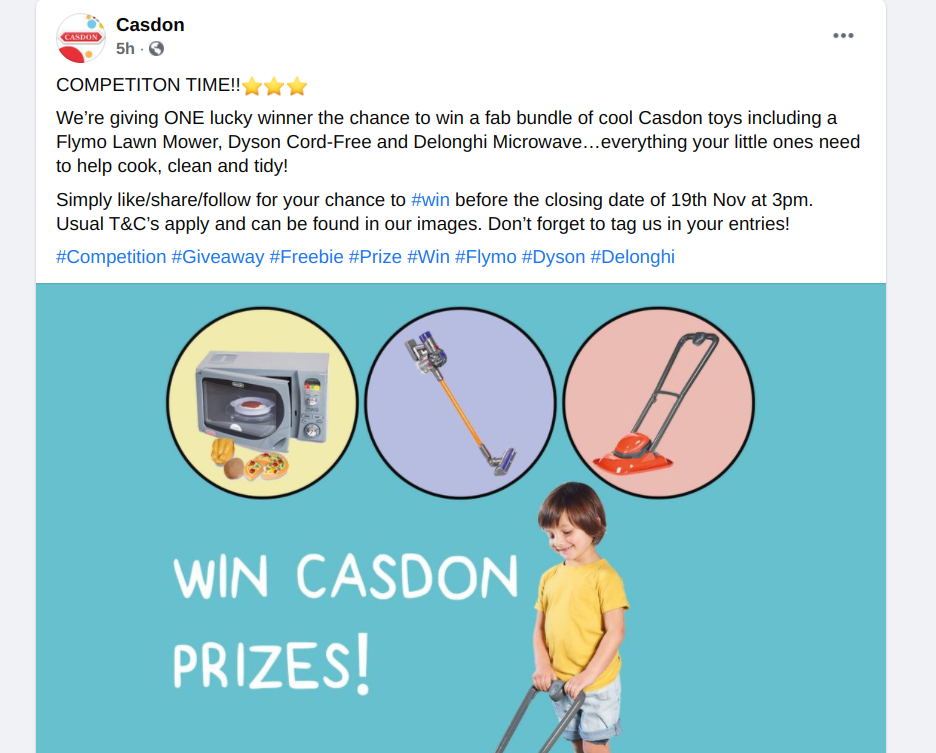 Beyond that, you have to select a gift that will make it easier to achieve your goals. For instance, if you want to acquire many high-quality leads, then a cheap gift might discourage them from participating in your giveaway.
Therefore, your gift has to be related to your industry and increase your chances of achieving your giveaway goals.
3. Understand and follow Facebook's giveaway rules
While most businesses have noble intentions when running Facebook giveaways, their execution can turn into a mess. Some entry criteria for giveaways (such as sharing on your timeline or a friend's) can lead to a negative user experience for Facebook users.
To prevent this, Facebook has promotion rules that you must follow while running a giveaway.
First, you have to release Facebook from your giveaway. This means your participants should know that Facebook has no association with your contest or promotion.
Here's a quote you can use as a disclaimer in your giveaway post: "We release Facebook by each entrant or participant, an acknowledgment that this is in no way sponsored, endorsed, or administered by, or associated with Facebook."
Apart from that, Facebook forbids you to require that giveaway participants share your giveaway on their timeline, friend's timeline, or tag friends.
Another critical point to keep in mind is that Facebook forbids you from running lotteries on the platform. When does your giveaway become a lottery? When you require participants to buy a product before they can enter.
Unsurprisingly, Facebook won't assist you in running promotions on the platform. And if you run a giveaway, you do so at your own risk.
Here's a giveaway post from Boggledybook Children's Bookshop: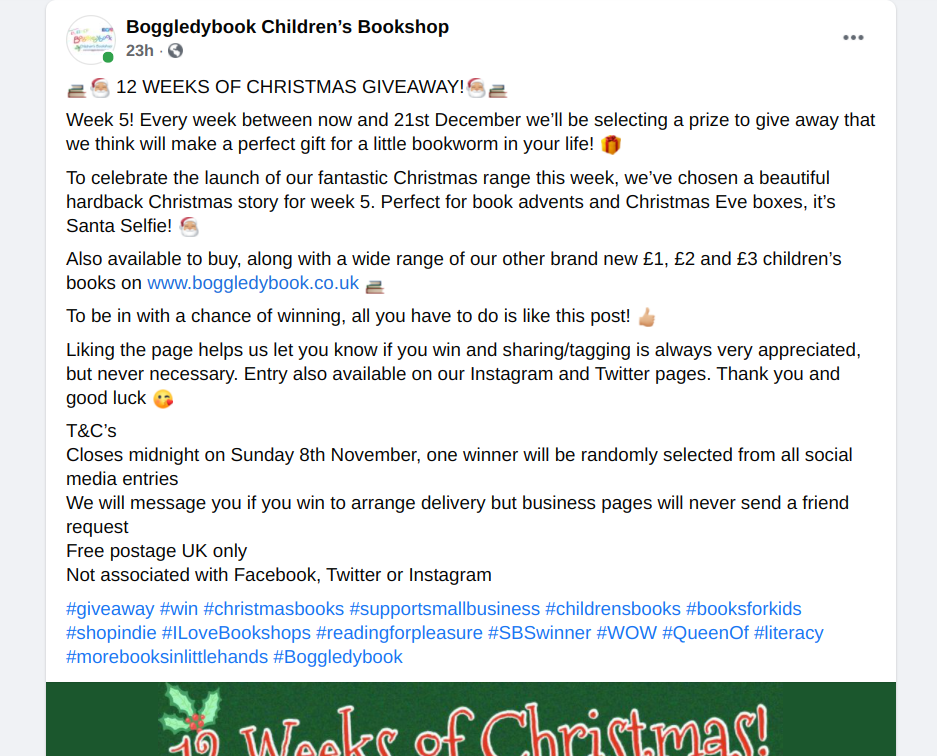 You'll see that this giveaway has obeyed Facebook's promotion rules, unlike most giveaways on Facebook.
4. Specify entry criteria
While selecting your giveaway entry criteria, you have to consider if it helps you achieve your giveaway goals.
Some common entry criteria for Facebook giveaways include:
Submit information to enter
Comment to win
Enter a quiz
Visit Facebook page
Visit Facebook post
The difficulty and number of entry criteria also depend on how valuable your giveaway gift is. If your gift is highly valuable to your audience, you can even ask them to create a video to enter the giveaway.
In this giveaway by Thelema Mountain Vineyards, there's a single entry criterion which is to post a picture: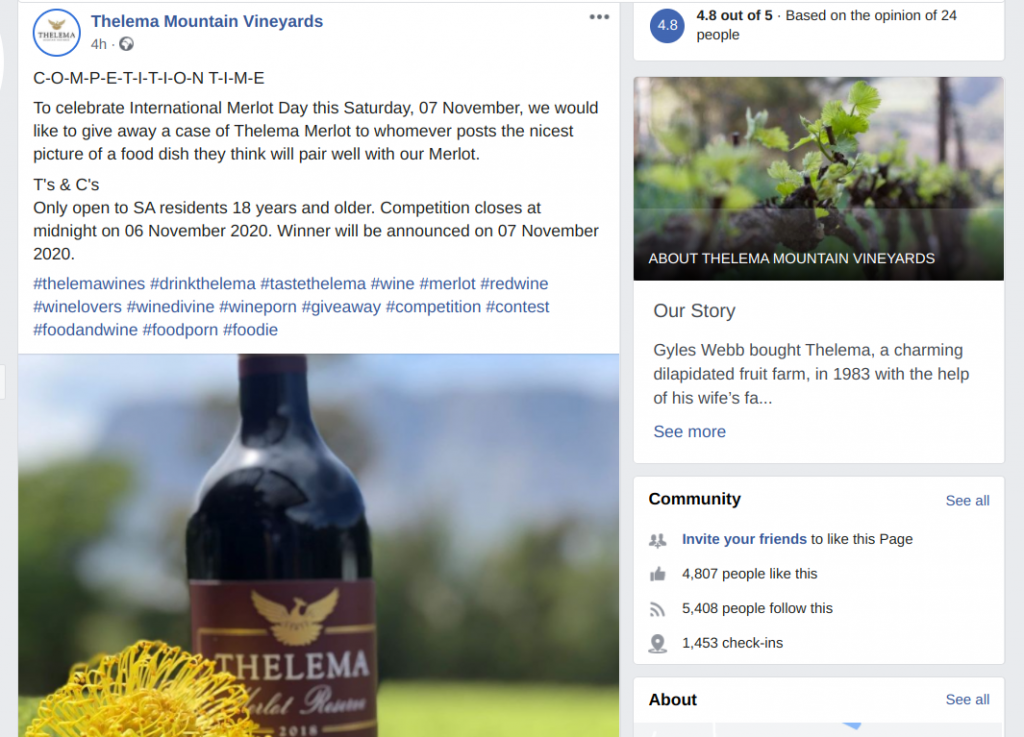 For most giveaways though, there are three or more entry criteria for users to participate.
Another way to get participants active is to allow multiple entries for various actions. This way, giveaway entrants can meet many entry criteria to increase their chances of winning.
If you want to make your giveaway fun and compelling to your audience, check our Facebook giveaway ideas post for inspiration.
While deciding on your entry criteria, you need to consider your giveaway goals and how valuable your gift is.
5. Use an effective Facebook giveaway tool
Running a Facebook giveaway can be stressful and ineffective if you're doing it manually. But not if you use the right giveaway tool.
In the planning stage of your giveaway campaign, you need to select a tool that:
Makes it easy to design giveaways
Provides a vast number of entry options
Tracks giveaway participants and number of entries effectively
Provides giveaway statistics
Has tools to select and contact winners
With these in mind, SweepWidget is a giveaway tool that will make your giveaways easy to run while improving your chances of achieving your goals.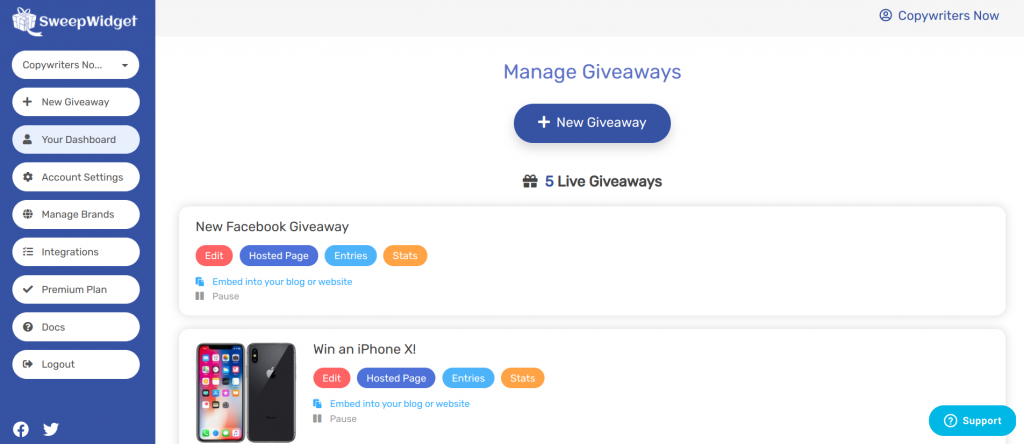 First of all, SweepWidget provides Facebook entry options such as:
Visit page
Visit post
Post comment
Join group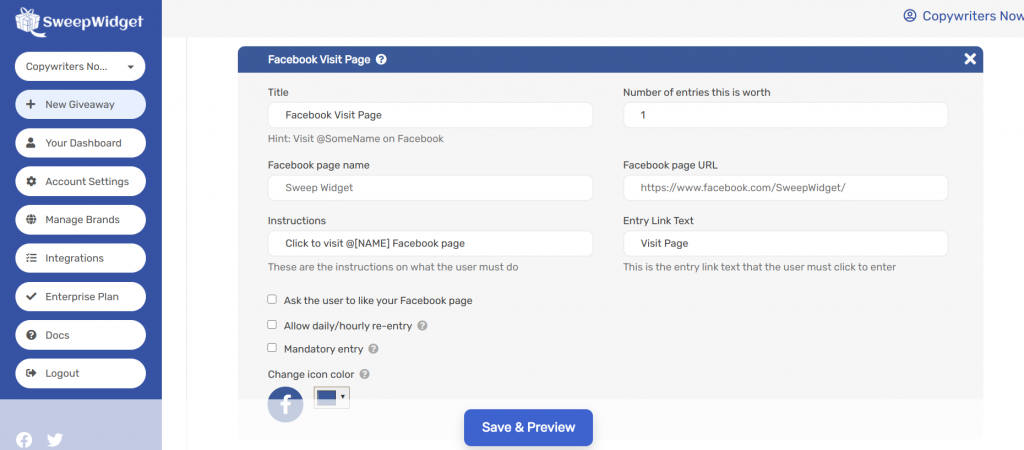 Beyond Facebook's options, you can use other entry options in your giveaway. With up to 100 entry options available for a single giveaway, you have more than enough options for your giveaway.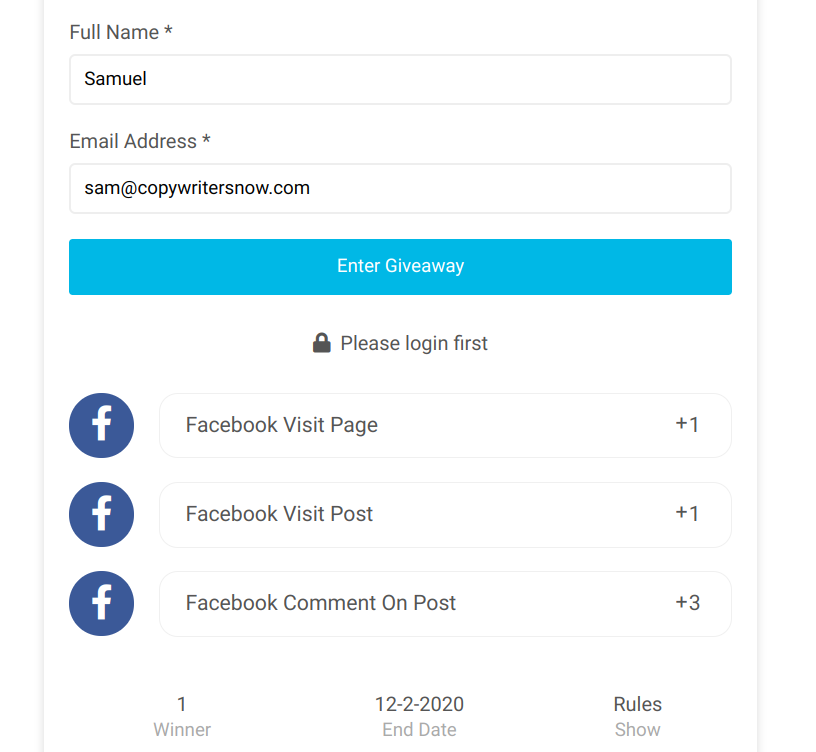 If you want participants to answer questions about a particular product or your brand, you can set up a quiz too. All you have to do is click on "Custom Input Field" and enter your question and options.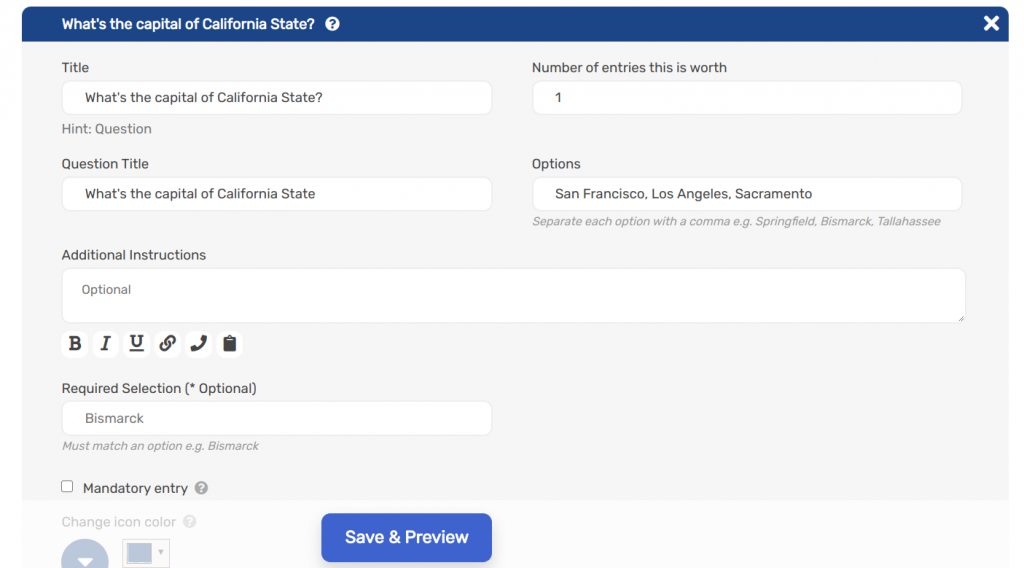 Suppose you aim to capture leads from your campaign, you can set up a lead form that participants have to fill to enter the Facebook contest.
For these campaigns, SweepWidget allows you to integrate with your email marketing or CRM tools so that you can add your leads to automated sequences.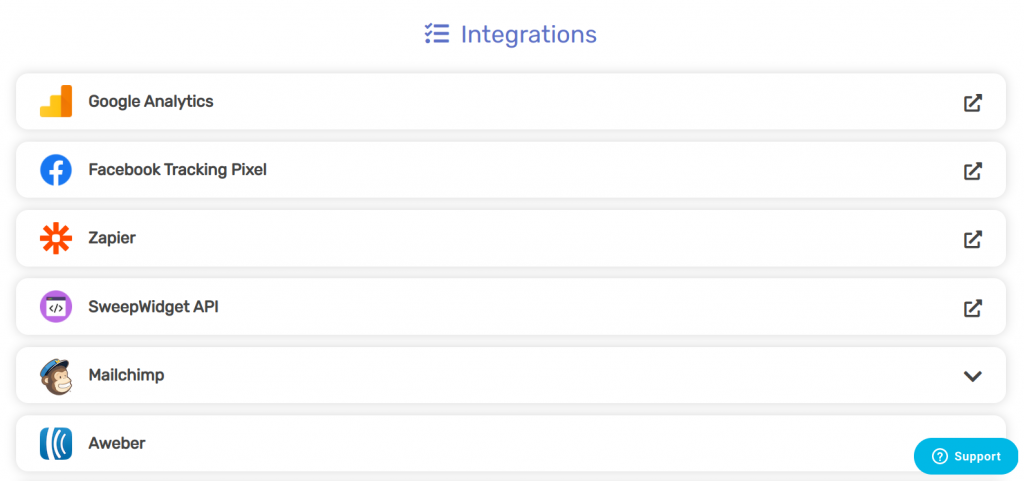 In addition to these, SweepWidget makes your giveaway mobile-friendly for a large number of Facebook users who will be using their smartphones.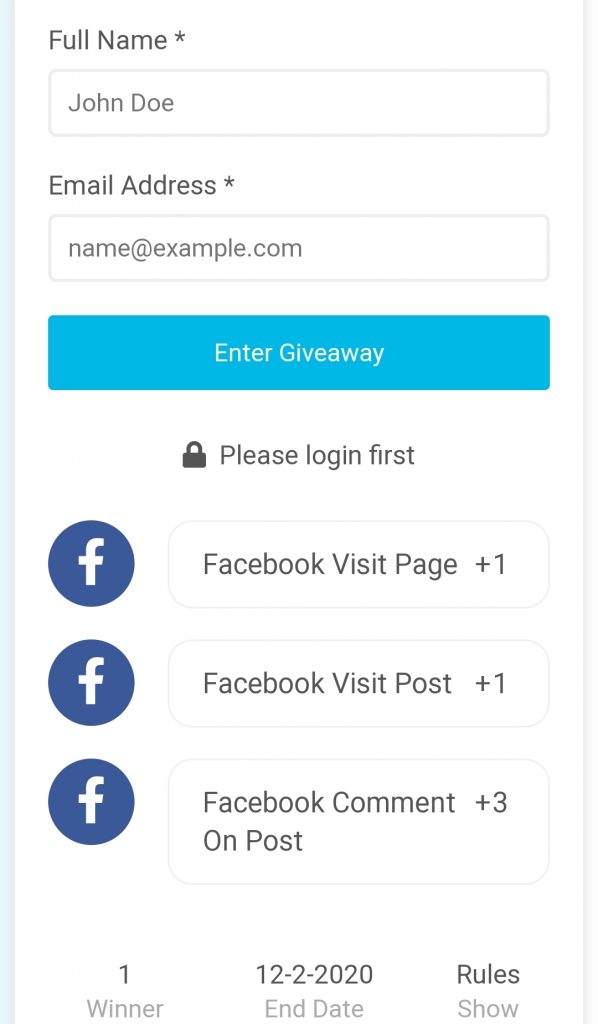 With SweepWidget, you can design your giveaway, select winners, and track essential numbers about your campaign.
6. Create your Facebook giveaway post
Your potential giveaway participants have so many Facebook posts vying for their attention. How do you attract them to your giveaway?
Through a compelling giveaway post. In light of this, an ideal Facebook giveaway post should include:
An interesting caption
A simple and attractive image
Entry criteria
Prize to be won
Giveaway rules
Giveaway duration
With these pieces of information, potential entrants will have the necessary information they need about your giveaway.
Also, to ensure more people will see your giveaway post, pin it to the top of your Facebook page during your campaign. Here's a Facebook giveaway post that includes most of what you expect from a giveaway post: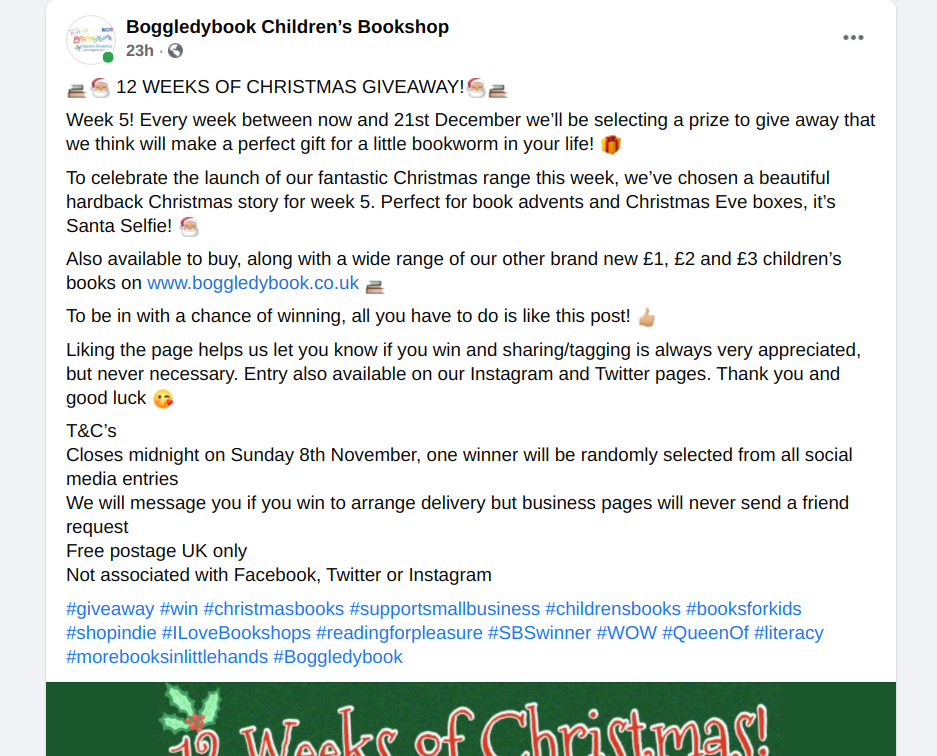 With these pieces of information, participants will know all they need to know about the giveaway.
7. Promote your Facebook giveaway
Even though a gift should attract people in itself, many people will still miss out due to your promotion not showing up on their timeline. However, through some channels, you can efficiently promote your giveaway to a broader audience.
Despite your giveaway being for Facebook, you can share on Facebook and other social media channels. After all, many people on Twitter, LinkedIn, Instagram, and other social channels are also on Facebook.
With SweepWidget, you have two options to host your giveaway to aid sharing. You can host on your website or SweepWidget. For any of the two options, you have links to share.

If you have a subscribers list of customers and warm leads, then a short email sequence promoting your giveaway will attract entrants.
Then, you can also announce on your blog and link to your giveaway page to refer website visitors. Also, you'll find our list of websites to promote your giveaway informative.
Furthermore, running Facebook ads targeted at your ideal audience will give you access to a larger audience.
To get the desired results from your promotions, you have to start promotion before your campaign. By doing this, you'll build anticipation and a sizable audience by the time you start your giveaway.
See this example from Posh Shampoo Bar Co: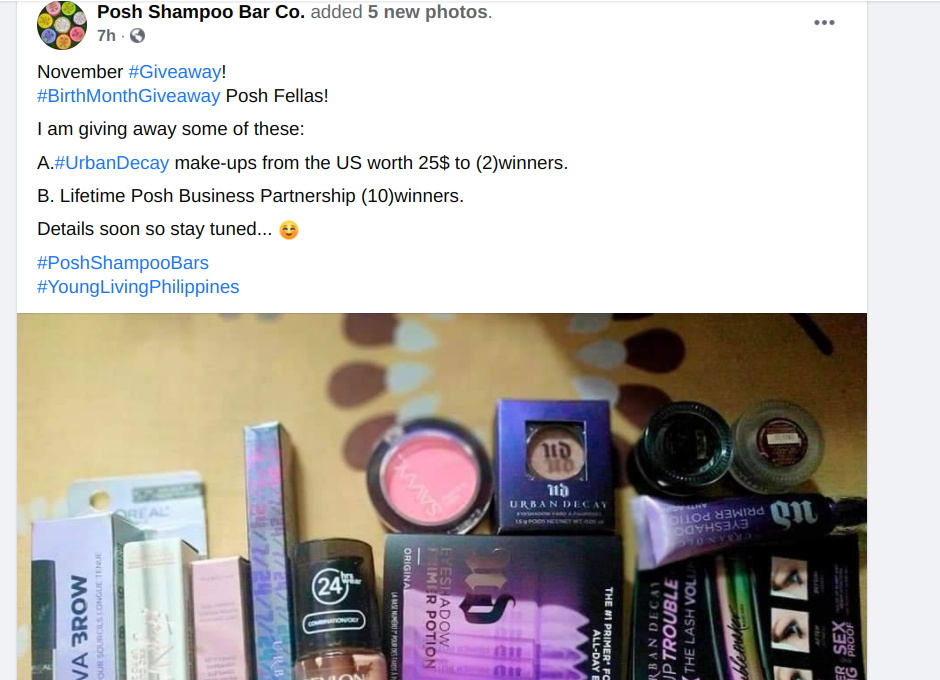 8. Select and contact Facebook giveaway winner(s)
At the end of your giveaway campaign, the next step is to select a winner or winners according to your entry criteria and giveaway rules.
If your entry criteria require participants to enter their emails and comment on your post, then picking a winner randomly is acceptable for most participants. However, if that comment is an answer to a question, then you have to pick the best comment.
Luckily, SweepWidget makes it easy to track your entries and pick a winner. All you have to do is click on "Entries" of your giveaway.
This will bring up your entries and options to pick winners.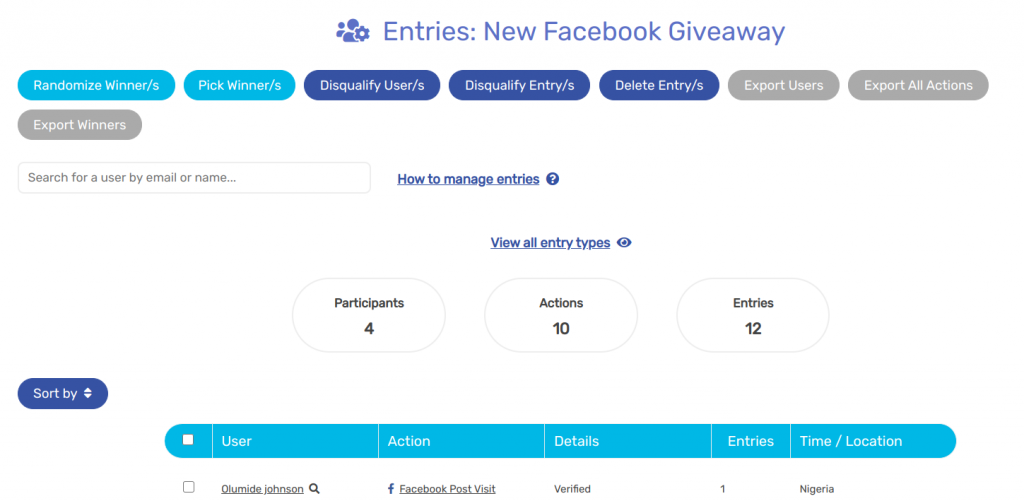 If you want to pick a random winner, click on "Randomize Winner/s" to do so. No matter how you want to pick your winner, SweepWidget provides tools to help you do that.
After selecting your winner, SweepWidget will display their contact details. From here, you can send a message to them with further information about their win.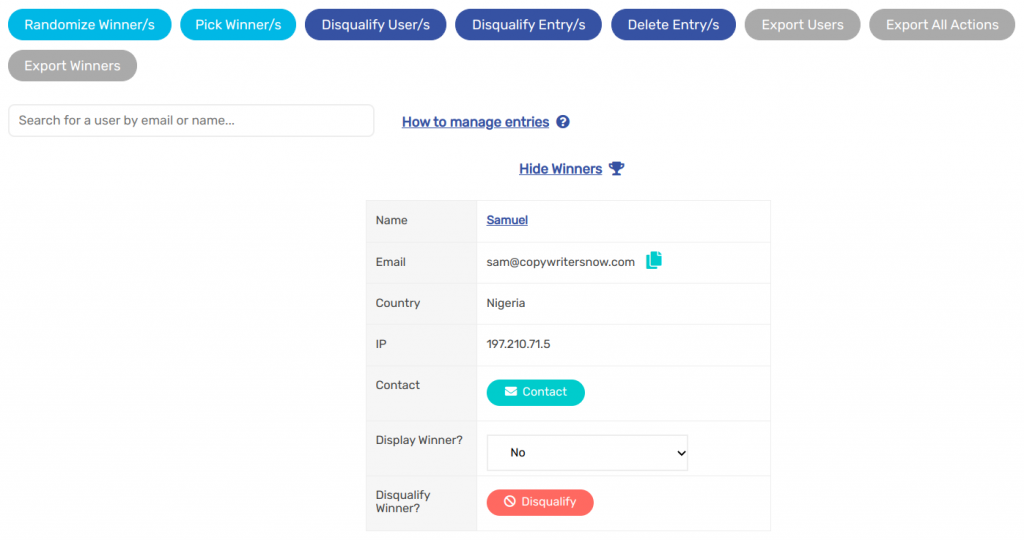 Beyond this, if your gift is physical, you can ask for more details on how to deliver it to them.
9. Announce Facebook giveaway winner
For every giveaway, participants want to see that a winner emerged from the competition. Therefore, announcing a winner is a logical conclusion to your giveaway campaign.
However, your credibility depends on more than just announcing a winner. If your giveaway is a quiz or other types where you have to select a winner, then you also have to explain how the winner emerged.
Here's ZOTAC announcing their giveaway winner and explaining how they emerged: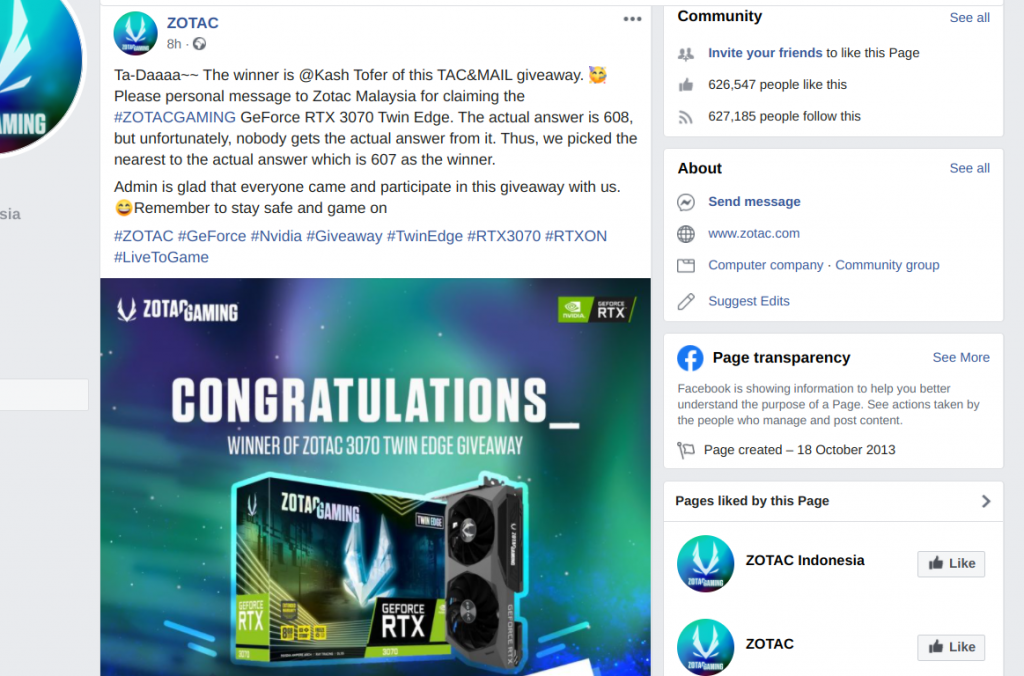 After announcing the winner, it's vital to appreciate all the giveaway participants and tell them to watch out for your next giveaway. Another way to appreciate participants is to release a coupon code that they can use to buy products from your website.
In a case where you've acquired email addresses, you can send personalized messages, including a coupon code to each participant.
10. Measure vital metrics of your Facebook giveaway
Has your giveaway achieved your goals? Whatever goals you set before your campaign, there are numbers that can help you track them.
First, SweepWidget provides an analytics section for each giveaway. Click the "Stats" button by your giveaway to access the statistics.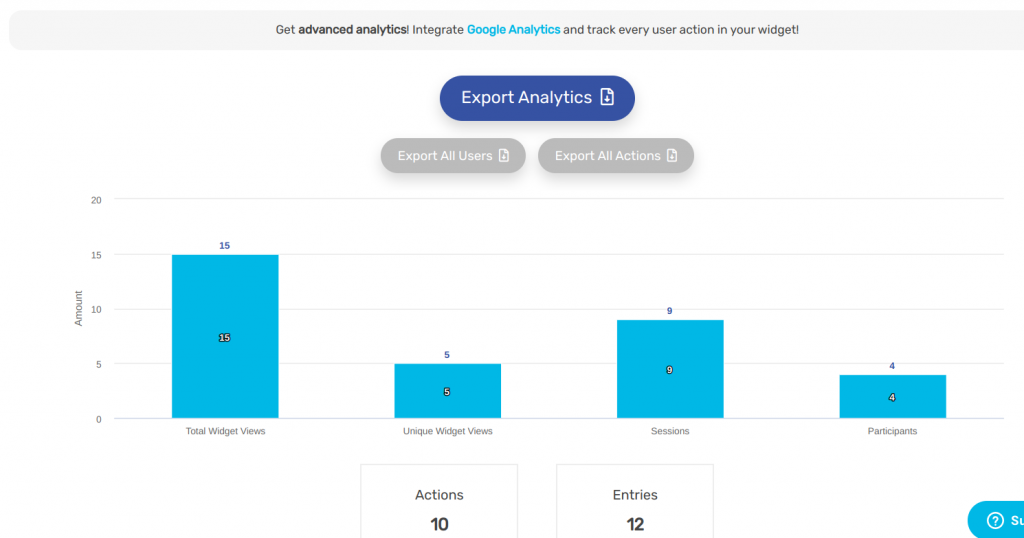 On the analytics page, you have access to statistics such as total widget views, unique widget views, sessions, and participants.
If you have hosted your giveaway on a website page, then SweepWidget's integration with Google Analytics will provide more details about your participants and how they behaved on your website.
Furthermore, SweepWidget's integrations with email marketing and CRM tools will provide more details about the leads you captured during your giveaway.
Conclusion
Running a Facebook giveaway is a simple and effective way to connect with your audience while achieving your marketing goals.
If you're looking to increase Facebook page engagement or capture leads you can convert to customers, then running a giveaway is one of your best bets.
Fortunately, SweepWidget has all the tools you need to create, run, and conclude a successful giveaway. Check out SweepWidget plans to see the plan that fits your needs for your next giveaway.
And if you're planning to run a successful Instagram giveaway too, you can check our guide on the steps to take.