How To Get Your First 1,000 Discord Members (10 Proven Strategies)
Last updated on September 3rd, 2023 at 01:33 am
Reaching your first 1,000 Discord members is a milestone that shows you have a strong community—while also blowing past the 500 members you need to apply to become a Discord partner. But getting there is challenging, especially when holding attention on the internet has never been so competitive.
The best way to grow your Discord server is through consistent branding, pre-launch prospecting, content planning, and regular giveaways to build a buzz in your community.
We'll go into more detail about the actions you need to take to build an active Discord server taking learnings from successful community managers.
Table of Contents
1. Reach out to your friends before starting your server
If you're starting from zero, even before you create your server, reach out to your friends (preferably those already on Discord) to tell them you're thinking of starting a server and would love their thoughts.
By asking for opinions early, you enable your friends to get behind you, as they'll naturally want to see you succeed. Your friends might also help to give you ideas on what type of server they'd like to see you create.
So set yourself a goal of asking for feedback from 50 people in your network. Capture feedback in a doc or spreadsheet and ask follow-up questions.
Keep your contacts in the loop as you build your server, especially if you've implemented their suggestions. These members will create a vibe and culture in your server before you open the doors to the general public.
If you're struggling to find 50 people, spend more time being active in other Discord communities. Focus on forming genuine connections, and then when the time is right, ask them for feedback.
2. Make your Discord server branding memorable
Make a trust-worthy first impression by making your server organized and attractive. The four branding elements include your name, description, icon, and custom emotes. Let's briefly break them down.
Name
Make your server name short, relevant, and easy to remember. If you're starting a server for your business, include your company name. For example, famous tech YouTuber Marques Brownlee, better known as MBKHD, has a community Discord with the same name.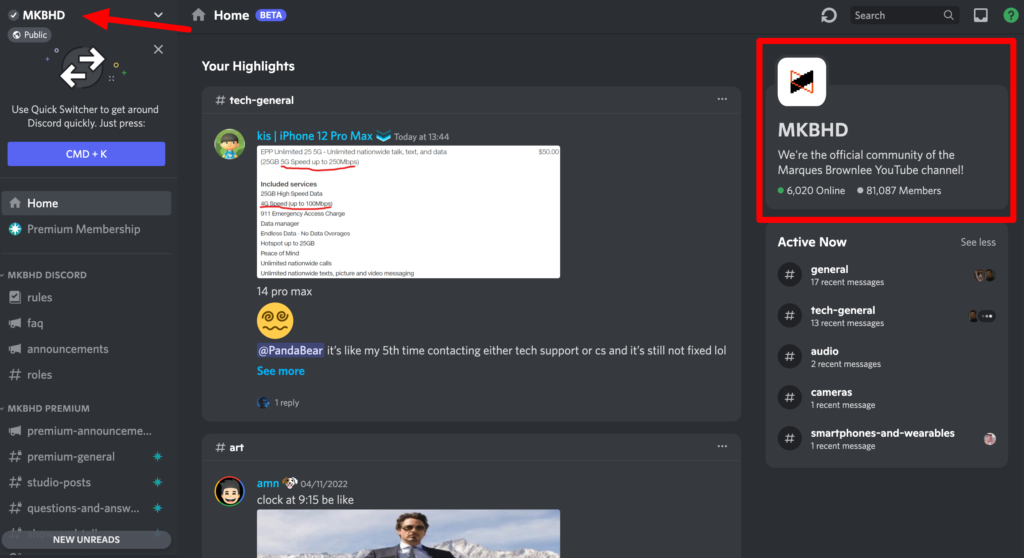 Description
Your server description is like a mini-elevator pitch and should give first-time visitors an overview of what your server is about. Keep your description under 100 characters, include relevant keywords (more on that later), and update it regularly to reflect changes in your server.
Avatar
Your avatar provides a quick way for members to identify your server. Use an icon relevant to your subject. Get creative with your avatar by adding text or making a gif.
Custom emotes
Emotes add excitement and personality to conversations. Many members will ask where they can get custom emotes like yours, which is a fantastic way to increase invites. Consider creating custom emotes using a free design tool like Canva.
3. Develop an onboarding communication system for new members
New members need help to acclimate to your community's culture, norms, and expectations. It's up to you to make them feel welcome. If you don't, they'll likely leave and never come back. So for every ten members joining, five may go—this is your retention rate.
Increase your retention by developing an onboarding system for new members. Here are six strategies to add to your process:
Create a channel called #rules-and-info: This is where you can post all the essential information a new member needs. Include the server rules, how to use certain features, and where to find specific channels.
Welcome new members to the channel: As soon as a new member joins, send them a direct message or welcome them to the channel feed. Let them know you're happy to have them on the server and that you'll help them get acclimated.
Personalize the welcome message: You can use a bot or automation tool to send a welcome message, but it's more personal to do manually, especially in the beginning. Include the member's name, some information about the server, and a question to start a conversation.
Create a channel called #introductions: In this channel, new members can introduce themselves to the rest of the community. They can share their name, where they're from, what they like to do, and why they joined the server.
Assign a role to new members: When someone joins a server, they're assigned the "member" role by default. But you can create custom roles and assign them to new members. This is a great way to segment your community and give members access to specific channels.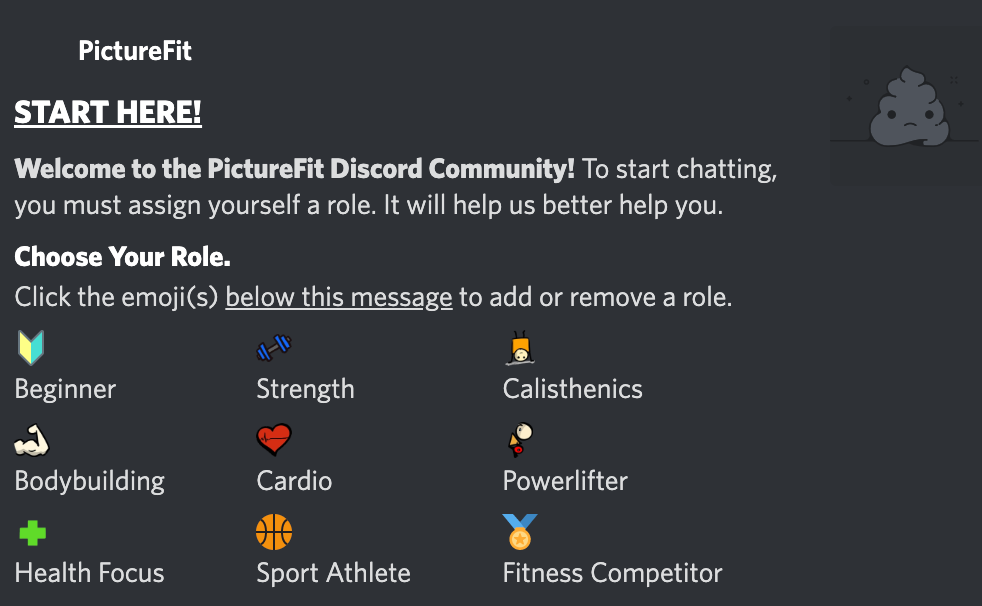 Create relatable channels like #pet-lovers or #music-addicts: These channels help new members find others with similar interests. And they give people a place to talk about things they're passionate about.
4. Get creative with your content
You want to turn your server into a true community, the place that feels like a never-ending backyard bbq with your best friends. Easier said than done, right?
There's no shortcut to this. However, vulnerability is an excellent approach to building trust. For example, you can encourage vulnerability by creating an "embarrassing stories" channel.
You can also take note of what your community is talking about. Are people discussing Extra Terrestrials or Anime? Then create channels for those topics.
5. Add a giveaway channel to keep members rolling in
Discord giveaways are an effective way to bring in new members and keep your server active. Competitions are fun, gamified, and easy to run using Discord bots and even easier using a tool like SweepWidget (try it for yourself). Another popular tool is ViralKit (AI powered contest builder).
SweepWidget makes it easy to increase your followers on Discord with the "Follow Discord Server" entry method. The best part is that the app will API validate entries to ensure users actually join your server. This means "no fake entries".
Read more: Beginners Guide: How To Run A Contest To Quickly Gain More Followers
NFT project VeeFriends brings in thousands of new Discord members with its annual Halloween Pumpkin Carving Contest. Not only does this campaign grow the VeeFriends Discord server, but it also gets exposure on Twitter while promoting the NFT project.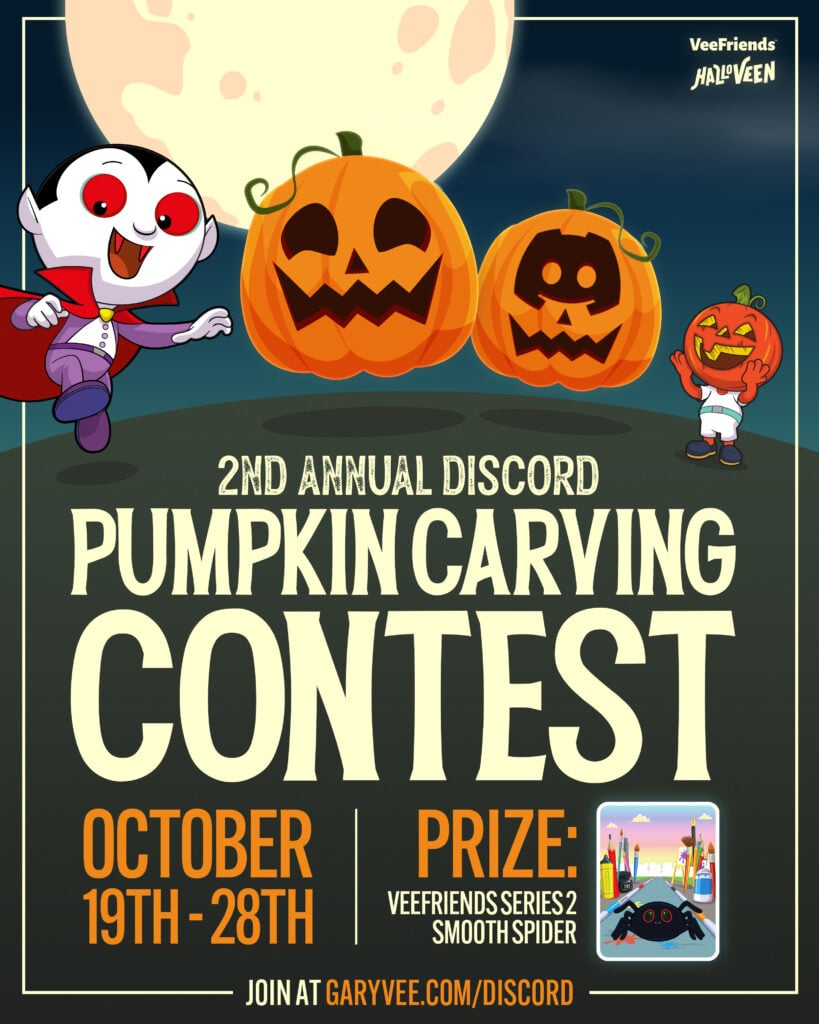 Here's how to run a Discord giveaway:
Step 1 – Choose a prize
The first step is to choose a reward for your giveaway. It can be anything from vouchers, exclusive access, in-game items to real-world prizes. Just make sure it's something that members will be excited to win.
Step 2 – Set up the giveaway
Setting up your giveaway involves choosing your entry requirements, deciding how many winners there'll be, and picking a start and end date for your contest.
Also, verification is critical to avoid bot entries. The benefit of using SweepWidget is that there's an API integration to authenticate people's Discord accounts to verify that they joined a server.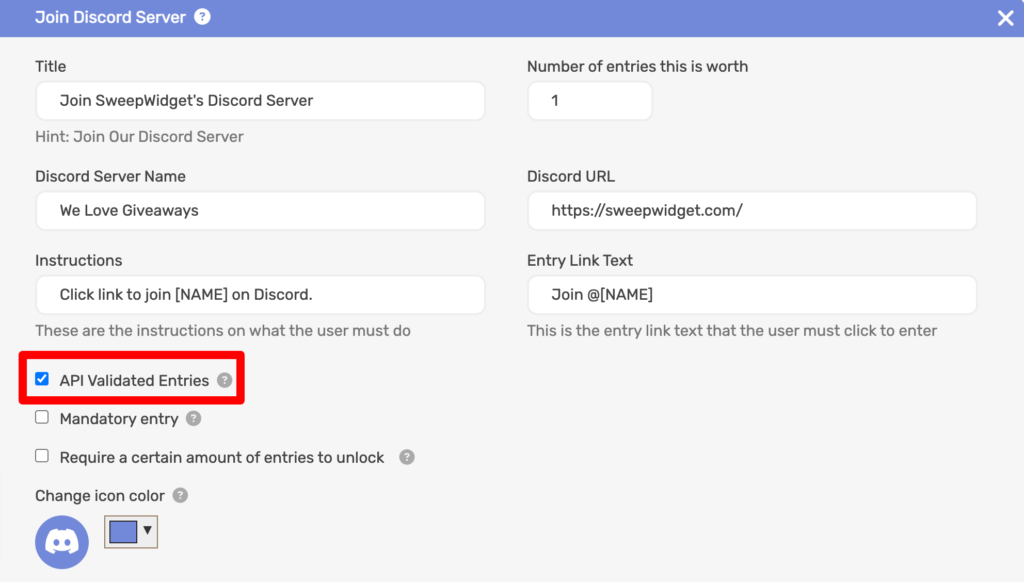 You can sign up for a free SweepWidget plan here.
Step 3 – Promote the giveaway
Make your server members aware of the giveaway and have a chance to enter. The best way to do this is to create a dedicated channel for the giveaway and post regular updates.
In SweepWidget, you can create entry methods across 30+ social media platforms, including Twitter, YouTube, and Twitch. This allows you to tap into new audiences and bring them back to your Discord server while simultaneously promoting all of your platforms.
Step 4 – Select the winners
Picking winners can be done manually, or you can use SweepWidget to select the winners for you randomly automatically.
Step 5 – Announce the winners
You can announce the winners in your dedicated giveaway channel or another channel. Be sure to congratulate the winners and let them know how to claim their prize. Your community will feel even more excited to participate in the next giveaway event by publicly showcasing successful competition winners.
Extra tip
Take your Discord giveaway to the next level with SweepWidget's leaderboard feature. The leaderboard allows members to earn points for completing actions like inviting friends or engaging in the community.
The member with the most points at the end of the giveaway wins a prize—perfect for a platform that was initially created for gamers by gamers.
6. Promote your most engaged members into moderators
Your moderators are the backbone of your community. They keep the peace, answer questions, and help new members feel welcome.
The best moderators are usually the most engaged members of your community. They're the ones who are always talking in chat, participating in events, and helping others.
If you're fortunate to have enthusiastic members, consider promoting them to moderators. Awarding responsibility to others is a great way to show appreciation for their help while creating a team environment.
7. Work with strategic partners
One of the most effective ways to grow your community is through collaborations. This is true on any platform, and Discord is no exception. There are two main ways to do this on Discord:
Partnering with other servers: You promote each other's servers to your members and cross-post content between the two communities.
Working with brands and influencers: This could be anything from sponsoring a giveaway to working with an influencer to promote your server.
The key to success with both strategies is finding the right partners. Find communities and influencers with a similar target audience to yours to ensure that the partnership benefits both sides.
To build even more buzz through partnerships, consider running a joint giveaway with another server or influencer. Collaborations are a pinch to manage in SweepWidget. Simply add additional Discord entry methods for each partner.
8. Learn search engine optimization (SEO)
SEO is the process of optimizing your website or content so that it ranks higher in search engine results. So if someone is looking for the "best Discord servers for creators," you want your server to be one of the first results.
The higher you rank in search results, the more exposure your server will get. And the more exposure your server gets, the more likely you attract new members.
Rishab Jain attributes getting 80,000 of his members from Google searches (check out his breakdown in the video below).
The first step to optimizing your Discord server for SEO is to use keywords in your server's name and description. These are the words and phrases that people are searching for in your niche.
If you're running a Discord server for succulent gardeners, you want to use keywords like "succulent," "gardening," and "plants."
You can also use tools like Google Ads Keyword Planner to find keywords with demand related to your server topic.
The second step is to make YouTube videos targeting your keywords. Video is becoming more prominent in search results and is a great way to get even more exposure for your server.
9. Host regular events to keep people coming back
One of the best ways to build a sense of community is to host regular events. This could be anything from:
Gaming nights: Get together with your members and play some games.
Movie nights: Watch a movie together and discuss it afterward.
Giveaways: Host a competition for your members. With SweepWidget, you can schedule all of your contests in advance.

Karaoke: Have some fun and sing your hearts out.
AMAs: Invite someone interesting to do an AMA (ask me anything) session with your members.
Product launches: If you have a product or service, use your Discord server to launch it. You can offer exclusive discounts and early access to your members.
You can use the Events channel in Discord to keep track of upcoming events and remind people to join in.
10. Add your server on server lists
Server lists are like directories for Discord servers and can help you attract new members. There are many server lists on the internet, so it's essential to choose the right ones to cultivate your community.
The most popular server list is Discord.me. We also recommend top.gg, Discord.io, Discords.com, and Disboard.org.
Create an account on these sites and add your server. Use your branding and SEO information to make your server stand out. Some of these directories give more exposure to listings with reviews, so ask your members to leave a review to boost your visibility.
How to get more discord members: final thoughts
Discord is an excellent platform for building a community. By following the tips in this guide, your server is set up for success.
Remember to focus on branding, SEO, and events to attract new members and keep them engaged. And using SweepWidget to host giveaways is a powerful way to drive even more excitement and growth on your way to your first 1,000 members.