How To Setup a Giveaway Bot on Discord (The Easy Way)
Last updated on December 16th, 2022 at 04:48 pm
Running regular Discord giveaways is a fun way to engage with your community and grow your server. And one of the easiest ways to do that is by setting up a Discord giveaway bot.
But even then, using giveaway tools like SweepWidget gives you more features and security to deliver an incredibly engaging experience to your members.
This post will briefly explain how you can run giveaways on Discord before providing a step-by-step guide on setting up your Discord giveaway bot. Then we share how to do the same thing in SweepWidget so you can compare and decide what's best for you.
Table of Contents
What is a Discord giveaway bot, and what are the alternatives?
A Discord giveaway bot is a computer program that interacts with users on the Discord platform to host giveaways.
These bots use artificial intelligence (AI) technology to automate many tasks involved in running a giveaway, such as randomly selecting winners and notifying them. This allows you to focus on interacting with your members and managing the overall contest rather than on administrative tasks.
Additionally, AI-enabled bots can learn how to better serve participants based on feedback, making giveaways more efficient and user-friendly.
GiveawayBot.Party is the most popular giveaway bot on DiDiscordand it's free to use. However, dedicated giveaway tools like SweepWidget provide more features, such as customizable giveaway pages, email integration, engagement metrics, and more.
Whether you use SweepWidet or a bot for Discord contests, both options are better than manually running giveaways.
How to set up a giveaway bot Discordord
Setting up a giveaway bot on Discord is simple and doesn't require any coding experience. Here's how you can do it:
1. Go to GiveawayBot.Party and invite the server to yoDiscordord
2. Authenticate your account by selecting your server from the drop-down menu. Then click continue.
3. Configure your permissions and click authorize. Note that if you deselect options, the bot may not learn properly.
Once you approve your captcha, the bot has officially joined your server.
4. Create a text channel for giveaways
5. Use commands to control your Discord giveaway bot
To start your giveaway, enter /gcreate and press the return key.
This will bring up a form to enter the giveaway duration, the number of winners, the prize, and the description. When you've entered the details, press submit to start your giveaway.
To enter the competition, participants need to click on the icon.
When the giveaway period concludes, the bot will randomly select a winner.
Using GiveawayBot is a good starting point for running Discord giveaways, but with the proliferation of bot spanners and lacking features, using a giveaway tool offers more features to grow your community and a secure environment that your members can trust.
The benefits of using a giveaways tool over a bot
Some Discord community members are becoming increasingly weary of bot spammers.
And while GiveawayBot is free, it lacks the features to drive real growth in your Discord channel and other platforms. That's why we recommend using a giveaway tool.
A tool like SweepWidget is designed to help you run and manage contests to grow your community across all platforms. Let's see how GiveawayBot stacks up against SweepWidget.
Round 1 – Entry methods
GiveawayBot has one entry method – clicking the giveaway icon to enter. This is very basic and doesn't encourage engagement or further action from contestants.
SweepWidget has over 90 entry methods that let you reach people on TikTok, Instagram, Facebook, Twitch, Telegram, Twitter, YouTube, and much more. You can even create and run an airdrop, NFT giveaway, whitelist presale, or any other type of crypto contest or competition. This enables you to build a larger audience for your giveaway and helps foster organic growth in your community.
Winner: SweepWidget
Round 2 – Security
GiveawayBot doesn't provide a secure giveaway environment. It's easy for cheaters and bots to enter the giveaway multiple times, which can ruin your giveaway.
SweepWidget has advanced anti-fraud measures, such as device fingerprinting, to detect suspicious activity and stop potential cheaters. It also uses an API integration to authenticate people's Discord accounts so only your server members can enter. SweepWidget uses the same technology for API-verified social actions across other social platforms.
Winner: SweepWidget
Round 3 – Gamification
GiveawayBot doesn't offer any features that help you engage your giveaway participants or gamify the giveaway experience.
SweepWidget has gamification features like levels, leaderboards, and milestones. All of these can be used to unlock rewards and help you drive more engagement from giveaway participants.
For example, you can create a leaderboard giveaway where users compete to get the highest score or add prize tiers and milestones so users can enter into new prize draws as they earn more points. SweepWidgets' leaderboard feature has proven to increase entries by up to 400%
Winner: SweepWidget
Round 4 – User experience
GiveawayBot's giveaway entry form is straightforward, with no frills or customization options. This is an advantage, especially if you're new to running giveaways and already familiar with Discord.
SweepWidget offers a much more comprehensive Discord giveaway creation experience, with advanced customization options and real-time previews of your giveaway as you create it. You can also add custom branding elements to your giveaways, such as logos and color schemes, to make it stand out from other contests. Despite all of these options, you can have your first SweepWidget giveaway up and running in minutes.
Winner: Tie
Round 5 – Analytics
GiveawayBot does not provide any analytics, meaning you'll never know how many views or entries your giveaway got.
SweepWidget offers powerful analytics to track the performance of your giveaway in real time. You can monitor entries and interactions, see how many people you've reached, and measure the effectiveness of each entry method. You can also compare giveaway campaigns over time to understand what works and tweak any giveaway for optimum performance.
Winner: SweepWidget
Round 6 – Price
GiveawayBot is free (with a donation option) but lacks the features to drive real growth in your Discord channel and other platforms. Additionally, with free tools, there isn't as much incentive for extra support or adding more features.
SweepWidget's giveaway plans start at $29/month, and they come with advanced giveaway features designed to help you reach a larger audience and drive more engagement from giveaway participants. You also get access to support and updates, so your giveaway software is always up-to-date with the latest features.
Winner: GiveawayBot
Round 7 – Integrations
GiveawayBot only integrates with Discord, so giveaway participants must be members of your Discord Server to enter.
SweepWidget has 40+ APIs and 20+ CRM integrations, so giveaway participants can enter from almost any platform or device. This includes popular marketing tools like MailChimp, Buffer, and Zapier and social media platforms such as Instagram, YouTube, and Twitter.
Winner: SweepWidget
Round 8 – Campaign management
GiveawayBot's AI offers some basic assistance for giveaway moderation, such as disqualifying users for cheating and picking a winner. The bot will also automatically announce giveaway winners in Discord.
SweepWidget offers a full suite of giveaway management features. You can create giveaway rules and set up disqualification criteria, manage giveaway entries, pick winners automatically or manually, export all data to a CSV file, track giveaway performance, and more.
Winner: SweepWidget
| | | |
| --- | --- | --- |
| Feature | GiveawayBot | SweepWidget |
| Entry methods | | Winner |
| Security | | Winner |
| Gamification | | Winner |
| User experience | Tie | Tie |
| Analytics | | Winner |
| Price | Winner | |
| Integrations | | Winner |
| Campaign management | | Winner |
Based on our comparison, SweepWidget is the superior giveaway bot for Discord. It offers added security, more engagement features, advanced giveaway customization options, analytics, and support and updates.
These features may be worth the extra cost if you're looking to foster organic growth and engagement in your community. Conversely, GiveawayBot provides a basic giveaway experience that's free of charge. It's best for giveaway beginners who just want to get a giveaway up and running quickly.
How to set up your Discord giveaway using SweepWidget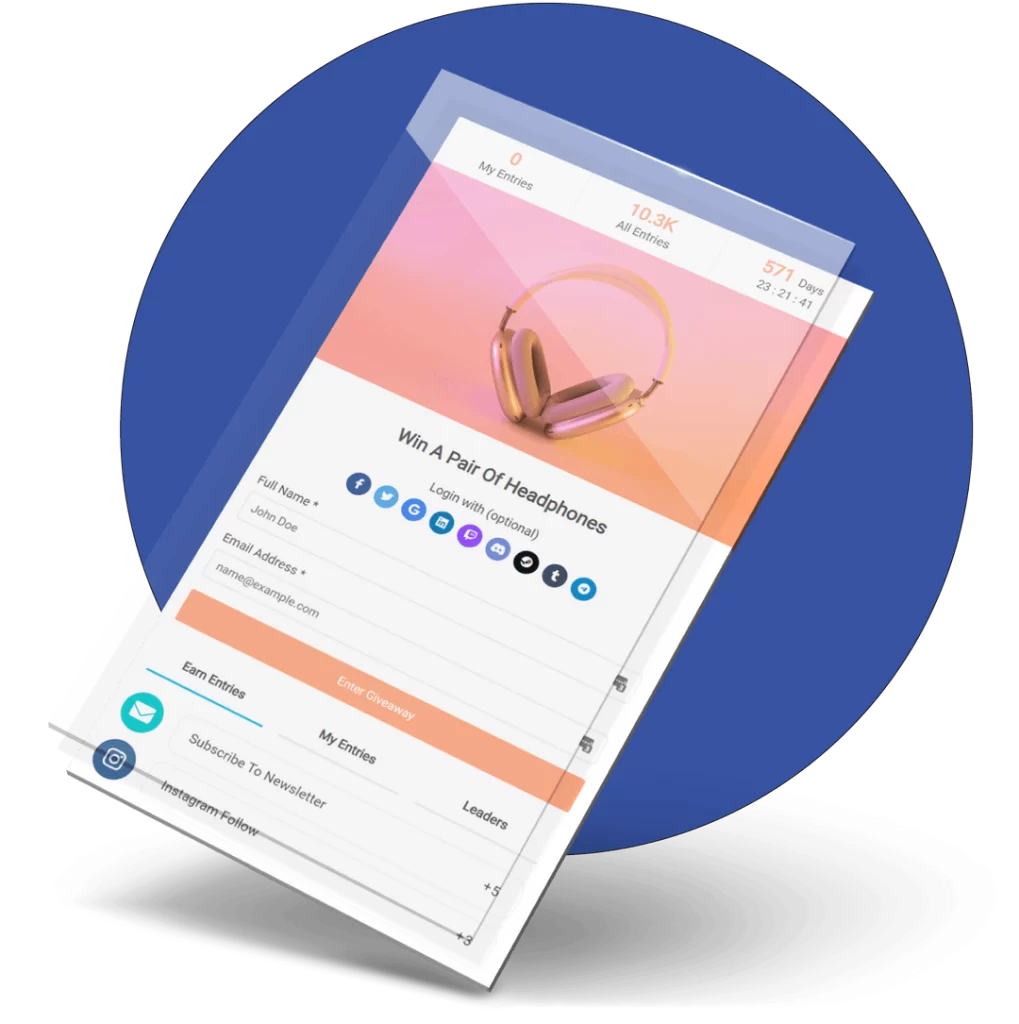 A big difference between SweepWidget and a Discord bot is that SweepWidget's experience is designed around a landing page. This means that giveaway participants have to click away from Discord and go to the giveaway page to enter. But this is a good thing.
SweepWidget's giveaway landing page offers a comprehensive solution to growing your Discord community. With its customizable giveaway entry form, you can create an attractive contest that stands out from the competition. And with its advanced customization options, you can add logos, color schemes, and other branding elements to make your giveaway look more professional and on-brand.
To set up a giveaway using SweepWidget, all you need to do is create a giveaway, customize it using the form builder, copy the URL of your giveaway landing page and post it on your Discord channel. Participants can then enter by filling out the giveaway entry form. Let's break this down.
Step 1 – Create your giveaway
Log into your SweepWidget account and select 'New Giveaway.' This will open up the giveaway builder, where you can customize the giveaway entry form, add branding elements and set the giveaway rules.
For example, you can set the giveaway start and end date, how many winners, write the prize description and choose whether anyone worldwide can enter or target a specific location.
Step 2 – Set your login requirements
Authenticating your participants is crucial to giveaway security. With SweepWidget, you can require participants to sign up with an email or allow them to log in with their existing social media accounts, including Discord.
This way, you can ensure those giveaway participants are real people interested in your giveaway. You can also use this data for future giveaway campaigns or promotions.
Step 3 – Choose the entry methods
SweepWidget offers a variety of giveaway entry methods, so you can be sure that your giveaway is reaching the broadest possible audience. You can allow giveaway participants to enter with their email addresses by following your social media accounts or referring friends.
If you select the Discord entry method, you can customize the details, including how many points this action is worth, add your Discord server name and URL, and even change the icon color.
Step 4 – Style your giveaway
You can customize the giveaway landing page with SweepWidget's easy-to-use styling options. Add your logo and other branding elements, choose from various templates and colors and adjust the giveaway entry form's font size.
Step 5 – Post giveaway URL
Once you're happy with the giveaway, click 'Save & Preview' to save it. This will generate a URL for your giveaway landing page – copy this URL and post it on your Discord channel.
Step 6 – Manage entries and pick a winner
As users enter your giveaway, you will be able to view their name, email, location, birthday, time of entry, and the username they followed your Discord bot with. You can then either randomly or manually select a winner.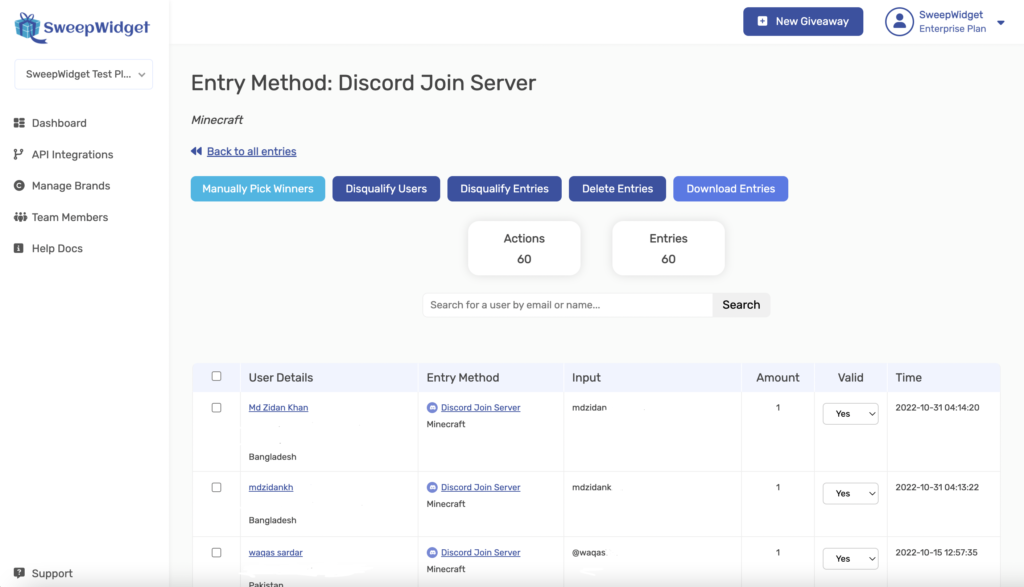 And that's it! You are now ready to run a giveaway within your Discord server.
Discord giveaway bot Vs. SweepWidget: Final thoughts
For the giveaway-minded Discord user looking to generate organic growth and engagement, SweepWidget is a better choice than GiveawayBot. It offers more giveaway features, advanced customization options, analytics, and support and updates.
A Discord bot is best for beginners who want to set up a giveaway quickly and easily.
Whether you choose GiveawayBot or SweepWidget, the important thing is that you create a giveaway that's fun, interesting, and engaging for your community. Good luck!