How This Youtuber Got Over 40k Leads & 24k Followers With An Online Giveaway
Last updated on September 22nd, 2021 at 08:54 pm
Greg The Gameaholic, an online personality, and influencer—was able to generate over 16k emails, 11k YouTube subscribers, and 24k social media followers by hosting a giveaway with SweepWidget.
He's leveraged contest marketing to increase YouTube ad revenue by 400%.
In this post, we're going to show Greg's exact process to achieve his incredible results with sweepstakes campaigns. You will learn how to run a successful online giveaway with similar results.
It doesn't matter if you're in eCommerce, education, or media; Greg's success can be replicated across different industries and niches.
Contents
About Greg The Gameaholic
As his brand name implies, Greg is a self-proclaimed "gameaholic" who's successfully mixed business with pleasure as he produces video gaming content and live streams for his passionate audience.
Greg has doubled down on giveaway content in the last few years—giving away all types of enticing freebies from consoles to gift cards.
He's been publishing on his YouTube channel since August 2018 and has grown his channel to over 23k subscribers in under two years.
After watching a couple of his videos, it's clear that Greg is charismatic and approachable, which has contributed to his growth. But what's more impressive is his commitment to perfecting his Sweepstakes campaigns to grow his business exponentially.
Below is a snapshot of Greg's audience and marketing tactics.
Target audience
Greg's audience includes folks across all genders and ages who are interested in watching entertaining gaming content and getting some free products. His contests are geared towards anyone 13 or older.
Marketing strategies
Greg uses three main marketing strategies to grow his audience, including:
Running online giveaways
Consistently publishing videos on YouTube
Paid advertising through Facebook and Instagram
The campaign goal
Greg is no stranger when it comes to running Sweepstakes. He's been building an audience primarily through giveaways since the beginning of his YouTube channel. He's methodically tweaked his approach after each and every contest.
Leading up to this campaign, Greg had found great success in getting new entrants to his giveaway. However, he realized that it was much harder to keep users engaged and loyal to come back for more after each Sweepstakes.
Greg's main objective for this campaign was to create as much engagement as possible with his existing user base.
How Greg built his giveaway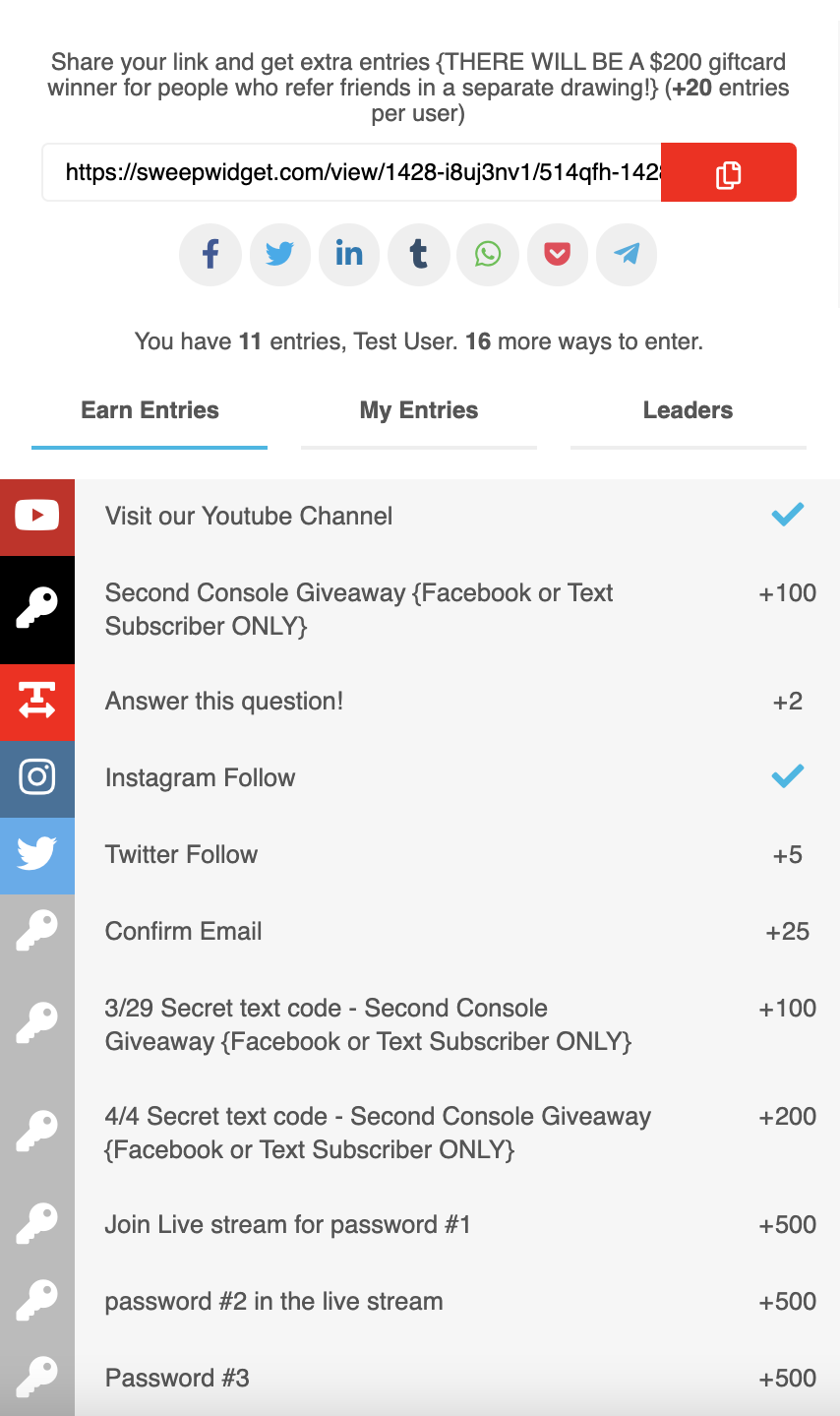 The success of your contest hinges on having a thorough plan. It's worth spending time creating an irresistible giveaway that aligns with your brand and optimizes achieving your goals.
Let's take a look at how Greg planned his viral giveaway by analyzing five categories, including the prize, length, entry methods, design, and copywriting.
1. Prize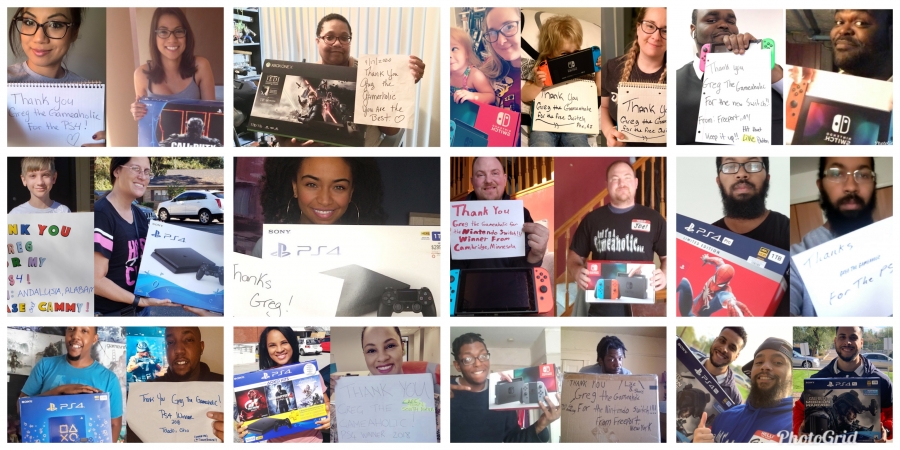 Having an enticing prize relevant to your audience is perhaps the most crucial decision you'll make for your Sweepstakes.
Greg has experimented with different prizes in the past but has found that consoles yield the best results. That's why it's essential to test various rewards to see what triggers the most engagement.
In this contest, winners could pick between a Playstation 4, Xbox One X, or a Nintendo Switch, all valued at at least a couple of hundred dollars.
2. Length
Choosing an optimum length is another critical decision to make for your giveaway campaign. If you run it too short, you may not give yourself enough time to generate buzz and excitement to drive entrants. If it's too long, you may lose momentum and detour your users from over-promoting.
Greg typically runs his contests between 90-120 days, which is quite long. However, Greg has high-valued desirable prizes, where users will happily wait 3-4 months to see if they won.
If you run a low-value prize for a more extended period, you risk annoying participants promoting a giveaway that doesn't resonate.
Another point worth mentioning is that Greg's giveaways are epic, and often involve multiple rounds of selection to keep users engaged and optimistic. For example, he uses SweepWidget's Leaderboard Giveaway to encourage more actions and to create finalist lists. This type of approach by nature requires more time to cycle through the different rounds of entries.
This strategy is particularly effective for Greg's audience because after all, they're gamers, and are used to unlocking levels, competing, or getting to the next round. But even if you don't have a gaming audience, a leaderboard is a fantastic way to build a sense of community and competition amongst your users.
3. Entry methods
The type of entry methods you add to your giveaway largely depend on your campaign objective. As Greg's main focus was building engagement with his existing audience, his entry points reflected his goal. Let's look at some examples below.
Watch videos
Greg actively creates video content across TikTok, live streams, and other platforms. The more views he gets for his videos, the more organic reach and ad revenue he receives.
Many of Greg's entry methods involve users watching or rewatching specific videos to earn points towards their leaderboard rankings.
Greg will sometimes strategically use redeemable passwords in video content and comments to validate users are engaged with his content to get the points.
Subscribe to text message groups
SMS marketing has become prevalent, as marketers have direct access to their audience via instant messaging.
Greg posts secret codes in his SMS and Facebook messenger groups to get users to interact with him on these platforms. When a user retrieves the code, they can earn additional points on their leaderboard.
Social media follows and engagement
When we first think of an online giveaway, we often associate it with growing social media followings, and for a good reason! For a user, following, liking, and sharing content related to a brand is a natural action to perform to get entry points to win a prize.
Greg creates entry methods for users to engage with his social media profiles. For example, he's focusing on building his TikTok presence right now, so he has one entry worth 50 points to follow his account, like and watch one minute of video.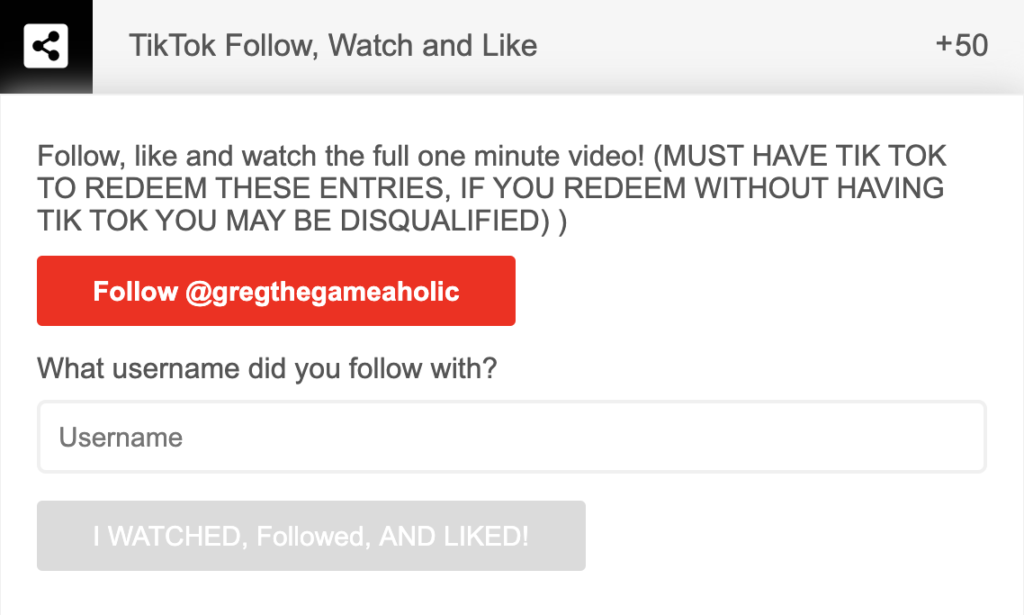 He also has entry methods to follow his profiles on Twitter, Instagram, and SubReddit.
Keep your entry methods fluid
Greg continually changes his entry methods during a Sweepstakes campaign. As he publishes new content, he updates the entry methods to drive engagement to a piece of content he wants to promote.
This is smart as he's effectively using his giveaway as a live marketing tool. It also makes it interesting for his users, as he keeps them on their toes for updates, encouraging them to check out his giveaway page daily.
4. Design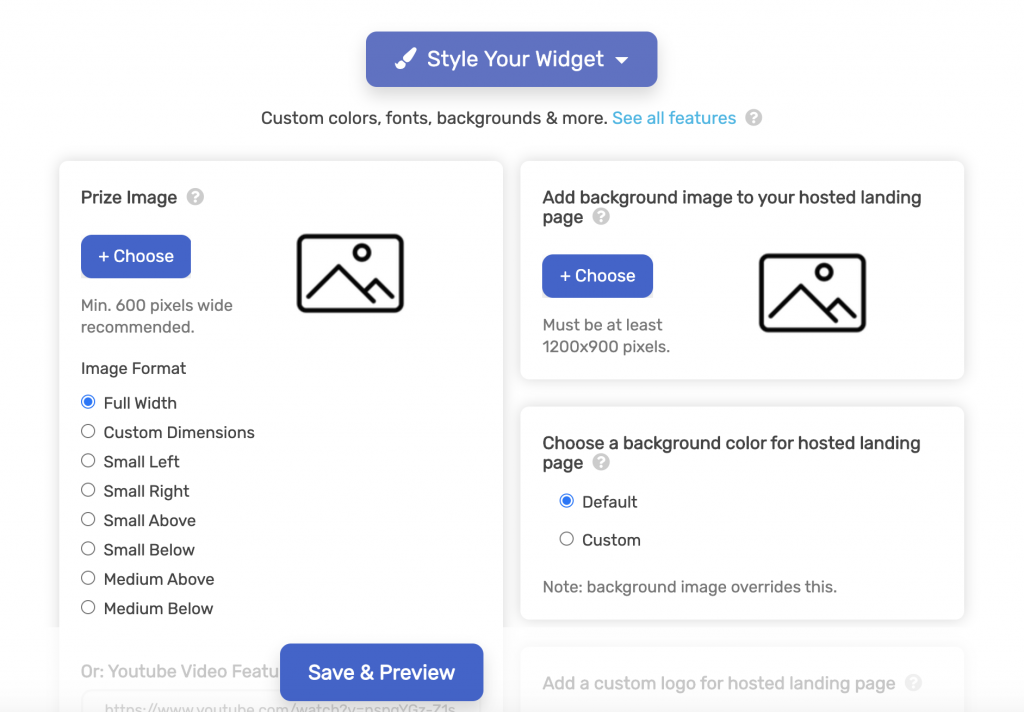 Greg uses SweepWidget's hosted landing page, which includes:
Number of entries
A countdown
Hero image/video
Headline
Description
Share link call to action
Entry methods
Rules
This design is simple yet succinctly includes all of the information an entrant needs to participate in a giveaway.
5. Copywriting
The first thing that stands out about Greg's copy is his use of video. Greg creates a quick video explaining the rules of his leaderboard Sweepstakes. In the video, he shows winners of previous contests to show that regular people are winning incredible consoles through these events.
Social proof marketing is incredibly powerful as it shows new users that winning consoles is realistic and normal, making them want to participate.
Greg went with a simple headline "Free Console Giveaway" that explains what the winner will receive.
For those who don't watch Greg's explainer video, he writes a thorough description explaining the rules of his contest.
Lastly, Greg keeps the descriptions of his entry methods straightforward to give the user the necessary instructions to take action.
Marketing strategies for the giveaway
Marketing is the most important thing for a successful giveaway, yet it's also the most challenging.
How do you get eyeballs to your amazing prizes, then get folks to enter? This is no easy feat!
In Greg's instance, he quickly found that he wasn't getting much traction relying on organic reach on social media. After all, he was hoping contest marketing would improve his other promotional channels.
Instead, Greg turned to paid advertising on Facebook and Instagram. Before you keep scrolling down because you're concerned about cost, Greg allocated a small marketing budget of $300, which completely transformed the success of his campaign.
You may have a smaller or more substantial budget, but with the fantastic targeting capabilities of modern digital advertising, the most modest investments can go a long way.
Initially, Greg was using ads to direct people to his giveaway landing page. This worked to some extent, but he had a much better sign up rate driving folks to his giveaway explainer videos on YouTube.
A similar result can be achieved by embedding an explainer video directly on your SweepWidget landing page, giving participants a much more immersive experience and incentive to sign up.
As Greg is in the gaming niche, he targeted people interested in the same consoles he was giving away (PS4, Xbox, and Nintendo) and popular games.
His targeted demographic were females and males aged 18 and over. He set his campaign goal to get clicks instead of impressions, and he always aimed to get his link clicks under $0.05 per click.
By finding an audience whose interests are directly aligned with his giveaway prize, Greg was able to capture an initial audience, and then let his entry methods takeover to drive organic signups.
Key takeaways and learnings
To help you run a successful giveaway like Greg's, below, we highlight key takeaways from previous campaigns that enabled him to perfect his contest marketing strategy over time.
Introduce a runner up prize for virtual shares
Greg attributes much of the success of his giveaways to the Viral Share entry method. The idea is that users earn points from sharing the giveaway with others.
However, Greg noticed that some of his users were so competitive that they opted not to share the giveaway as they invited more people to the contest, which would hurt their chances of winning.
To combat this issue, Greg introduced a second contest winner. Here's how it works:
Person A invites Person B to the giveaway.
Person B ends up winning the contest and receives a free console.
Person A receives a $200 gift card for referring Person B.
By implementing a second prize, Greg successfully encouraged users to share his giveaway for more reach without feeling like they were decreasing their chances of winning.
Use the redeem password feature to reduce misspelling account information
Running a popular giveaway campaign can be time-consuming, especially when you're always promoting your contest and updating entry methods.
However, what you may not realize is the amount of customer support is involved in helping users who have misspelled their account information.
Greg found that users would often contact him because they were back to zero entries. After some troubleshooting, he discovered that people were misspelling their email addresses in the initial sign up process. He had a few users who had lots of entries but with the wrong login, creating confusion and lost admin time.
To get around this, Greg created an entry method where users had to redeem a password from their confirmation email that is sent out when they sign up.
Adding the redeem password feature dramatically reduced errors while also helping him identify issues quickly for better user experience.
The timer feature
Greg particularly enjoys SweepWidget's timer feature as an entry method. To earn points, users need to spend a certain amount of time on a page. Greg found that his average time on page increased on his website, and his average watch time on his videos went up as a result of this feature.
Use entry methods to gather feedback
Running a successful giveaway campaign involves knowing what marketing channels are working, so you can do more of that in the future.
Greg created an Ask a Question entry method asking users how they heard about his contest in exchange for points. Greg claims this feedback has been invaluable to know precisely where his audience is coming from.
The strength of your giveaway depends on the tool you use
Greg is an experienced contest marketer and has used many tools over the years. What he loves the most about SweepWidget is the support.
The SweepWidget team has been timely in adding requested features and was also available to answer technical questions within 24 hours at the latest. He also received support on weekends—which is incredibly vital if something goes wrong in your contest at a crucial time.
Keep the momentum going
One thing Greg has learned from previous giveaway campaigns is not to take breaks in between making content. As you can see from this case study, Greg uses contest marketing to promote his content. So the more content he has, the more dynamic his entry methods and overall excitement.
So if you adopt a similar approach, be prepared to plan out your content marketing efforts during your contest period to get the most out of your campaign.
Are you ready to run a successful contest?
Greg has mastered the art of giveaway marketing, and we hope by taking you behind the scenes, you feel inspired to create viral contests that help you achieve your business goals.
We're proud to help brands build viral contests like Greg's. We offer a free account so you can start using the features outlined in this case study to grow your brand.
If you have any questions about this post or running a successful online contest in general, share your thoughts in the comments below.
Create a giveaway using SweepWidget today!