17 Exciting YouTube Giveaway Ideas Your Audience Will Love
Last updated on November 10th, 2022 at 12:28 pm
You can attract lots of participants to your next giveaway.
One great way to achieve that is by implementing the right YouTube giveaway idea.
In this post, you'll discover 17 exciting YouTube giveaway ideas that can help you achieve your campaign goals.
If you're running a YouTube giveaway today, you need to understand the difference between YouTube and social media networks. Namely, YouTube has stricter rules regarding giveaways.
This is not to say you should forgo YouTube when thinking of running giveaways. But you have to follow the rules to avoid getting your channel banned.
Without further ado, let's go into these 17 ideas and how they can take you closer to achieving your giveaway goals. 
Table of Contents
1. Caption this
Even though we can't all be Chris Rock, we can still be funny when we're in the mood. One way to get the humor out of your audience is through a caption giveaway.
Here, you have the options to either use a picture or a short video clip and ask for the best caption.
Also, you can go through the comments to select what you feel is the best caption or let your audience vote through likes.
An important point to note though, is that you can't use a tool (like SweepWidget) to ask for comments. So, if you're using this idea, you'll have to track your entries manually in the comments.
Here's a "caption this" giveaway by Mr Kerrah telling his viewers to caption a picture: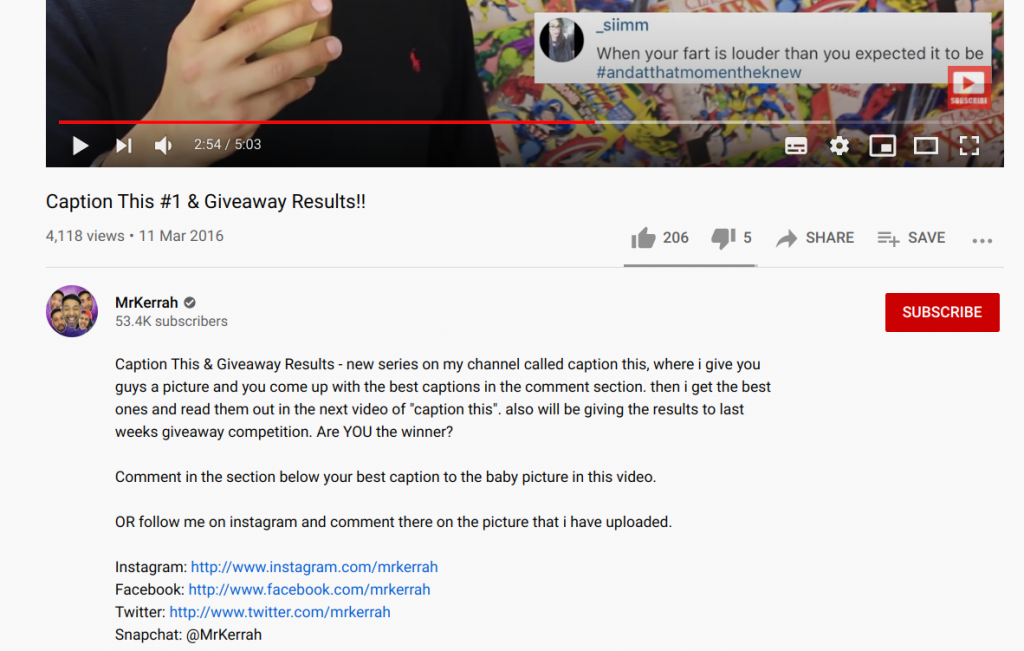 2. Visit YouTube channel page
In some cases, YouTube users need to see a few of your videos before they decide to subscribe to your channel.
Apart from this, a user will also learn more about your brand and services from your YouTube channel page. This is why getting people to your channel can be beneficial to your business.
Since a channel visit doesn't directly impact your channel metrics, YouTube allows you to use a tool to ask for a channel visit. Therefore, you can use SweepWidget to track entries for this giveaway idea.
Fortunately, some channel page visitors will watch some of your videos or even subscribe to your channel. These subscribers are likely to engage with your content in the future because there were no strings attached to their subscription.
You can set this up on SweepWidget by selecting the "Visit" options in the way to enter a YouTube giveaway.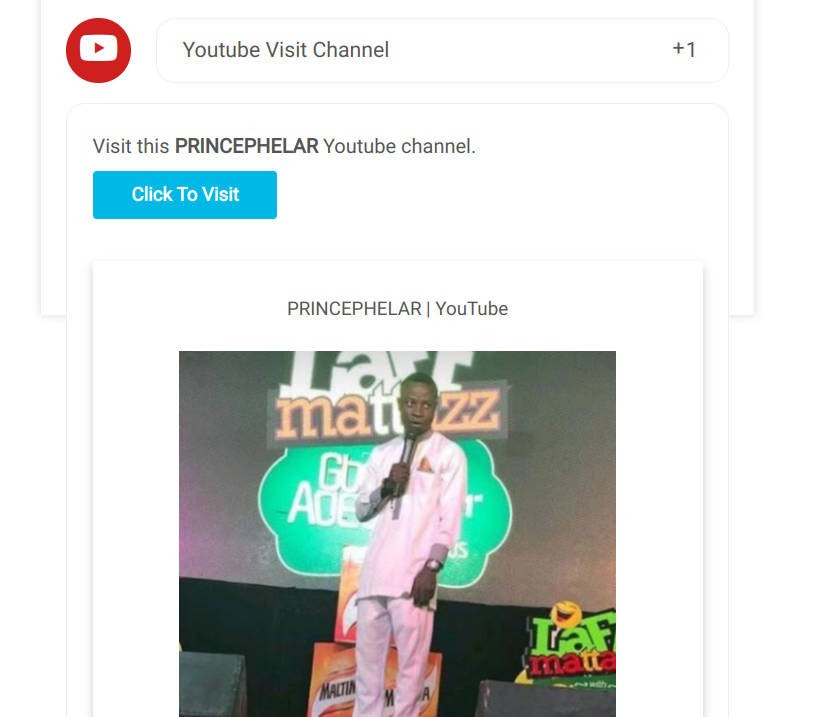 3. Live session giveaway
Even though live sessions can boast of higher engagement due to the fear of missing out, you can boost engagement even further. If you run a giveaway during your live session, then you're likely to keep most of your viewers from the beginning to the end.
At the beginning of your live session, you can announce your giveaway which will occur during the session. Later, you can then announce what viewers need to do to enter. And at the end of your live session, you'll go through the entries to announce a winner.
This type of giveaway will get viewers more engaged in your video. This is good if you're passing across vital information during your live session.
Here's an example of a live giveaway by Antonio Pirone: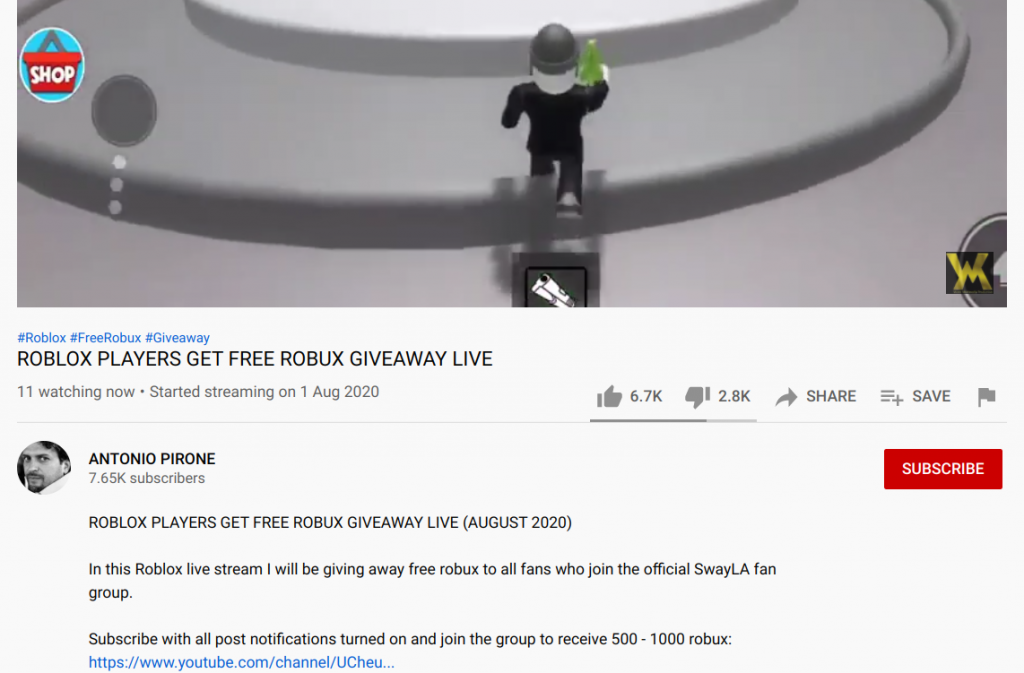 4. Provide product/service feedback
Getting feedback about your product or service can provide insights to improve in the future. To get useful information, you can ask participants to give feedback on a particular product or an aspect of your service.
You have two options to run this type of giveaway. Participants can drop comments on your YouTube giveaway post to leave their feedback.
SweepWidget is a popular contest tool that makes it easy to run Youtube Giveaways. They make it easy to take the feedback through a survey form. With this, you can track all the entries easily in one place.
Go to your setup page, click on "Custom Input Field" and then "Textarea" to ask your question.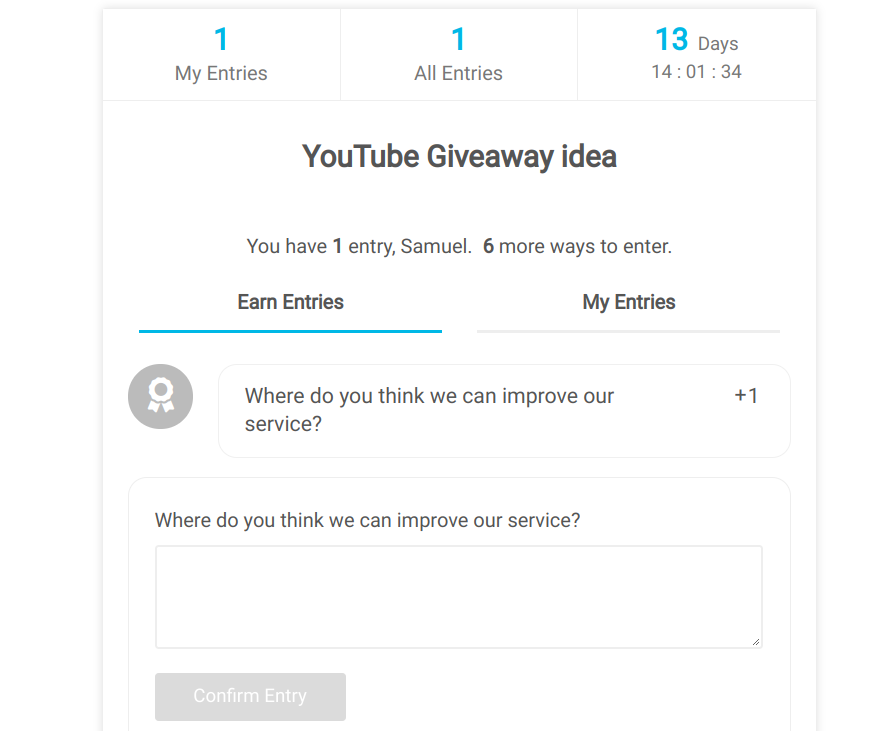 Here's a giveaway by Tech Testers asking for feedback about the Syncro Q7 for an opportunity to win it: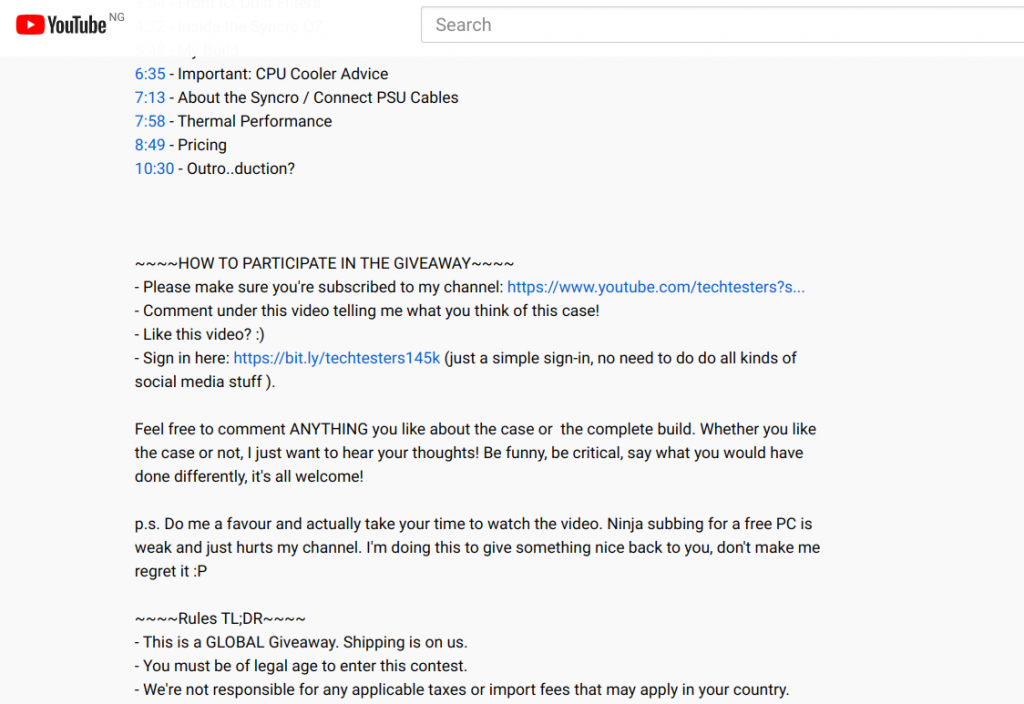 5. Win an opportunity to feature on channel
For avid fans of your YouTube channel, featuring on your channel is an honor they will cherish.
How will they enter this giveaway? That depends on what you want them to do. You can tell them to carry out a specific task.
In another way, you can tell them to drop comments about why they think they should be featured on your channel. In this case, you can judge the best reason or pick a winner based on the number of likes they have.
See this example from Raiders Of The Lost Podcast picking a winner who will get featured on their show: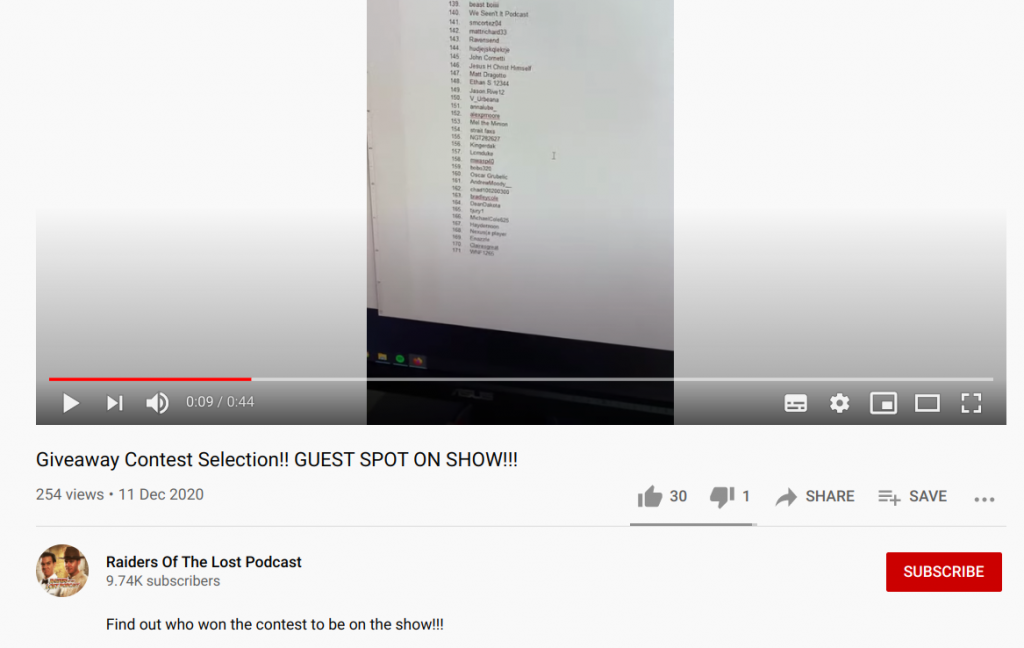 6. YouTube product review contest
Are you trying to increase awareness for one of your recently-released products? Or make an already popular product even more popular?
A product review contest can help you achieve these goals. The easy way to run this giveaway is to have participants upload their video reviews on YouTube with a branded hashtag.
In this video, they'll explain their experiences with your product or service. Among the videos, you can judge the best one as the winner. However, you'll have to explain to your audience how the video emerged as the winner.
Alternatively, the video with the highest number of likes can be the winner. Such a giveaway will provide even more awareness and publicity for your product.
7. Hashtag giveaway
Even though hashtags are more popular on Twitter and Instagram, you can use them to increase brand awareness on YouTube too. If you're trying to promote a branded hashtag as a part of a general brand awareness campaign, you can tell your audience to create a video featuring this hashtag.
Of course, this will be the same hashtag you use on other social media networks such as Twitter, Instagram, and Facebook. After your giveaway end date, you have the option to judge the video entries based on your instructions or pick a winner based on popularity in terms of views or likes.
Here's a giveaway where participants have to create a design video featuring the #letscreateandinkspire hashtag:
8. YouTube challenge contest
How well can your viewers carry out a specific task?
Whatever you want them to do, you can give out the instructions and tell them to post a video of them doing the challenge. To organize the videos, provide a hashtag that every participant will use for their video.
While announcing the contest winner, you can feature the top videos and then pick the winner. Easily, you can carry your audience along and make the process credible.
Here's a million dollar challenge by GoPro where they ask their viewers to capture life's epic moments: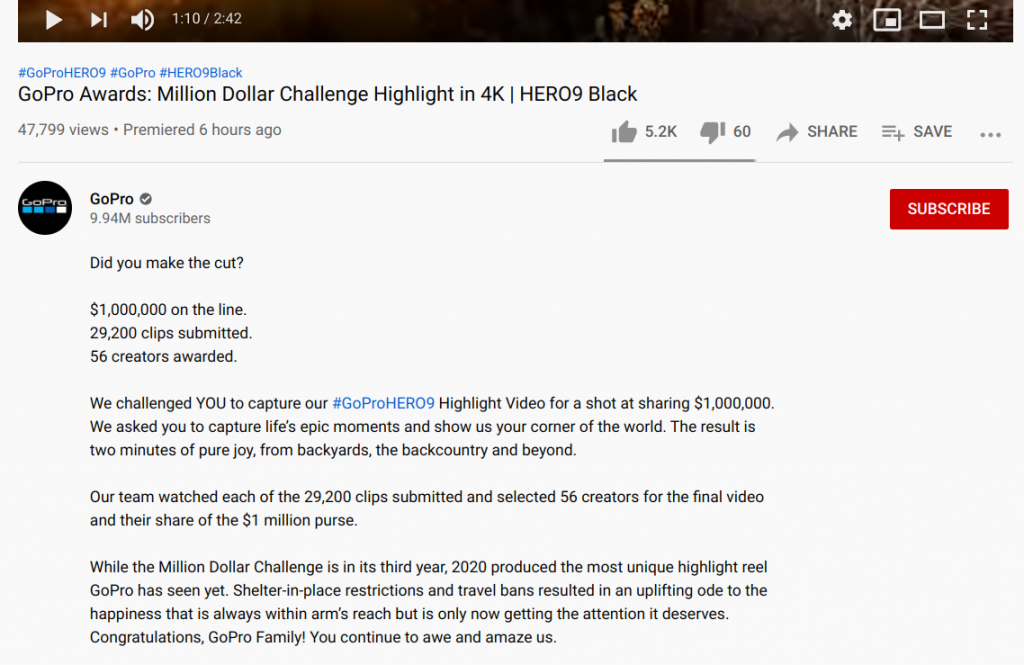 9. Subscribers milestone giveaway
Every YouTube account wants to grow its subscriber number. Frankly, to achieve most of your YouTube marketing goals, you need to increase your audience size.
So, when you reach a subscriber milestone, you can run a giveaway to reward one of the subscribers who made your achievement possible.
There are many ideas you can exploit for this giveaway. For instance, you can tell subscribers to drop comments about their favorite video or what they've learned as a subscriber.
Here's an example from Tech Testers: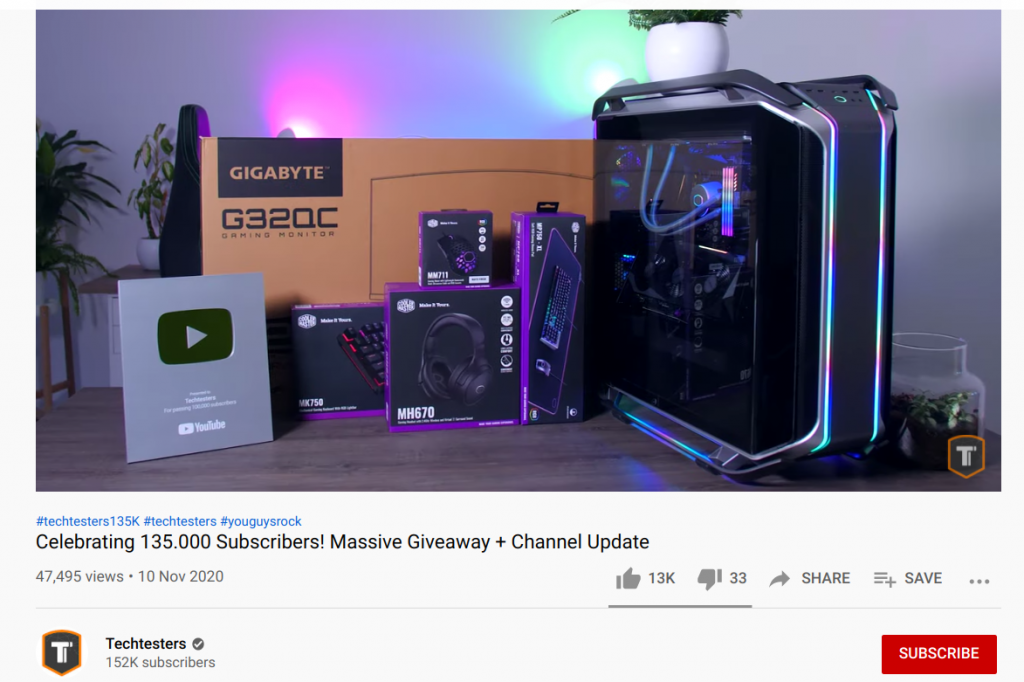 They're running a giveaway for reaching 135,000 subscribers.
10. Quiz contest
Running a quiz contest is an effective way to test your audience's knowledge about your brand or one of your products. You can present your quiz questions in your giveaway video and tell participants to answer the questions in the comments.
To make the process easier, you can host your quiz on SweepWidget. This way, you can track the answers in one place.
All you have to do is click on "Custom Input Field" and then "Select Field" to set up your quiz.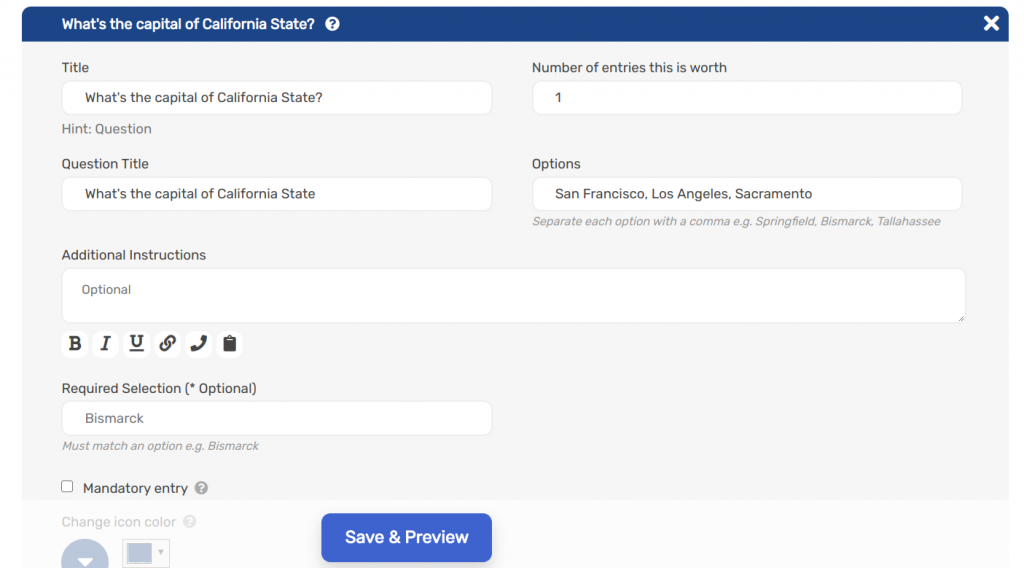 Here's an example from Waqas Giveaways: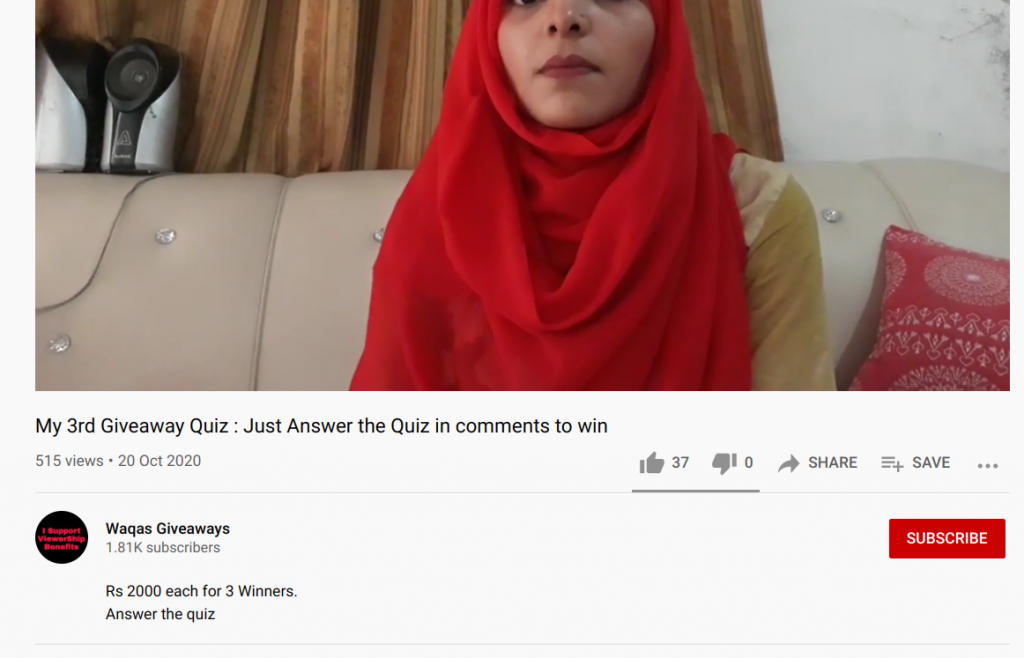 11. YouTube collaboration giveaway
Just like on Instagram and other social media networks, there are YouTube influencers too. These people already have loyal fans in particular industries who take their recommendations seriously.
In light of this, you can collaborate with this YouTuber for a giveaway. For instance, you can supply the gift or make other suitable arrangements.
This type of giveaway will increase engagement and subscriber count for both brands as you have audiences with similar interests.
For instance, here's a giveaway by Jason Mc in collaboration with Starbucks: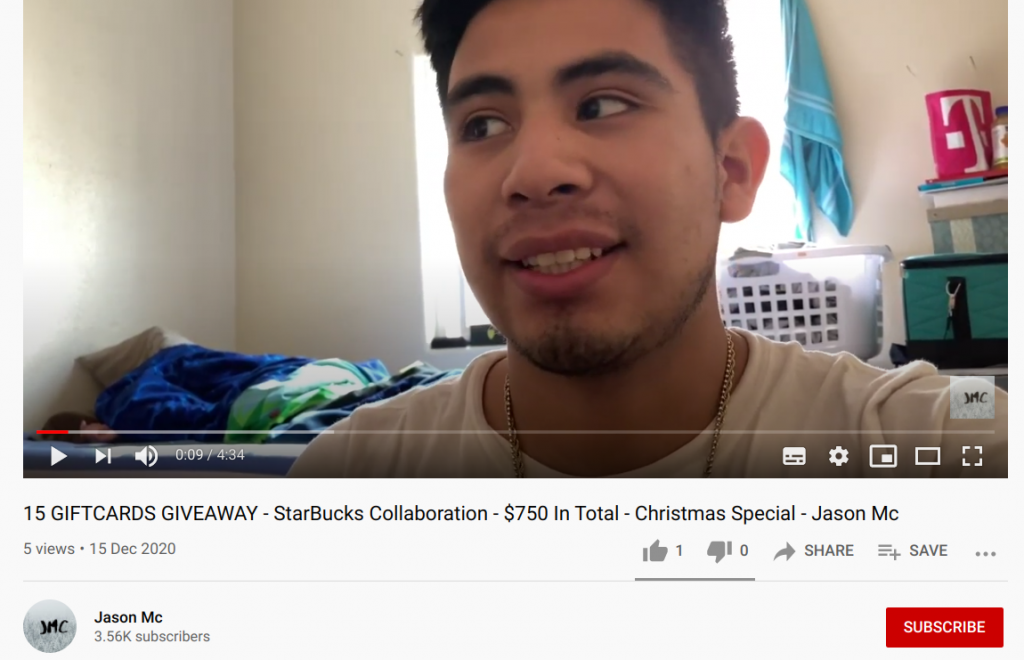 12. YouTube talent contest
Your viewers don't get to show their talent every day. So, they'll appreciate a giveaway that lets them do this and have fun.
With giveaways like this, you'll be surprised at the number of your viewers who have talents such as singing, acting, drama, and more.
Participants can post their contest videos on YouTube using a dedicated hashtag. Alternatively, they can upload their video on SweepWidget so that you have all the video files in one place.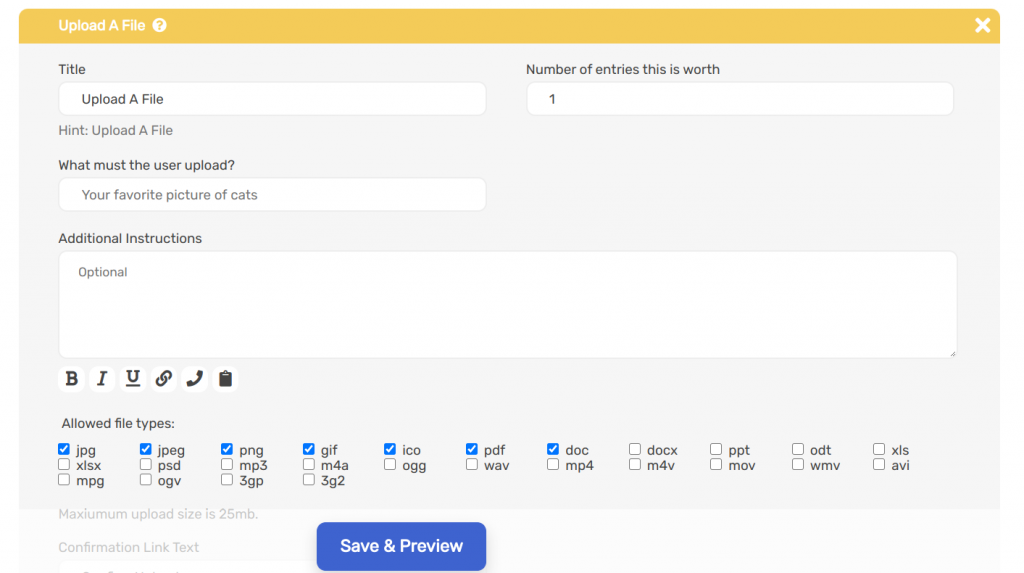 Here's an example from Just Cause TV for artists: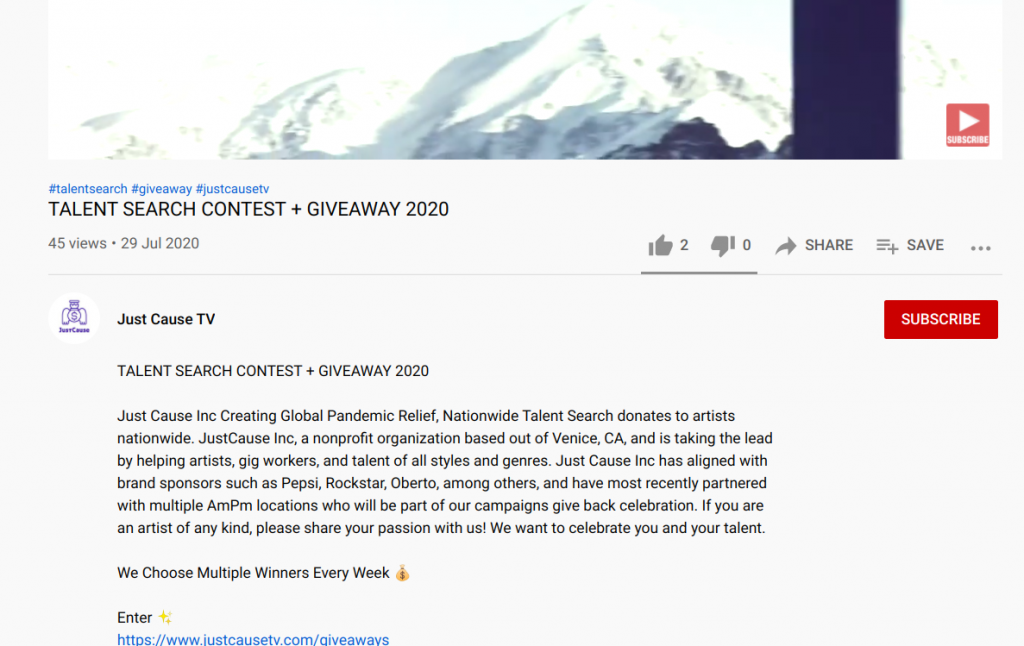 13. Instant coupon giveaway
If you want your giveaways to receive as many entries as possible without doing too much promotion yourself, then an instant coupon giveaway is what you need. This idea is also suitable if you're running your giveaway across other platforms apart from YouTube.
With this giveaway, participants only need to reach a particular number of entries, and they'll trigger a coupon. Unsurprisingly, what you'll get is a high level of participation and engagement.
Of course, apart from the instant coupon winners, you can still have an overall giveaway winner.
On your SweepWidget setup, it's easy to add details for your instant coupon giveaways such as the minimum number of entries and coupon code.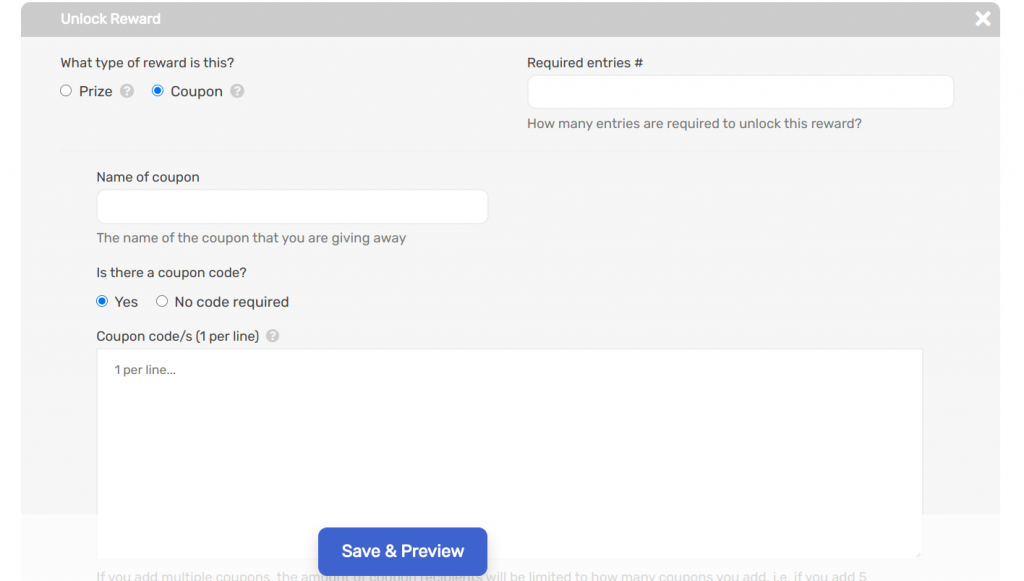 14. Answer a question related to current video
Often, viewers skim through a video rather than watch every second of it. In such a case, they can miss out on information in your video.
However, you can limit this issue drastically with this type of giveaway. At the beginning of your video, you can announce your giveaway and mention that the question will be from the current video.
This giveaway is useful if you'll pass vital information across to your audience in the video.
Here's a giveaway video where the post description tells viewers to watch till the end to get information regarding the giveaway: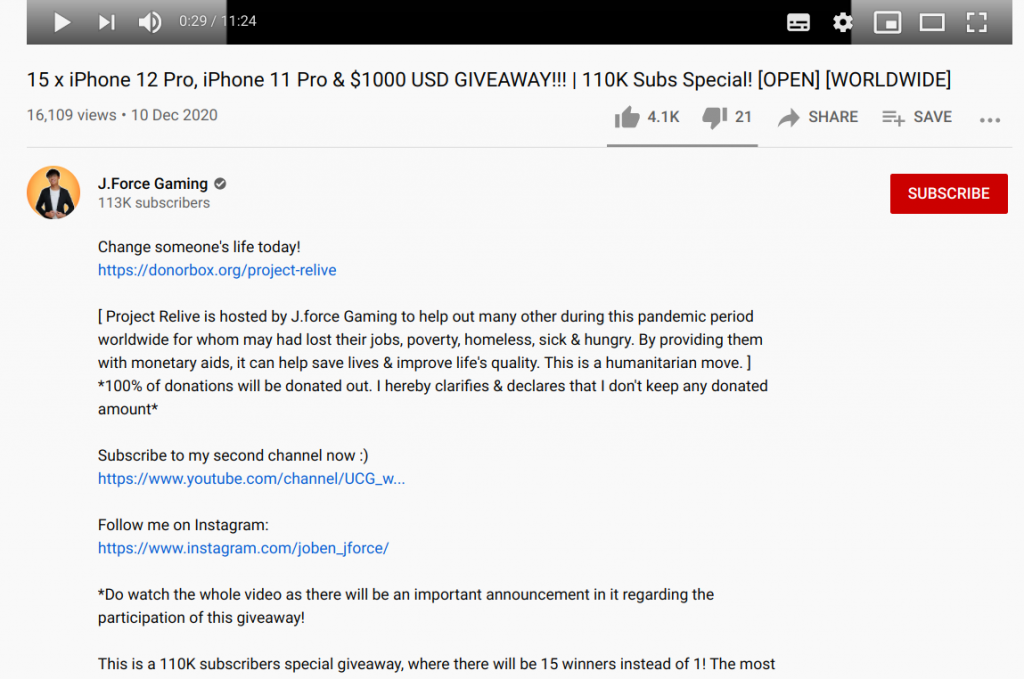 15. Content suggestion contest
Your viewers probably have some problems that your channel is yet to address. With this contest, viewers can contribute to your channel while having an opportunity to win a gift.
Therefore, you can tell your subscribers to suggest topics for future videos. After the contest, you can go through the comments to pick a winner or select the suggestion with the highest number of likes.
See this giveaway by Shake The Future: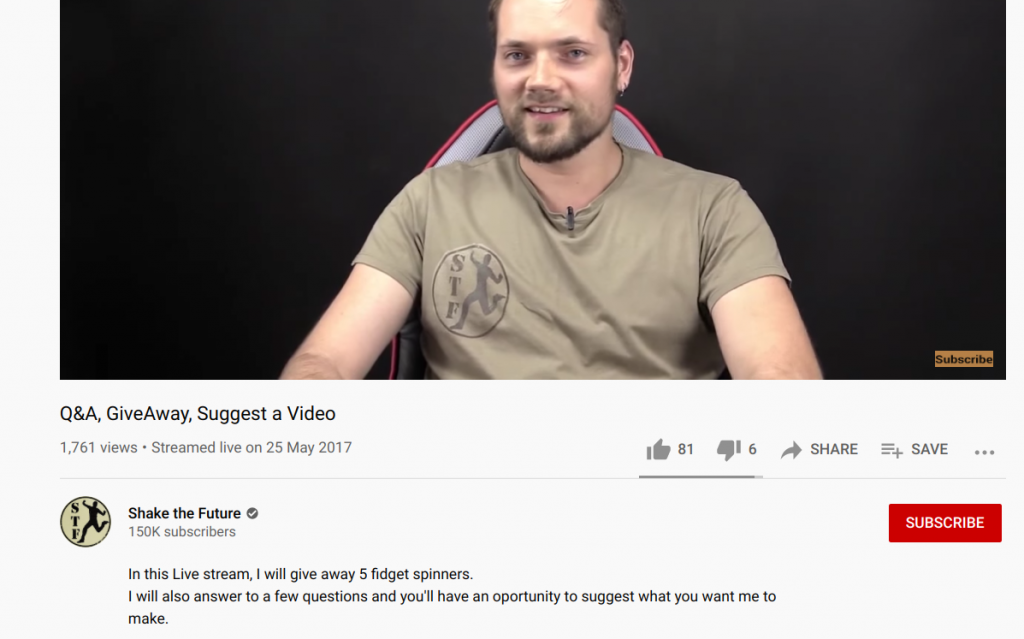 Here, he combines a giveaway with an opportunity for his viewers to ask questions and suggest content
16. Suggest the next video guest
If you host guests on your channel, your audience can get involved by suggesting your next guest.
There are two common ways to go about this. You can make a list of potential guests and tell viewers to suggest their preferred guest with a reason.
Another way is to mention a particular topic and let them suggest experts on that topic that you should consider featuring in your video.
In this unconventional giveaway, crqstalchloe tells its audience to help decide on the next pet to feature on the channel: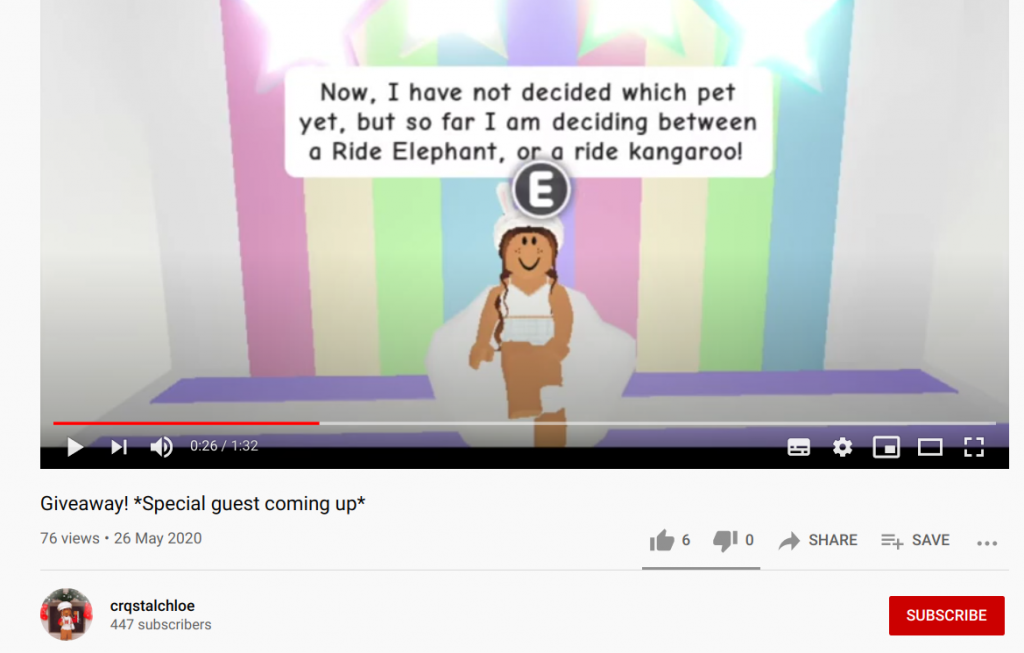 17. Suggest giveaway prize
What if your audience is in control of their own giveaway prize? This is as personalized as your giveaway can be. You can list a few gifts and let viewers tell you their favorite gift. Also, if they win it, how will they use it?
In another way, viewers can mention any gift they love and why they love it. How will they use it if they win it? To avoid gifts beyond your capacity, you can state a price limit (for instance, not more than $1,000).
Conclusion
Finding the right YouTube giveaway idea depends on many factors and particularly your giveaway goal. That said, you need to be thoughtful about the giveaway idea you settle on.
After all, beyond your gift, participants also want to have fun while participating. Because, unfortunately, only one person will win the gift.
To implement some of these ideas effectively, SweepWidget is a tool that will help you achieve that. Check out some of SweepWidget plans to discover the one that fits your needs.