22 Instagram Giveaway Ideas to Captivate Your Audience
Last updated on November 12th, 2022 at 02:09 pm
With over a billion monthly active users, Instagram is a platform to find the ideal audience that will turn to customers.
And as you must have found out, finding your ideal audience goes beyond just creating an account and waiting.
One way to regularly engage your audience, acquire new followers, and even make sales is to run Instagram giveaways.
But what if you lack creative ideas for your giveaway? That's no problem. Here are 22 Instagram giveaway ideas your audience will love.
Frankly, finding a compelling idea is one of the vital steps of running a successful Instagram giveaway.
In this post, you'll find creative ideas and how brands have used those ideas in their Instagram giveaway campaigns.
1. Caption this Instagram giveaway
People want to take a break from their boring work. What better way than a caption giveaway?
All you have to do is post an awkward or funny image of one of your products and tell your audience to caption it in the comments. You'll find that most participants want to show their wit and they'll come up with many funny answers.
Beyond that, they'll spend more time on your post as they go through other comments just for laughs. For this giveaway, you can use the "Submit Post" Instagram entry on SweepWidget to track comments.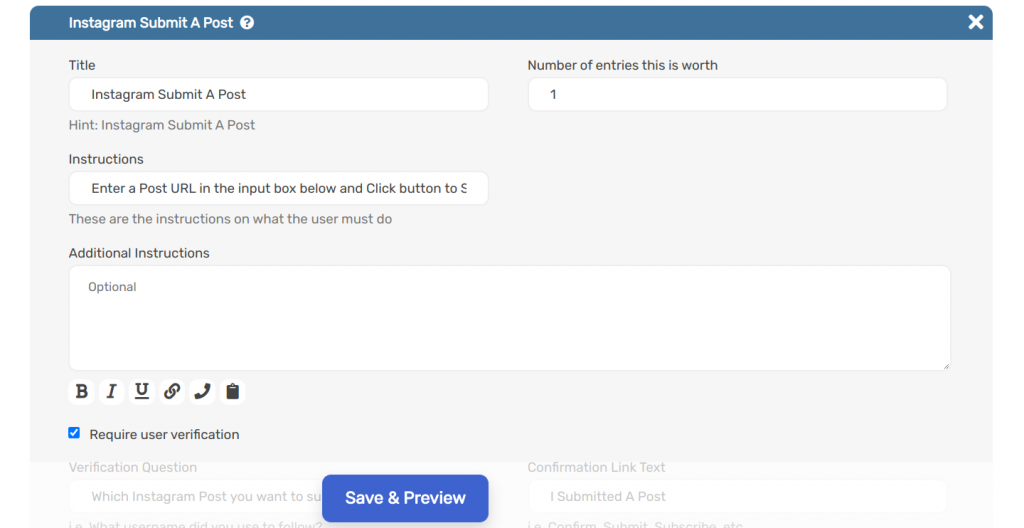 You can leave the link to your SweepWidget landing page in your bio and refer entrants to enter through the link.
Here's an example of a caption giveaway by Spago Canada: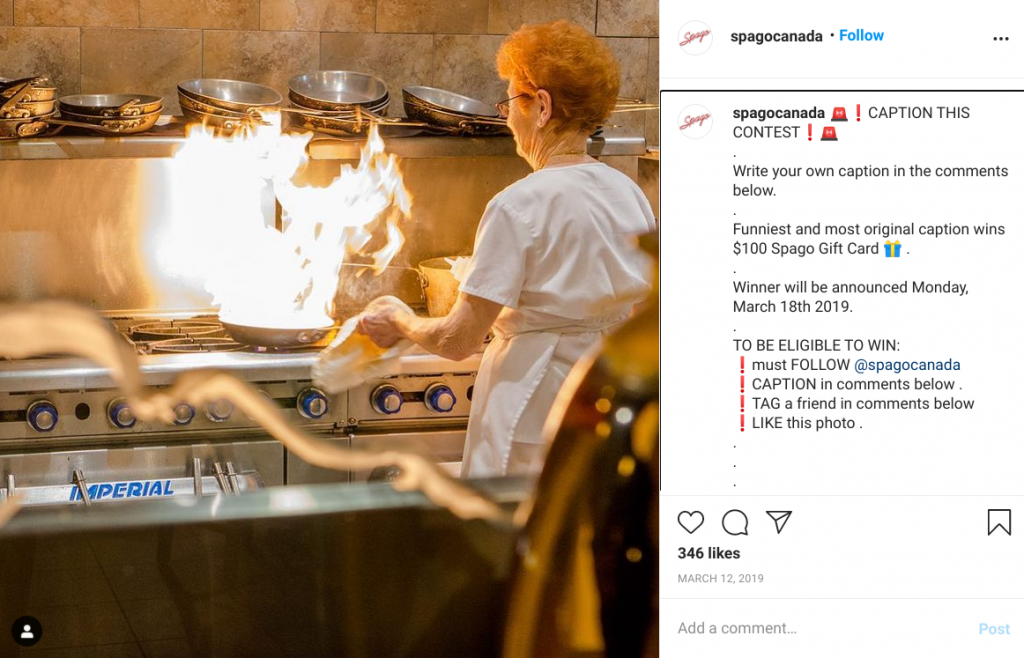 2. Like and comment to enter
This is arguably the most popular and easiest giveaway to enter. So, if you're trying to increase engagement on your account, this idea will work fine.
To even make the comments section meaningful, ask your audience to comment about a specific aspect of your product or service. You'll get insights about your audience, and they'll learn more about your brand too.
The "Instagram Like Post" entry method makes it easy for you to track all the likes and later pick the winner.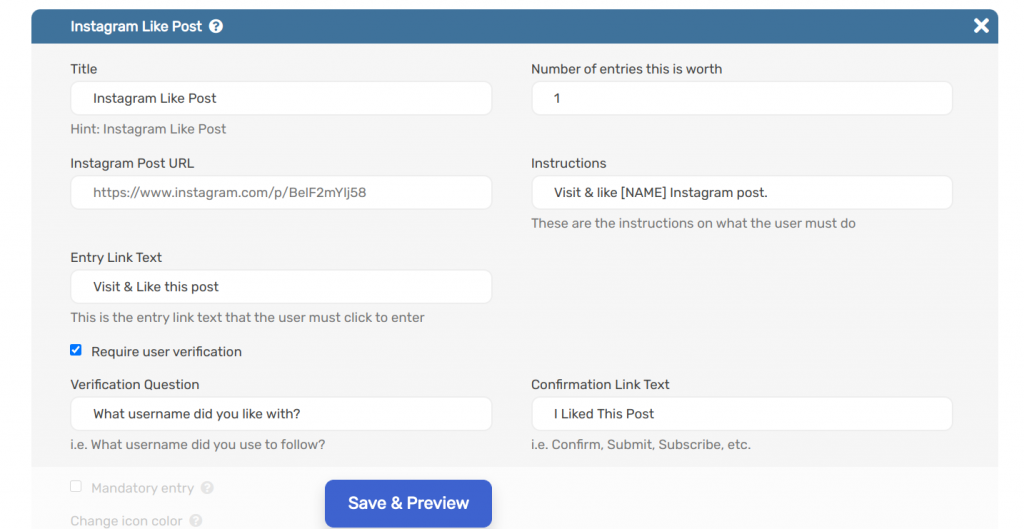 Here's an example of such a giveaway from Central Park Mall: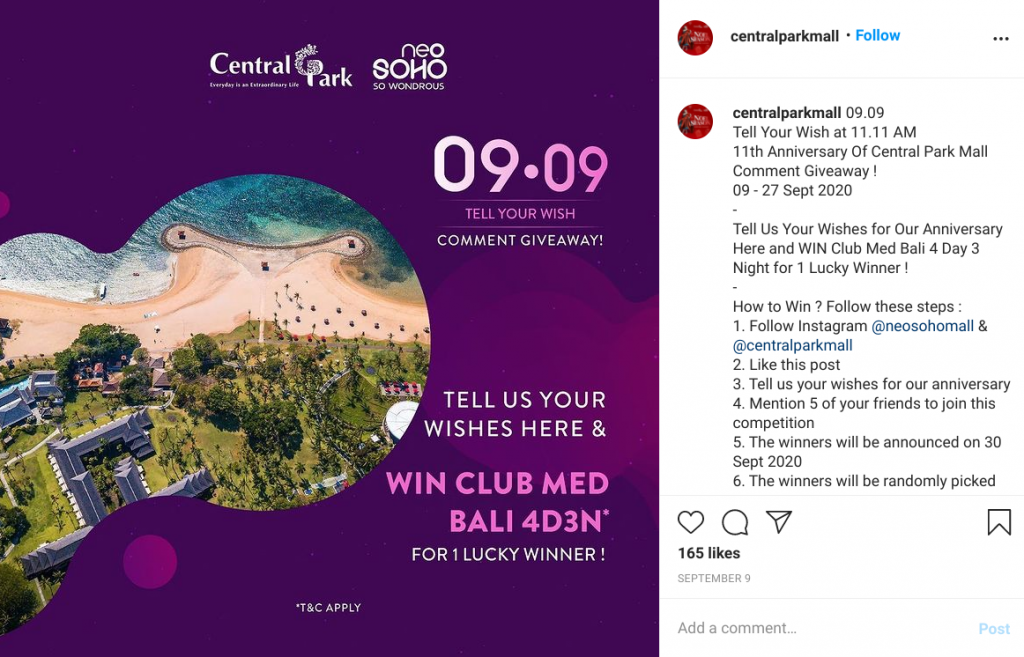 3. Hashtag giveaway
Are you trying to make your branded hashtag popular? Then you can run a hashtag giveaway.
Here, you can tell participants to create a specific type of Instagram post and feature your hashtag. This makes it easier to organize your entries as both you and the participants can easily track them.
With the "Submit post" entry method on SweepWidget, you can collect the URLs of Instagram posts that featured your hashtag.
See this example of a hashtag giveaway by skincare company One Love Body Soul: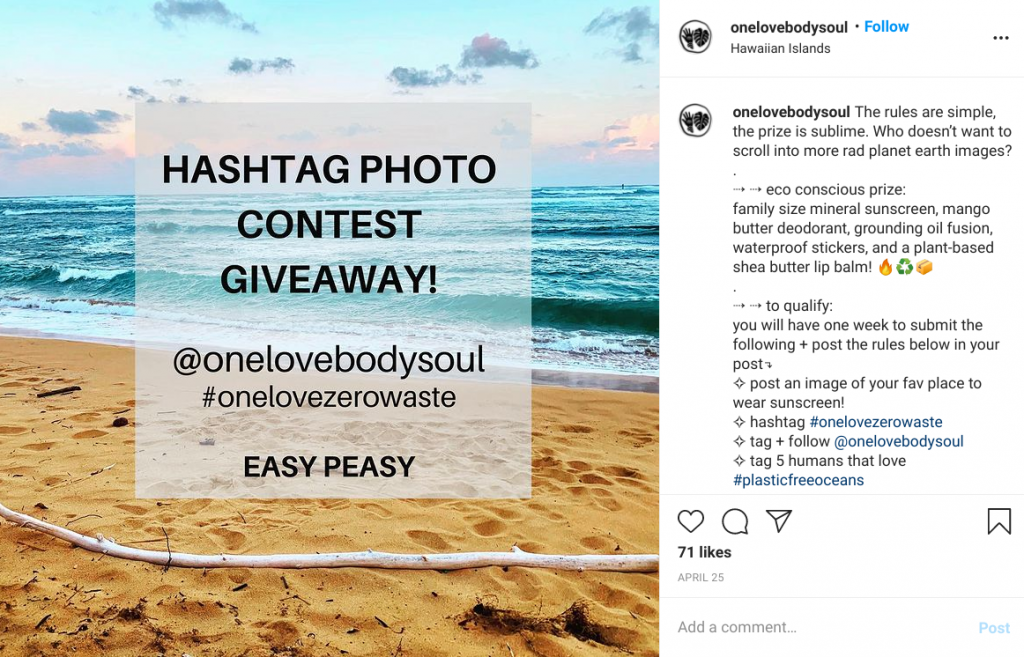 4. Quiz giveaway
How well does your audience know your brand, services, or products? An effective way to find out is to run a quiz giveaway.
A quiz will get them thinking about your products. Some might research to learn more and thus, discover that your product is the right fit for them.
An easy way to execute a quiz is to post your questions as a carousel and tell your audience to post answers in the comments accordingly.
Alternatively, you can host your quiz on SweepWidget by using the "Custom Input Field" entry method to set up your quiz questions along with the options.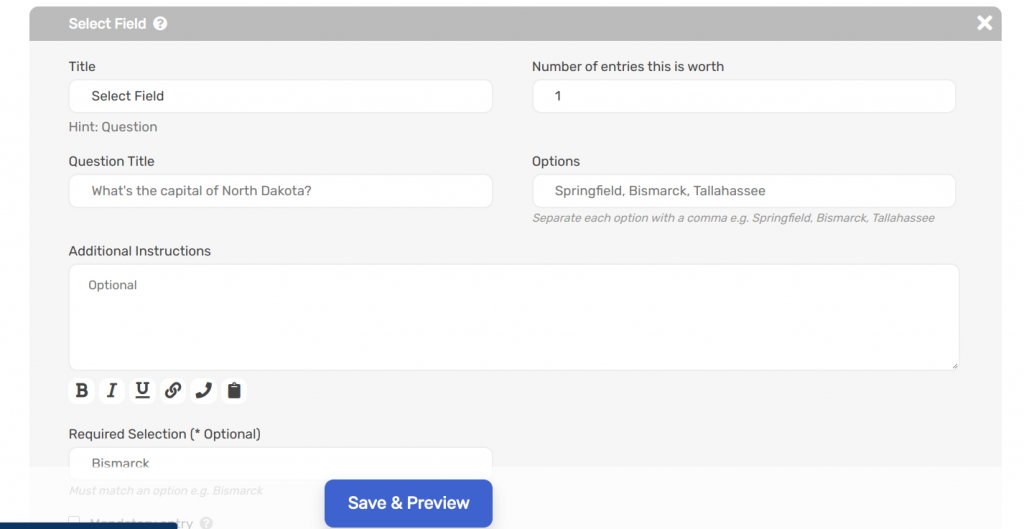 Here's a simple quiz by Divine Ayurveda testing their audience's knowledge about their health: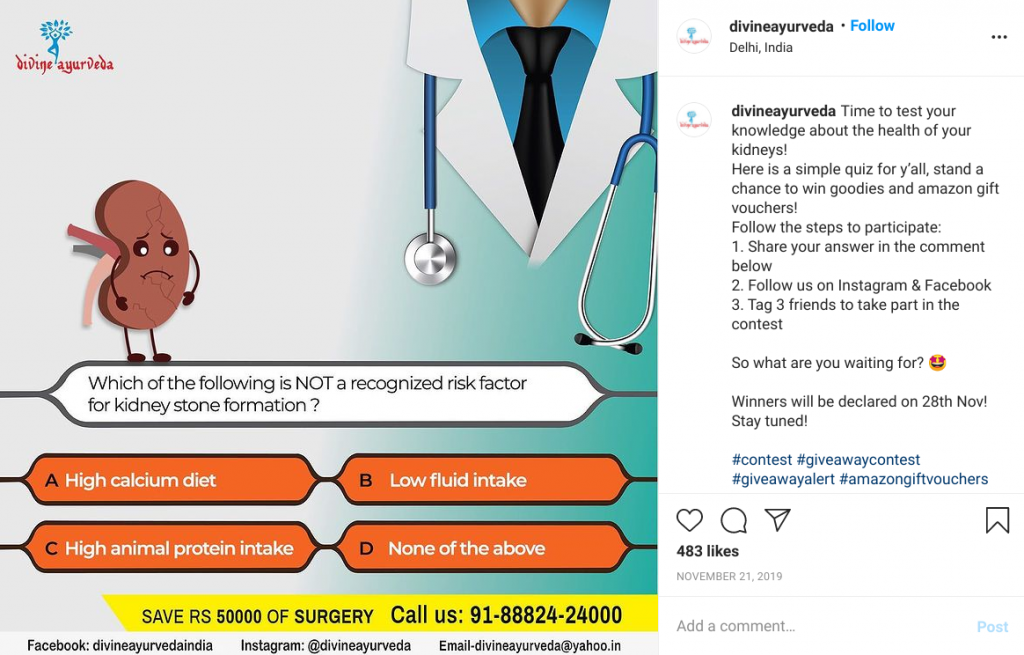 5. Instagram image contest
Is there a fun aspect of using your product that every customer looks forward to? You can ask them to share their experience with an image featuring a dedicated hashtag and tagging your account.
With permission, this can be a great source of user-generated content. Moreso, you'll get insights into how customers are using your products.
You can also feature a few of these images on your profile and let your audience vote for the winner. This will further boost engagement.
The "Submit post" entry option helps you collect the post entries in one place on SweepWidget. However, if you want to collect your images outside Instagram, you can use the "Upload File" entry option.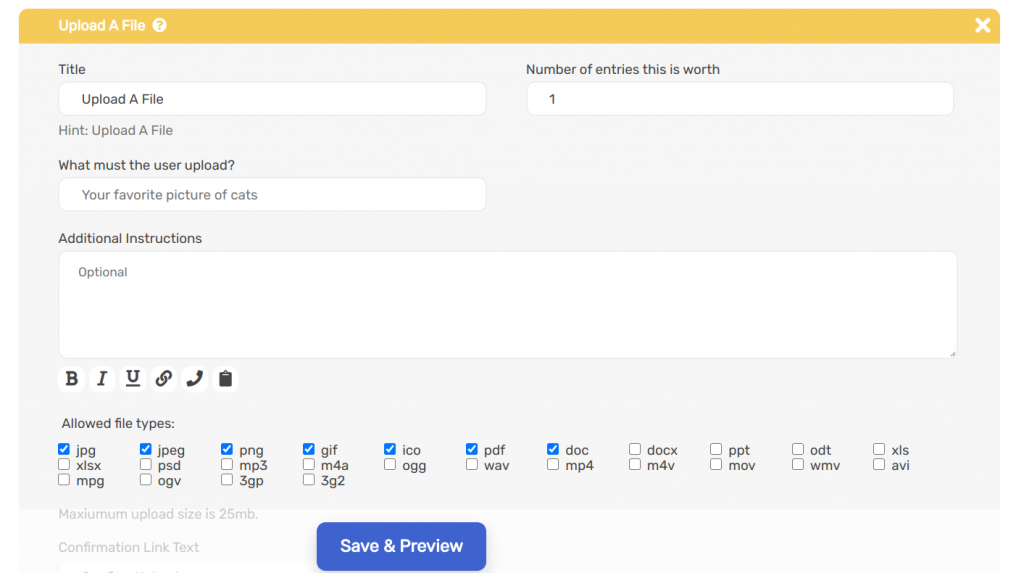 See an example of such a contest from Photographers of Mumbai: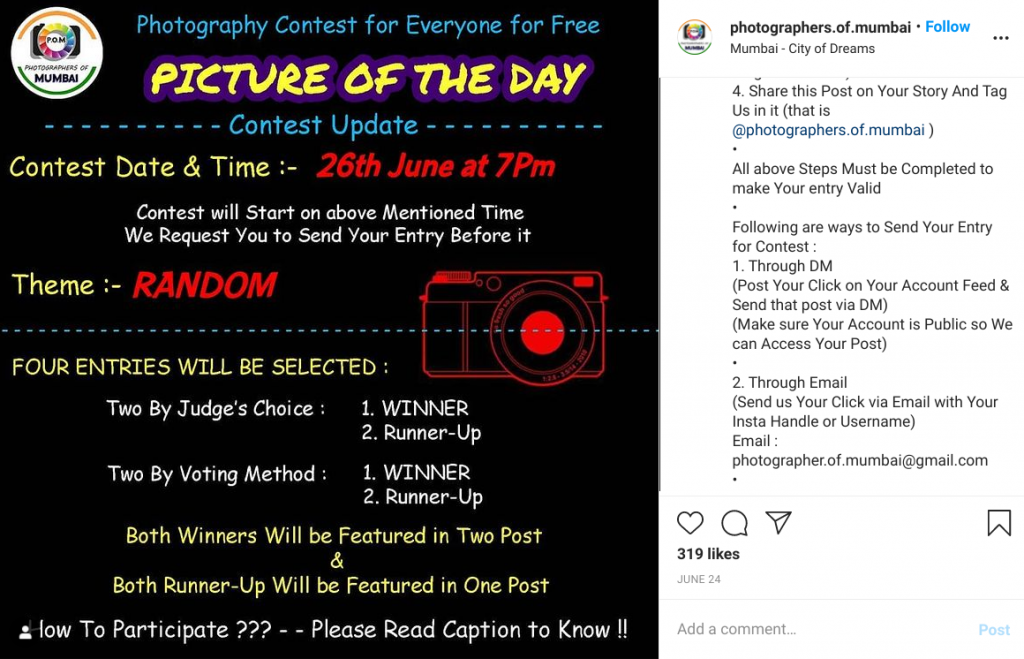 6. Instagram video contest
Similar to images, videos can be a great source of user-generated content. However, you need a worthwhile gift to encourage your audience to go through the stress of making a video.
Normally, you should expect a fewer number of participants compared to most types of giveaways. You can tell them to tag your account and use a dedicated giveaway hashtag.
To set this up, follow the same process as that of images. Here's a video contest by Charmcity Skatepark where participants have to submit a video: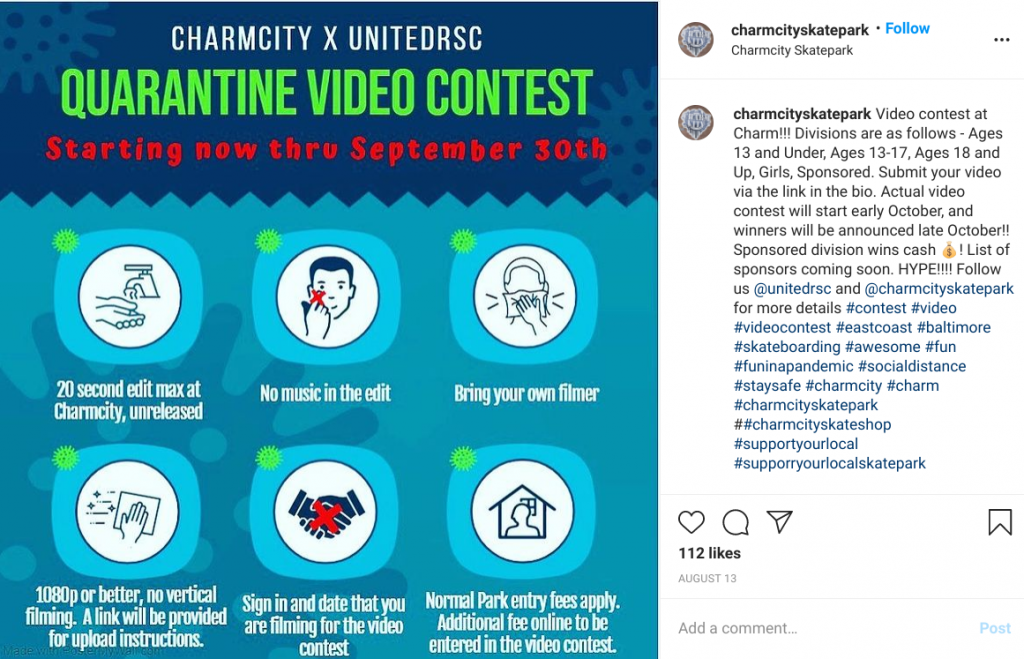 7. Instagram Stories giveaway
With over 500 million Instagram accounts using Instagram stories daily, it's a big platform to run your giveaways. One advantage of a story giveaway is that it doesn't stay permanently on a participant's profile.
You can leave an instruction of what participants need to post on their stories. By tagging your account, you can track entrants for the giveaway.
Here's a story giveaway by Stickers by Kie: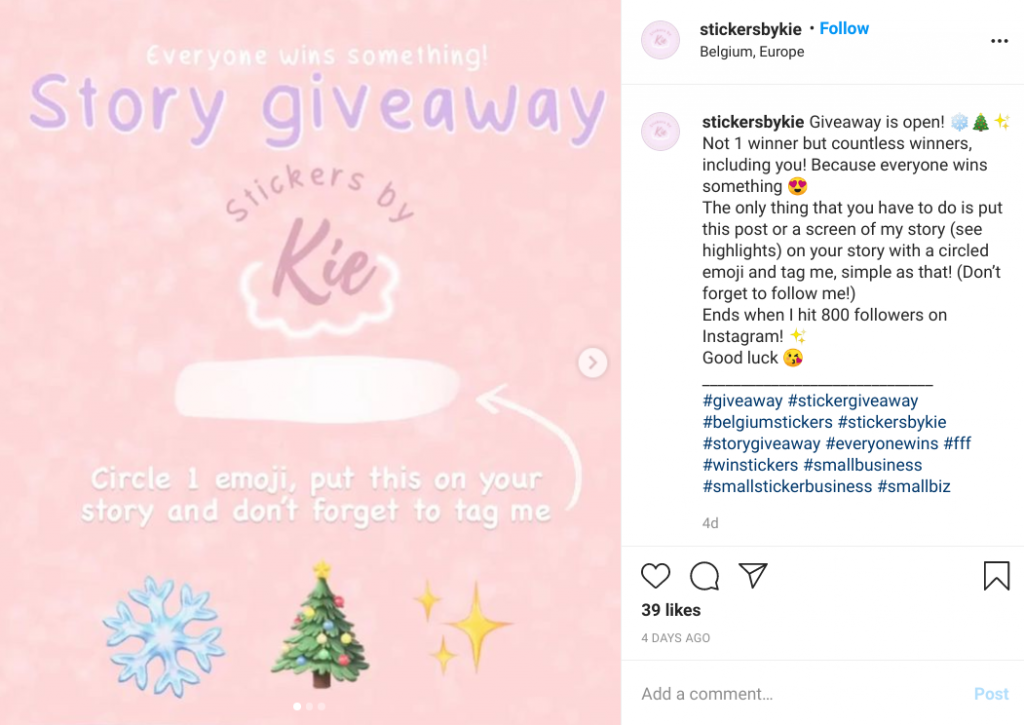 8. Select your best product
How popular are your products with customers? You can test this by posting different products and telling your audience to comment on their best. It could even be different colors of the same product.
After this, pick a winner randomly and award them their preferred product. With this giveaway, you get insights into your audience's preferences.
To track entries effectively, use the "Instagram Visit Post" entry option so that participants can enter through SweepWidget.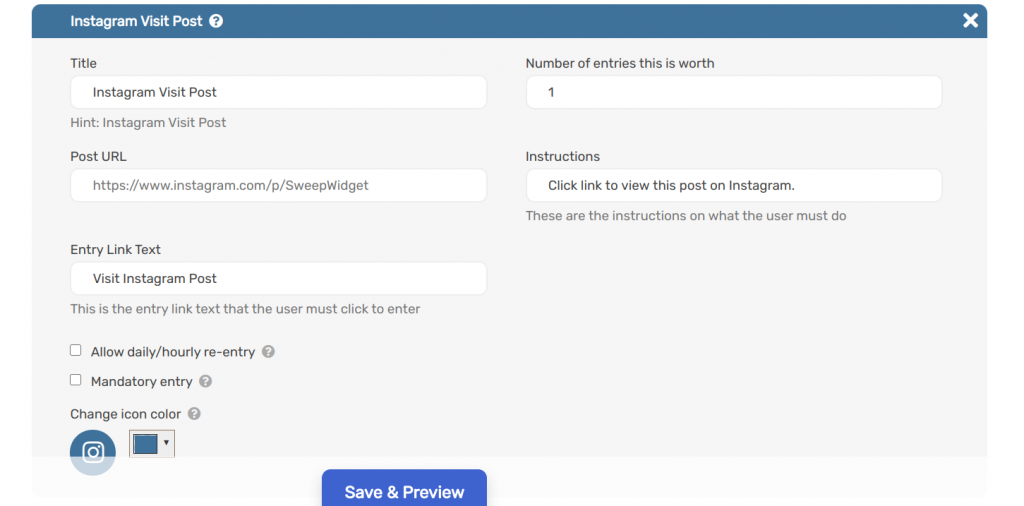 9. Selfie giveaway
Selfies bring the casual vibe out of photography. And on a platform like Instagram, a selfie is one of the most common types of images.
Although a selfie is technically an image, it deserves its own category. You can tell participants to take a selfie in a particular location or with one of your products.
If you need them to feature a dedicated hashtag and tag your brand, state that too. Alternatively, they can upload these images to SweepWidget using the "Upload a file" entry option.
See this selfie giveaway by Dog&Bone Gallery: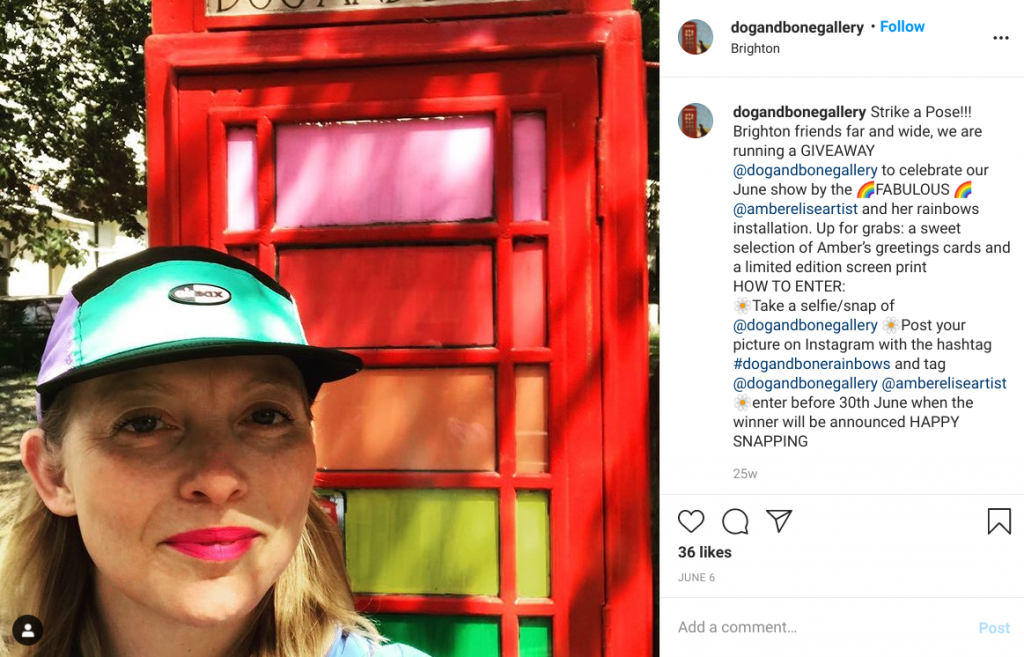 10. Holiday giveaway
People look forward to the holidays due to the memories they associate with them. This giveaway is an opportunity for customers to extend their positive mood to your brand during important holidays or days associated with your industry.
Here's a giveaway from Natallia Ivchankova just for the holidays: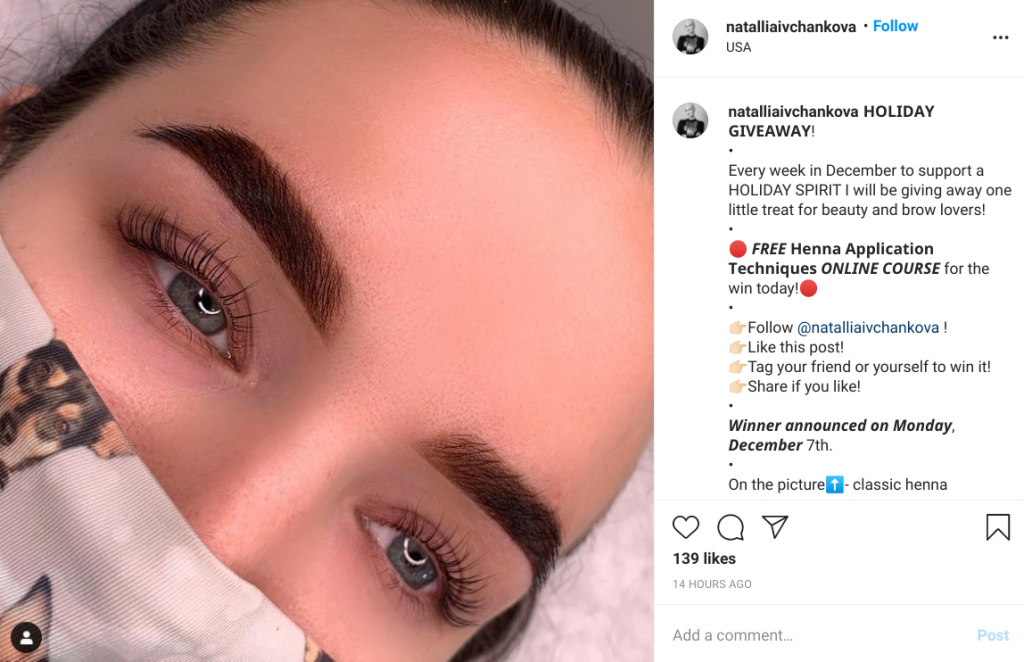 11. Instant coupon giveaway
For giveaways where you want as many entries as possible, an instant coupon giveaway will give you the best chance of success. In this giveaway, participants will get a coupon code once they attain a number of entries.
With SweepWidget, you can easily set this up in the "Leaderboard, Milestones, & Instant Coupons" section.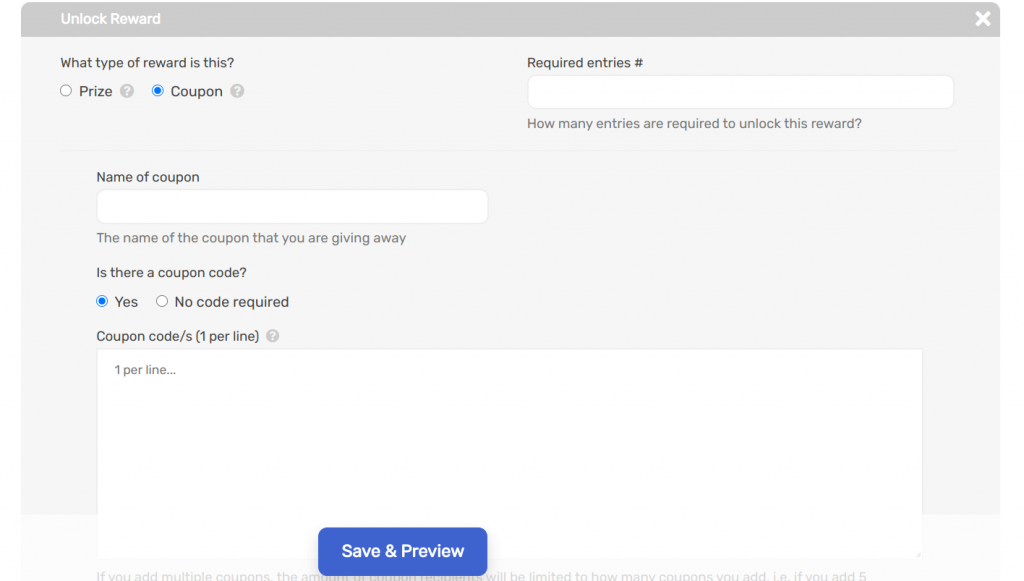 12. Anniversary giveaway
Whether it's the 1st or 5th year, reaching an anniversary is an achievement. After all, businesses fail every day.
And what better way to celebrate than a giveaway to your customers who made your success possible?
This helps build a better relationship with your customers as they look forward to buying more from your business.
To celebrate its first anniversary, Nara Wooden Watches gave away a wooden watch to one of its followers.
13. Survey giveaway
Your customers can tell you a thing or two about improving your business. With a survey, you can set questions about an aspect of your operation to know what your customers think.
Of course, customers will be happy to help improve your service and more so with an opportunity to win a gift. SweepWidget allows you to take their responses to keep participants' privacy.
To achieve this, click on "Custom Input Field" and then "Textarea" to set up questions.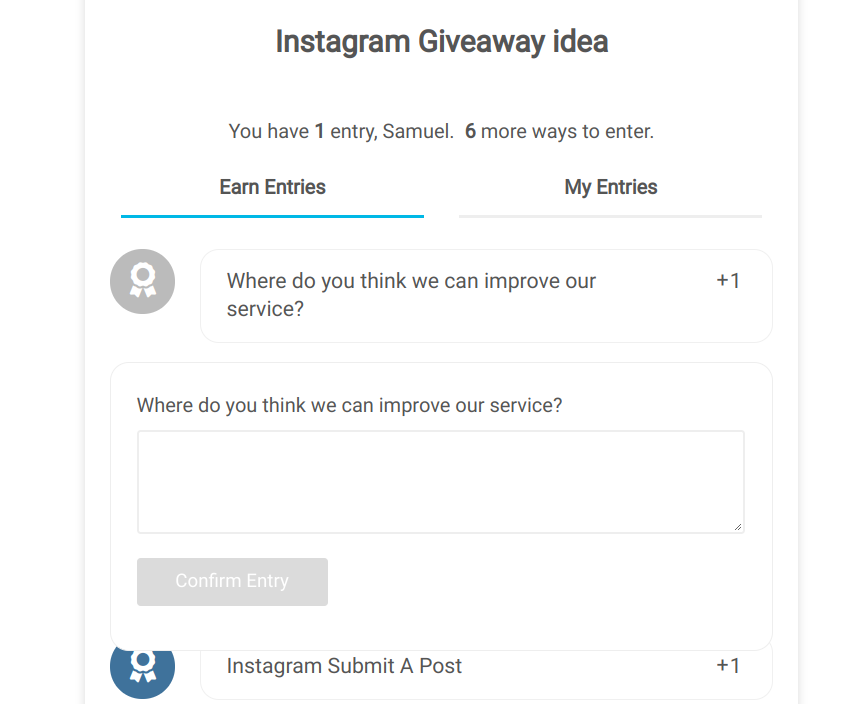 Pelican Brewing Company tells its audience to enter a survey giveaway through a link in their bio.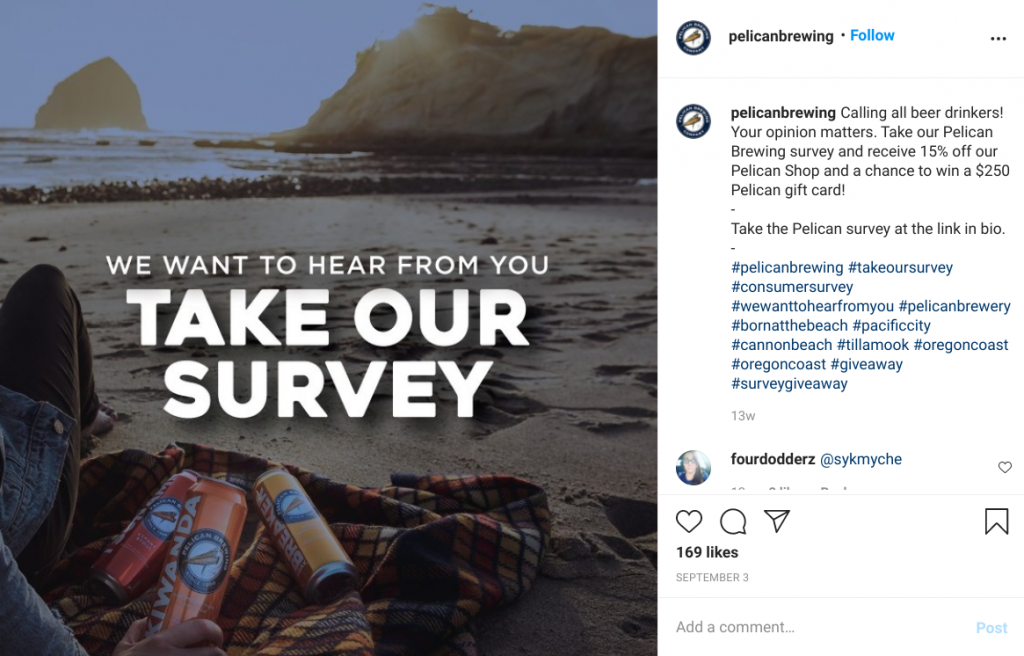 14. Design product contest
One of the greatest honors for your loyal customers is having their design featured in one of your products. This is a giveaway that creatives will give their best go.
For products like t-shirts or artworks, you can tell your audience to create designs for a chance to get featured. One way to submit is to upload the image on Instagram. Alternatively, you can acquire the images through SweepWidget.
Here's a contest by Fin Fun Mermaid where participants have to create tail designs: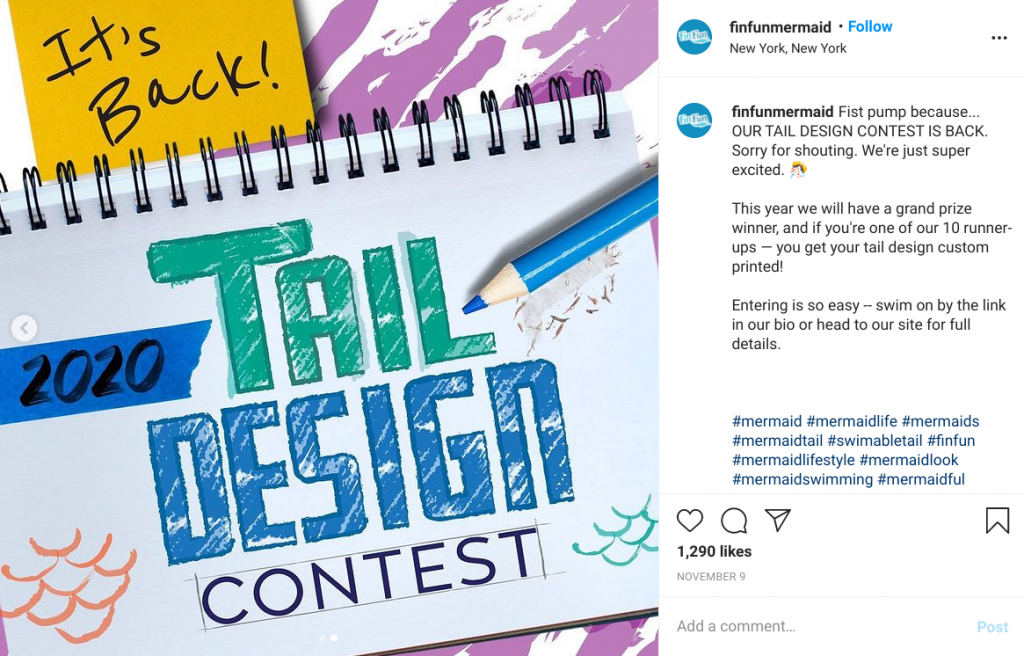 15. Create a recipe
One of the most exciting topics to food enthusiasts is recipes. If you run a food business, then telling your audience to create a recipe is a call to show their creativity.
As a result, participants will come up with creative recipes. They can either publish the recipe on their page using your dedicated hashtag or drop comments in your post.
Consequently, the winner will have their recipe used for one of your products, with the credit to them. Alternatively, they can win a gift.
Here's a recipe contest by Sakina Taher: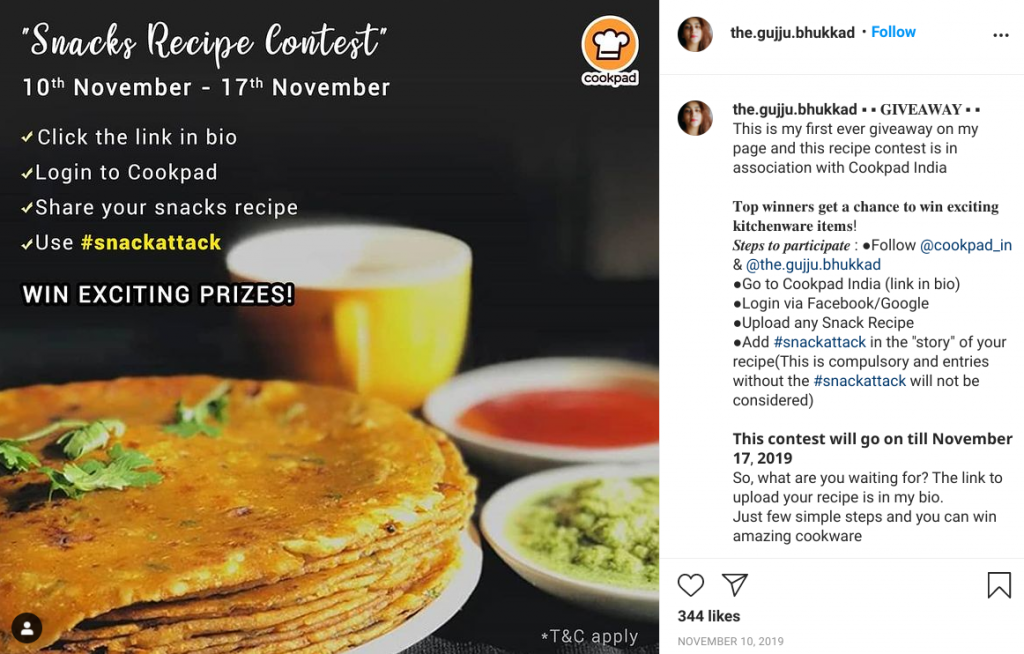 16. Challenge giveaway
How many better ways to get your followers' blood pumping than a challenge? People love facing and overcoming challenges, and this giveaway will grant their wishes.
Your followers can post their answers in the comments. After the giveaway, you can pick the winner randomly from the correct answers. A challenge giveaway can also be a competition between participants.
In this giveaway by Sincerely, Yen, they tell participants to paint different types of flowers.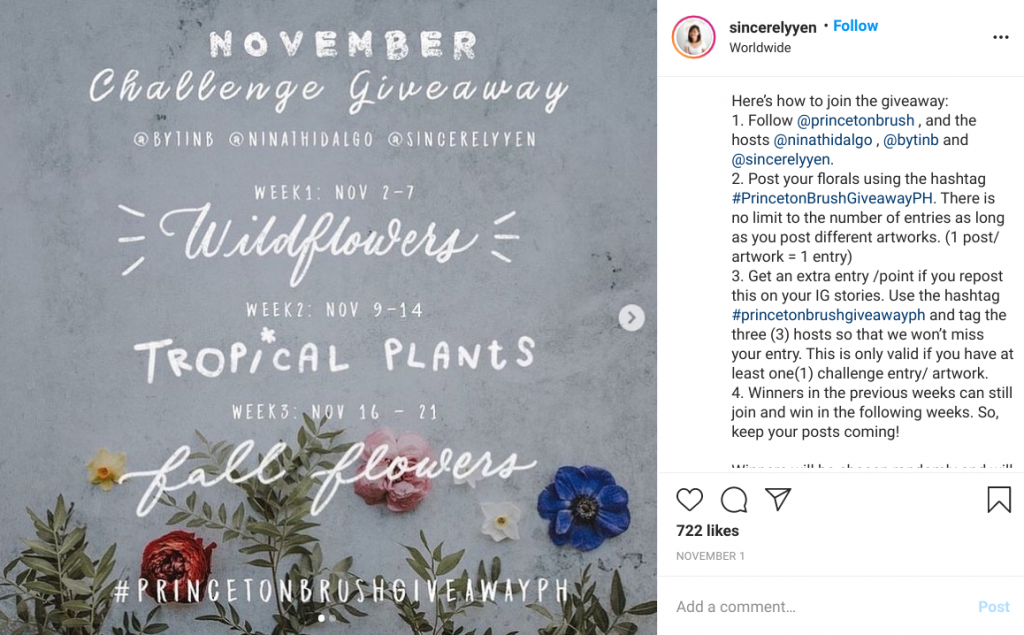 17. Name a new product
If you want to get your audience excited for a new product, one of the best ways to achieve it is to involve them in its naming. By doing this, you encourage creativity from your audience.
As a result of this giveaway, you'll get significant publicity for your product to boost initial sales. Here, Street Juice Products tells their audience to name their new product: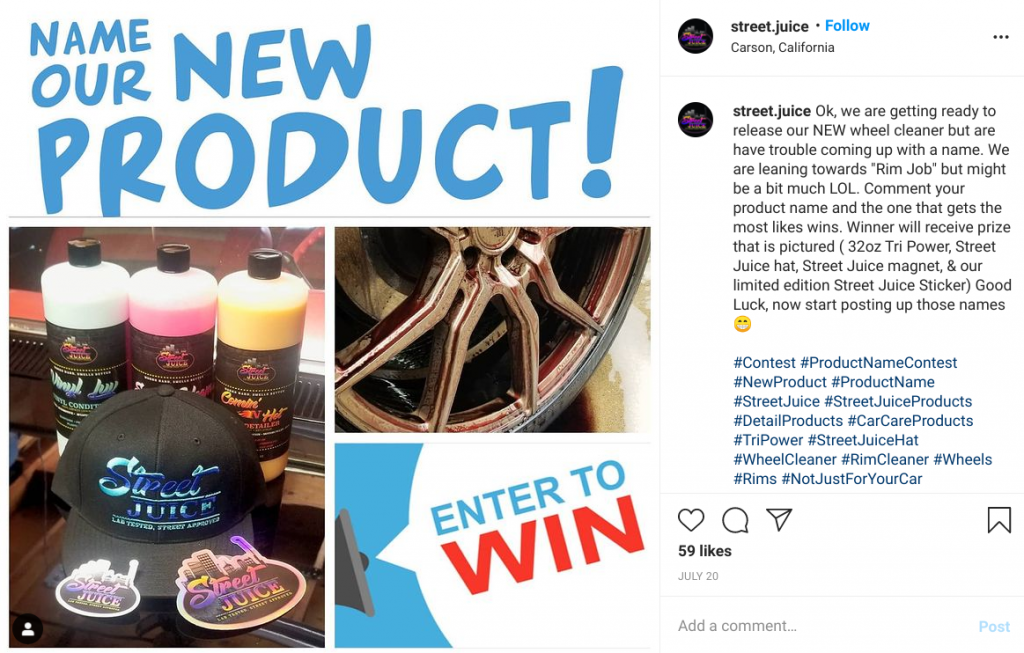 18. Instagram follower milestone giveaway
Reaching a follower milestone can be a reason to reward your followers. After all, you're expanding your follower base to serve an even larger audience.
The first entry criterion for such a giveaway is that a participant is your follower. To spice things up, you can tell them to drop a comment about what they've gained as your follower.
See this follower milestone giveaway by District Bookshelf: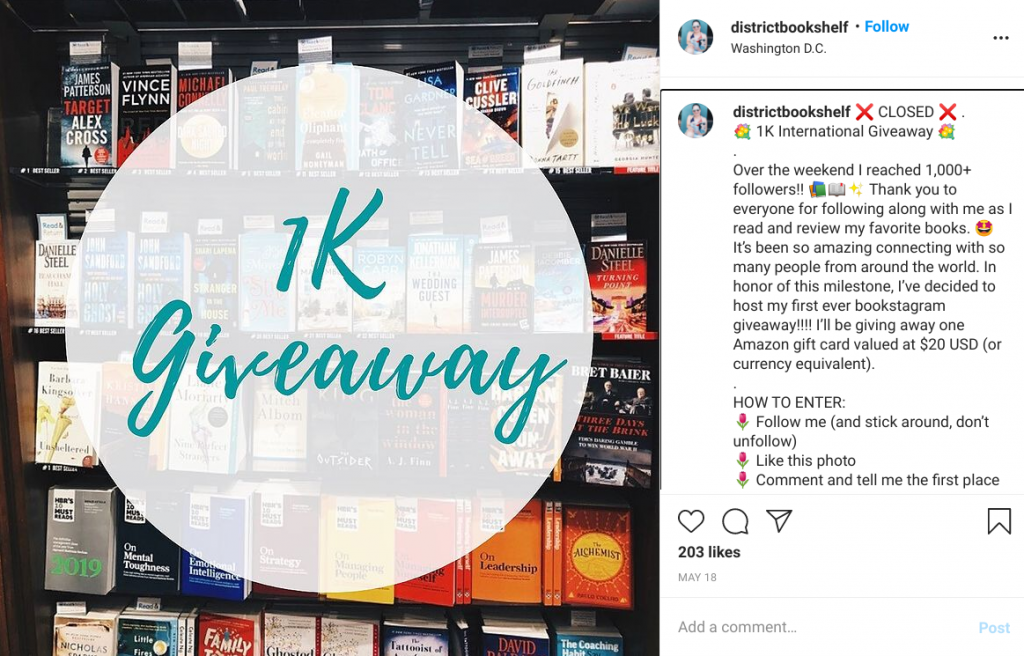 19. Puzzle contest
If you want to get your participants' creative juices flowing, then one of your best bets is a puzzle contest. You can supply them with pieces and tell them to create a whole.
See this puzzle contest by Casa BACARDI: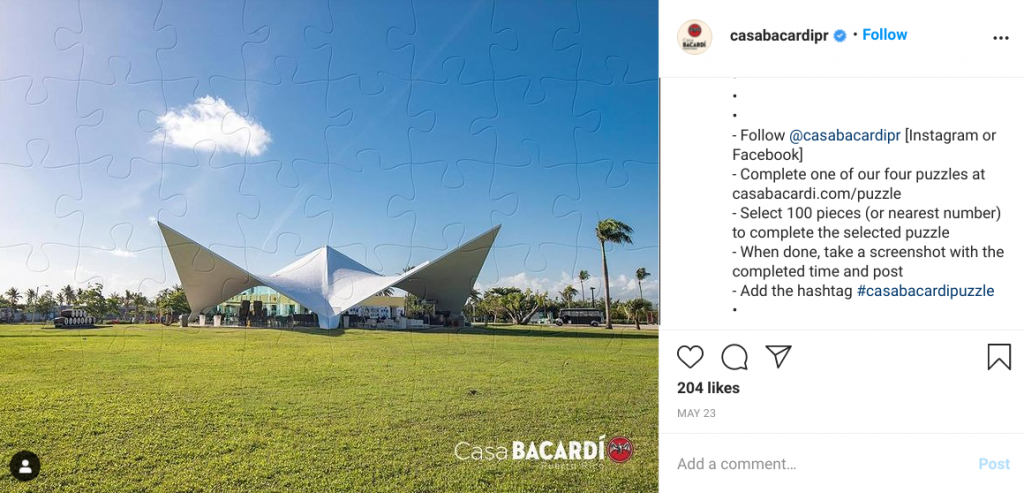 20. Scavenger hunt giveaway
The thrill of finding clues to solve a problem combined with the opportunity to win a gift can be irresistible to your audience. In your scavenger hunt giveaway, participants can follow your clue to discover items in your offices or at a popular location.
You can tell them to post the answer on their page and tag your account. Luckily, the "Submit Post" entry method on SweepWidget allows you to collect these entries in a place.
Here's an example from Coles Crossing Apartments: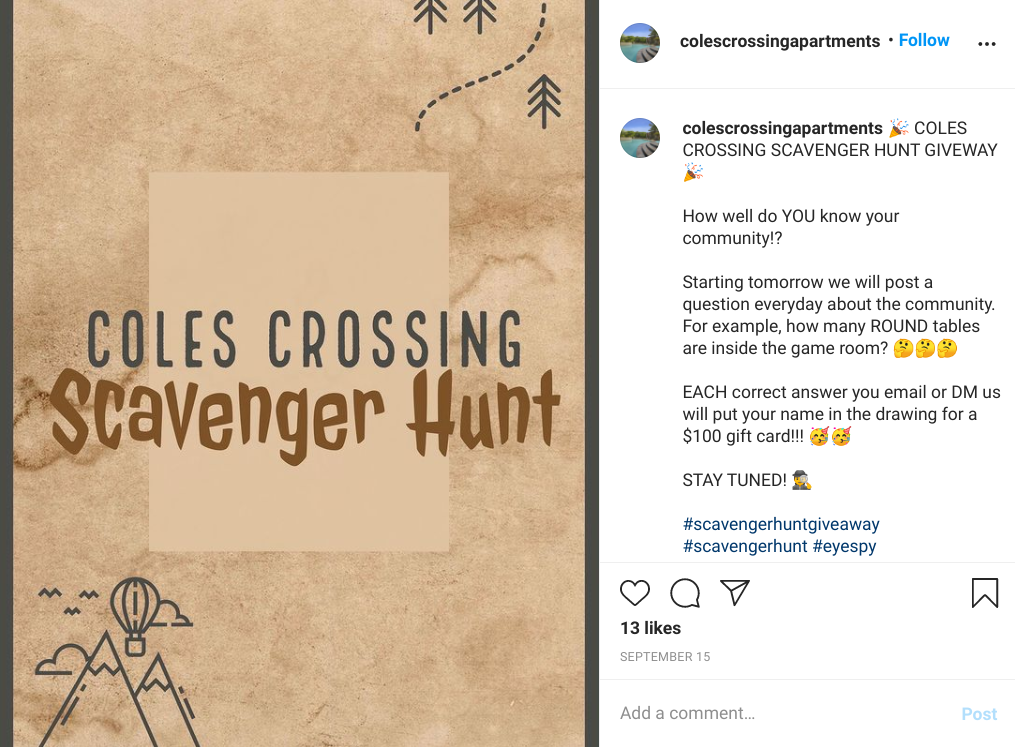 21. Nominate a friend to win
Sometimes, giving can be more fulfilling than receiving. And this giveaway can be an opportunity for your audience to deepen their relationship with their friends.
Your followers can nominate a friend by tagging them in the comments and saying why they should win the gift. After the giveaway end date, you can pick a winner randomly or judge the reasons.
In this giveaway, CanCooker tells its audience to nominate a healthcare professional.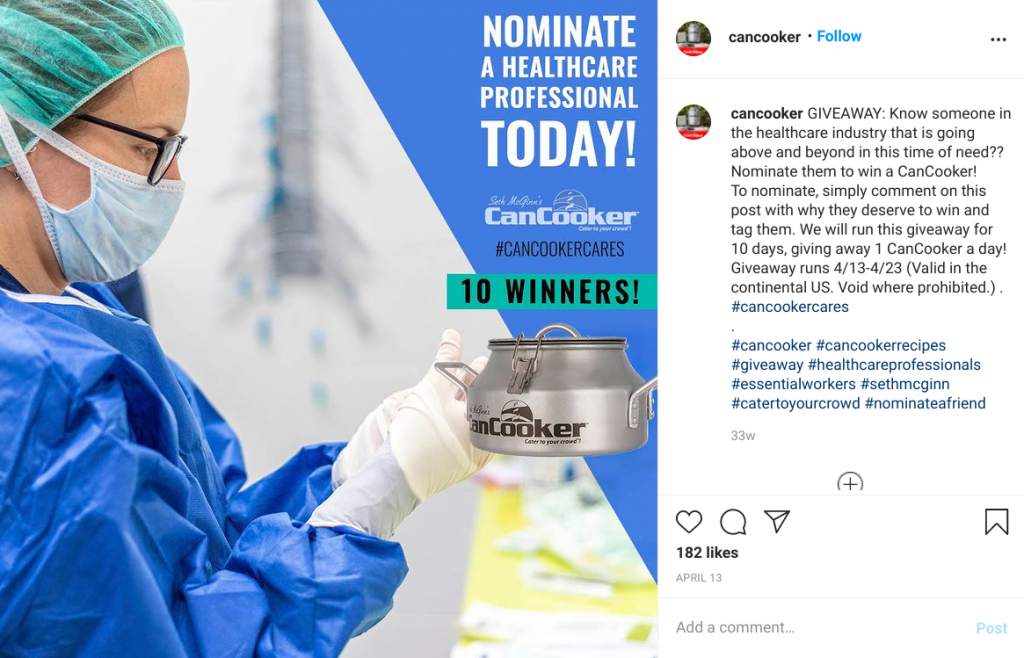 This gets them even more positive points with their audience as they recognize healthcare professionals during the COVID-19 pandemic.
22. Sponsor an influencer giveaway
Whatever industry you belong to, there's a big influencer that can expose your brand to your ideal audience. Considering their influence, some of their followers can end up becoming your customers.
The influencer can also increase engagement on their posts. This makes it a win-win for both of you.
For this, you can reach out to an influencer in your industry and offer to provide your product(s) for their next giveaway.
Here's a giveaway by blogger Angie Batis sponsored by Naked Insurance: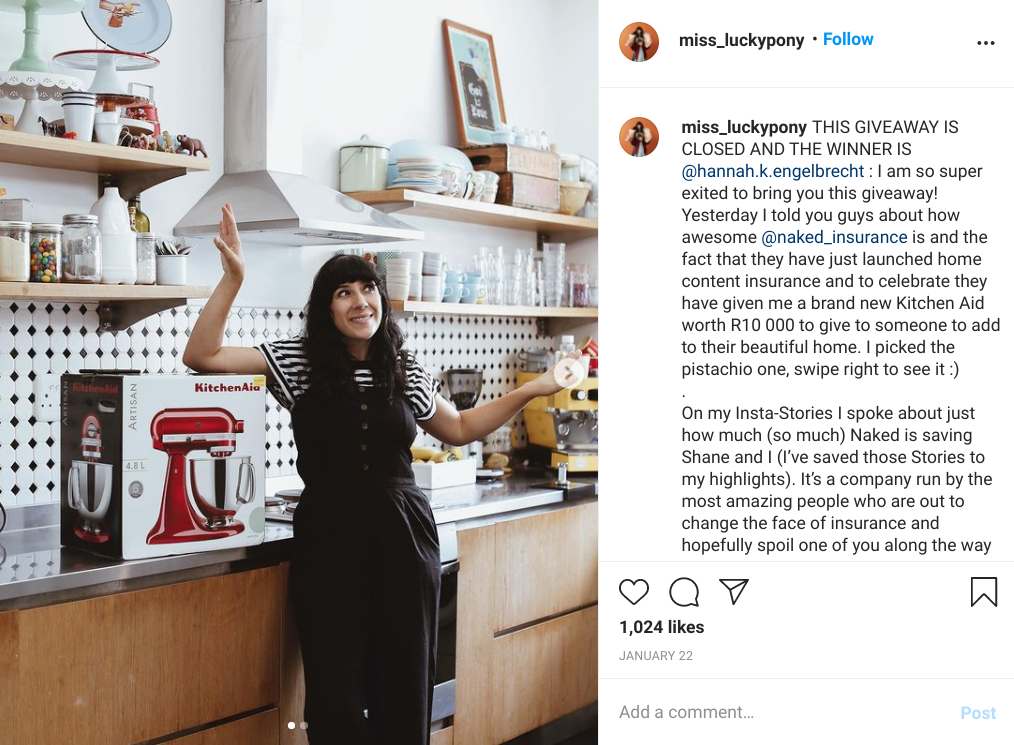 Conclusion
With these Instagram giveaway ideas, you can start planning giveaways to achieve your marketing goals.
Another vital part of implementing these ideas is using the right Instagram giveaway tool. SweepWidget has features that make it easy to implement these ideas and run your Instagram giveaways from the start till the conclusion.
Check out the SweepWidget plans to see which one suits your needs for your next Instagram giveaway.