The Ultimate Guide to Running a Successful YouTube Giveaway
Last updated on November 10th, 2022 at 12:30 pm
Are your YouTube videos getting the video reach, engagement, and other results you want?
If your answer to that is no, then running a successful YouTube giveaway could provide the boost you need.
Luckily, you'll learn how to run a YouTube giveaway to achieve your marketing goals in this post.
As the most popular video site and the second most popular website online, YouTube provides a platform to reach thousands of your ideal prospects.
Having said that, YouTube has strict contest guidelines compared to other social media platforms.
This might make it more challenging to achieve your marketing goal. But in return, your results are likely to last longer.
Without further ado, let's go through the detailed steps you need to take to run a successful YouTube giveaway. 
Table of Contents
1. Set YouTube giveaway goals
Without the right giveaway goal, you'll be wasting thousands of dollars on gifts with little to show for it.
Setting a YouTube giveaway goal is critical as it determines the overall direction and strategy of your giveaway.
During the planning process, here are some practical giveaway goals to consider:
Increase YouTube channel engagement
Increase channel subscribers
Increase brand awareness
Improve website traffic
Acquire more leads
Acquire user-generated content
To set practical goals, you need to use the SMART goal-setting approach. This means your goals should be specific, measurable, achievable, relevant, and time-bound.
For instance, your YouTube giveaway goal could be to acquire 5,000 more subscribers during your 3-week giveaway campaign. To be smart, this goal has to be achievable and relevant to your overall marketing goals.
2. Understand and follow YouTube contest guidelines
For most people running YouTube giveaways, this is where things can get a bit tricky.
And you have to be careful to avoid getting yourself into legal troubles, or your channel removed because of giveaway violations. YouTube has a contest guidelines page where they spell out these terms.
Some of them are:
YouTube doesn't allow contests to run through ad units.
You have to accept total responsibility for your giveaway.
Your giveaway has to comply with applicable federal, state, and local laws.
Participants own the right to their giveaway entries.
Giveaways must be free to enter and you need to check your local lottery laws.
It's against the YouTube Fake Engagement policy to manipulate YouTube metrics such as the number of views, likes, comments, and subscribes.
If you're collecting personal data during the giveaway, for example, email addresses, you have to state how you'll use the personal data.
Dissociate YouTube from your giveaway.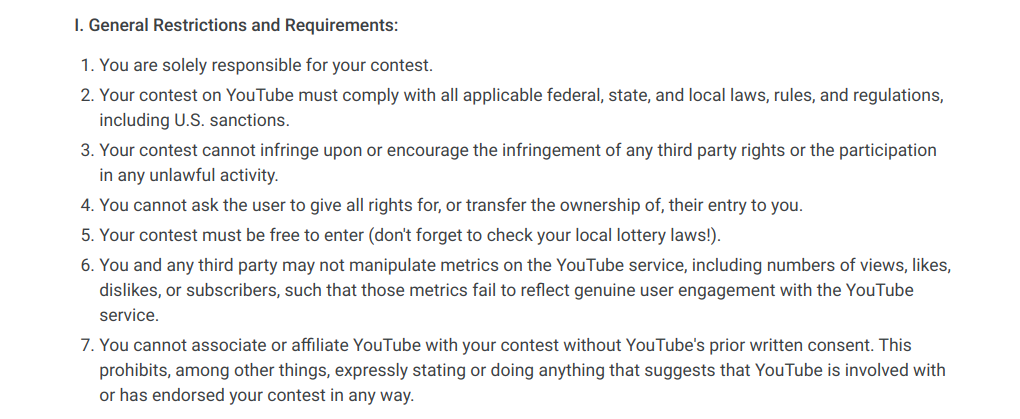 Apart from the contest guidelines, you also have to pay attention to the YouTube Fake Engagement policy. This policy exists to ensure that engagement on YouTube videos is as natural as possible.
Part of this policy states, "YouTube doesn't allow anything that artificially increases the number of views, likes, comments, or other metrics either through the use of automatic systems or by serving up videos to unsuspecting viewers."
In light of this policy, there's a limit to the number of actions you can require legally as your entry criteria. If you're using SweepWidget to run your YouTube giveaway, you have access to these entry criteria:
YouTube submit a video
YouTube visit channel
By understanding YouTube's contest guidelines, you'll know what type of actions you can request from your audience and general rules to follow.
3. Create official YouTube giveaway rules
Beyond understanding YouTube's contest guidelines, YouTube also requires that you create official contest rules for your participants. To make the rules, you need to take note of some of YouTube's recommendations.
What are they?
You're responsible for your giveaway and its rules.
Your official rules must include links to the YouTube Community Guidelines and state that users who fail to follow the guidelines will be disqualified.
Giveaway rules must contain the location and age eligibility requirements.
You have to explain how and where to enter the giveaway.
You have to explain what makes an entry invalid.
You have to specify the giveaway start and end date.
You have to disclose partnerships for your giveaway.
You must conduct your giveaway according to your official rules.
You have to dissociate YouTube from your giveaway in the official rules.
If you're collecting participants' personal data, you have to spell out how you'll use the data.
Luckily, SweepWidget has an "auto-generate rules" feature which allows you to enter details about your giveaway to obtain useful documentation.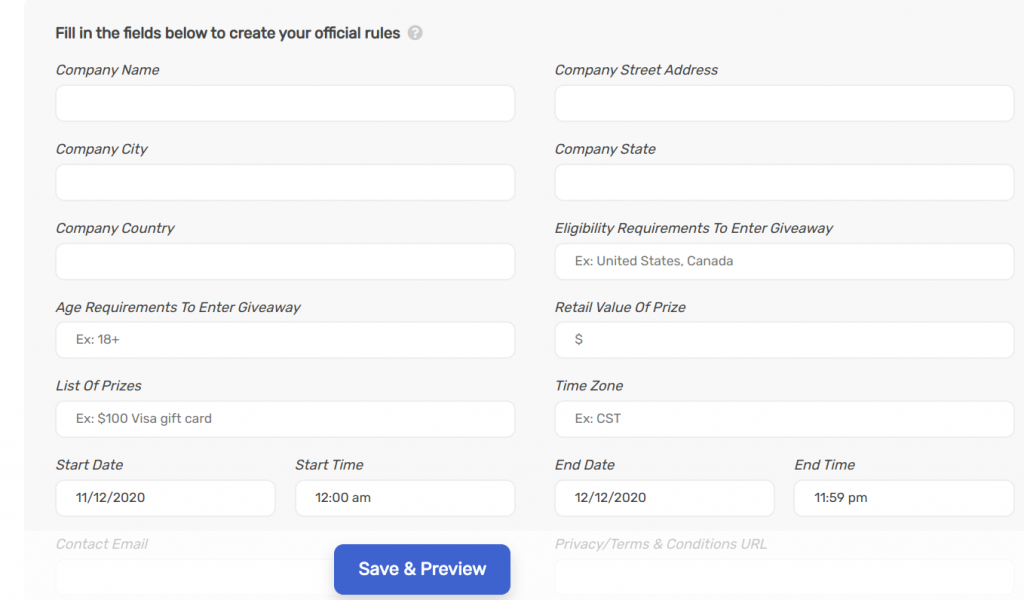 With comprehensive giveaway rules, participants will have all the essential information they need about your giveaway.
4. Select a relevant giveaway prize
For your audience, your giveaway is all about winning a gift. For you, it's about achieving your marketing goal through the gift.
Therefore, a lot of thought has to go into selecting your giveaway gift. First, your giveaway has to be related to your business or industry.
This gift could be a product you sell or a service you offer. By doing this, you're more likely to attract potential customers for your business.
For instance, if you're running a hair salon, offering hair treatment as your gift will attract your ideal audience compared to offering an iPad.
Another vital point to note is to keep your gift within your budget. There's no point running a giveaway just to end up in debt.
Furthermore, your gift has to support the achievement of your giveaway goals. If your goal is to acquire quality leads, is your gift valuable enough to attract the type of leads you want to acquire?
Here's Dinkie The Sink, a gaming YouTube channel that gives a gaming PC away every month: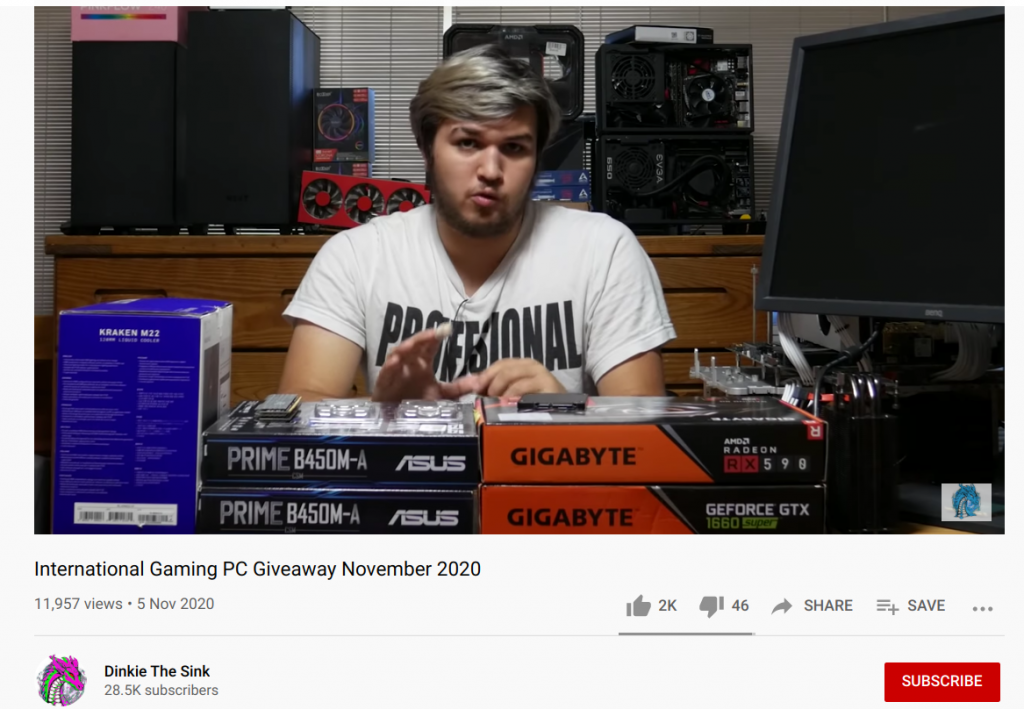 This is relevant to the audience and will attract the right type of participants.
5. Set up your YouTube giveaway
After settling on your goal and entry criteria, you can now set up your giveaway. If you're using SweepWidget, or any other tool, for your giveaway, there are limited entry options.
This is due to YouTube's Fake Engagement policy. If you're on SweepWidget, log in to your account and click on "+ New Giveaway."

On the next page, you have six (6) sections where you can set up your giveaway according to your needs. These sections are:
Basic information
Ways users can enter
User login steps
Style and design
Leaderboard, milestones, and instant coupons
Pre and post entry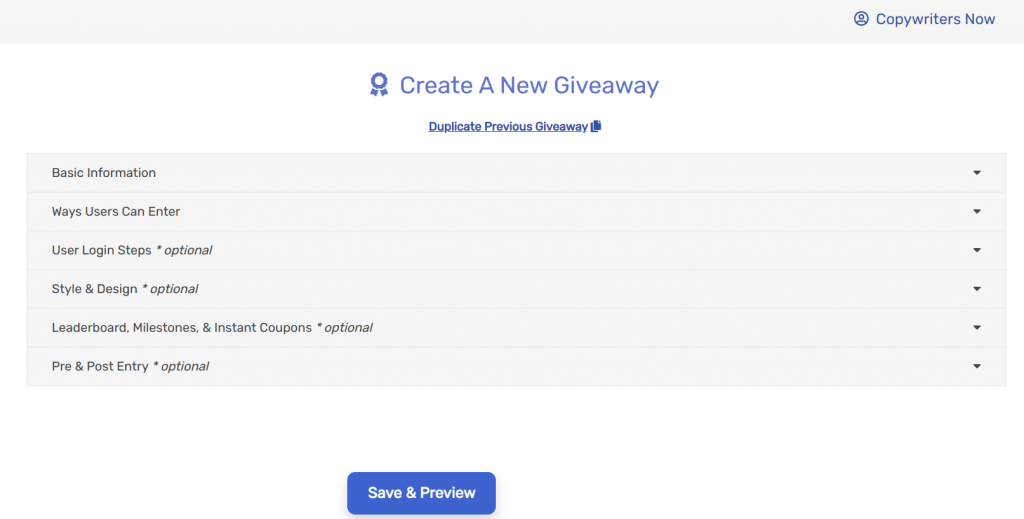 In the basic information, you can enter details such as the start and end date, the number of winners, location allowed, block cheats, and more. For ways users can enter, there are three you should explore:
YouTube submit a video
YouTube visit channel
Refer a friend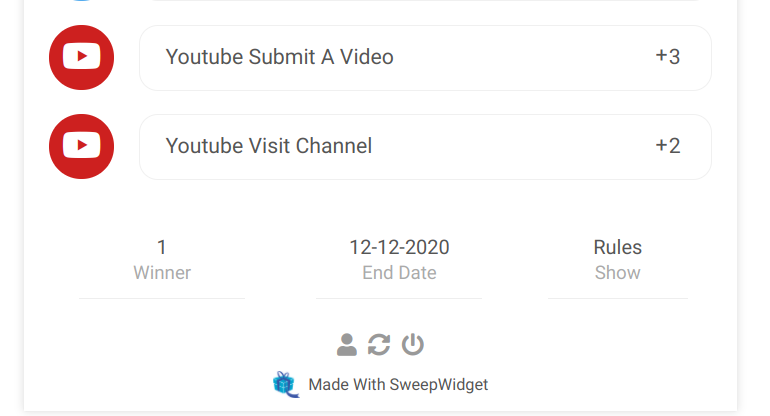 When you scroll further down, there are more details to add to complete your setup. With the two YouTube entry options, users can enter your giveaway. Furthermore, they can share with their friends to gain more entries.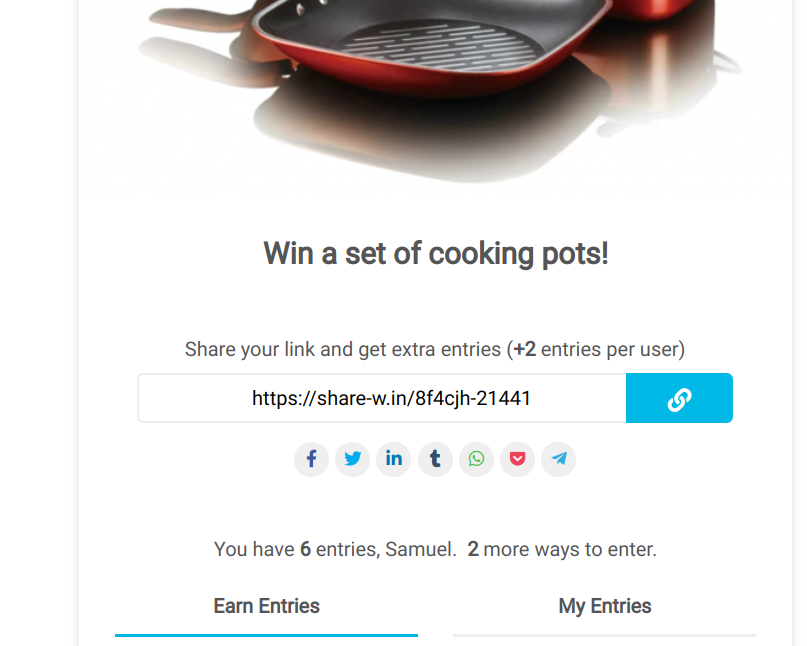 Once you're done with your giveaway, you have the option to embed it on your website or host on SweepWidget. You can also test your giveaway and see how it looks on both desktop and mobile.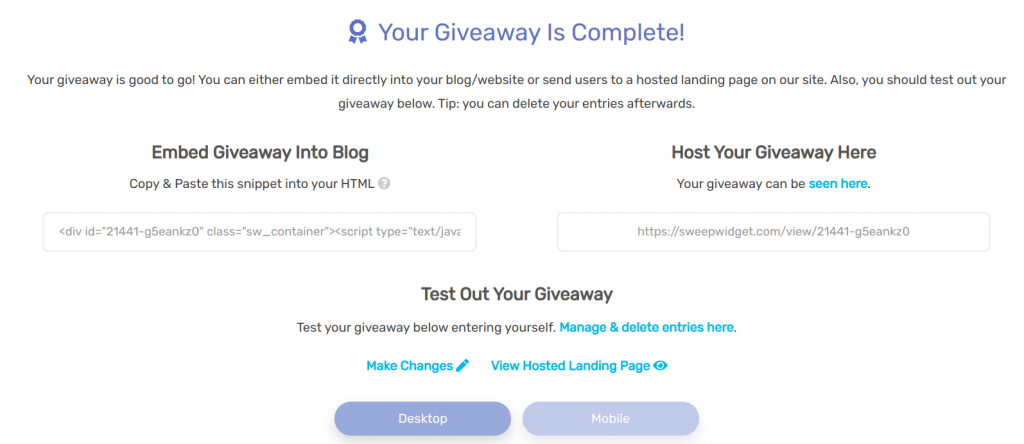 Now, you can move on to the next stage of your giveaway campaign.
6. Create YouTube giveaway video
For your audience, this is where your giveaway begins. You have to create an engaging video to announce your giveaway.
This has two significant benefits: it encourages viewers to enter your giveaway and leads to more exposure for your announcement video. When YouTube algorithm detects high engagement on your video, it will recommend your video to more YouTube users similar to your audience.
While creating your YouTube giveaway announcement video, you need to keep these tips in mind to make the video engaging:
Show off your gift in the video to make it real.
Execute the steps to enter the giveaway to make it clearer to your audience.
Share the contest rules.
Ensure your video thumbnail features the gift, the prize name, and has the word "giveaway" in it to attract more viewers.
Fortunately, YouTube allows you to add detailed descriptions to your video. In addition to your video content, you have to write out your giveaway rules.
Here, you can explain how users will enter the giveaway, giveaway end date, and important giveaway hashtags. Furthermore, you can link to your giveaway page and the terms and conditions page in the description.
Here's a giveaway video by Tech Testers: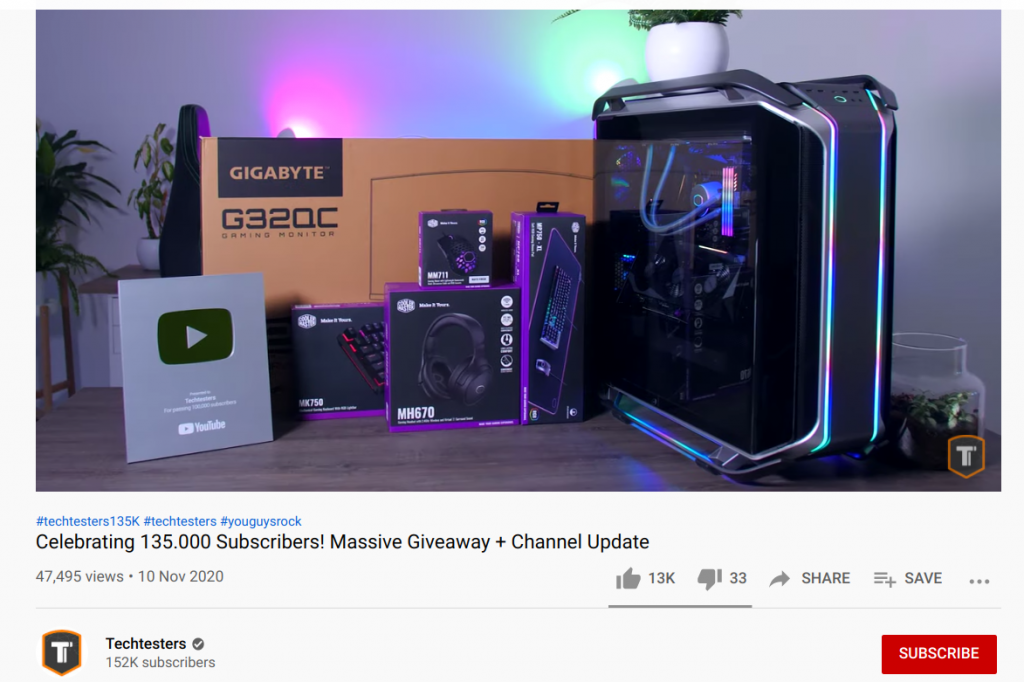 In this video, Nada provides vital information about the giveaway and the gift. She also explains the rules and instructs the future winner to take a picture of themselves with the gift.
In the video description, she gave as much detail about the giveaway as YouTube requires. Even though she asks participants to subscribe to their channel and like the video, she's not using a third-party tool to enforce those actions.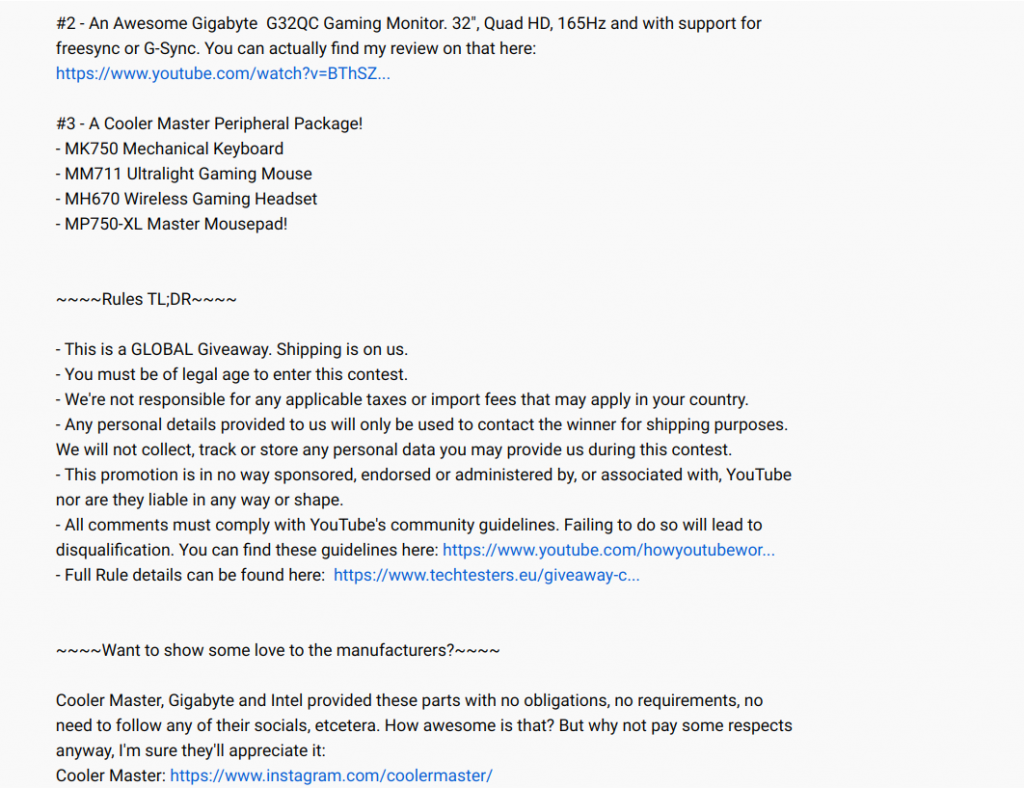 Within 10 days of publishing the giveaway video, the channel has gained over 17,000 subscribers with the video having 13,000 likes. Creating an engaging announcement video will give your videos even more exposure to potential participants.
7. Promote your YouTube giveaway
With effective promotion, your giveaway will get more viewers and, consequently, more participants.
First, you have to note that YouTube doesn't allow you to run your giveaway in an ad unit. Having said that, here are some promotion ideas to get maximum exposure for your YouTube giveaway:
Announce giveaway through a YouTube video.
Feature YouTube cards and end screens about the giveaway in popular videos (remember to remove them after the giveaway).
Mention the giveaway in videos you create during the campaign.
Collaborate with YouTube influencers.
Share on your social media channels.
Pin to the top of your social media pages.
Use "refer a friend" entry criterion.
Send messages to your email subscribers.
For instance, here's Nada sharing Tech Tester's YouTube giveaway on her Twitter account: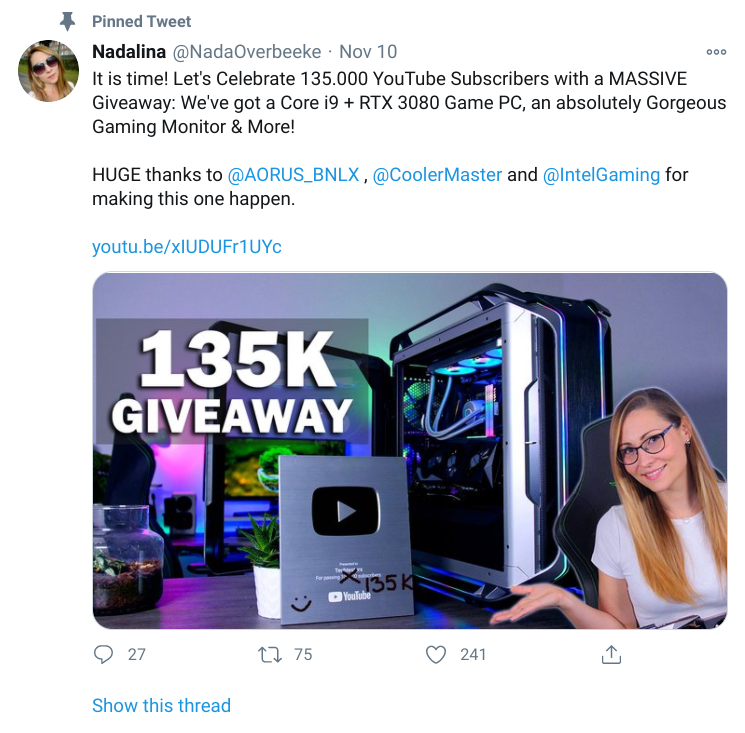 Through these strategies, you can increase exposure for your YouTube giveaway. If there are other entry criteria outside of YouTube, then these can make it easy to promote your giveaway on other platforms.
8. Select and contact the winner
After your giveaway end date, the next stage is to pick a winner. After all, this is what your participants are looking forward to.
Here, you can pick your winner according to your official rules.
If you're using SweepWidget, you can easily track your participants in the entries section. All you have to do is click on the "Entries" button to see all your entries.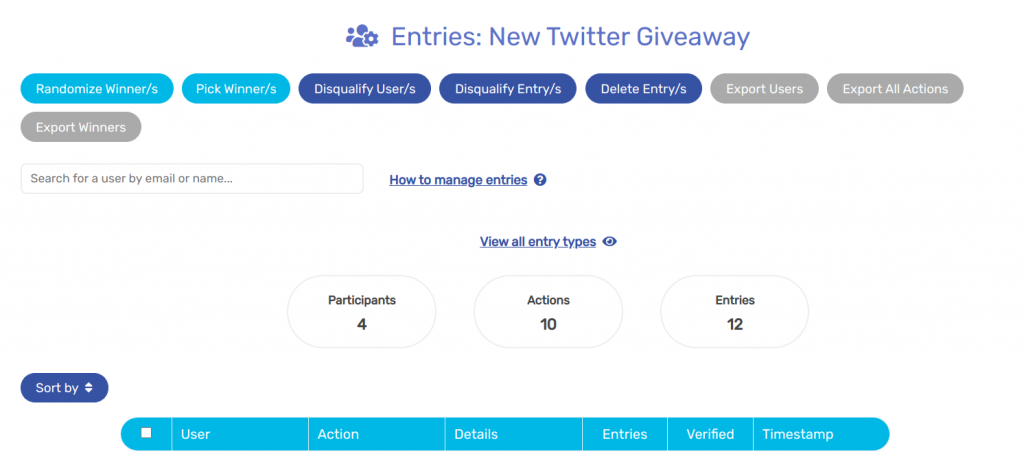 If you want to pick your winner randomly, click on "randomize winner/s" and SweepWidget will pick a winner. Otherwise, you can go through your entries to select a winner.
Once you have your winner, SweepWidget will display their details to you.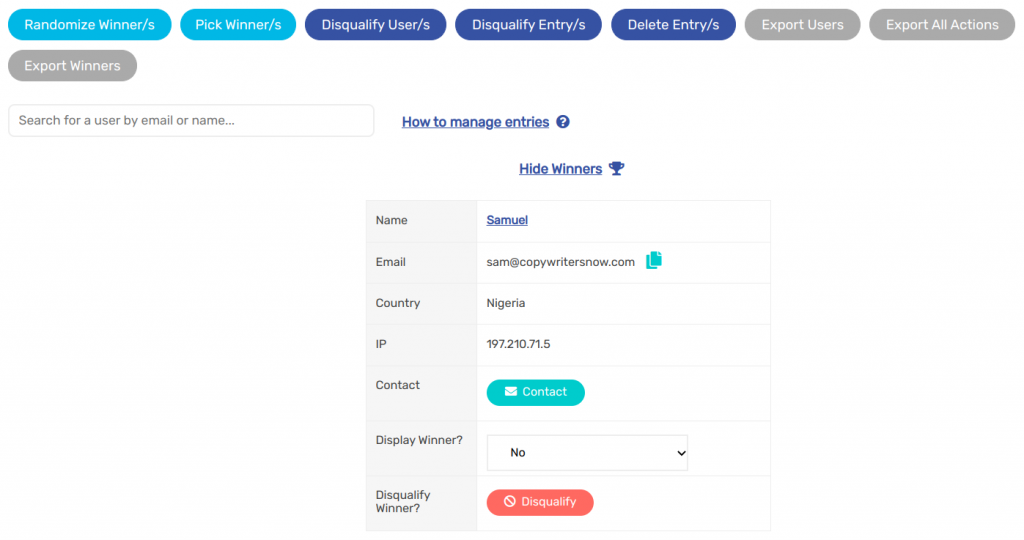 Then, you can contact your winner about their win and how to deliver their gift to them.
9. Announce YouTube giveaway winner
For every giveaway, there has to be a winner. Or else, participants will get angry that you've wasted their time.
Your announcement will be through another YouTube video. Here, you'll explain how the winner emerged. Meanwhile, displaying the winner's details will help every participant identify them.
To make the confirmation even easier, get the winner to record a video when they receive the gift and what they think about their gift.
For example, 80Eighty actually recorded a video of their car winner receiving their gift.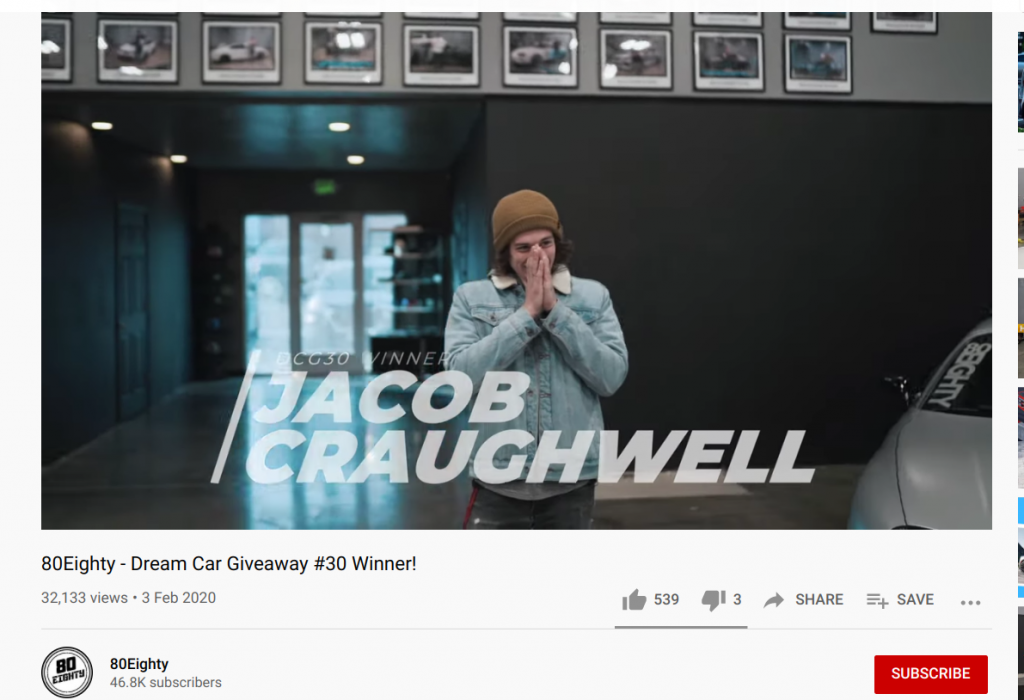 This gives more credibility to your giveaway and brand altogether.
10. Analyze your giveaway performance
Considering that your giveaway is a marketing strategy, you have to track its effectiveness. At this point, you have to revisit the goal you set at the planning stage of your giveaway.
What numbers determine the achievement of your goals? Here are some ways to analyze your giveaway:
YouTube channel and video analytics
SweepWidget analytics
Google analytics
Email marketing tool
From these analyses, you can determine the success or failure of your giveaway campaign.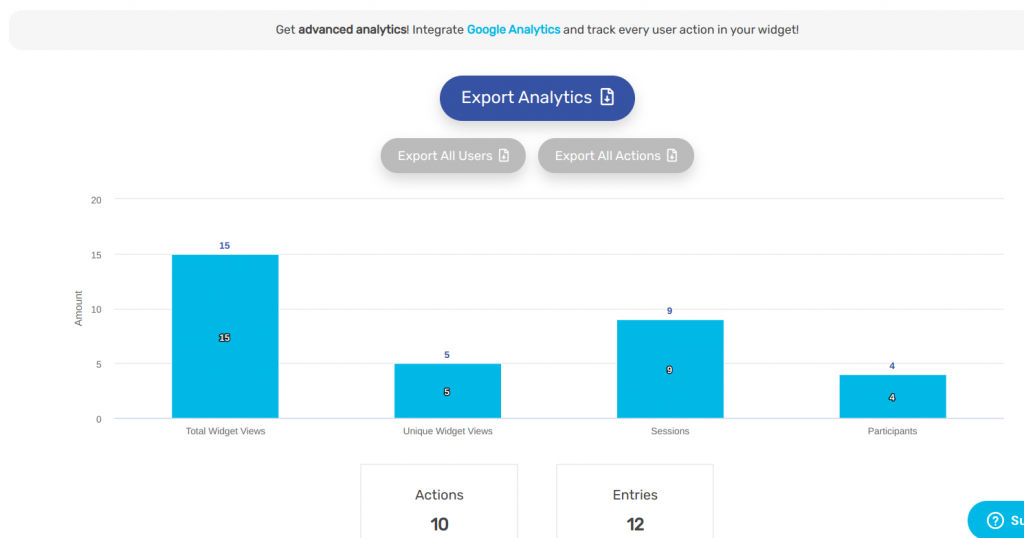 Furthermore, the insights from this giveaway performance can help improve your future giveaways.
Conclusion
With the massive number of YouTube users, it's a big opportunity for your business to reach your ideal audience. And running a giveaway today is one of the best ways to take advantage of this huge platform.
Fortunately, with the features available on SweepWidget, you can create your giveaway in minutes and start building better relationships with your audience. Check out SweepWidget plans to find the best plan for your needs.
Also, you can read our detailed guides on how to run successful giveaways on Instagram, Facebook, and Twitter.