27 Amazing Facebook Giveaway Ideas to Make Your Contests Irresistible
Last updated on November 10th, 2022 at 12:30 pm
Are you stuck trying to find an idea for your Facebook giveaway?
Do you need that Facebook giveaway idea that would attract participants in droves to achieve your goals?
If you answered "yes" to both questions, then you're in the right place. In a moment, you'll find amazing ideas you can start using now.
While in the planning stage of running your Facebook giveaway, finding the right idea is a vital step if you don't want to bore your audience.
Of course, the idea you settle for will depend on your giveaway goal. And you can use two or more ideas for a single giveaway.
However, you have to consider Facebook's contest guidelines to avoid ideas that will violate the rules.
Without further ado, here are 27 amazing Facebook giveaway ideas to use right now. 
Table of Contents
1. Visit Facebook page/group
A vibrant Facebook page or group can be a platform to connect better with your customers and prospects. Here, they can ask essential questions or leave feedback about your service.
To enter this giveaway, participants will visit your Facebook group. In most cases, participants will end up joining your group if they find it useful.
To execute this idea, navigate to your SweepWidget giveaway setup and click "Visit Page" among the Facebook entry options.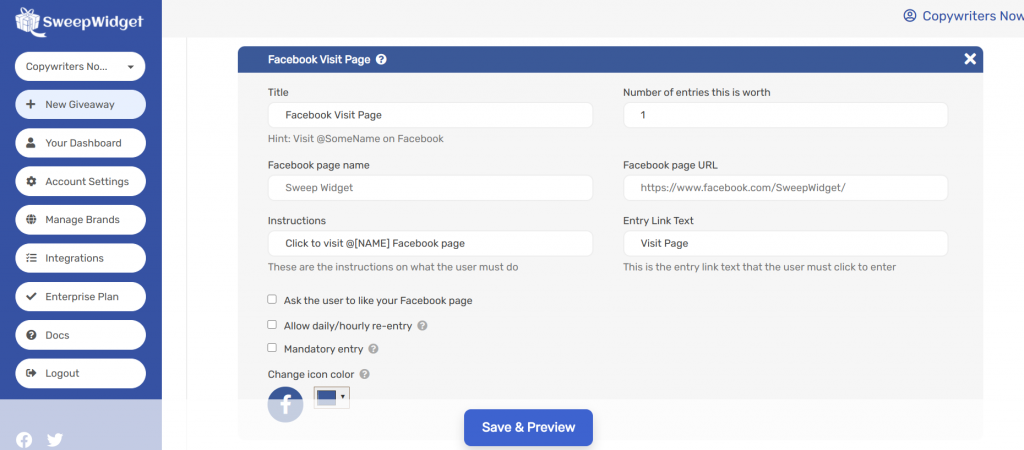 Then, you can enter your page or group details and save. Here's an example from PartyZone.ie: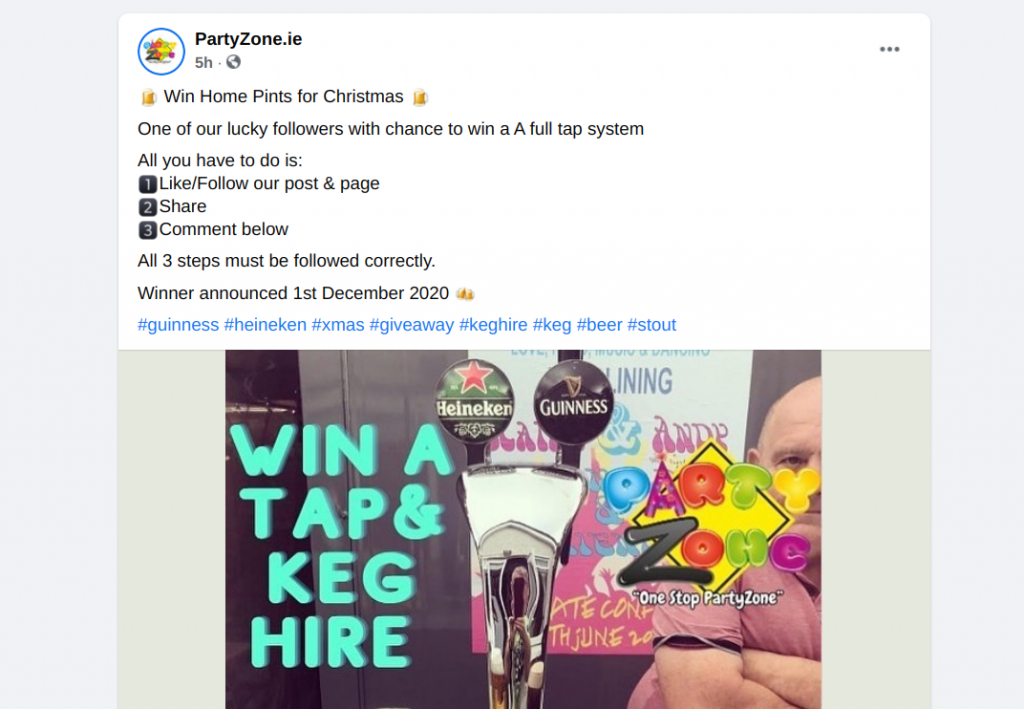 2. Fun way to use your product/service
In the case of promoting a new product, what fun way would your audience use the product? This would elicit interesting comments from your participants.
You'll also get ideas for marketing your product effectively. While judging the winner, you have the option to pick the best or most liked comment.
On your SweepWidget giveaway setup, click on Facebook to display the entry methods.

From these, select comments and enter details about your post such as the Facebook post URL and others.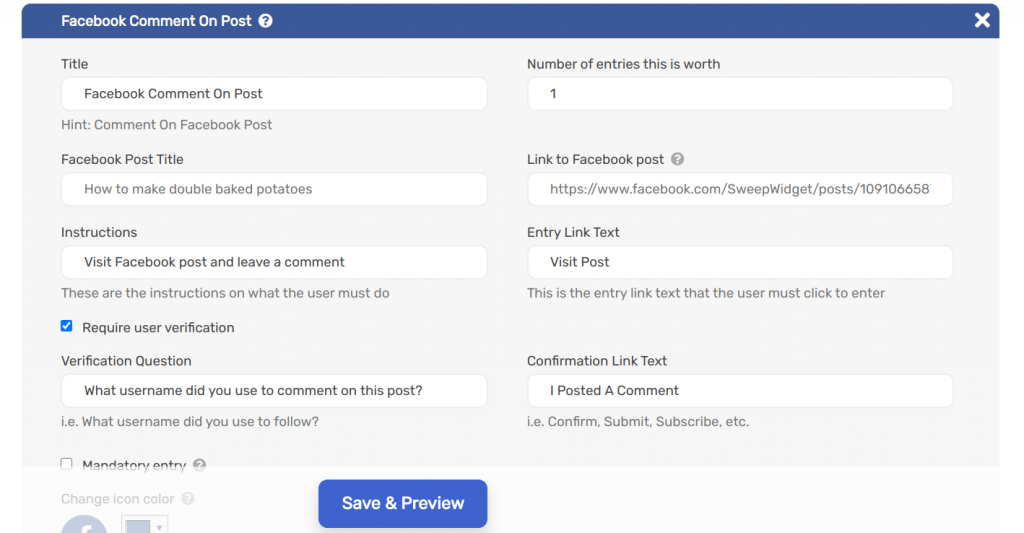 Here's a version of this giveaway with Century Prowud asking participants why they want a new kitchen: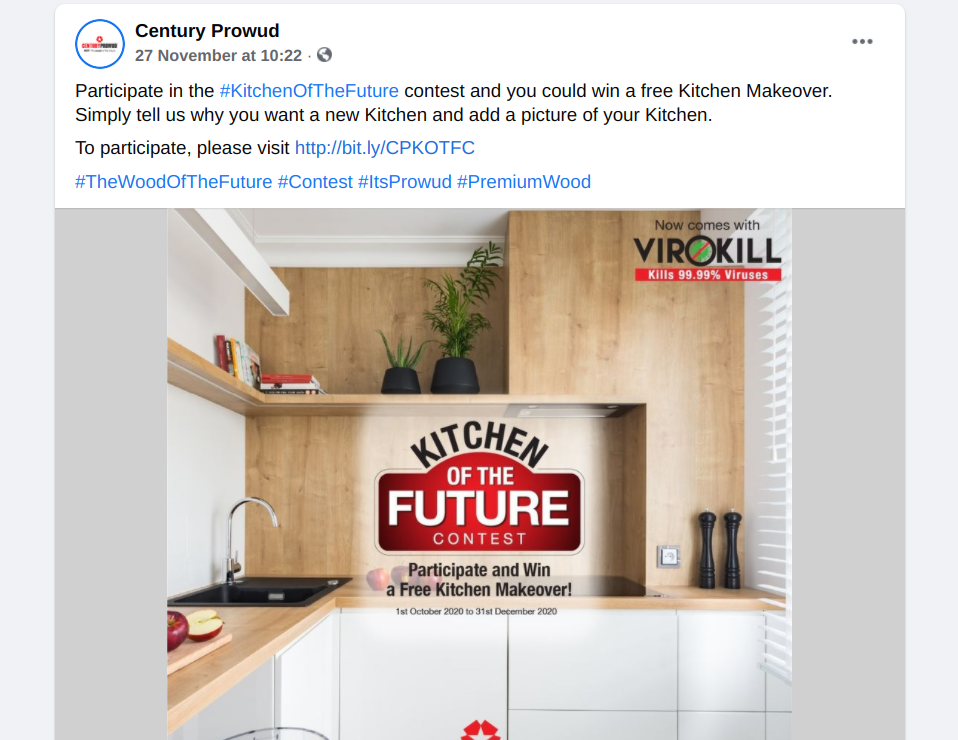 3. Subscribe to a newsletter
If you want to capture more leads from your giveaway, then this is an option to explore. To do this, click on "Subscribe To A Newsletter" in your SweepWidget setup.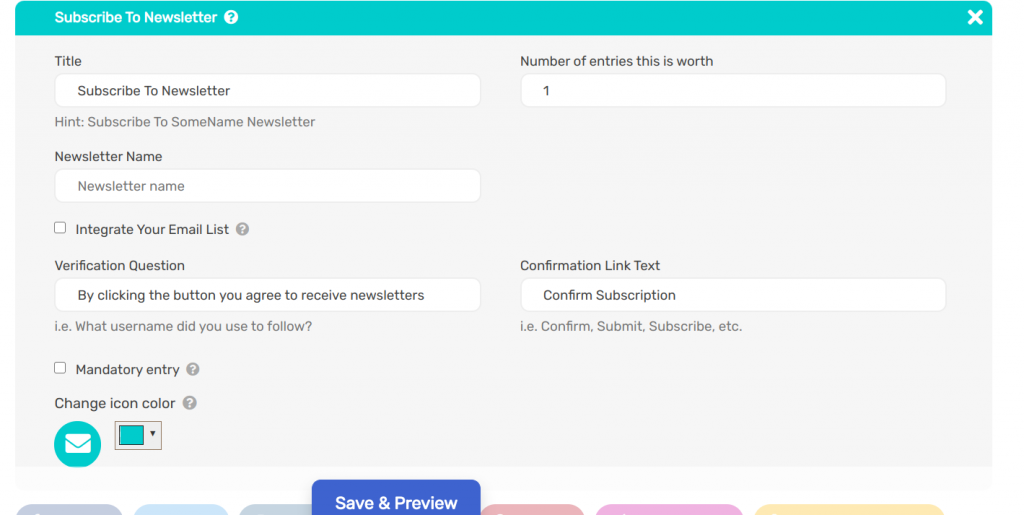 To subscribe entrants to a newsletter, you'll have to integrate SweepWidget with your email marketing tool. Check out the giveaway below by Grenade South Africa: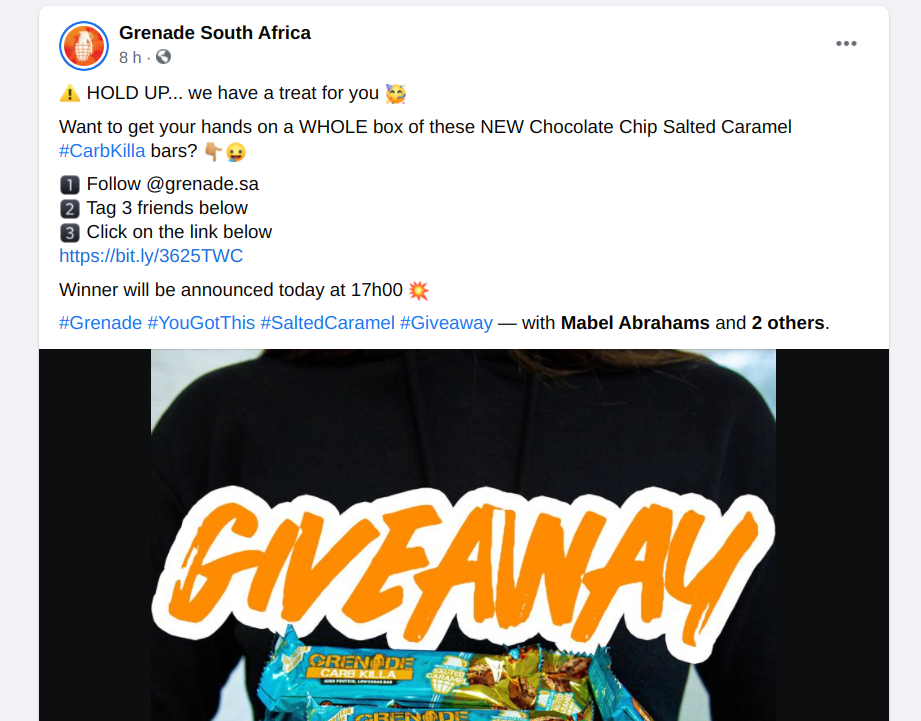 If you click on the link in the third criteria, it leads to a lead capture page: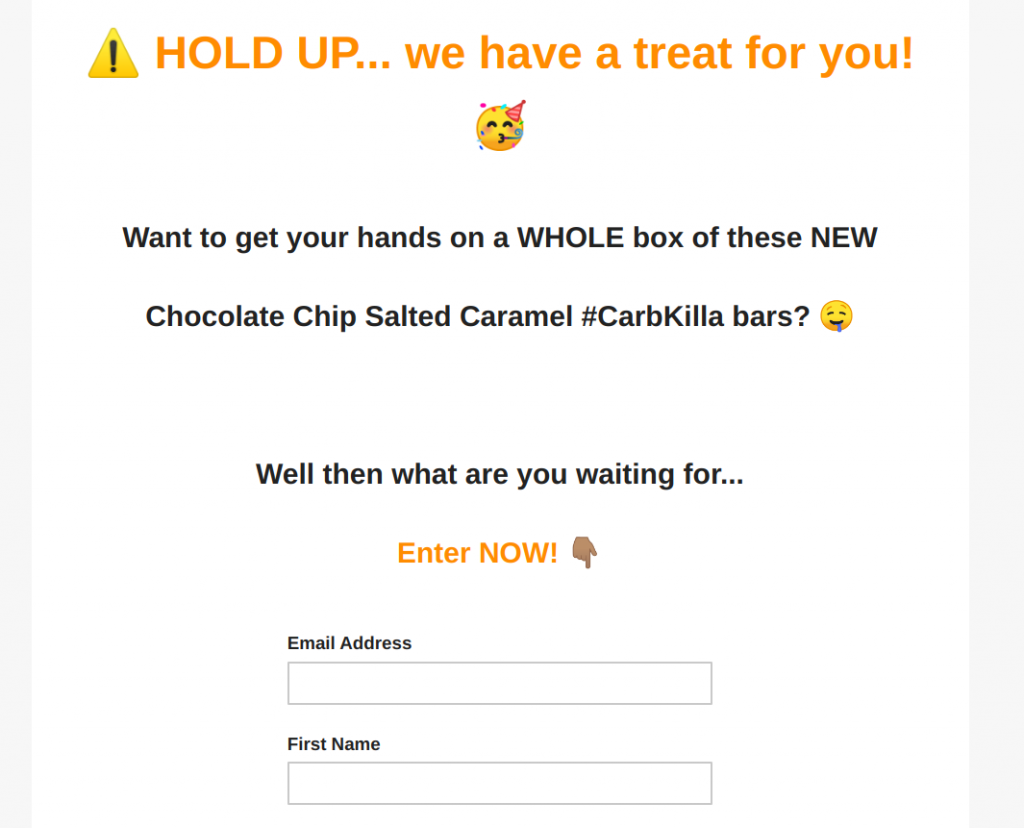 4. Refer a friend
How would you like to make your giveaway viral? If a participant is interested in your giveaway, then their friends are likely to participate.
In the SweepWidget setup, click on "Refer-A-Friend" among the ways to enter.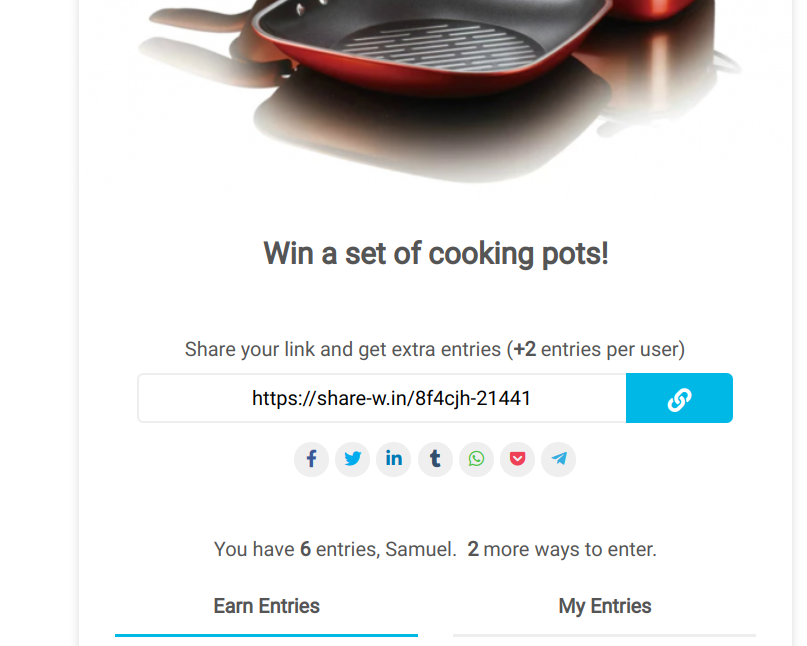 5. Take a quiz
To test your audience's knowledge about your brand or a particular product, a quiz of one or more questions is an effective tool. Click on the "Custom Input Field" button to create your quiz on SweepWidget. Alternatively, use the post comment option.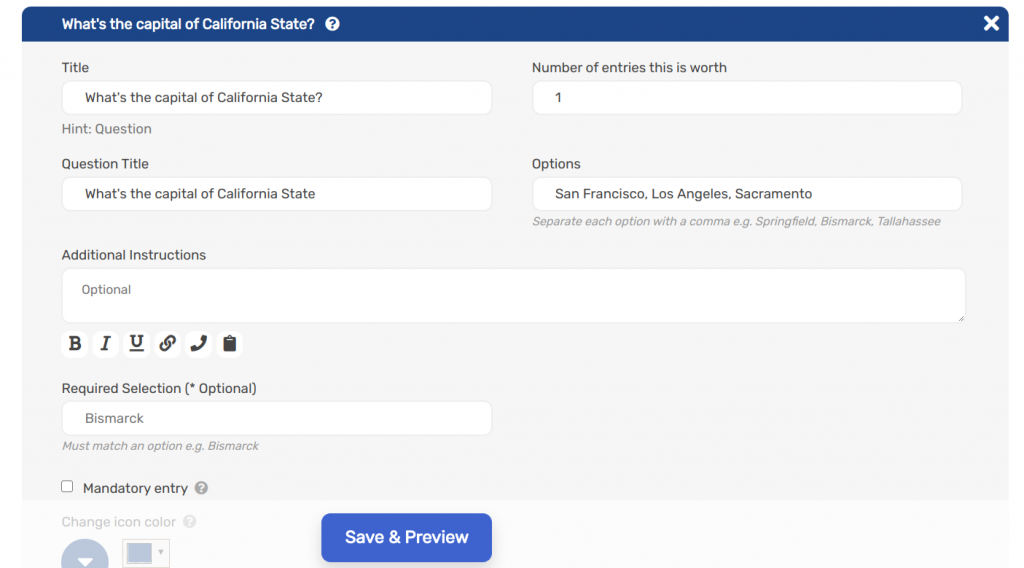 Here's a quiz from House of Italia that participants need to answer: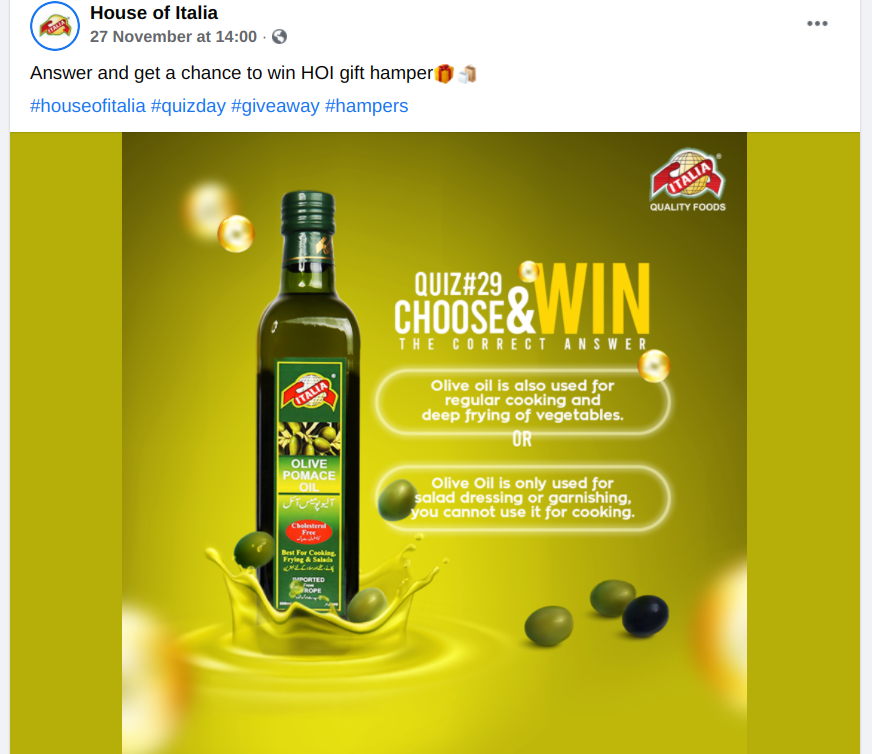 6. Complete a survey
With a survey, you can ask questions about your products and services, audience demographics information, new products, and more. Considering the chance to win a gift, more participants will enter your survey.
To create a survey on SweepWidget, add as many questions as you want by clicking on "Custom Input Field" and then "Textarea."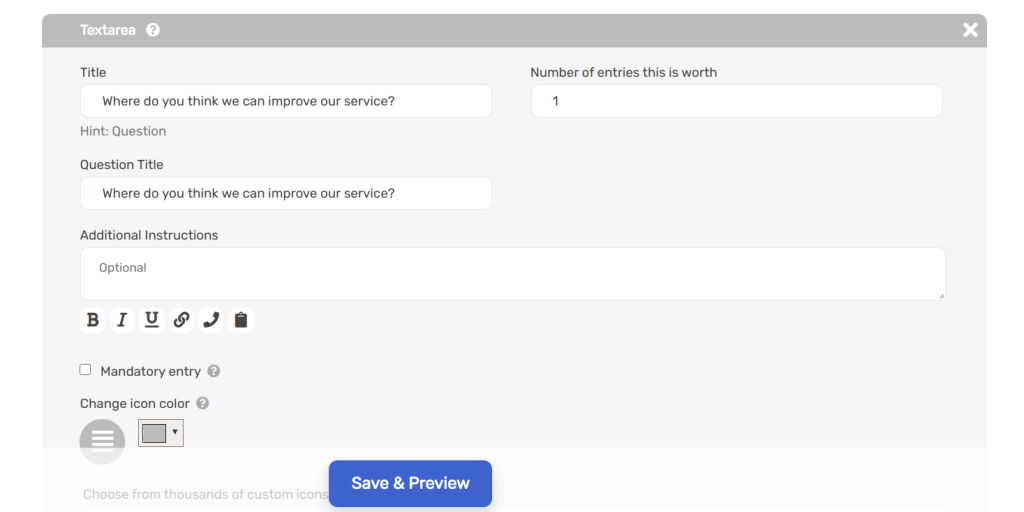 Here's an example from Owlkids: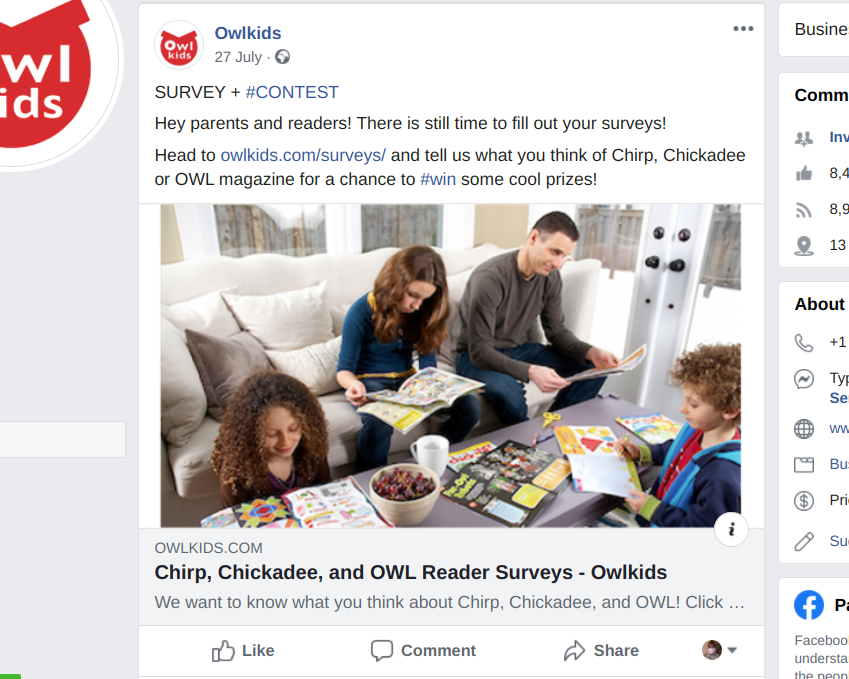 7. Visit a web page
Whether you're trying to capture leads on a landing page or sell on a sales page, your giveaway can be a source of valuable website traffic.
To use this idea, click on the "Visit Page" entry method and enter your page details.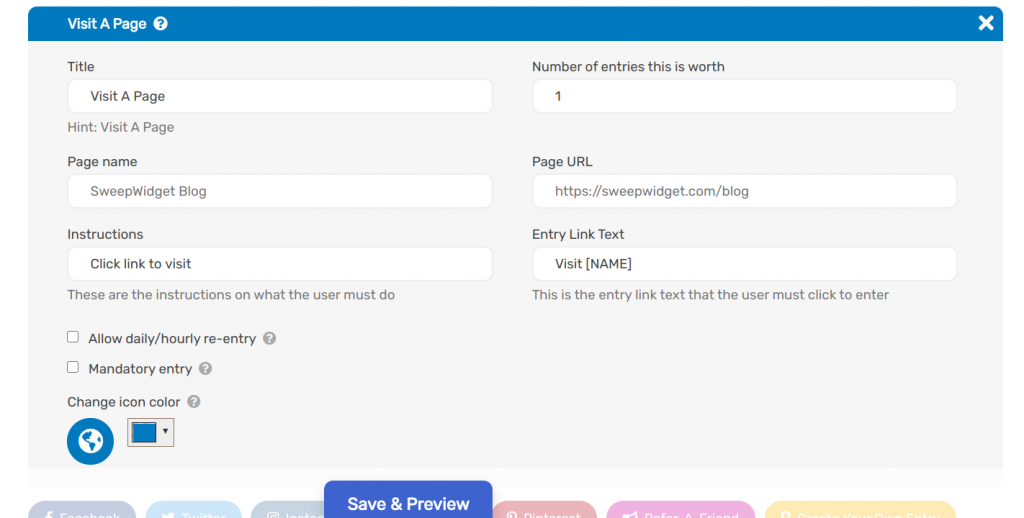 Here's a giveaway where the brand instructs participants to visit their website: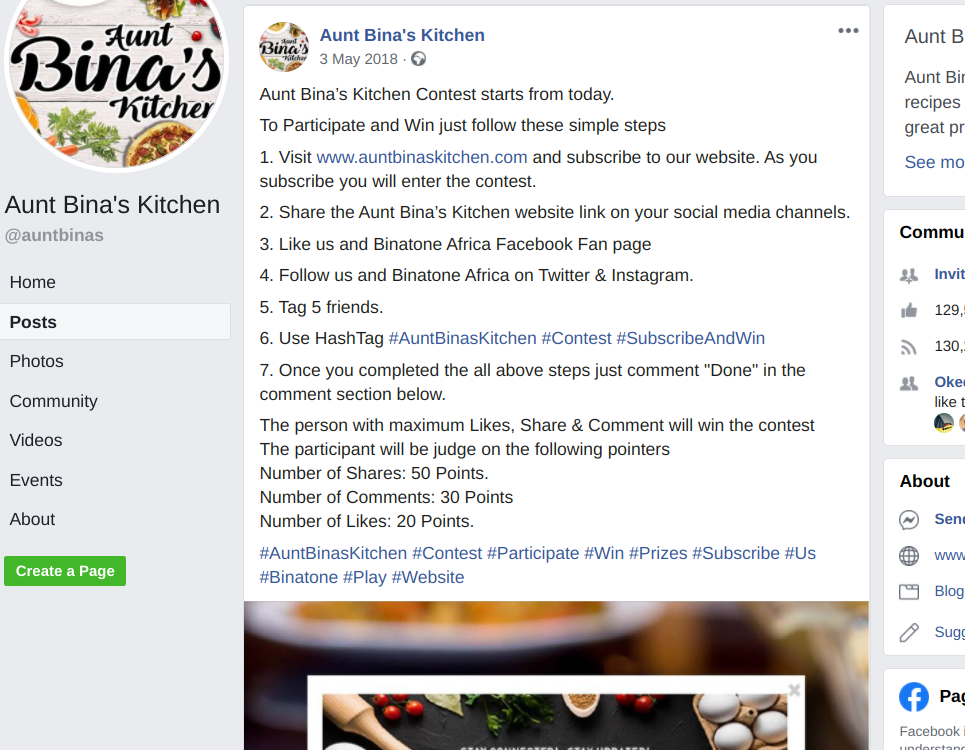 8. Facebook Live giveaway
Considering the high level of engagement on Facebook Live events, you can host your giveaway and pick winners during a Live event. This raises your audience's excitement.
Here's Normando The Magician announcing his giveaway winner during a Facebook Live event: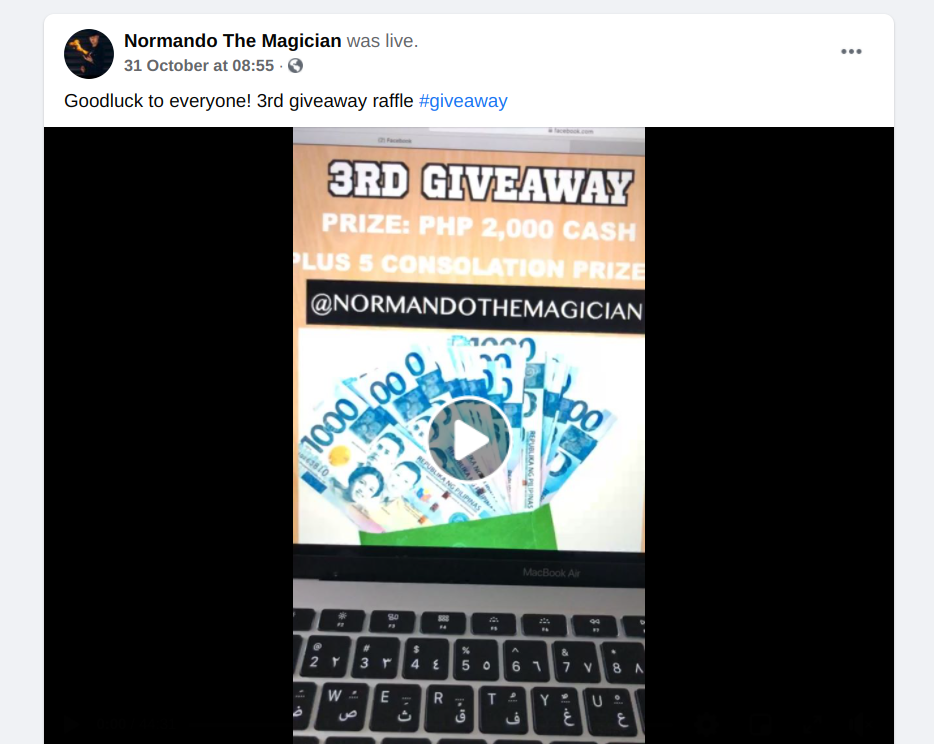 9. Comment on a blog post
For most blog posts, engagement breeds even more engagement. That's why comments on your blog posts can attract more comments and make your post seem valuable to a reader.
To execute this in your giveaway, click on "Blog Comment" among the SweepWidget options to select a regular or Disqus comment.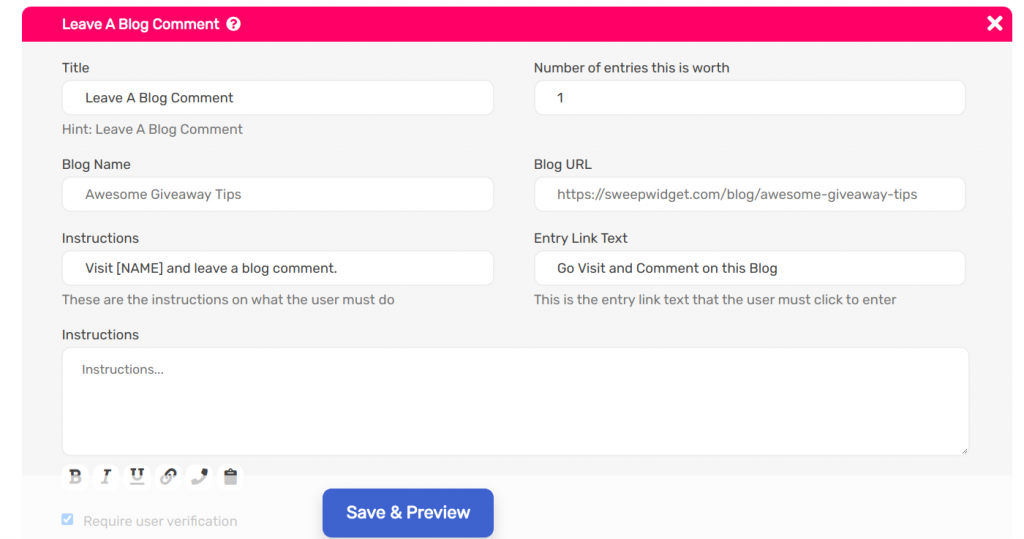 10. Submit an image
A picture, they say, is worth a thousand words. Better still, a picture can be a great source of user-generated content (UGC) for your future marketing campaigns.
Some types of images you can ask for include:
An image of your product in their house.
An image of them using your product.
A selfie featuring your product.
You can pick the winner through the number of likes they receive or by judging the entries.
Fortunately, the "post comment" or "Upload file" entry method on SweepWidget allows you to track entries effectively.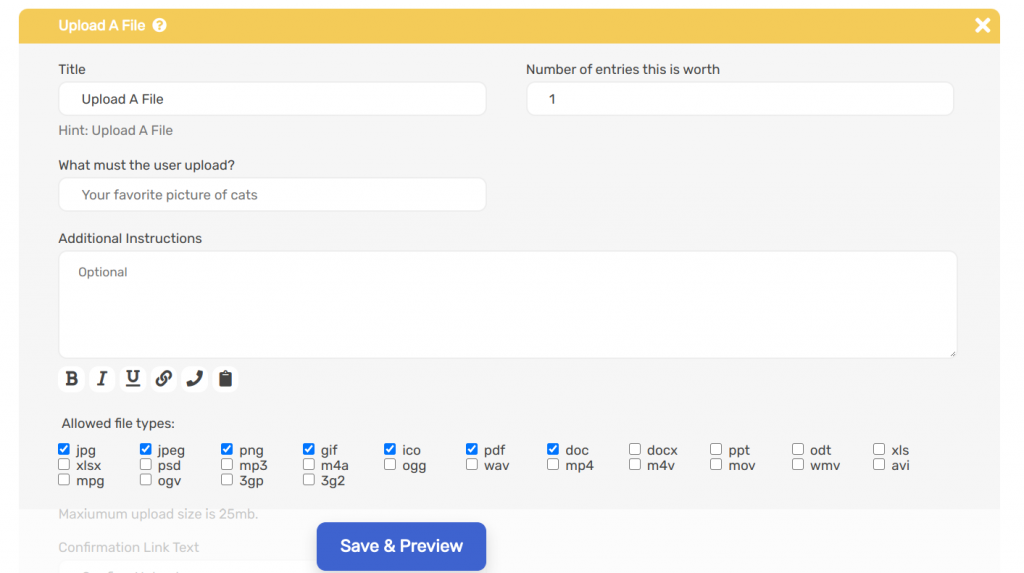 This is from Century Prowud on their giveaway page: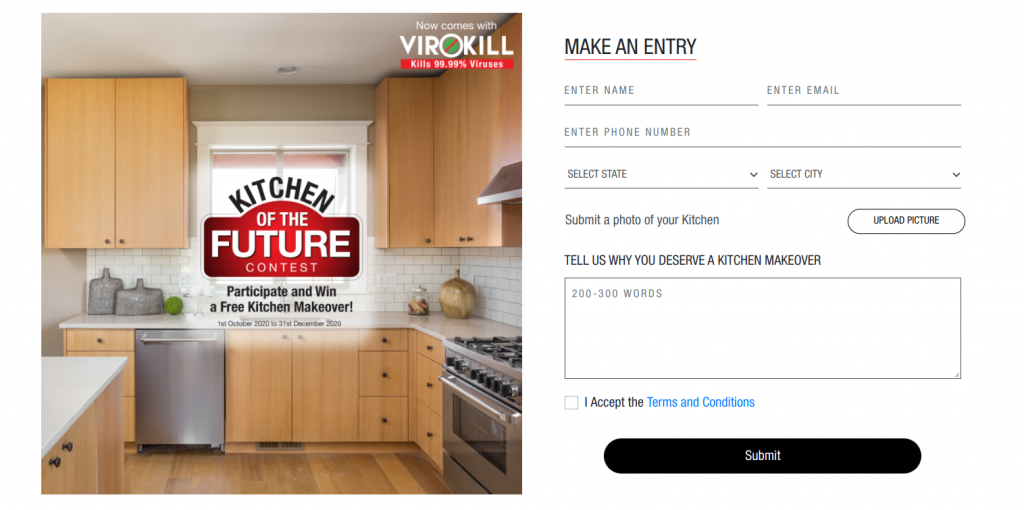 These images will provide a lot of insight into their audience's needs.
11. Caption an image
How would you like to see funny punchlines from your audience? Captions will bring out the fun and humor in participants.
In the SweepWidget setup, you can use the "Post Comment" Facebook entry method to achieve this. Here's an example of such a giveaway from Bonjour Group: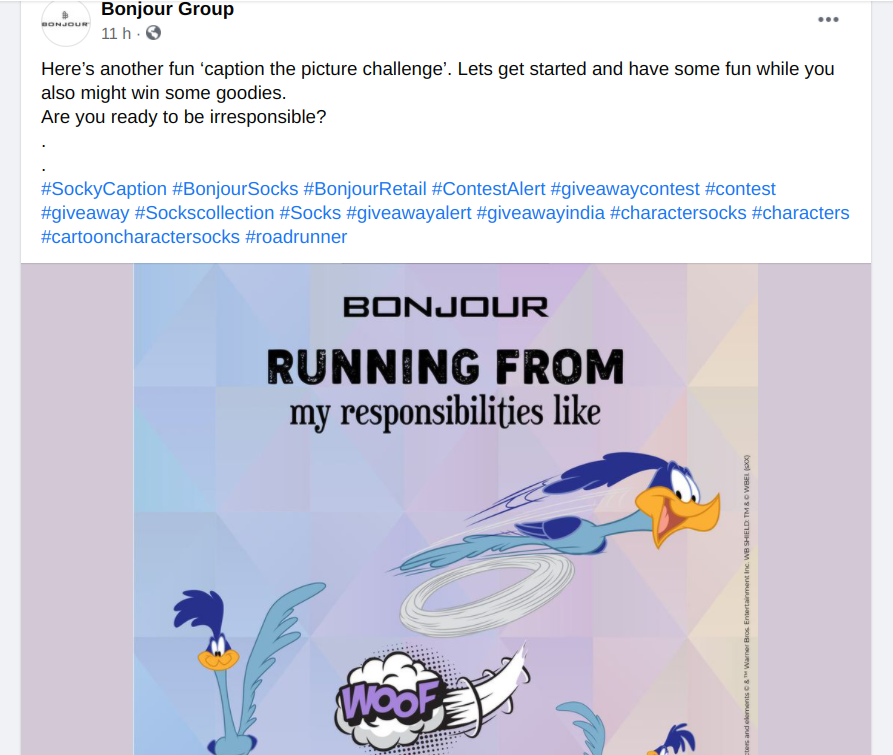 12. Share a video
Videos are difficult to create. But entrants would happily do it for a worthwhile gift. With permission, these videos can be useful as video testimonials in future marketing campaigns.
You have the option of using the "Post Comment" or "Upload A File" entry method on SweepWidget.
For instance, Arturia asked contestants to create videos for its 20th anniversary contest.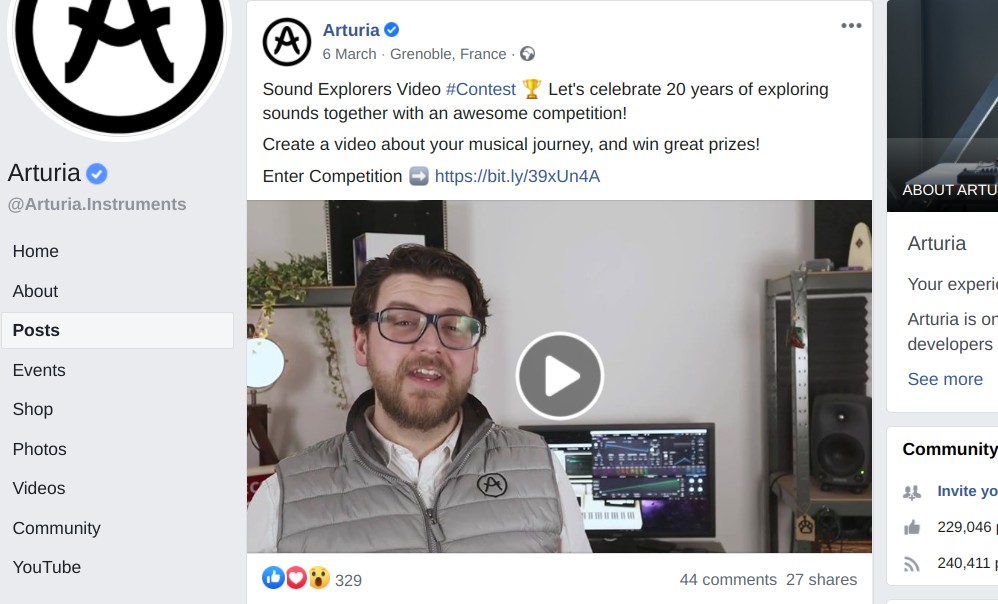 13. Share a product tip
How do customers get the best out of your product? This could provide insights into how customers use your products and help improve your marketing message. Also, other customers can learn to use your products better.
It's easy to set up this idea using the "Post Comment" entry method on SweepWidget. Here's an example from Boska Nigeria telling participants to name three uses of their product: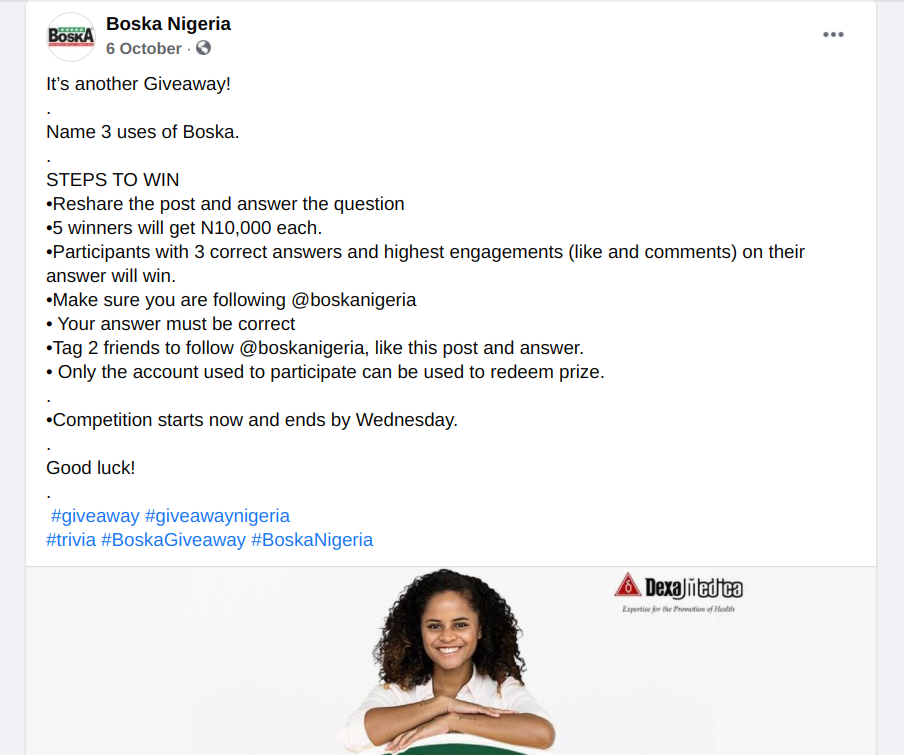 14. Guess this product
How well do customers know your product? A blurred image of your product or clues will get them thinking deeply about your products.
Luckily for you, the more they think about your product, the more they're likely to remember it when making their next purchase.
They can leave their comments in your Facebook post, and it's easy to track the entries using the "Post Comment" entry method on SweepWidget.
In their giveaway, Bingo Bash tells their audience to guess a song and even provides a hint.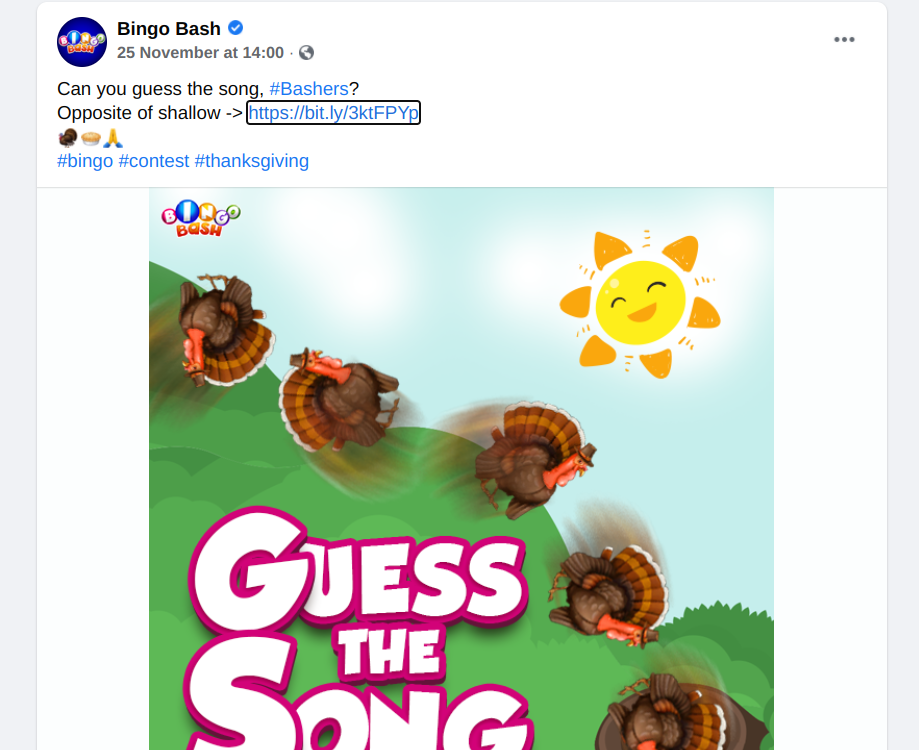 15. Suggest product name
If you're launching a new product, your customers can provide creative name suggestions that would surprise you. You can also let customers choose one among the names you provide to them.
This giveaway will improve awareness for your product as customers anticipate it. After the giveaway, you can pick the right name based on popularity or the right fit.
Consequently, you'll increase the chances of participants buying the product due to their involvement in bringing it to the market.
Here's an example from Mykonos.luxury: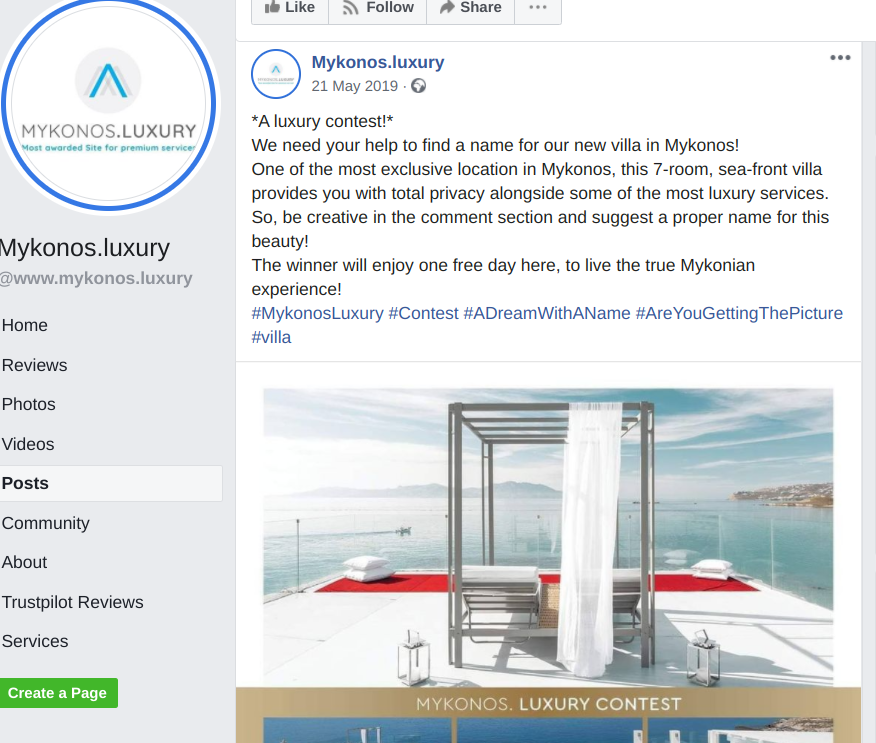 16. Select the best product
The products you love might be totally different from what your audience loves. Here's an opportunity to see how popular some products are.
Tell your audience to pick their best product among some options and provide the reason for their choice in the comments. Alternatively, you can just ask them to mention their best product.
The winner can win their chosen product. In turn, you get valuable information to improve your future marketing campaigns.
Here's a brand telling participants to comment with their favorite Christmas movie: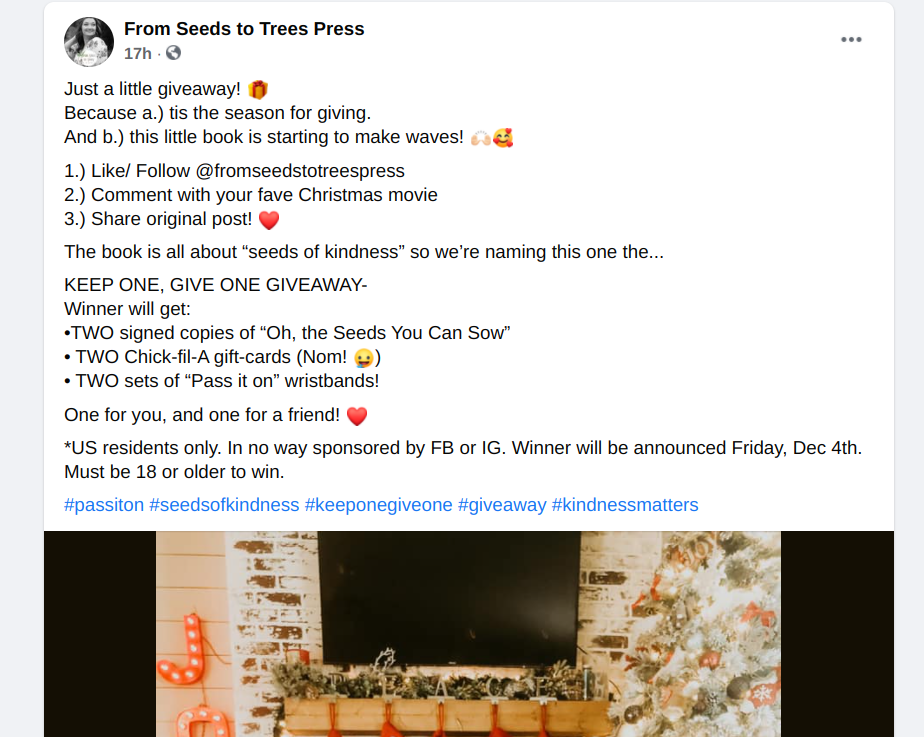 17. Share a product memory
What's your customer's most intriguing memory about using your product or service? Bringing back good memories about your products will reinforce the positive feelings customers have about them.
This content can also be useful for customer testimonials, with the user's permission. To make this easy, they can leave comments on your Facebook post.
Here's an example from Atwater Brewery: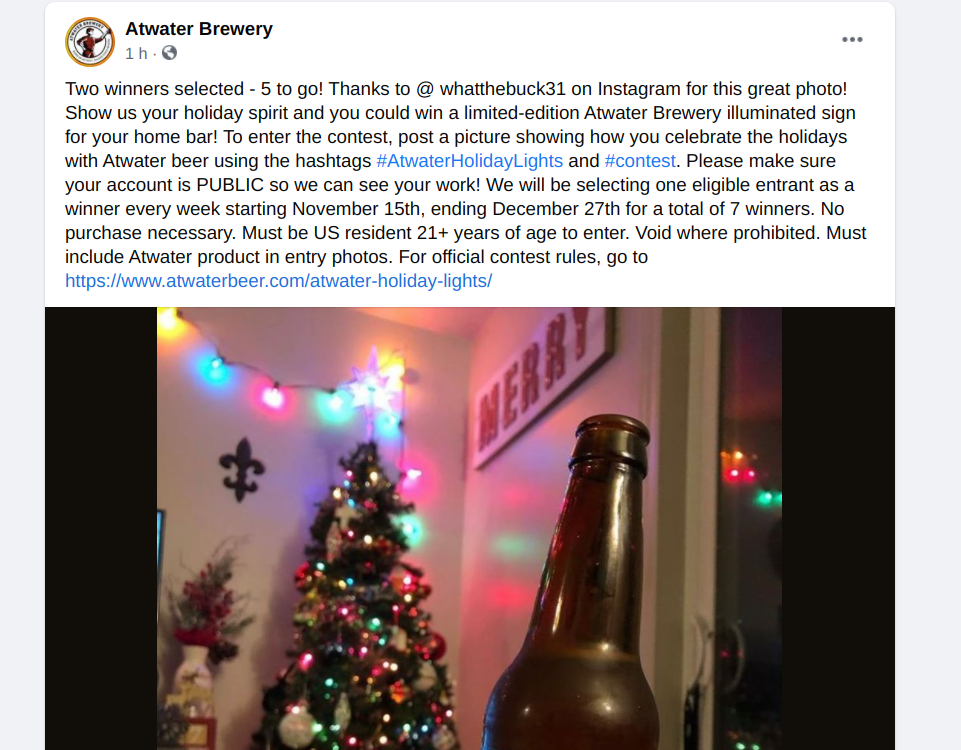 These images will show the memories they've gotten from your product.
18. Describe product in X number of words
How well can customers describe your product in a few words? You can post a popular product and specify the number of words to describe the product.
This provokes your audience's creativity and provides a summary of the benefits they derive from your product. Furthermore, you get ideas on the best way to describe or promote the product.
Participants for this giveaway will make their entry in the comments. Here's an example from Cola NEXT: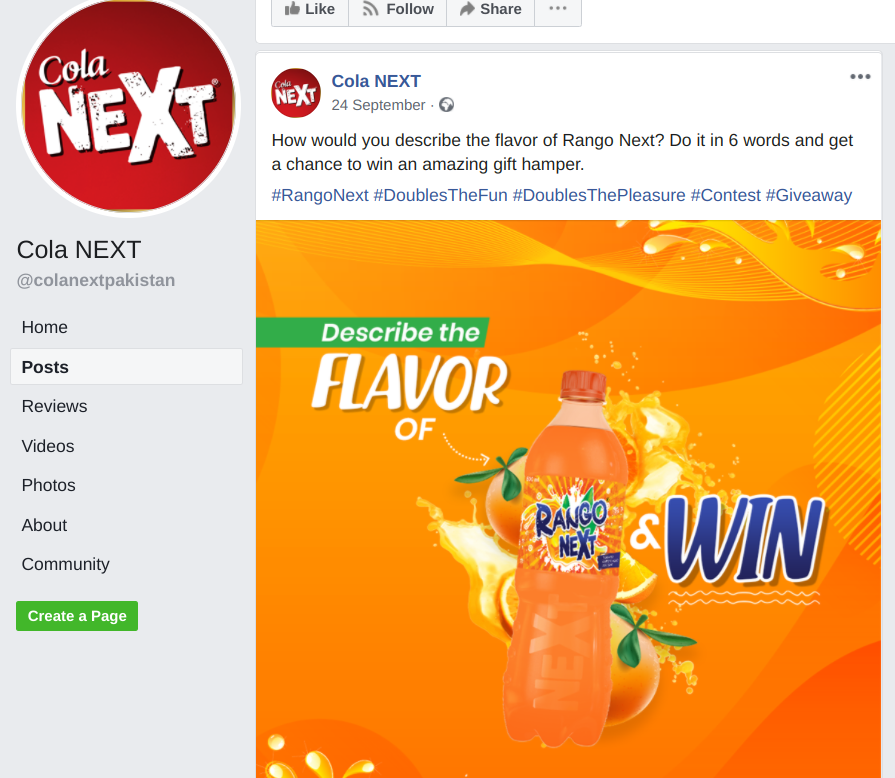 19. Visit physical store to win
To improve foot traffic in your physical store, you can tell your audience to visit and take a picture of themselves. However, you have to state clearly that participants don't need to make a purchase to enter.
Participants can post the image on Facebook or upload to SweepWidget.
20. Solve a puzzle/game
You can design a puzzle about your brand or product and tell participants to solve the puzzle. Also, participants can play a game to enter your giveaway.
This provides a challenge and makes your giveaway fun. Here's a puzzle from Skyscraper Solutions: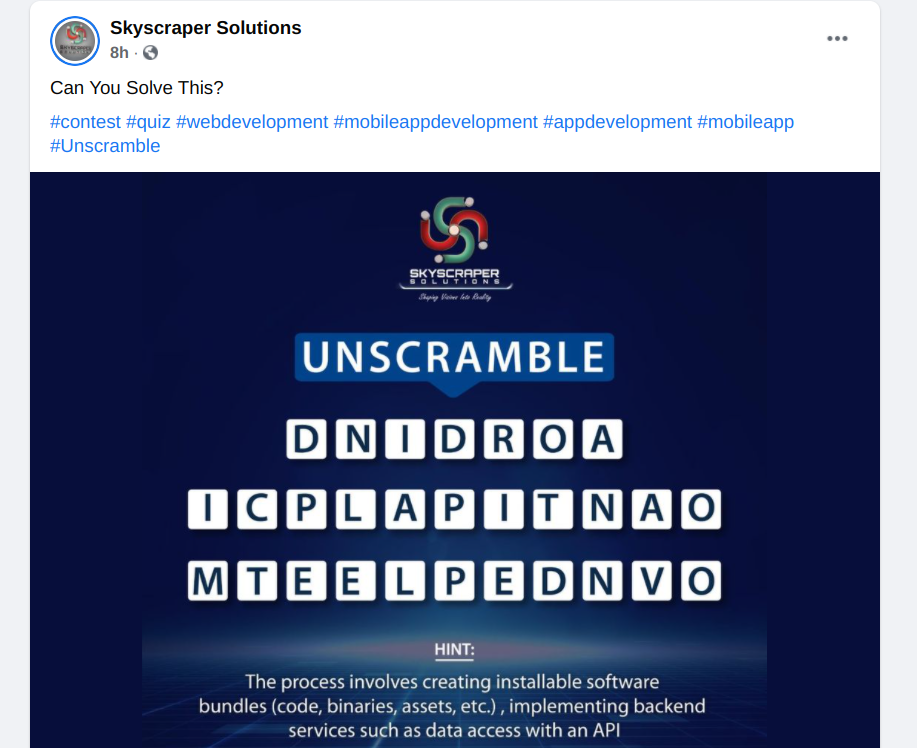 21. Design a product
For products that are easy to design for the average person, you can provide an opportunity for your audience to feature their design in one of your products.
You have the option to let people vote for the designs they feel are the best or pick one that you love. Also, you can combine both options.
The easy entry method is to have participants upload their design images in Facebook comments. In this contest, Epic Seven tells their audience to design artwork for the brand.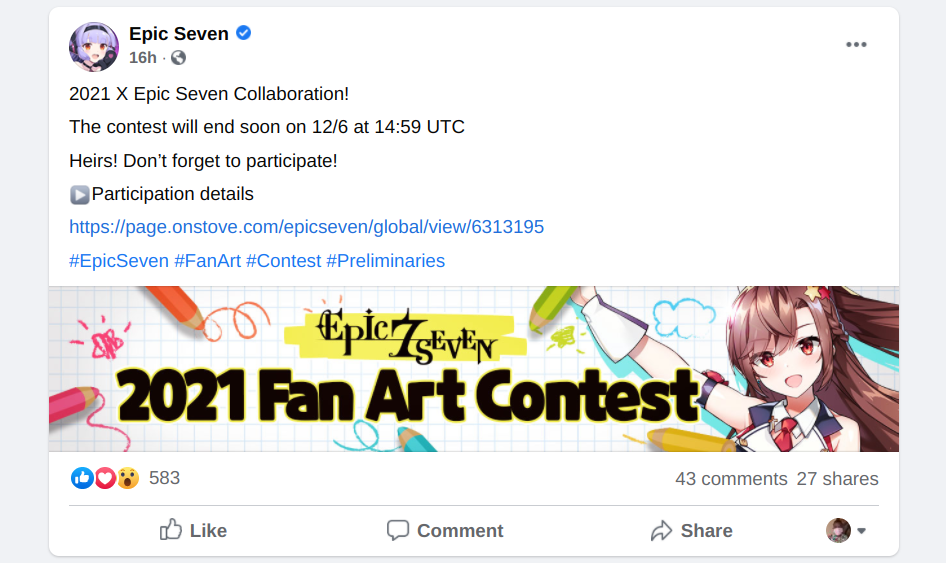 22. Provide the best improvement idea
No business is perfect. And customers will be willing to help out with their best ideas to improve your products and brand at large.
After the giveaway, you can go through the comments to pick the best idea as the winner. Here's an example from Hong Kong Restaurant: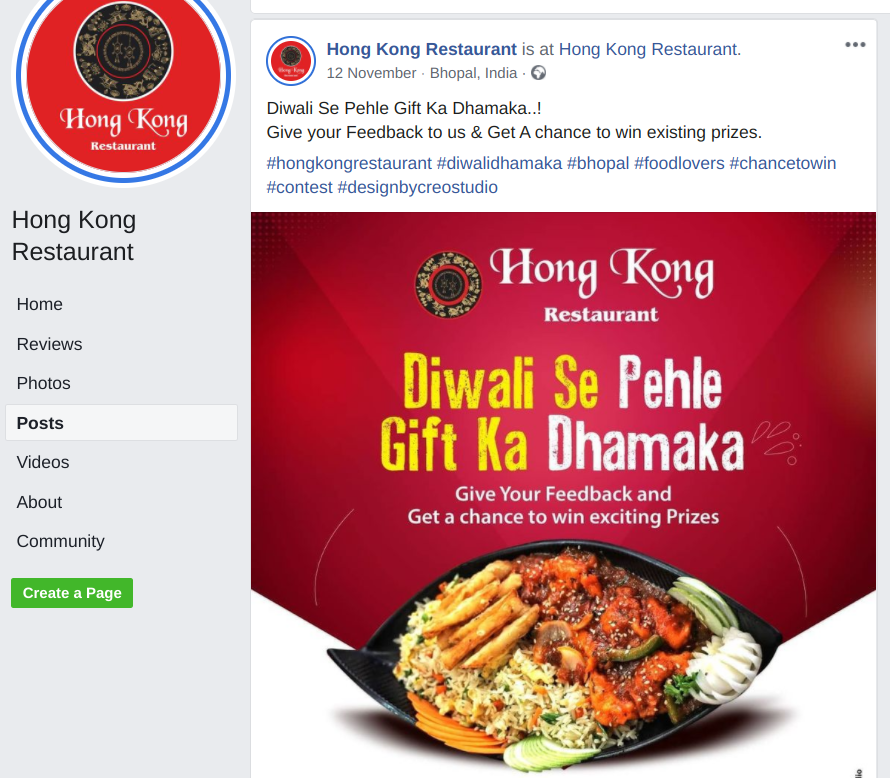 23. AMA (ask me anything) giveaway
If you're a personal brand, then an AMA is an opportunity to engage and connect better with your fans. You can hold this on your Facebook page to answer questions your audience has been itching to ask you.
Your audience will leave their questions in the comments, and you'll, in turn, reply them. After the AMA, you can pick a winner randomly.
24. Instant coupon/prize
If you want to boost participation in your giveaway, using an instant coupon is an effective way to achieve it. All participants have to do is reach a specific number of entries, and they'll unlock your coupon code or prize.
Fortunately, it's easy to set this up in SweepWidget. Navigate to the "Leaderboard, Milestones, & Instant Coupons" section of your giveaway setup.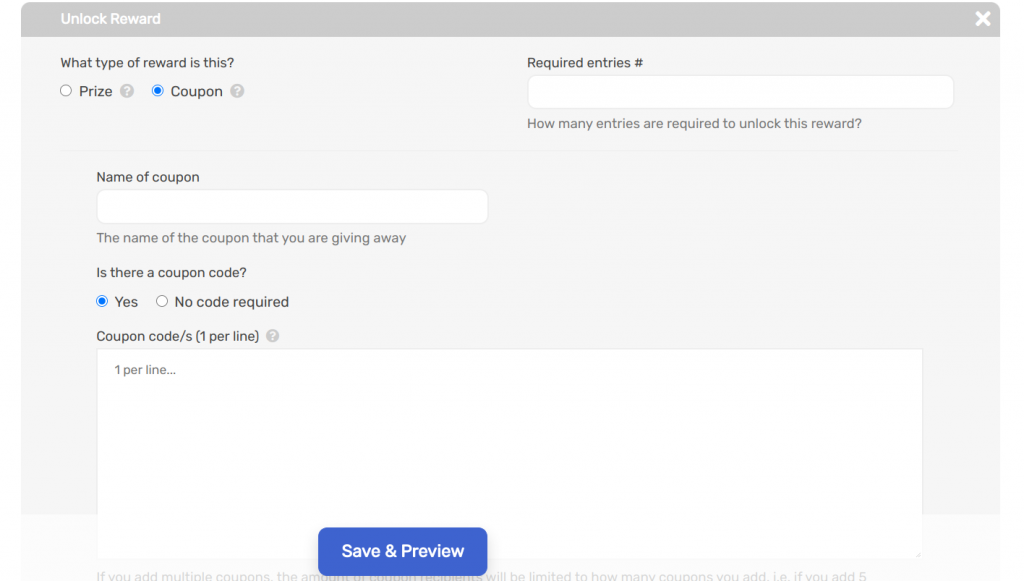 Here, you can enter the number of entries required, coupon code, and other necessary information.
25. Fill in the blank
Here, you can create a catchy phrase about a product and let your audience complete the statement in the comments. This will evoke creativity and positive thoughts in your participants.
Here's an example of this type of giveaway from Olivola: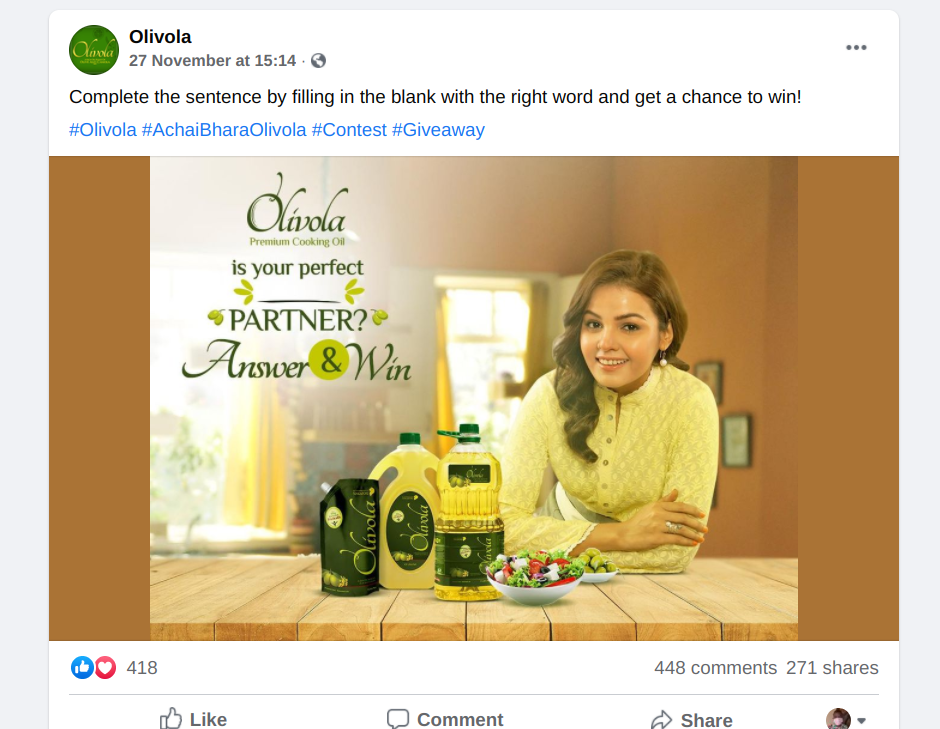 26. Special holiday giveaway
Special holidays are perfect times to host your giveaways. Your audience will happily enter for an opportunity to win a gift on this special day.
This could be a quiz about the holiday, a survey, or how your audience plans to spend the day.
Here's an example from Chef Kobe to celebrate Thanksgiving: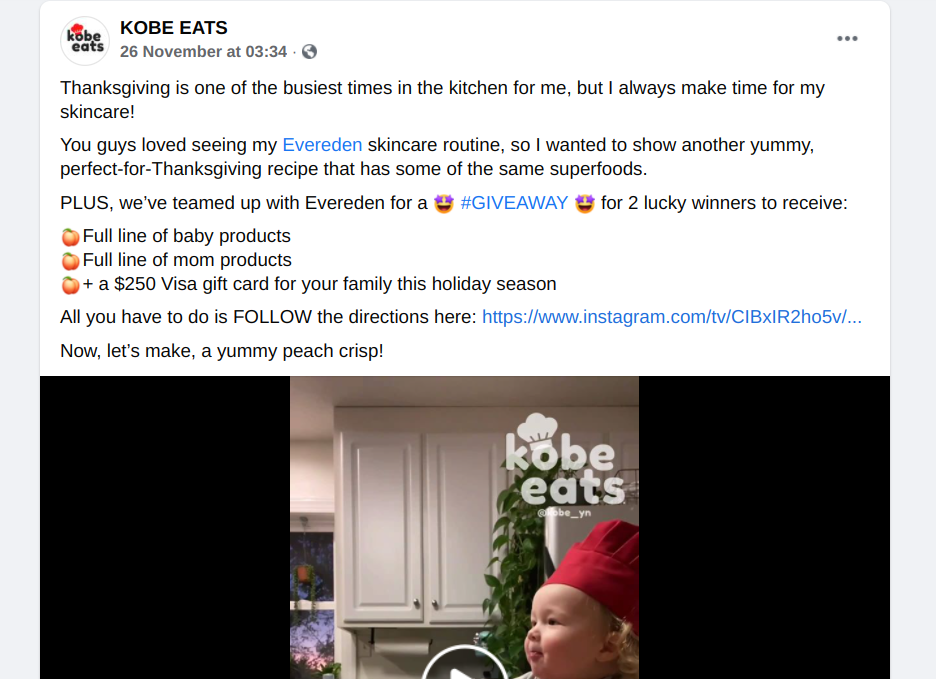 27. Anniversary giveaway
Is this your 5th or 10th year running your business? You can build a giveaway around this event.
For instance, some vital information to collect includes customers' first experience with your business, how they discovered your business, what they love about your business, and how your business can improve.
Here's Jackery running a giveaway for their eight anniversary celebrations: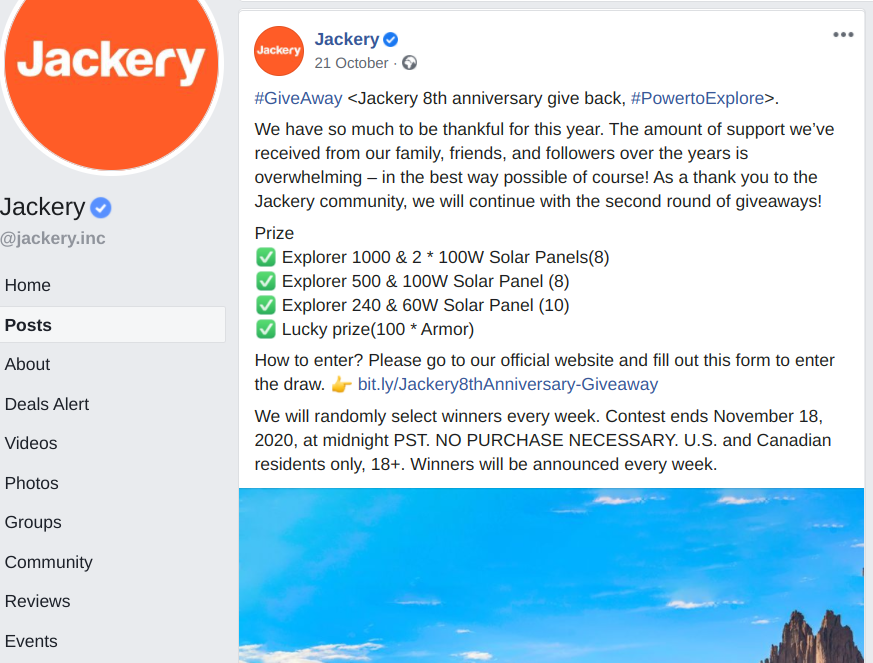 Conclusion
Running your Facebook giveaway with an exciting idea can make it irresistible to your audience. As a result, you can increase your chances of achieving your giveaway goals.
Now that you're brimming with all these giveaway ideas, you can start creating your Facebook giveaway right now using SweepWidget. Check out the SweepWidget plans to find one that suits your unique needs.