11 Essential Instagram Contest Rules to Follow to Avoid Legal Trouble
Last updated on November 10th, 2022 at 12:27 pm
So you're excited to run your next Instagram giveaway.
And your audience is excited to participate for a chance to win your gift.
That's all you need, right? Not so fast.
While those are great, you need to understand Instagram contest rules that guide your promotions.
Or else, you can easily find yourself in legal trouble or have your account penalized by Instagram.
These rules are vital as they help reduce spam on Instagram and absolve Instagram from possible legal issues.
Having said that, what are the contest rules to keep in mind to run a successful Instagram contest?
In this post, I'll go through the necessary details and provide examples of Instagram contests that followed the rules.
Promotion types and contest rules
If you're running an Instagram contest, you have access to two types of promotions. Of course, there are other promotion types like a lottery, but you can't run this on Instagram.
Depending on the type of promotion you run on Instagram, there will be a slight difference in how you present your rules. The two main types of promotions are:
Giveaway/sweepstakes: for this type of promotion, winners are selected randomly, and winning is by luck. For sweepstakes, the winner wins all the rewards available.
Contests: this type of promotion is usually a test of skills or knowledge about a particular field. The Instagram user who wins a contest should be the best at performing that skill. For subjective skills, you need to state the criteria for picking the winner.
Table of Contents
Instagram contest rule #1: Understand your local promotion laws
While Instagram is an international platform, you're, first of all, bound by your local laws. So, even if Instagram allows you to take some actions, but your local laws forbid them, then you have to stay away from those actions.
You can research your local laws regarding promotions. If you have problems understanding the rules, reaching out to an attorney can get you the required knowledge.
Apart from your local laws, you have to consider your participants' locality that might differ from yours. Since it's impossible to know all participants' location, you can insert a clause that makes your promotion void in areas where it's forbidden.
Instagram contest rule #2: Dissociate Instagram from your giveaway
It's possible for an average participant to think that your giveaway is associated with Instagram just because it's hosted on the platform. Instagram wants to eliminate this possible misconception.
On the Instagram contest rules page, it says:
"Promotions on Instagram must include the following:
A complete release of Instagram by each entrant or participant.
Acknowledgment that the promotion is in no way sponsored, endorsed or administered by, or associated with, Instagram."
You have to state this in your Instagram contest post. Through this statement, you absolve Instagram of responsibility and put it on yourself.
Beyond that, Instagram states that you run the promotion at your risk, and they'll offer no assistance to help you out.
In this giveaway by MeetFresh Seattle, they add a disclaimer: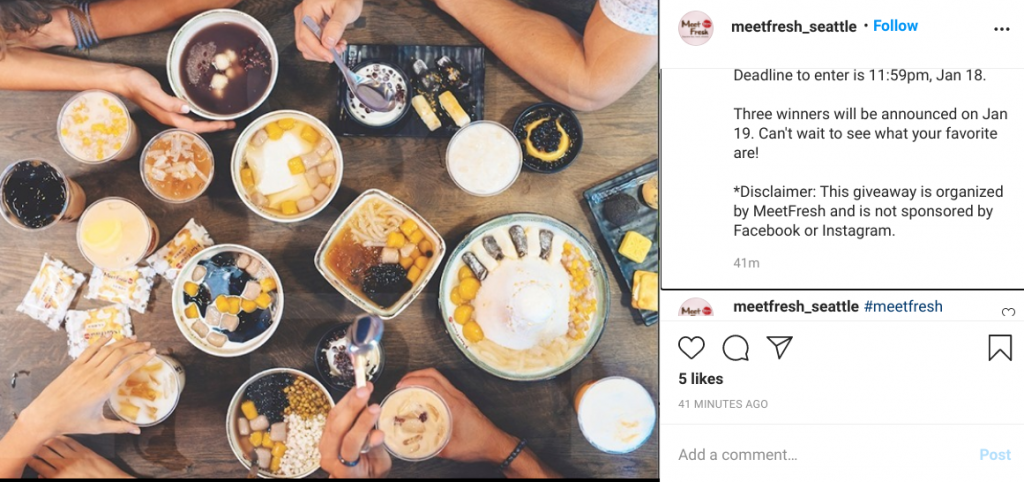 With this, they've released Instagram from the giveaway and taken the sole responsibility.
Instagram contest rule #3: State how users will enter the giveaway
How will a potential participant enter your giveaway? Without clear instructions with regards to entries, participants can make mistakes and get angry at you.
In some cases, instructions can be complicated for the average participant. This will reduce participation and, in turn, goodwill for your brand.
Another important point regarding entry criteria is that it might depend on the value of your gift. That is, easy entry criteria for a low-value gift and more tasking criteria for a high-value gift.
The easiest way to communicate your entry criteria is to make a bullet list in your Instagram caption. Before settling on entry criteria, there are creative Instagram giveaway ideas to explore to make your giveaway fun.
Apart from entry criteria, it's vital to state conditions that can disqualify a participant.
See this example from Car News Network: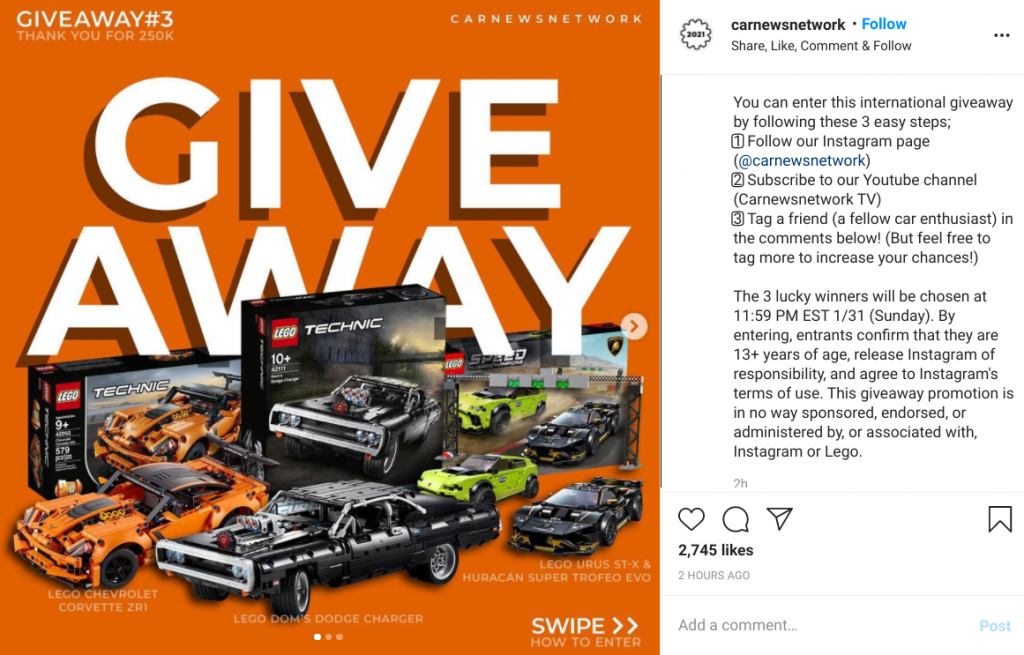 With their numbered list, it's easy for any potential participant to understand what they need to do to enter the giveaway.
Instagram contest rule #4: Disclose your giveaway gift
For every contest or giveaway, the gift affects other aspects of your promotion, such as participation levels. Therefore, it makes sense that participants know the prize when they enter your promotion.
In some giveaways, there are two or more gifts. In this case, you need to specify if a single winner will win all gifts or who will win each gift.
Though this looks straightforward, it's vital to your campaign.
Here's an example from Be So Hum Jewelry: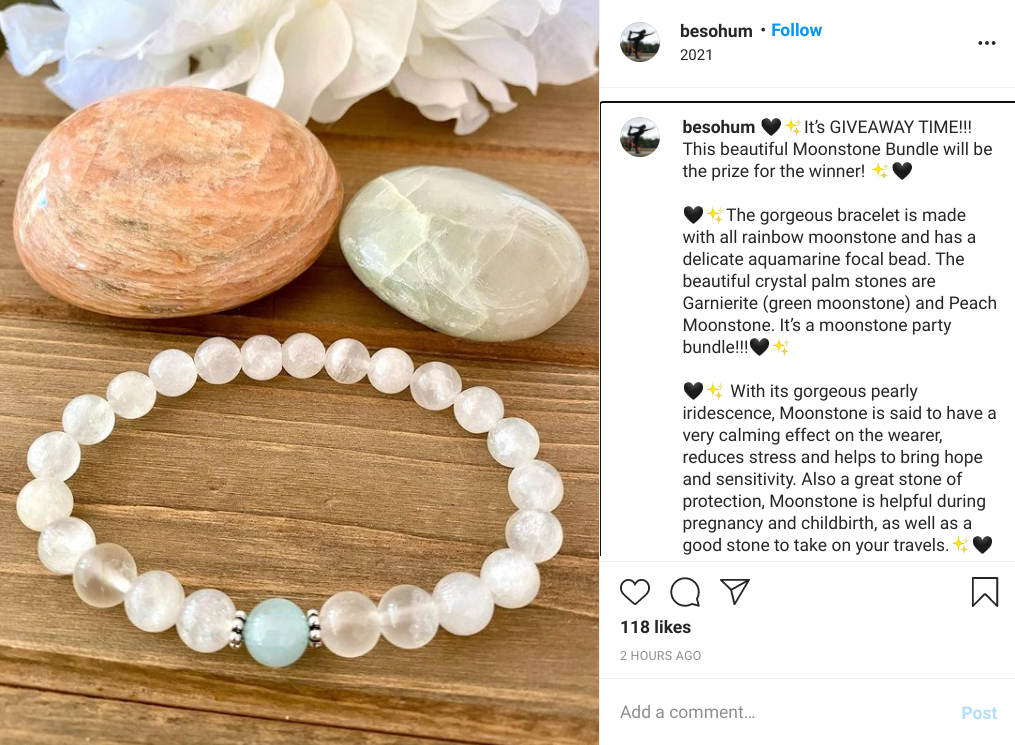 Beyond mentioning the gift, they go on to explain its component and its benefits for the user. Also, the picture of the gifts gives participants little doubt about what they'll win.
Instagram contest rule #5: Disclose giveaway sponsors
Every time, brands are looking for opportunities to reach new audiences. Collaborations between brands and influencers can open up these opportunities.
Naturally, this is a win-win for both parties. A brand can connect with a new audience, while an influencer can make their audience happy and increase their audience size with a giveaway.
That said, if another brand has sponsored your giveaway gift, your audience has the right to know. This way, they'll have full information before participating in your giveaway.
Here's an example from Jannik: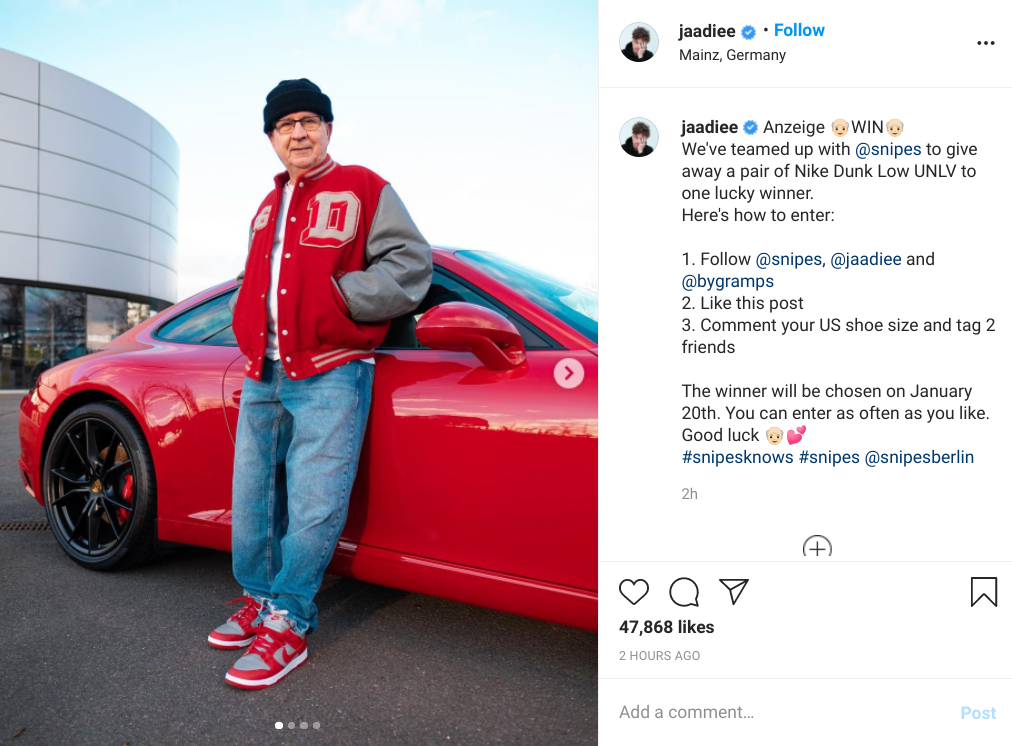 With this, every participant will know the parties responsible for the gift.
Instagram contest rule #6: Explain eligibility rules
For some Instagram contests, not everybody can participate. This is not because you're a sadist. But because you need to make restrictions in some cases to achieve your contest goals.
In most cases, eligibility rules usually cover location and age. Usually, when there's an age restriction, it will be a requirement that participants are at least 18 years old.
For most localities, this age threshold applies in their promotion laws. The location eligibility rules can depend on many factors with two being the most popular. These are:
Audience: If most of your customers are in a particular location, you can restrict your Instagram giveaway to that location. By doing this, the winner of your giveaway will be a customer or a potential customer.
Shipping: in some cases, shipping costs can make brands specify a location. If international shipping costs can pay for two gifts, then it might be better off to specify locations with lower shipping costs to reduce expenses.
Apart from location and age, you should state in your contest rules if there are other eligibility conditions.
Here in his giveaway, Tim explains his giveaway's eligibility rules: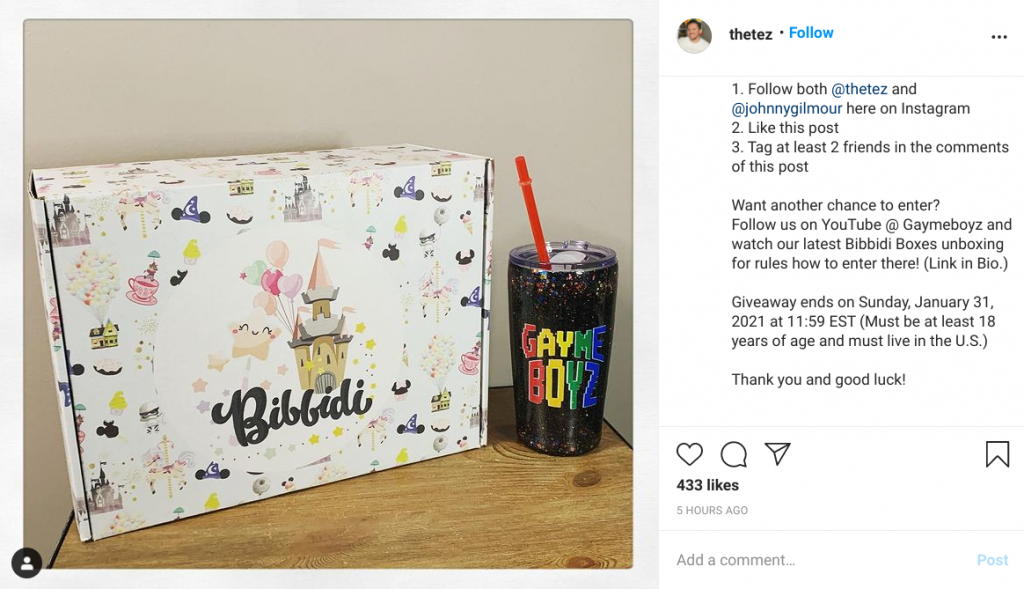 This excludes some users from the giveaway and eliminates possible misunderstandings.
Instagram contest rule #7: Specify start and end date
Of course, there's no best duration for every contest. Your contest duration will depend on a few factors. One of them is the value of your gift.
For instance, if your gift has a value of $20, there's little reason to let it run for two weeks. However, if your gift is worth $5,000, your contest can run for three weeks, and participants will rush to enter.
Whatever period you decide on, it's vital to state it in your Instagram contest announcement. This way, every participant knows the deadline.
Apart from stating the time, you have to include the time zone to be exact. Likewise, you should include the time for the winner announcement so that every participant can tune in.
In this giveaway by Lisa Zaman, she specifies the end date and time zone: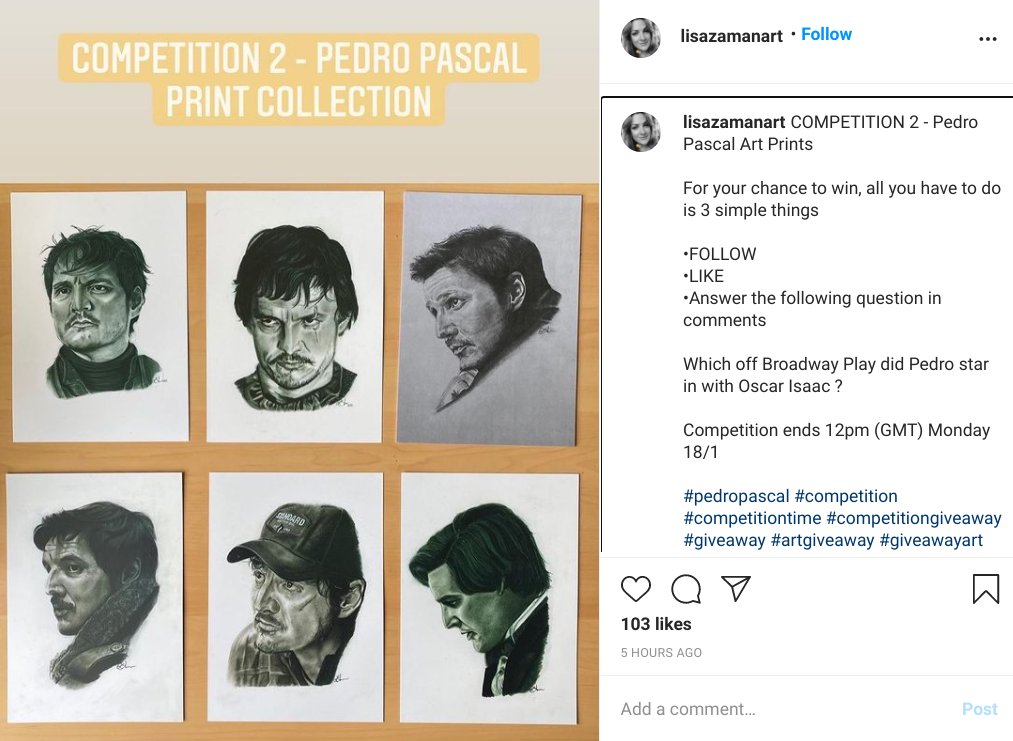 This leaves nobody in doubt about the deadline.
Instagram contest rule #8: Discourage inaccurate tagging
While tagging is a way to spread the fun on Instagram, it can turn spammy really quickly. One practice where tagging becomes spammy is tagging someone absent in an image.
Unfortunately, if you observe closely, Instagram giveaways are the biggest potential culprits for this problem. Hence, why this rule is in place.
In the Instagram promotion guideline, it says:
"You must not inaccurately tag content or encourage users to inaccurately tag content (example: don't encourage people to tag themselves in photos if they aren't in the photo)."
With this rule, users can still tag their friends in the comments. But even this has to be in moderation to prevent spam. For instance, tagging 10 friends in the comments is spam.
In this giveaway, Sheila Chen tells contest participants to tag her outside the picture: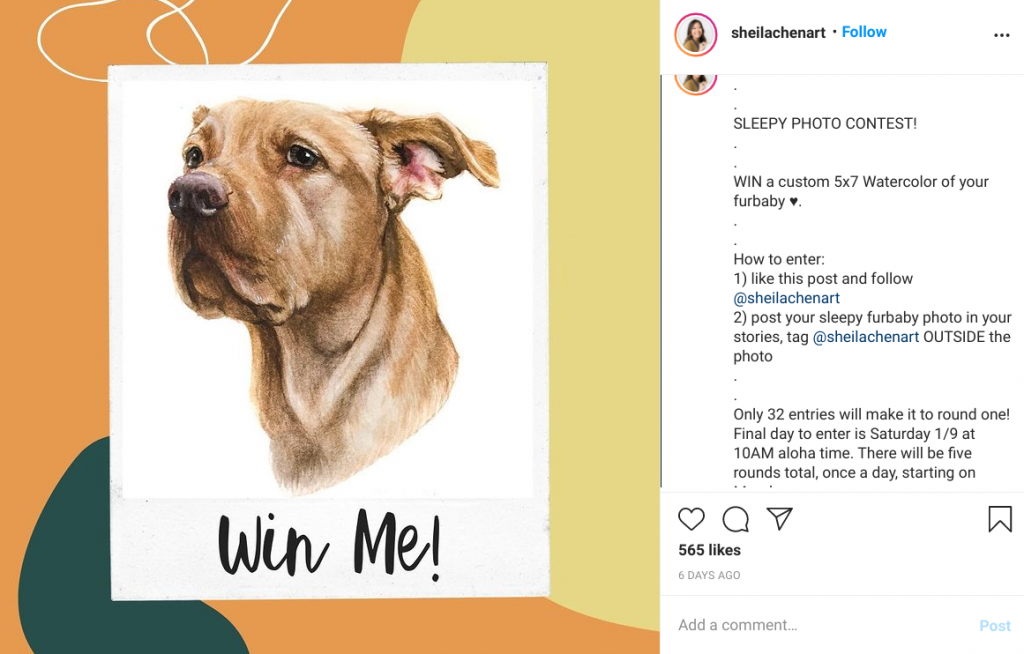 With this move, she has discouraged inaccurate tagging that Instagram forbids.
Instagram contest rule #9: Explain how winners will emerge
To avoid confusion and anger towards your brand, you need to tell participants how you'll select your winner. This naturally depends on the type of promotion you're running.
For example, if you're running a giveaway, you'll ideally pick the winner randomly. However, for a contest, the winner has to be judged based on the task assigned.
Hence, you have to state the judging criteria in your contest rules. And while announcing the winner, you should explain how the winner met the criteria more than other participants.
Look at this giveaway mentioned earlier from Sheila Chen: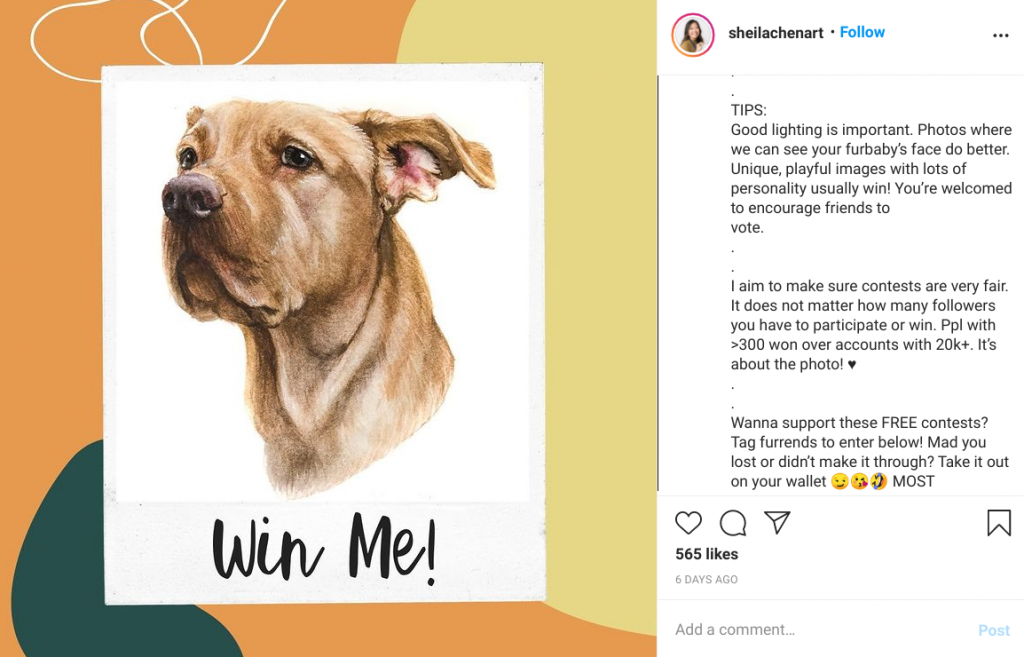 She explains the requirements that will increase the chances of a picture winning the contest.
Instagram contest rule #10: State how the gift will be delivered
For physical gifts especially, winners have to know how the gift will be delivered and the time frame after the campaign. With this, they'll know when to expect their gift.
If the gift is of considerable size, you have to state if the winners will take on the shipping fees or not. This can eliminate possible misunderstandings in the future.
For instance, in this giveaway by Goadsby, they state that the winner will have to collect the gift from them: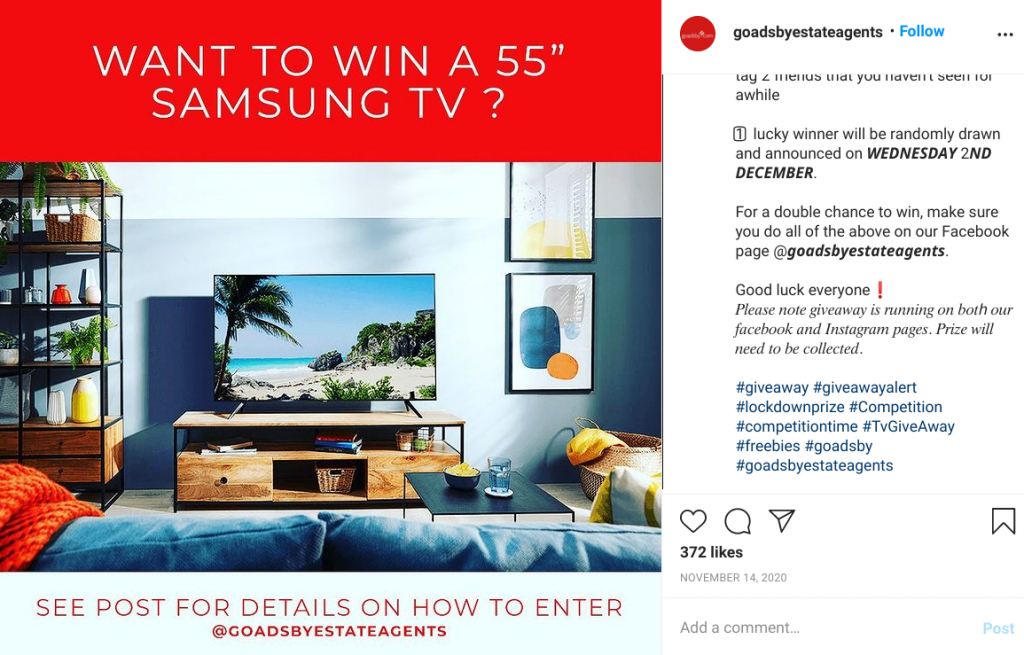 This means they'll probably have to pay the shipping fees.
Instagram contest rule #11: Take permission to use user-generated content
In many Instagram contests and giveaways, participants might need to submit images or videos that qualify as user-generated content (UGC). When users post these pieces of content, they still own the right.
Albeit, you can take permission to use these pieces of content in your other marketing campaigns. You can state in your Instagram contest rules that when users choose to participate in your contest, they've transferred the rights of those pieces of content to you.
How to present Instagram contest rules to participants
Now that you understand the Instagram contest rules to keep in mind and the details to reveal to your potential participants, how do you present this information?
There are three popular places to present your contest rules to potential entrants:
Instagram giveaway caption
In your giveaway announcement post on Instagram, you need to state some essential rules. For example, details such as entry criteria, start and end date, gift, and statement releasing Instagram need to appear in your caption. You can also add more details in the comments.
SweepWidget giveaway page
If you're hosting your giveaway on SweepWidget, you have access to a form you can fill with essential details to auto generate rules. To do this, go to your giveaway setup page on SweepWidget.
In the "Basic Information" section, click on "Edit rules" below the prize description. If you have your rules already, you can enter them into the "Official Rules" box.
If not, click on "Auto generate rules" below the box. This will bring up a form you can fill to create your rules.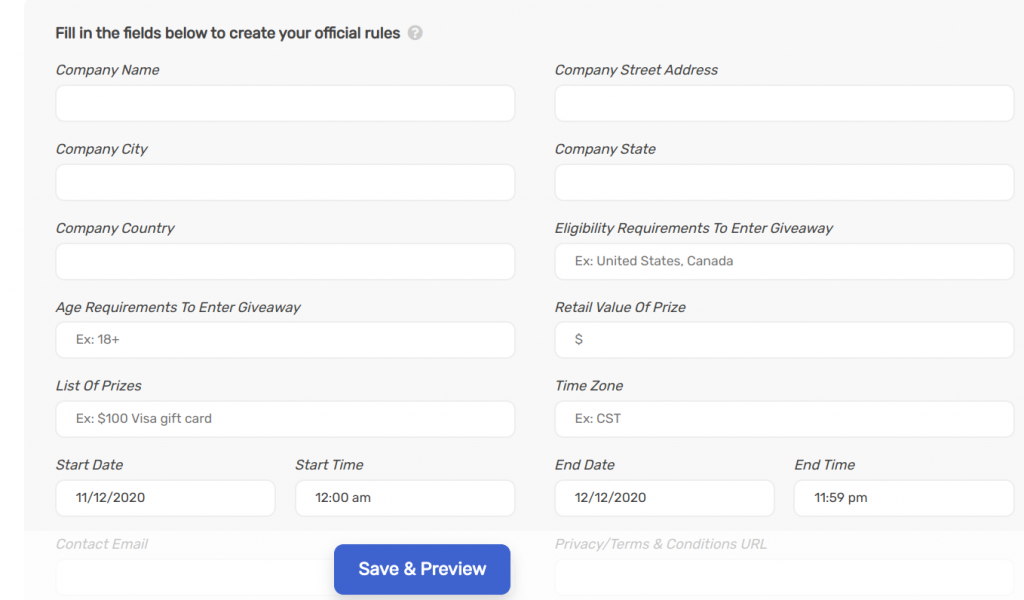 By using the form, it's easy to generate rules and feature them on your giveaway page.
Website
If you run Instagram (or other social media) contests regularly, then you'll need to create a page on your website where you have many detailed contest rules. For such a page, you might employ an attorney to advise you on information to have on the page.
For instance, Hotwire has a contest rules page for its Facebook, Instagram, and Twitter contests: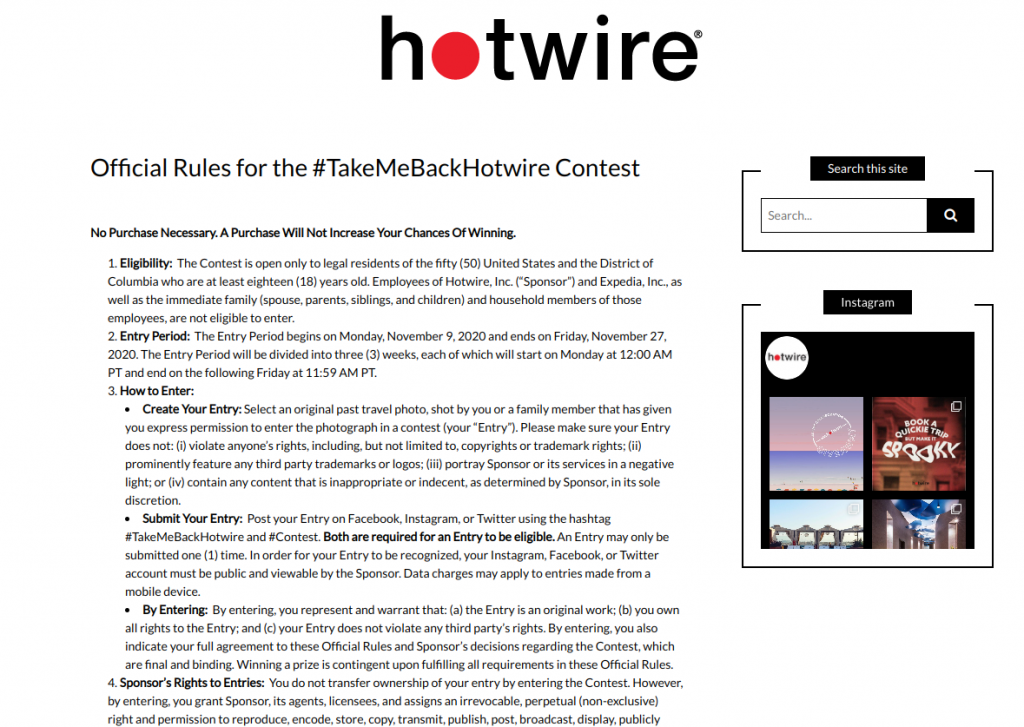 Here, every participant will get the information they need before entering their contests.
Ever changing Instagram Features, and their legal precedents
The landscape of Instagram is constantly evolving. So, you should keep up with the latest Instagram trends to see how different legalities might evolve to each feature.
Conclusion
Although Instagram contest rules can be a boring aspect of running your contest, they're absolutely vital to making it successful. Furthermore, these rules help to keep order during your campaign and protect you from legal problems.
Fortunately, SweepWidget makes it easy by providing a form you can fill to autogenerate your Instagram contest rules. Ensure you follow the guidelines in this post the next time you're running an Instagram contest.