How To Boost Your Telegram Subscribers (10 Proven Strategies)
Last updated on November 10th, 2022 at 01:01 pm
Telegram, dubbed as the privacy-focused messaging app rivaling WhatsApp and Facebook messenger, has grown to a full-blown social media network with over 500 million monthly active users.
Marketers, thought-leaders, creatives, and everyone in between can build a thriving community on Telegram.
Young entrepreneur, Dylan Teo started his food discounts Telegram channel, Kiasu Foods, in 2018 and grew his membership to 2,000 subscribers in under a week. At the time of this post, Kiasu foods now had nearly 175,000 subscribers!
But like any social platform, it takes grit and know-how to build momentum for your Telegram account. The good news is, once you establish your brand, your channel will grow on its own through referrals without you having to hustle as much.
In this guide, you'll find a combination of free and paid strategies to boost your Telegram views and increase your influence.
10 tips to increase your telegram channel subscribers
Below are the best strategies to grow your Telegram following.
Note that we don't recommend buying fake subscribers. Learn why in the Q&A section towards the end of this post.
Let's start.
Table of Contents
1. Craft the perfect Telegram channel profile
Like any social platform, your Telegram channel profile should speak to the audience you wish to reach.
You probably already have a topic in mind. But think beyond your topic and ask yourself, "what value am I adding to subscribers?"
Is it comedy, advice, inspiration, deals, resources, a movement? In marketing, this is called a value proposition.
For example:
| | |
| --- | --- |
| Topic | Value proposition |
| Cryptocurrency | Live updates on the market |
| Personal brand | Comedic skits and role-playing |
| Sneakers | Exclusive member discounts |
| Working online as a new parent | Practical advice and emotional support |
Once you get clear on your topic and value proposition, it's time to update your channel profile.
There are four branding elements on Telegram channels:
Name: keep your channel name simple yet descriptive of your topic. If you're a personal brand, just use your name.
Description: here's where you can include your value proposition so members can quickly identify with your channel.
Photo: include a professional-looking image that represents your channel topic.
Link: add your channel name to your unique Telegram link. You'll use this link to share your profile across the internet.
If you have an established presence on another platform, e.g., Instagram, YouTube, and Facebook groups, you can copy your branding to your Telegram channel.
2. Develop a content strategy
Content is king. And this couldn't be truer for your Telegram channel.
Telegram doesn't put a limit on media file sizes. So you can go upload hi-res videos, images, and audio clips in addition to stickers, GIFs, polls, games, and all the other rich features you'd expect from a modern messaging app.
But before you dive in and start posting randomly, take a moment to step back and think about your content strategy. Your plan doesn't need to be sophisticated.
Quickly determine how often you'll post. Is it multiple times a day or a few times a week?
And what type of content will you share? Will you be sharing your content from another platform? Original content for Telegram? Or curated content? Likely a combination.
That's it.
When determining the frequency, you want to post your most valuable content as often as you can. Daily posting is ideal for showing new members that you're active on your channel and it's worth following.
A little hack to make your life easier is to set up automated posting through a Telegram chatbot. Check out the video below to learn how to set up bots to help run your channel.
3. Run a challenge or giveaway
One of the most effective (and fun) ways to grow your telegram channel is through running contests. It's where participants need to join your channel to increase their odds of winning the prize.
Because people love free things.
By tapping into this human desire of wanting free things, your followers on other platforms will be falling over themselves to win your prize.
If you want to learn more, check out our beginners guide on running a contest and getting followers quickly. But here's a summary of how to run a giveaway on Telegram:
Choose an enticing prize. It doesn't have to be expensive, as long as it's something your target audience wants.
Determine how long you'll run your giveaway.
Write a description for your contest, including what participants will win and how they can enter.
Promote your giveaway on all the platforms you're active on.
Pick a winner. Share the results with your followers.
Rinse and repeat (and enjoy the growth).
Running a giveaway is a pinch using a tool like SweepWidget. You can create a webpage for your campaign in minutes, including all the information described in the steps above.
Select randomized winners with a few clicks of a button, saving you time doing it manually.
What's more, you can promote all your social media channels within SweepWidgets' leaderboard giveaway—where users compete for the highest score.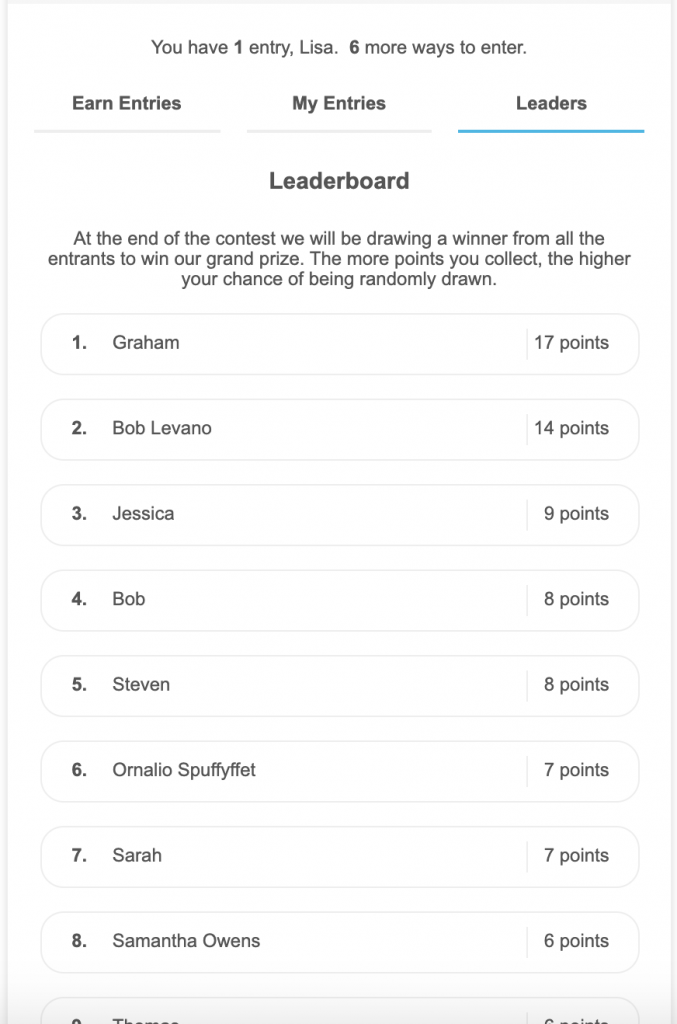 For example, participants earn points to follow you on Telegram, Instagram, Facebook, watch a TikTok video, and so forth—conveniently growing your audience across all platforms simultaneously.
Additionally, you can add refer-a-friend action where participants get more contest points by sharing your giveaway page with their friends and family.
Another perk of SweepWidget is that you can integrate a Telegram bot directly into your giveaway to API verify if users perform the following actions:
Follow a channel (public or private)
Join a group
Leave a comment in a group
This eliminates the possibility of cheating or fake engagement.
4. Link your Telegram group to your channel
To achieve the sustainable long-term growth of Telegram, you need to cultivate an engaged community around your brand.
When you have a community, your channel will take on a life of its own, and the more engaged your members are, the more likely they'll recommend your channel to their network.
A Telegram channel facilitates one-to-many communication. However, a channel on its own doesn't give subscribers the ability to comment and interact with other members.
You need to link a Telegram group to your channel to allow users to interact.
Check out the video tutorial below from TS Tech Talk, which breaks down how to link a group to your Telegram channel.
5. Add members from your personal contacts
The quickest way to add subscribers to your Telegram channel is to add your personal contacts, and this is one of the first actions Telegram will prompt you to do after creating your channel.
You only want to add contacts that you think will enjoy your topic. Better yet, reach out to your contacts individually and give them the heads up that you're starting a channel and would love their feedback on how to make it engaging.
By treating your contacts as partners, you'll get ideas on what content to create and empower them to participate in your community to increase engagement.
6. Participate in chat groups without being spammy
Being an active and trustworthy member of Telegram groups is a solid strategy for growing your profile and, thus, your channel.
But don't be that person who spams groups with their Telegram channel link. This behavior can rub group admins the wrong way and lose trust from the audience you want to reach.
This is not to say you won't be sharing your link. But you need to earn that right first by participating in groups with similar topics to yours—which means sharing your link only after you've commented 5-10 times.
It's also a good idea to get approval from group admins to share your link. But again, only ask once you've added value and have earned the trust.
Give, give, give, ask. That's the pattern.
7. Partner with other channels in your niche
Beyond participating in relevant Telegram groups, you can build a relationship with admins to do mutually beneficial collaborations.
For example, you could partner with 2 other groups to run a joint giveaway. You could pull your resources together to create higher-value prizes and tap into your combined audiences for greater reach.
This is a pinch in SweepWidget as you can add an entry method to join each Telegram channel in the partnership to enter the competition.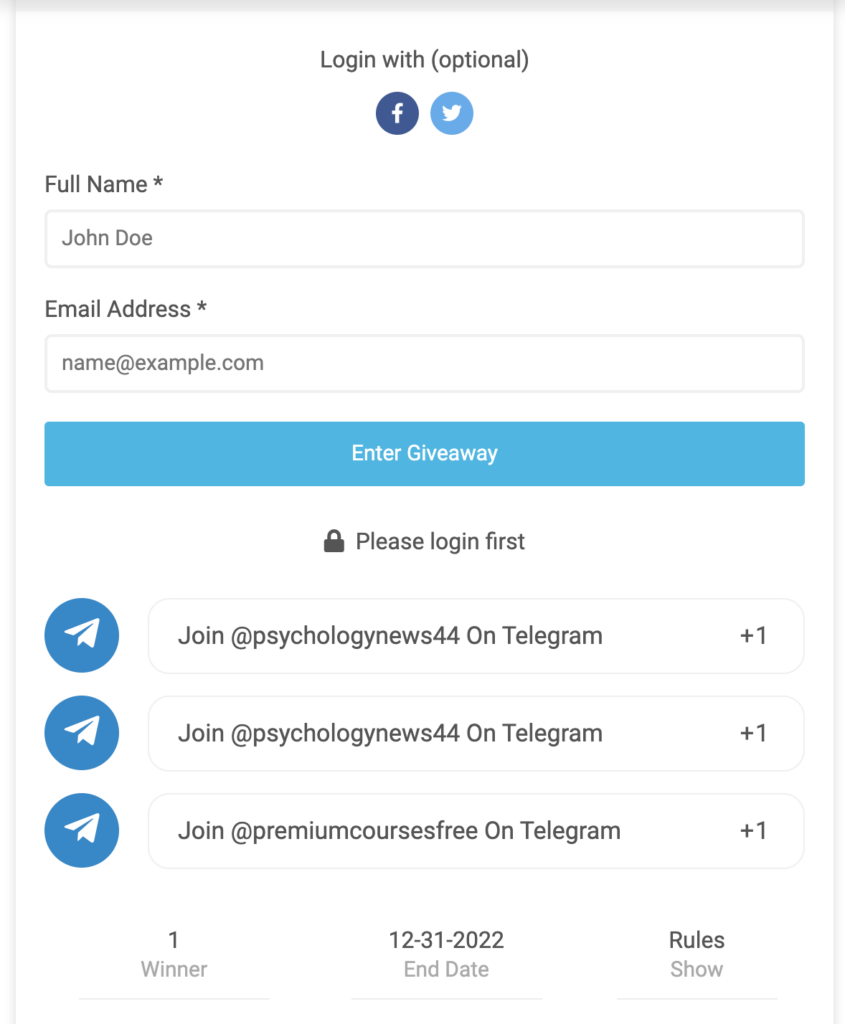 In addition to joint contests, you could do collaborative live videos, interviews, and takeovers to keep your subscribers on their toes and align your brand with other reputable channels in your niche.
8. Pay for promotions in 3rd party Telegram channels
You have a much better chance of converting people already on Telegram to join your channel than you would by trying to reach people who aren't active on Telegram.
So if you're willing to invest in ads, your money would be best spent on Telegram ads.
You can pay channel admins, again within your niche, to post your channel.
The price of your ad depends on:
The size of the channel
Quality of the channel
The duration of the ad
Do some testing to see how your ads perform with different channels. You'll also need to pay close attention to your ad copy and optimize over time.
9. Promote your Telegram channel on other platforms
Perhaps the most common strategy for growing your Telegram subscribers is to share your channel on different media outlets.
Likely, many of your followers on other networks may not be familiar with Telegram. So this is an opportunity to share the benefits of Telegram over other messaging apps to entice them to follow you and enjoy the platform.
Here's are some ideas for sharing your Telegram on other platforms:
Add your link to your Facebook profile
Mention your username on your podcast
Add your profile to your YouTube banner image
Mention your profile in your newsletter
Add a linked Telegram icon as part of your social media icons on your website
Add your profile to a widget on your blog
Include your link in your Linktree options
Share your channel on your TikTok
Mention your username on a YouTube video
Post your channel on your Twitter feed
10. Submit your profile Telegram directory websites
A Telegram directory is a website with an extensive list of Telegram channels and groups for users to browse and follow.
It's typically free to submit your Telegram channel on these directory sites, so there's nothing to lose.
Start by typing "telegram directory websites" into Google. Then submit your channel to all the directory sites.
This is where it helps to have a clear profile name, description, and photo that enables users browsing on these sites to find and identify with your brand quickly.
FAQs on buying Telegram channel members
It's standard advice to buy Telegram subscribers, especially if you're just starting your channel. However, is it possible to purchase members? Is it legal? Is it effective? Check out our answers below.
Q: Can you buy Telegram members?
Yes, you can buy fake subscribers or real Telegram subscribers for as little as $4 per 1000 members that appear in your account within days.
You can buy Telegram members on services like AppSally, Social Boost, AppsGeyser, and Telegram Member.
Some of these services claim that the members are real people, and you can even choose to target subscribers in a particular location.
Q: Why would you buy Telegram subscribers?
The idea behind buying followers on Telegram is to give your brand new channel credibility. Users are more likely to subscribe if they see that you already have a respectable following.
Q: Is there a risk of buying Telegram members?
Users are catching on. If, for instance, you have hundreds of thousands of bought members, but the engagement in your group is shallow, then users may assume that you've purchased your audience, damaging your reputation.
Furthermore, Telegram doesn't want fake members on their platform and now deletes fake accounts daily.
Start growing your Telegram channel today
With over 500 million users (and counting), Telegram presents an exciting opportunity to build a valuable community.
The team behind Telegram is constantly updating its features for the best user experience. So be sure to stay ahead of trends and not be afraid to try new features as they get released.
With hard work, focus, and sometimes a small investment, you'll be able to grow your Telegram members and influence.