The 11 Best Social Media Giveaway Tools Compared (2021)
Last updated on May 17th, 2023 at 01:47 am
A well-executed giveaway is the fastest way to increase your leads and conversions. And a big part of your success comes down to leveraging the right software to:
Create professional-looking campaigns as fast as possible.
Select giveaway winners quickly and fairly.
Host contests to gather user-generated content.
Target users by location.
Gamify competitions for maximum virality.
I've spent hours testing and comparing the best social media giveaway tools on the market—both the good and the missed features—to help you choose the perfect app for your business.
Let's get started.
Table Of Contents
1. SweepWidget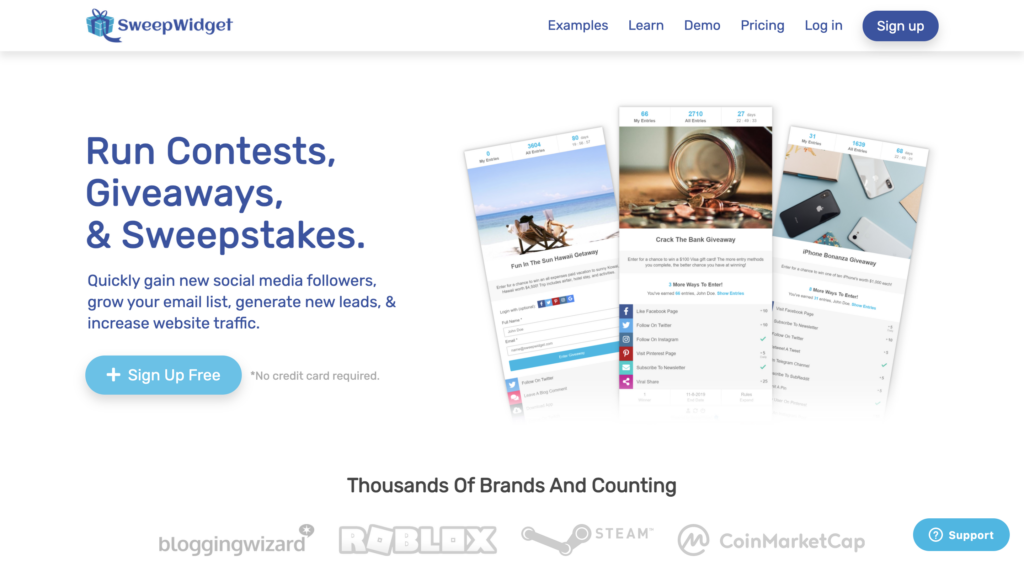 SweepWidget is a highly flexible tool to help users run social media contests, giveaways, and sweepstakes with absolute ease.
Pros
SweepWidget has the most templated entry methods (90+ and counting) from all the giveaway tools on the market.
You can create any social media campaign in SweepWidget, including Instagram, Facebook, TikTok, Twitter, Pinterest. Yes, even LinkedIn and Snapchat.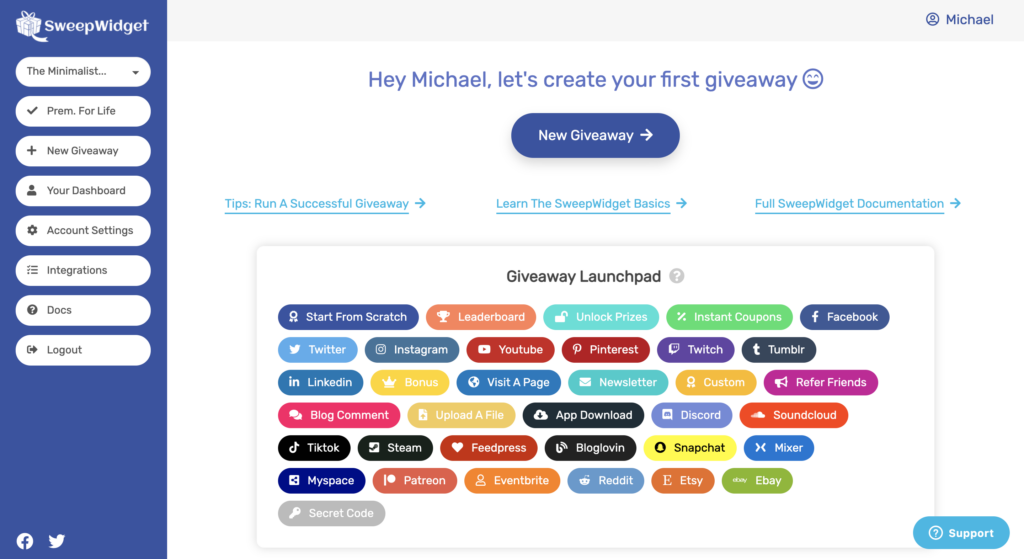 You can mix and match entry methods across 30+ social media platforms and 90+ entry methods within SweepWidgets' one-page campaign builder.
There's no messing around here, as you can create a giveaway in literally 60 seconds without compromising any functionality.
While SweepWidget is insanely easy to use, there are hidden gems built into this app, including a Stripe integration to collect payments for your contests. This opens up opportunities to do nonprofit raffles, donations, ticketing, and sell products.
SweepWidget is also one of four tools on this list that has verified social media logins for improved security and higher conversion rates.
For targeted giveaway campaigns, you can select which country your contest will appear in. If your participants are non-English speakers, you choose your preferred language among the 103 languages available.
One of my favorite SweepWidget features is the leaderboard, where participants compete for the highest score using various entry methods. Using SweepWidgets' leaderboard has proven to increase entries by up to 400%! You can add prize tiers to entice users to aim for runner-up placements, increasing engagement.
Lastly, SweepWidget has 25+ API integrations, 20+ CRM integrations making for the perfect partner with your favorite marketing apps.
Cons
SweepWidget is a focused product with the goal of getting your giveaway up and running as quickly as possible. However, no tool is perfect for everyone. Below are some gaps in SweepWidget:
No hosted photo/videos contests.
No voting competitions.
Given the affordable pricing point, SweepWidget doesn't have advanced features like A/B testing, audience segmentation, and post-entry actions.
Pricing
SweepWidget offers a free account, and plans range from $29/month to $199/month.
Summary
If you're looking for and frictionless, affordable, and powerful giveaway marketing tool, then SweepWidget has everything you need.
2. Woorise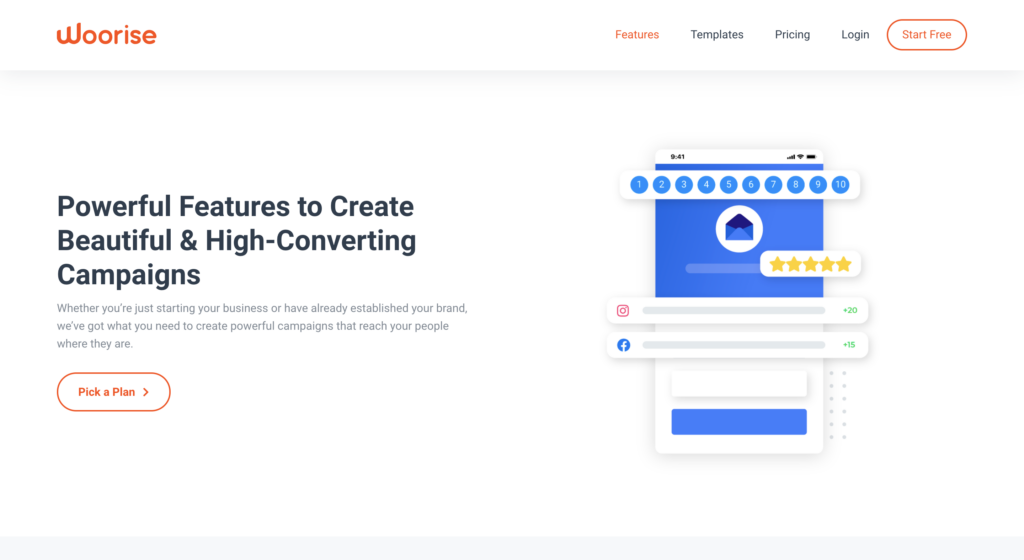 In addition to creating viral giveaways and contests, Woorise helps users build landing pages, surveys, and quizzes—providing a multi-faceted marketing platform.
Pros
What sets Woorise apart is its incredibly sleek design and advanced drag and drop editor. If you're familiar with WordPress blocks, then you'll feel right at home designing campaigns.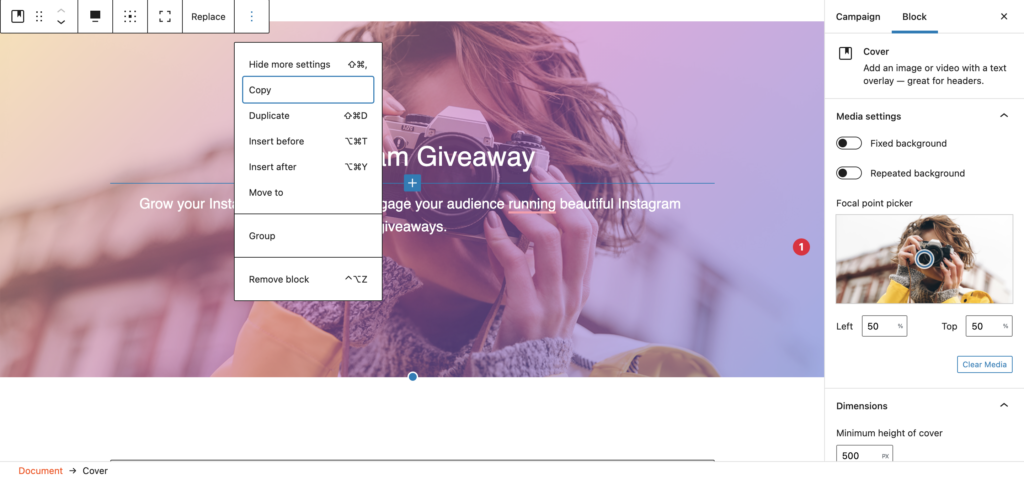 The user interface is modern and flexible, making it easy to create templates exactly how you want them.
Another stand-out feature on Woorise is smart forms—where you can use conditional logic to show or hide fields, social actions, or trigger confirmation messages.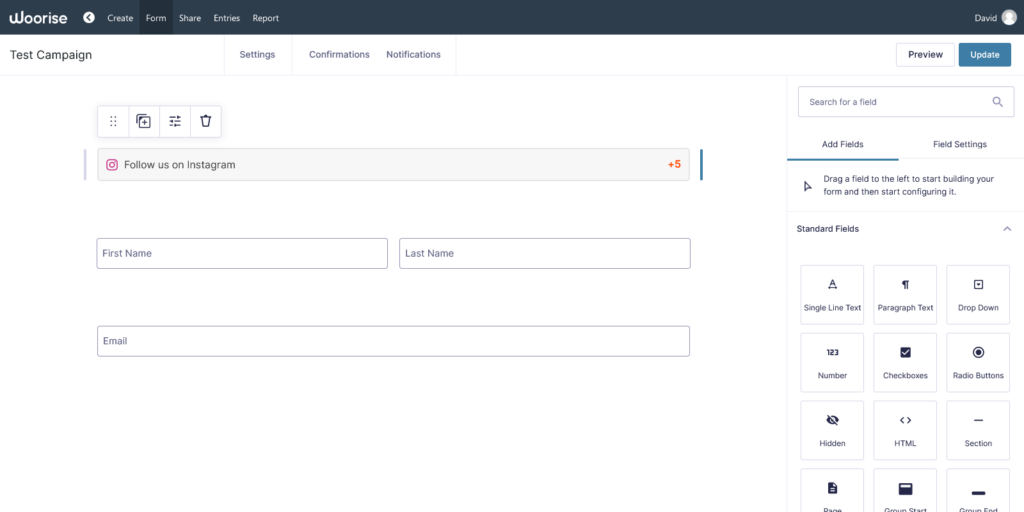 The same technology is used for their email automation for personalized notifications based on user actions.
Some more handy features include geotargeting, support for all languages (including RTL languages), instant coupons, and the ability to manage multiple team members.
Cons
Woorise indeed excels in its features; however, there are some missed opportunities when considering a well-rounded social media giveaway tool.
No hosted photo or video contests, including leaderboards.
No auto-generated competition rules/terms.
And taking into account the relatively affordable price point, it's reasonable not to expect Woorise to have advanced features such as A/B testing, sales tracking, audience segmentation, and comment management.
Pricing
Woorise offers a free account, and plans range from $29/month to $99/month.
Summary
If you're seeking a flexible giveaway tool with conditional logic, and don't care much for running contests, then Woorise could be a good choice.
3. Gleam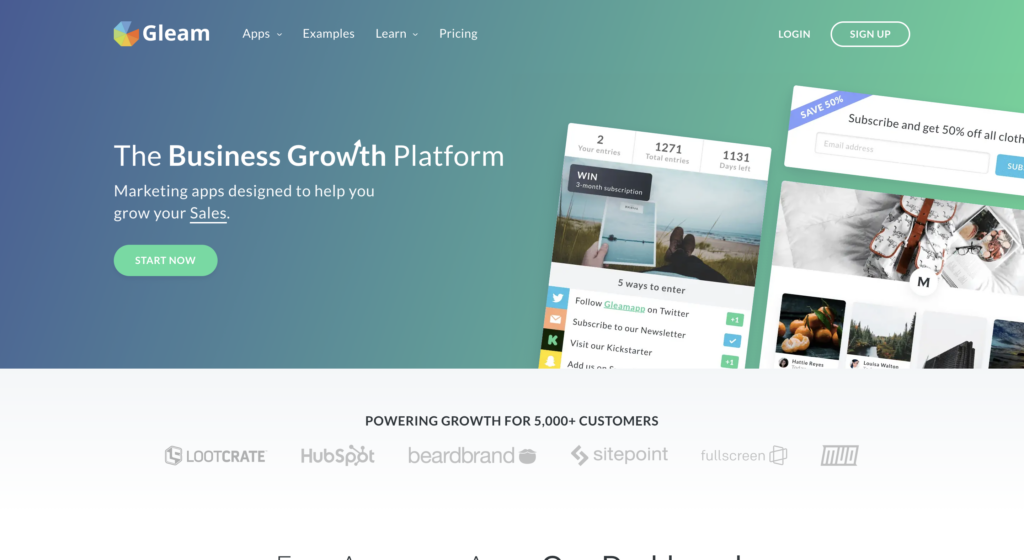 Gleam is a suite of marketing apps, including software to help grow and engage customers through contests and giveaways.
Pros
Gleam has options for all types of users, whether you want to run a simple social media giveaway or go for a more advanced hosted photo contest to gather user-generated content (UGC).
On the business plan, you can import actions from external sources. This means you can run native social media competitions, then import all the comments, tagging, likes, etc., into Gleam to manage the rest of the campaign.
Then on the premium plan, you have full team management controls, including restricted access for users.
Lastly, Gleam has over 100+ integrations making it compatible with all of your favorite apps.
Cons
Gleam is a powerful, wide-ranging tool, however not without some shortcomings. Let's look at the opportunities.
Functional UI and can see everything at a glance; however, the dashboard is busy and overwhelming at times.
No leaderboard for contests.
No post-entry actions.
Pricing is a little confusing with so many different options.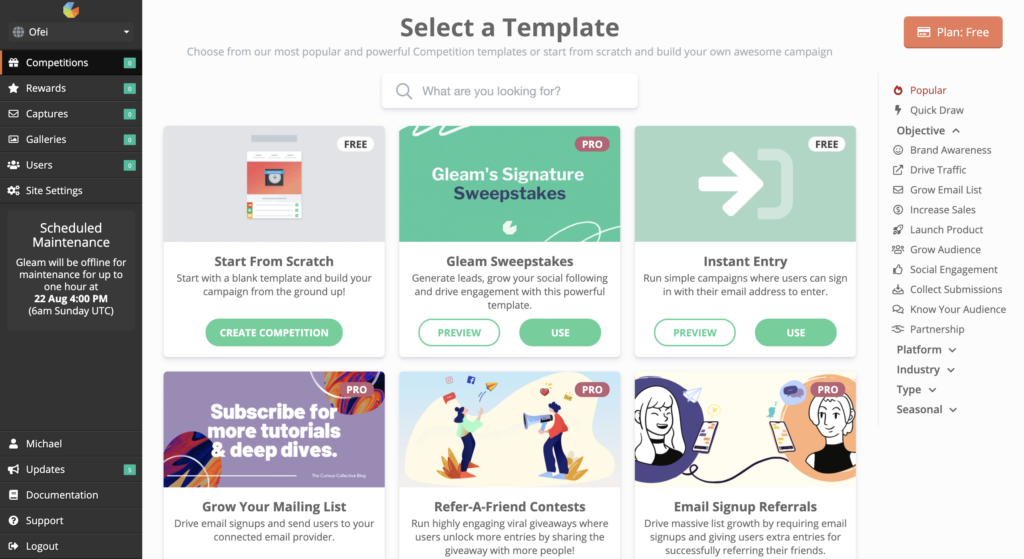 Pricing
Gleam offers a free account and a range of ala cart plans from $10/month (billed yearly) to $399/month.
Summary
If you're looking for a robust social media giveaway tool with added flexibility, then Gleam could be a great option.
4. Rafflecopter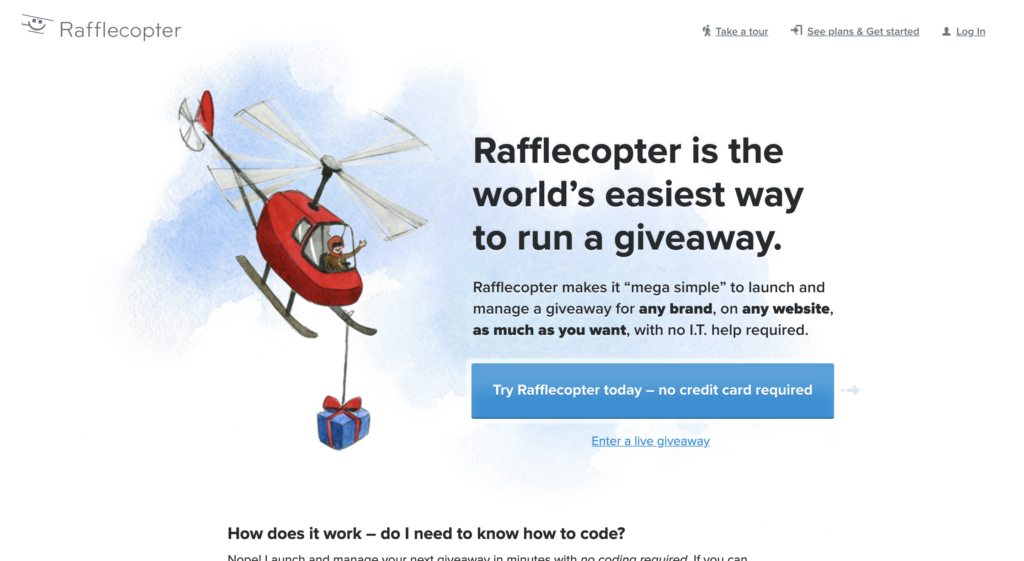 Rafflecopter claims to be the world's easiest way to run a giveaway. That's a big statement. How did they do? Let's start with the pros.
Pros
Rafflecopter is the most affordable tool on this list, with plans starting at $13 a month. This pricing is welcome news if you're just starting with contest marketing.
From my testing, Rafflecopter does indeed make it easy to create a giveaway, however, at the cost of much-needed functionality. So, unfortunately, that's where the pros end for Rafflecopter.
Cons
The UI feels somewhat outdated. Here are some of the shortcomings of Rafflecopter:
Limited templated entry options only for Facebook, Twitter, and Pinterest.
Only supports six languages, including English, French, German, Italian, Portuguese, and Spanish.
No geotargeting.
Only tool on the list with no option for CSS customizations.
No contests.
Limited security.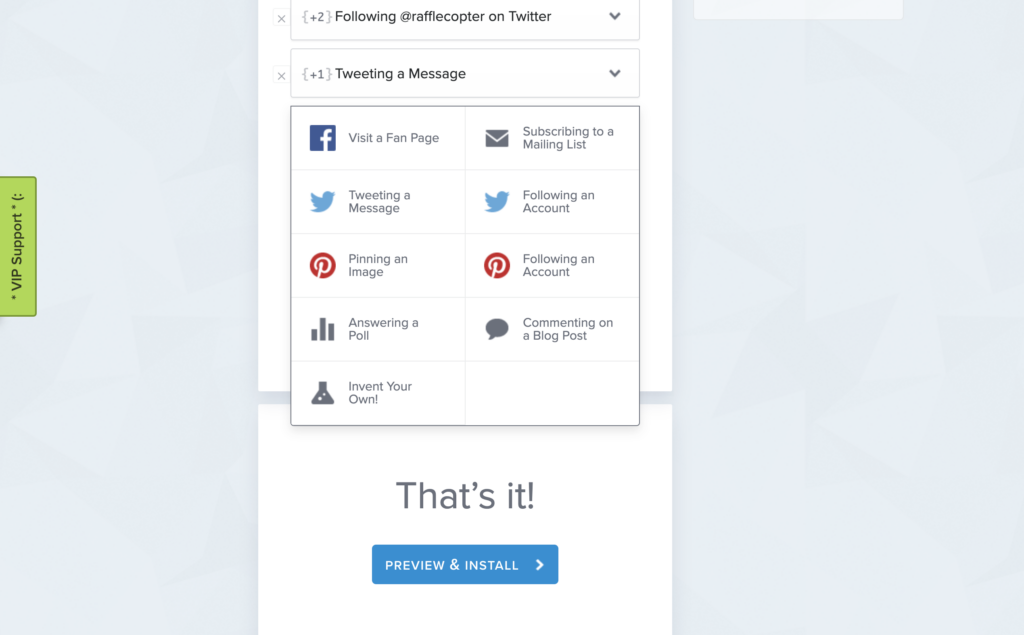 Pricing
Rafflecopter offers a free account, and plans range from $13/month to $84/month.
Summary
Rafflecopter is for users who want a super affordable and basic tool with limited giveaway entry options.
5. ViralSweep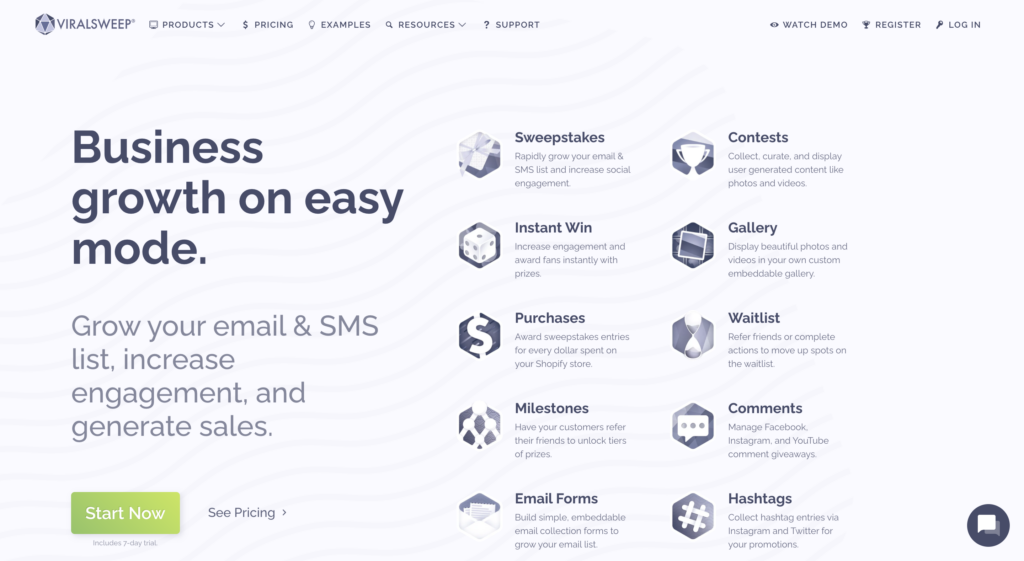 ViralSweep is a supercharged viral marketing platform with features to help you create sweepstakes, contests, and giveaways.
Pros
ViralSweep is a premium tool with premium features.
First, there's the design. The UI is modern and professional. The campaign editor shows everything you need at one glance without being overwhelming.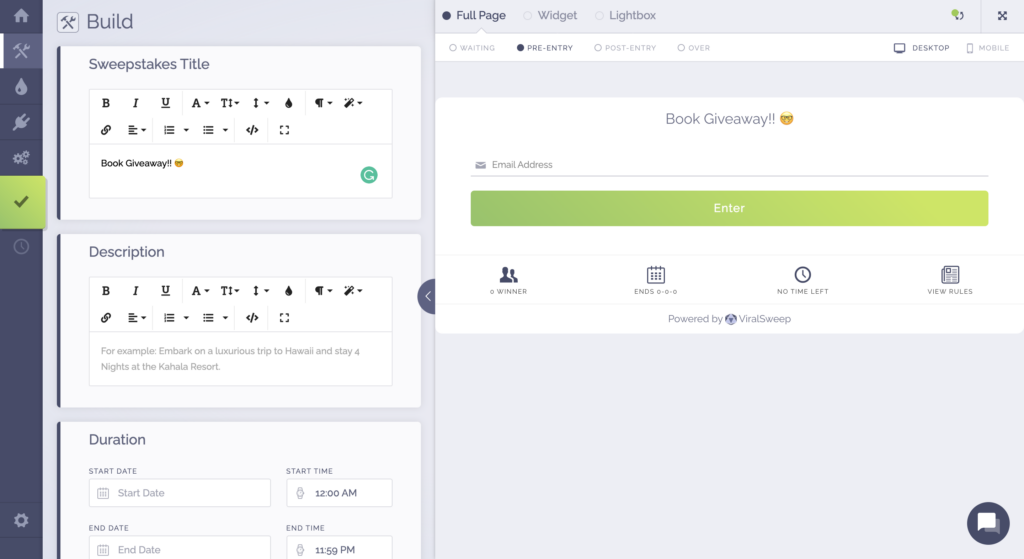 Next up, hosted photo and video contests. With ViralSweep, you can set up manual or automatic approvals for USG and allow users to vote on contests publicly.
If you're into data, ViralSweep has A/B testing capabilities and audience segmentation for targeted marketing.
Have you got an online store? No problem. ViralSweep integrates with eCommerce platforms like Shopify to run giveaways on your online store and track all the sales attributed to your contest marketing.
The features go on and on, including entry codes, comment management, leaderboards, import external actions, team management, and more.
Cons
ViralSweep is probably the most complete tool on this list; however, you pay for what you get. It's one of two tools on this list that doesn't offer a free account, although it has a 7-day trial. Let's look at some other opportunities.
No conditional logic for form or email automation.
Surprisingly, no verified social logins.
That's it.
Pricing
ViralSweep plans range from $49/month to $999/month.
Summary
If you have an eCommerce store or have a significant budget to invest in giveaway marketing, then ViralSweep is an excellent choice.
6. Rafflepress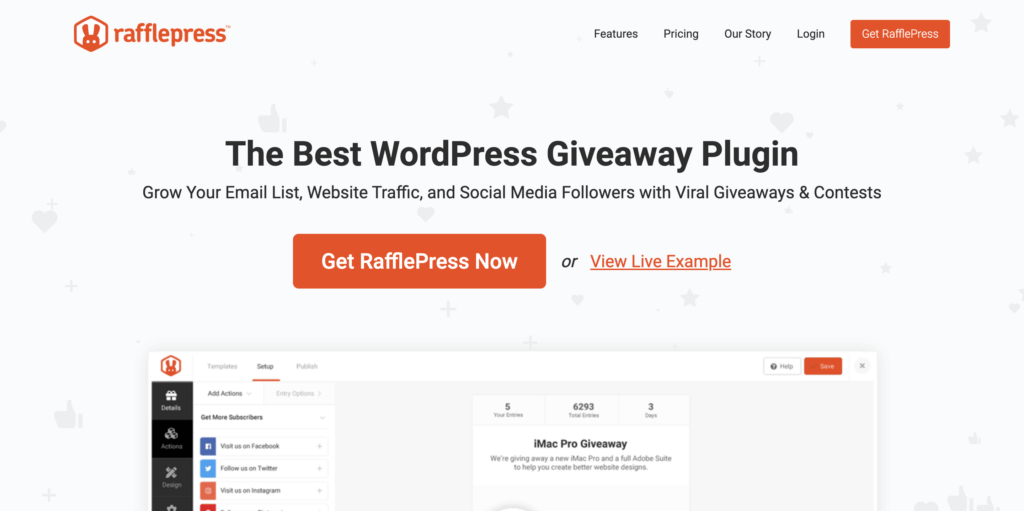 Rafflespress is a dedicated WordPress plugin to help you build your email list and get more followers.
Pros
As Rafflepress is built for WordPress websites, it's not so much focused on social media but a fantastic tool to drive traffic and build your email list.
Rafflespress sports a simple and intuitive design with a sleek drag and drop editor and customization options—which is what you'd expect from a WordPress plugin.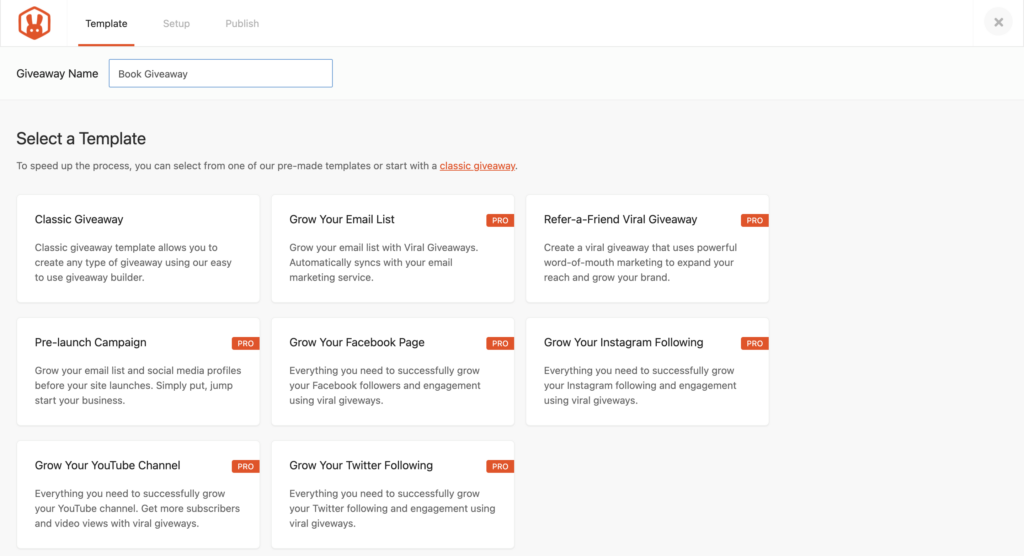 Rafflepress also has some nice standard features, including pixel tracking for Facebook and Google ad retargeting, post-entry redirection, and verified social logins.
Cons
Rafflespress is more of a niche giveaway tool, and with that comes some downsides, including:
Rafflepress is restricted to WordPress users, which means you're highly dependent on your website traffic.
No language support outside of English. You need to download a translation plugin.
No geotargeting.
Limited entry options as Rafflepress is more focused on email subscribers.
Pricing
Rafflepress offers a free account, and plans range from $49/year to $449/year.
Summary
If you're a WordPress blogger looking to increase your email list through giveaways, then Rafflepress could be a nice option for you.
7. Woobox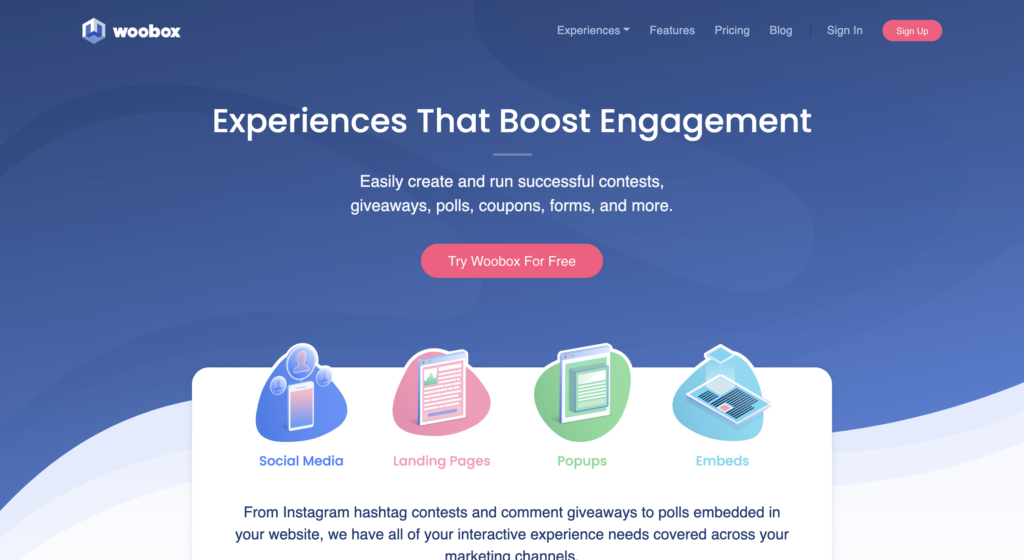 Woobox is a flexible social media marketing tool to help you create contests, giveaways, polls, coupons, and forms.
Pros
Woobox has a modern and professional design, and the drag and drop campaign builder is intuitive and fully customizable.
There's a clear flow from entry, pre-start, ended, and post-entry pages.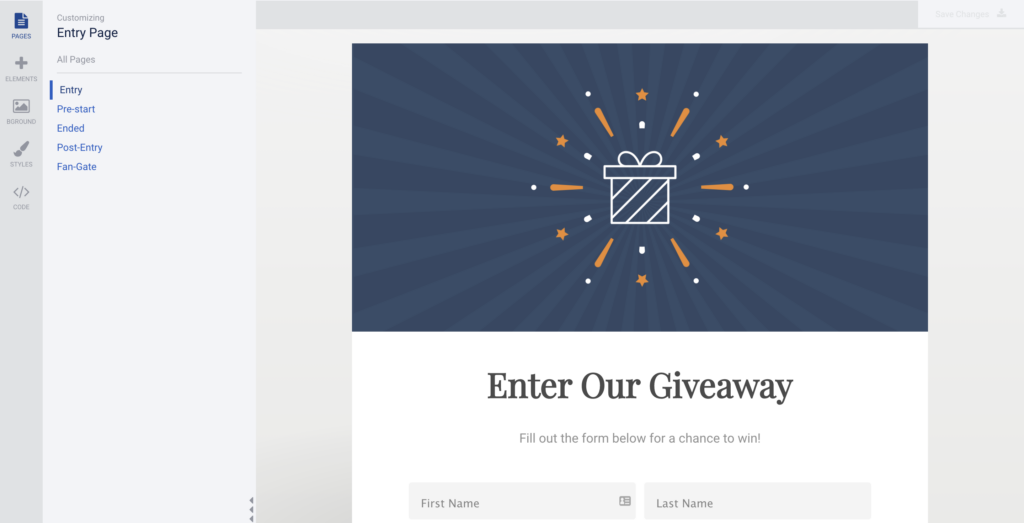 You can tell that Woobox is one of the market leaders in contest marketing just by looking at the range of creative entry methods. In addition to your standard social media entry methods, you can also run personality tests and trivia quizzes.
If you want to curate USG, Woobox offers hosted photo and video contests.
Woobox ticks most of the boxes, including geotargeting, pixel tracking, comment management, leaderboard, and even a WordPress plugin.
Cons
When it comes to design, features, and creativity, Woobox is pretty hard to fault. However, there are a couple of opportunities, including:
No conditional logic for forms or email automation.
No verified social media logins.
Surprisingly, no auto-generated terms and conditions.
And given the relatively affordable price range, Woobox doesn't have high-end features like A/B testing, sales tracking, entry codes, or the ability to import external actions.
Pricing
Woobox offers a free account, and plans range from $37/month to $249/month.
Summary
If you're looking for a flexible design with creative custom giveaways, then Woobox is a good choice.
8. Vyper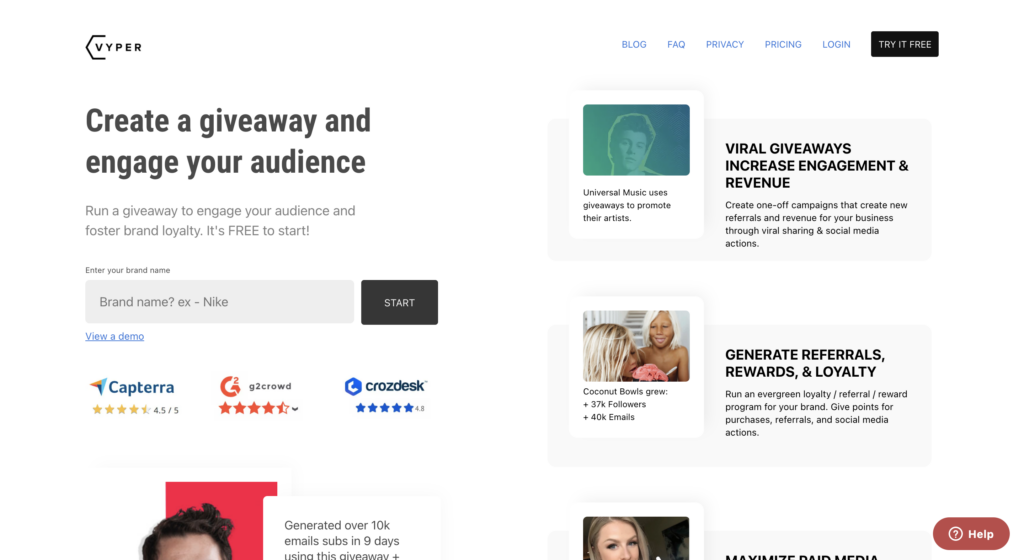 Vyper is a professional social media contest tool with lots of educational content to help you grow your audience.
Pros
What stood out to me when testing Vyper was the UI. While Vyper doesn't have a drag and drop editor, the campaigns are super customizable, and the overall process feels effortless.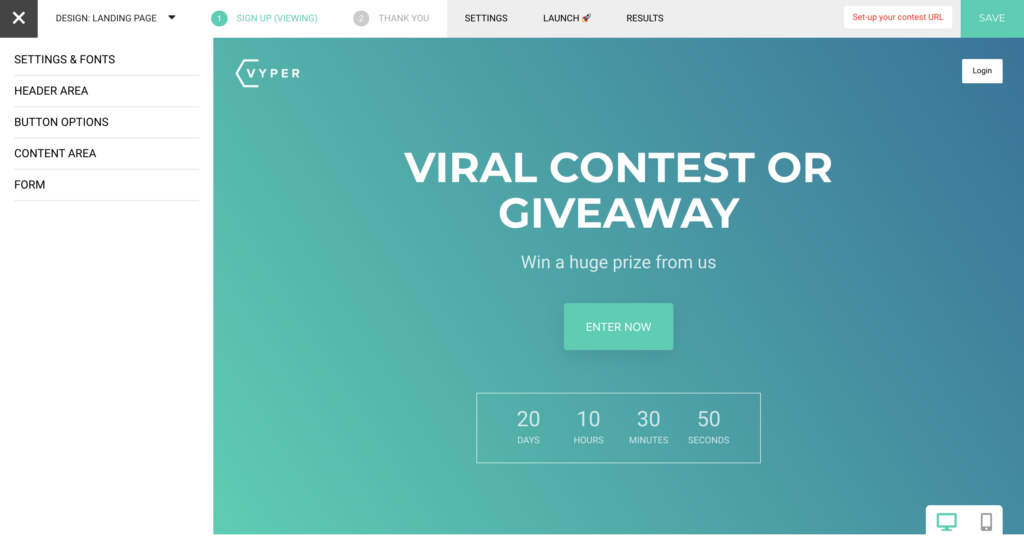 A handful of tools on this list have post-entry actions, but Vyper's thank you page would have to be the most comprehensive.
The thank you page has various widgets you can toggle on and off, including; refer a friend, leaderboard, bonus actions, rewards, and point tally.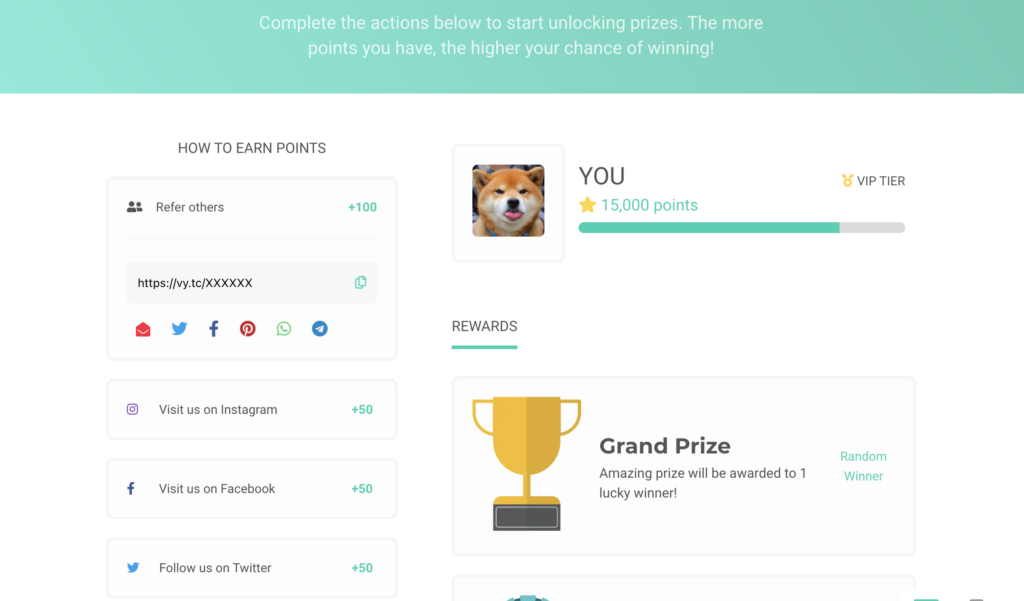 I also appreciate just how much educational content Vyper gives its users to help them get the most out of contest marketing. After signing up, you get daily emails with valuable tips and tricks, and Vyper even has digital marketing courses you can purchase from within their dashboard.
Cons
Vyper has an excellent UI and educational support, but there are some areas of improvement.
No geotargeting and multi-language support.
No verified social logins.
No instant redeem awards.
No hosted photo contests.
Pricing
Vyper offers a free account (testing only), and plans range from $149/month to $299/month.
Summary
If you want a well-designed giveaway marketing tool with plenty of educational content, then Vyper is a solid option.
9. ShortStack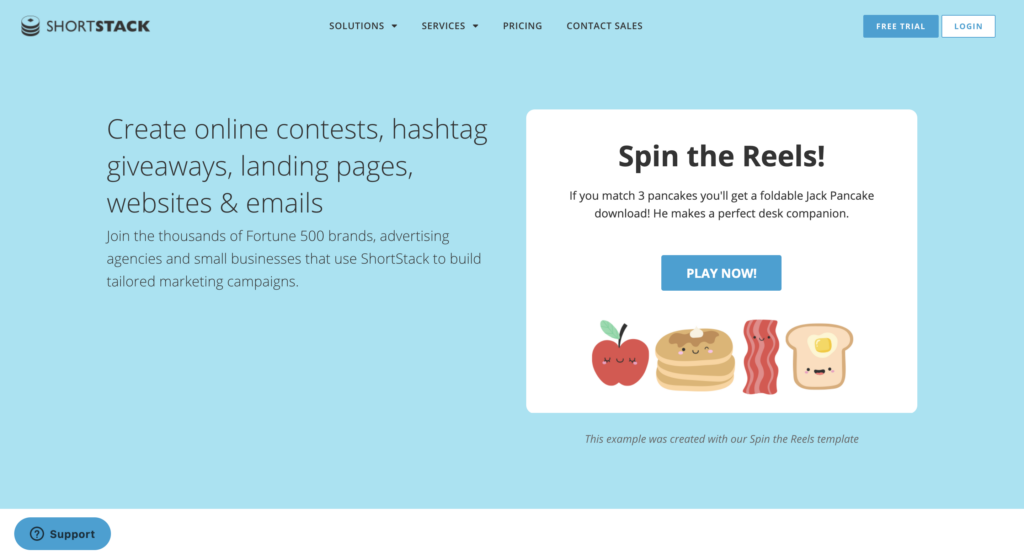 In addition to social media giveaways, ShortStack helps users to send marketing emails and design landing pages.
Pros
Where ShortStack really shines is with the variety of contest options. You can do photos, video, voting, games, quizzes, amongst many others.
As ShortStack offers an email marketing solution, you can easily integrate your giveaway with email automation to send personalized messages to your participants.
ShortStack joins Gleam, ViralSweep, and Easypromos as the only tools that can import external social media actions.
And like Vyper, ShortStack does perhaps an even better job with providing educational content from courses and tips during onboarding. They even have ShortStack University, which is a free 8 module program.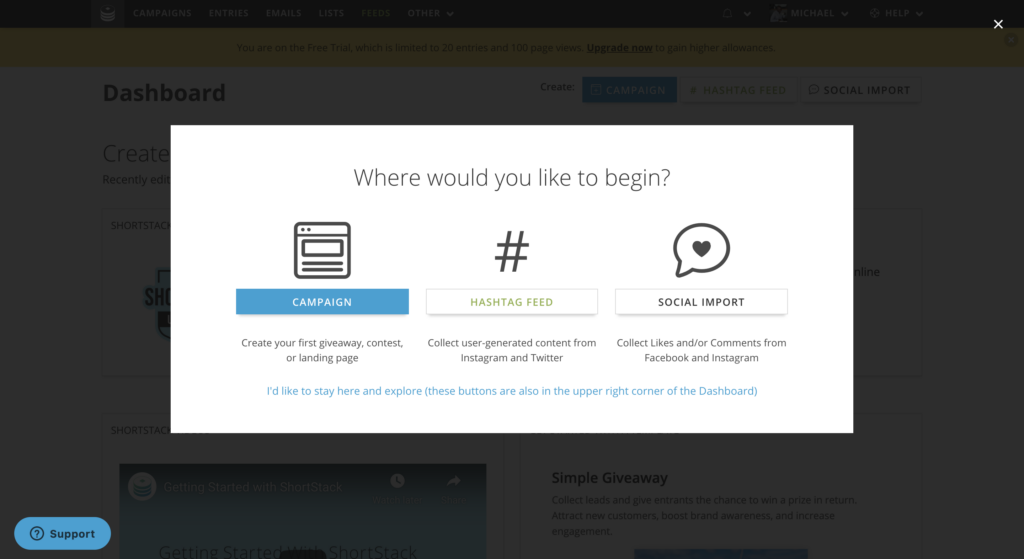 If you want extra support, ShortStack offers paid services like rule creation, moderation, and consulting.
Cons
ShortStack is a robust tool, but not without some opportunities. Let's take a look.
The UI is functional but feels busy and a little outdated in some areas.
No verified social logins.
No audience segmentation.
I could only find two integrations for webhooks and MailChimp, which is limiting.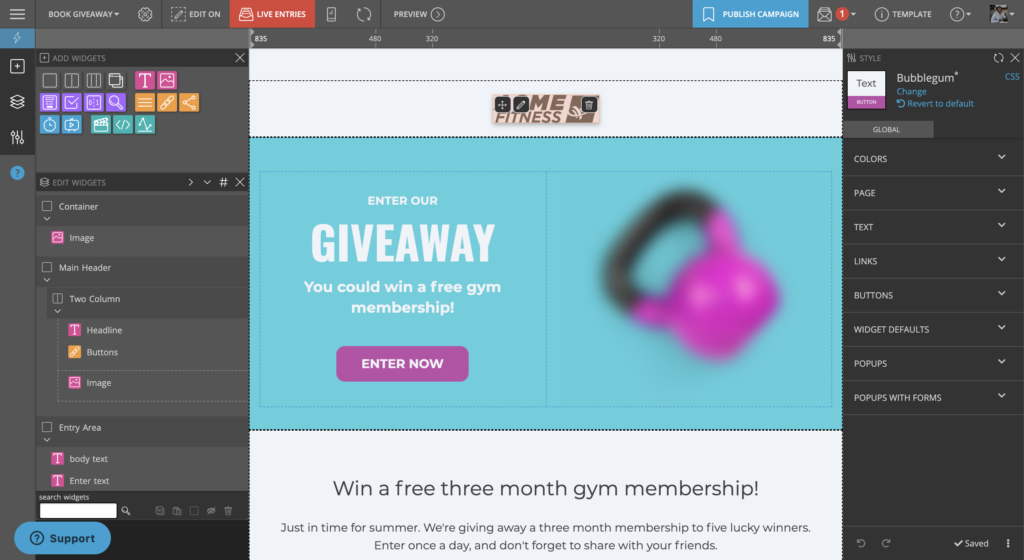 Pricing
Vyper offers a free account, and plans range from $99/month to $499/month.
Summary
If you're interested in functionality and educational support, then ShortStack could be a good choice for you.
10. Wishpond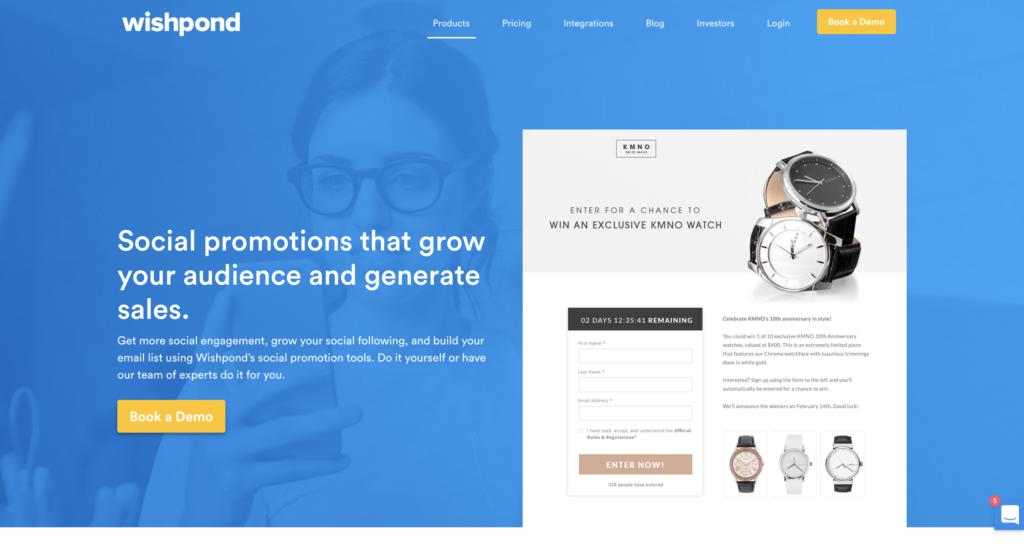 Wishpond is an all-in-one marketing solution to help you create landing pages, email automation, marketing funnels, make appointments, accept payments, and of course, run social media competitions.
Pros
Wishpond offers a couple of unique contest templates, including a voting contest and an essay contest.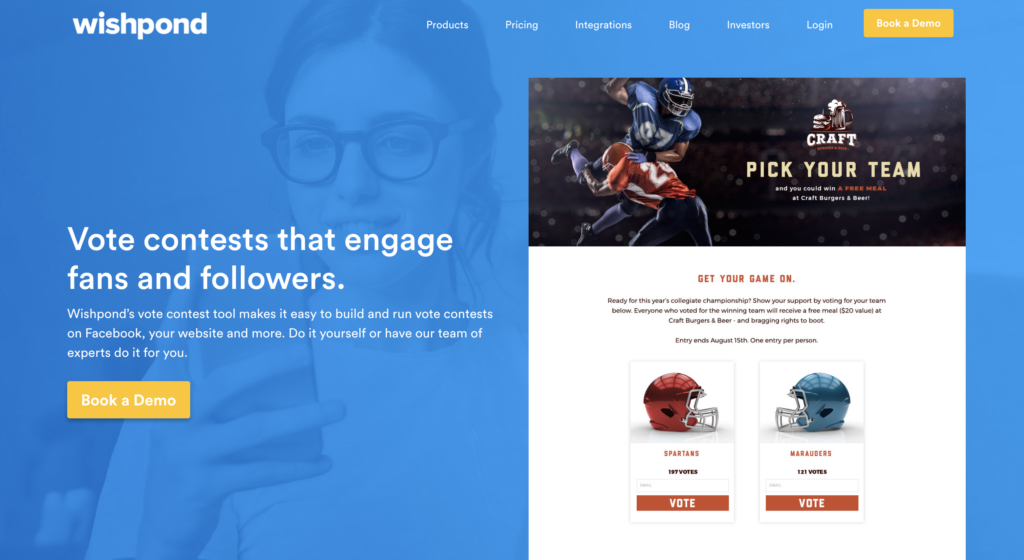 Outside of contests, Wishpond broadly offers what many of these tools provide. What separates Wishpond is its multifaceted product features from PPC ads, call tracking, website pop-ups, email marketing, to name the few.
You can integrate your social giveaways with other marketing tools to create the ultimate experience under one roof with access to various products.
Cons
There's very little that Wishpond doesn't offer; however, they don't list their pricing on the website until you actually book a call with a sales rep to come up with a tailored marketing solution.
This process could be a little involved for many users and gives off the perception that Wishpond is an expensive tool.
Pricing
Not applicable. You need to book a call to discuss plans.
Summary
If you're interested in an all-in-one marketing suite, then it might be worth reaching out to Wishpond to see if they're a good fit.
11. Easypromos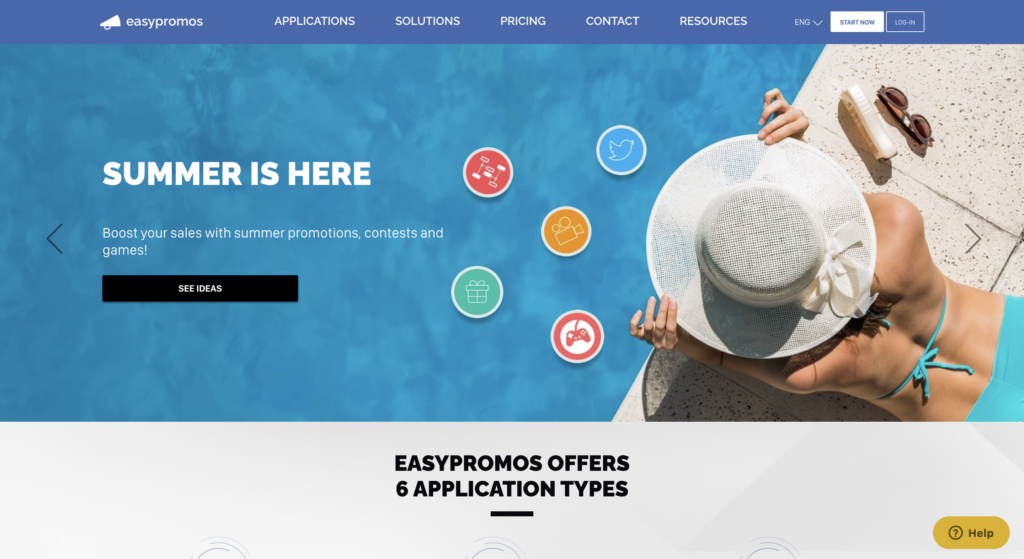 Easypromos is a reliable social media giveaway platform with a good range of features.
Pros
One of the first things Easypromos does is to generate a certificate of validity so you can prove to your users that you follow a fair process for selecting winners for your giveaways.
Another unique feature in Easypromos is the ability to add collaborators to your account. This is an excellent feature for marketing teams or agencies who want to get feedback from clients on a particular campaign.
Easypromos is also on the shortlist of tools that can import external social media actions before carrying out the competition.
Cons
Easypromos offers a good range of functionality, but not without some opportunities–like all the tools on this list.
I found the UI to be a little outdated even though the features are there.
No verified social logins.
No Leaderboards.
No hosted photo contests.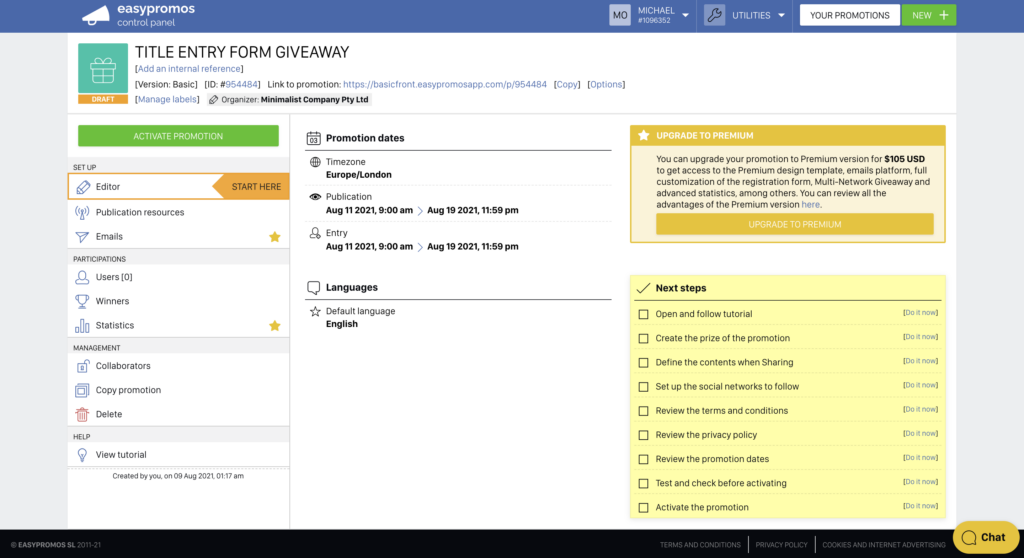 Pricing
Easypromos offers a free account (testing only), and plans range from $29/month to $399/month.
Summary
If you're looking for a solid, well-rounded social giveaway tool, then Easypromos has a lot to offer.
The best social media contest tools
That's our list of the best social media giveaway tools in 2021. While no software is 100% perfect, it's exciting to see the diversity of features available to you.
Now it's about figuring out what's essential to your business. Whether it's the ease of use, the number of entry options, sophistication, eCommerce, education, or design, there's bound to be a social contest platform that's right for you.