12 Best Free WordPress Contest Plugins In 2023
Last updated on May 23rd, 2023 at 05:42 pm
A well-planned giveaway on your WordPress blog is a surefire way to get thousands of visitors and leads.
Don't believe me?
Beth Anne Schwamberger from Brilliant Business Moms ran a contest on her WordPress blog, which received 7,944 participants and over 5,000 targeted email subscribers in one week!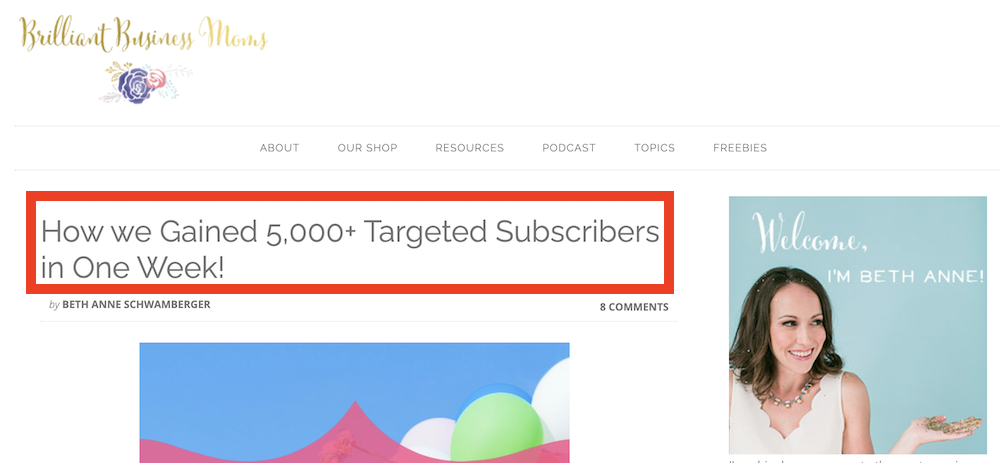 The results speak for themselves—and you can get in on the action.
But first, you need a flexible WordPress contest plugin to bring your campaign together effortlessly.
In this post, I'll be showcasing the best WordPress giveaway plugins so you can pick the tool most suitable for your marketing goals.
Let's begin.
The Best WordPress Contest Plugins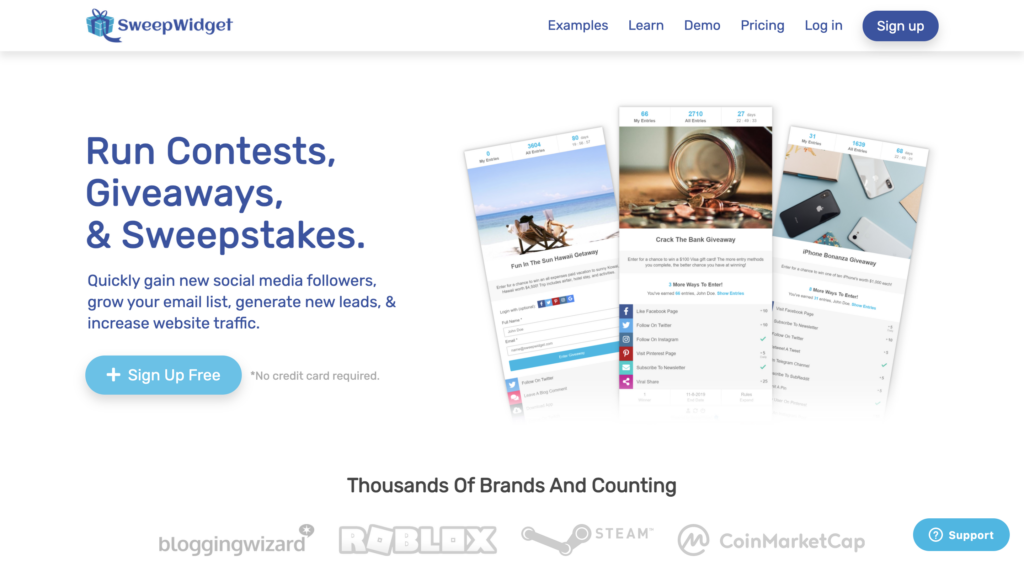 SweepWidget is a multipurpose contest platform with a WordPress plugin to integrate with your website seamlessly. This means you can conveniently manage all your contests and giveaways directly from your WordPress dashboard.
With SweepWidget, you can viral marketing campaigns with leaderboard competitions, social media contests, and instant coupon/rewards campaigns.
With over 90 entry methods, you can create endless combinations or instead go super narrow and target ultra-specific platforms to reach your desired audience. The choice is yours.
You can easily get more followers, likes, and shares across 30+ social media platforms, including Instagram, Facebook, TikTok, Youtube, Twitter, Pinterest, LinkedIn, and Snapchat.
Email marketing is a breeze with SweepWidgets' WordPress plugin. Take advantage of the 20+ email API integrations at your fingertips.
SweepWidget is one of the easiest tools to use to create viral giveaways. You can literally design and launch a contest in 60 seconds. Style your competition with the advanced design editor and custom CSS builder if you want more control.
Once you've finished creating your giveaway, SweepWidget generates a shortcode that you can use to embed into a WordPress post or page. 
When your campaign is up and running, you can manage all the entries and analytics from your dashboard. Randomly select winners, delete or disqualify participants or export your entries into a CSV file.
Features:
90+ entry methods
30+ social media platforms
Fast and flexible campaign builder
20+ email integrations
Geo-targeting
103 languages supported
Verified social media logins
Auto terms and conditions
Leaderboards
Refer a friend
Entry redirect
Instant coupons/rewards
Custom entry methods
Fraud detection
Price:
Sign up anytime for free
Pro – $29/month
Business – $49/month
Premium – $99/month
Enterprise – $199/month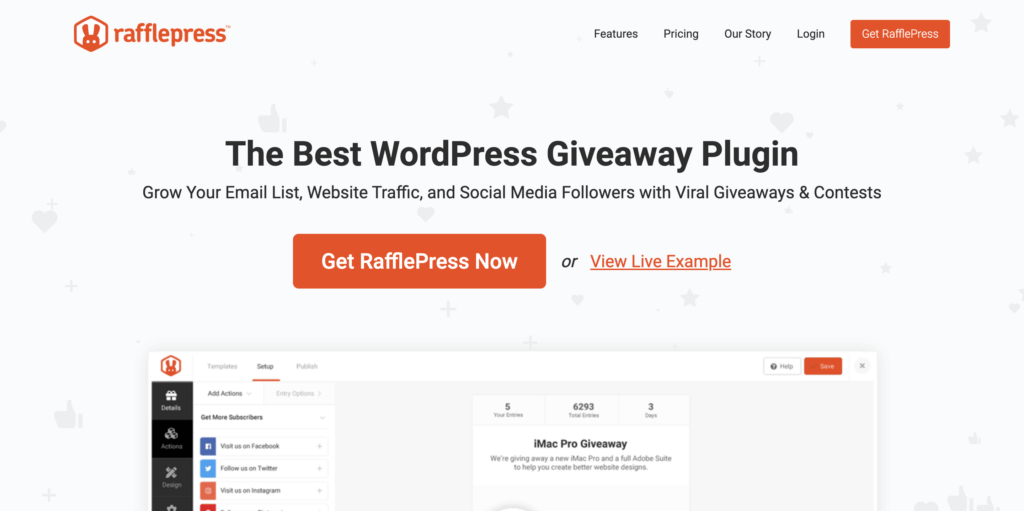 Rafflepress is a dedicated WordPress giveaway plugin to help you get more traffic, grow your email list, and increase your followers.
Built from the ground up with WordPress in mind, Rafflepress has an intuitive design with a sleek drag and drop editor for your campaigns. Get your contest ready in minutes, or take your time to perfectly match your giveaway landing page with your website styling.
Like SweepWidget, Rafflepress offer verified social media logins so participants can sign up to your contest securely with one click.
Rafflepress natively integrates with the common email marketing providers—but even then, you can add your email form HTML code directly to your giveaway landing page regardless of which email service you use.
Another neat feature in Rafflepress is restricting the number of sign-ups per IP address to ensure your contest doesn't get out of control.
Lastly, Rafflepress is an inexpensive WordPress giveaway tool with a decent amount of features available on the free version.
Features:
Drag and drop interface
Fraud detection
Auto terms and conditions
Limit entries by IP address
Pixel tracking
Verified social media logins
Refer a friend
Email and CRM integrations
Giveaway templates
Price:
Free plan
Plus – $39.50/year
Pro – $99.50/year
Growth – $199.50/year
Ultimate – $499.50/lifetime access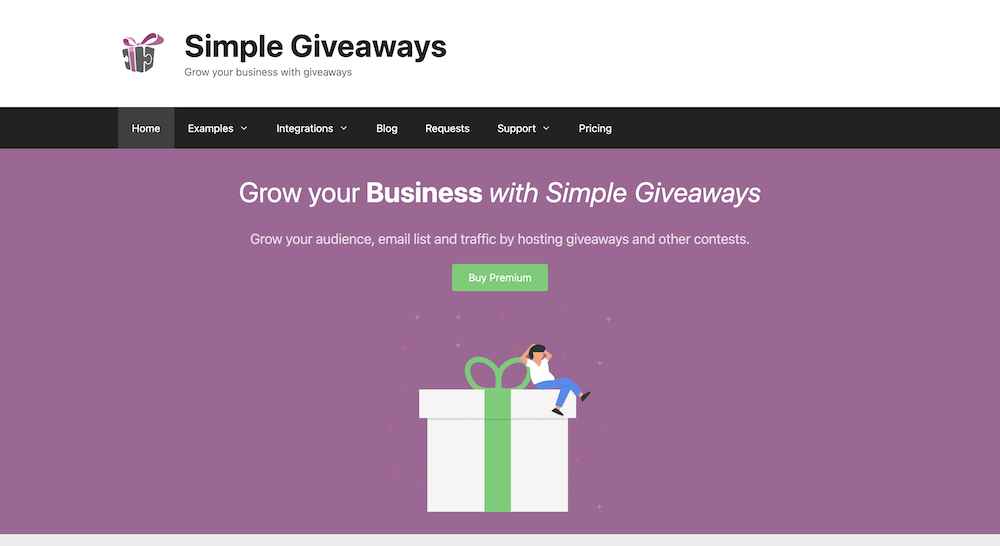 Simple Giveaways is a well-established contest plugin that long-time WordPress users would feel comfortable using.
Quickly create a competition using WordPress classic editor (even if you currently use blocks), preview your landing page just as you would for any post or page.
Simple Giveaways comes with auto terms and conditions, post-entry redirects, and Google reCAPTCHA for added security.
What makes Simple Giveaways shine is the Woocommerce and Easy Digital downloads integration, enabling you to reward users for purchasing a product.
Features:
Giveaway templates
Auto terms and conditions
Post-entry redirect
Google reCAPTCHA
Reporting
WooCommerce competition plugin
Price:
Free plan
Premium – $49.99/year
Business – $69.99/year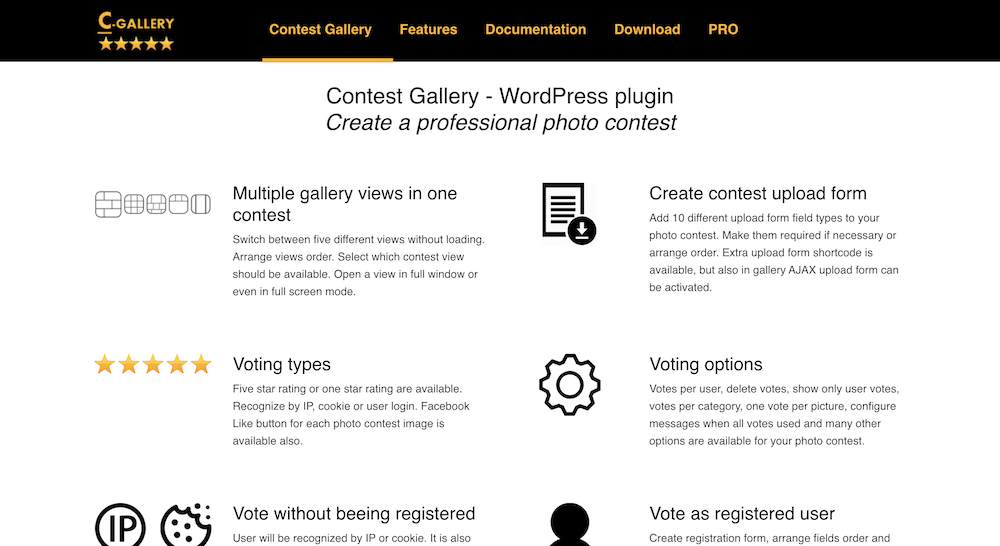 Contest Gallery is a photo contest plugin for WordPress. Users can upload images while also voting on photos from other participants. 
People want an opportunity to shine and be part of a community, and photo contests provide a unique and creative way to engage visitors on your website.
The contest gallery enables participants to rate and comment on photos—giving them something to do beyond reading content. This is key if you want to improve your average time spent on site or repeat visitors.
When you create a new gallery, the plugin automatically generates shortcodes for:
Galleries
Upload forms
User registration forms
Login forms
You can place this shortcode on any page on your website to create a custom experience for your contestants.
The forms are customizable, and on Contest Gallery's pro plan, you can add email fields and notification messages to collect subscribers.
For added security, you can add a Google reCAPTCHA field.
Lastly, you can create a gallery to showcase your work and have your visitors vote on your images. This is handy for building your profile and getting feedback from your community.
Features:
Multiple voting options including IP recognition, cookie recognition, account registration, and Facebook like button
Configure notification emails
Multiple gallery views in one contest
Contest upload form with 10 different field types
Manage voting options
Allow comments
Randomly sort galleries
Price:
Free plan
Pro – $49.99/year
Pro – $89.99/2 years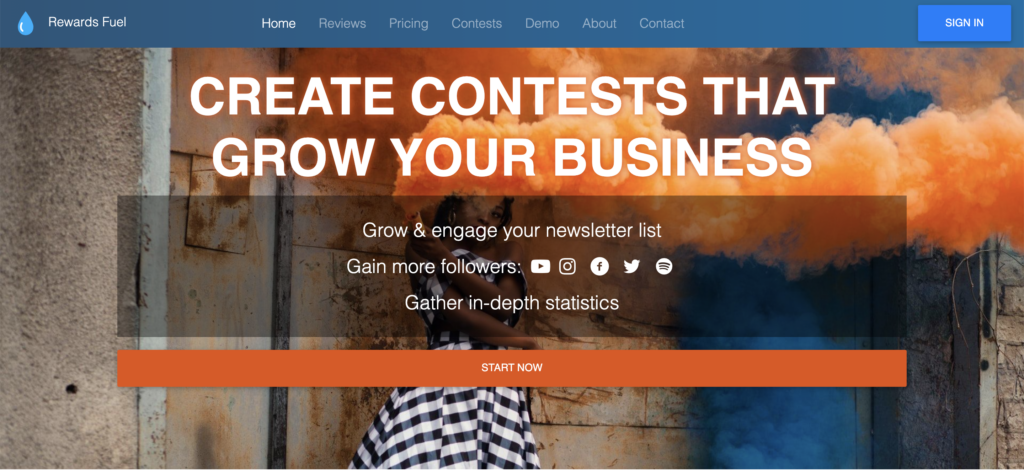 Rewards Fuel is a flexible giveaway platform that integrates with WordPress through its plugin.
With over 35 entry methods, Rewards Fuel makes it easy for marketers to create targeted contests across social, email, video, and audio.
Get your contest up and running quickly by answering a few simple questions in your dashboard. Then once you've created your campaign, you'll get a shortcode to paste on any page on your website.
The Rewards Fuel plugin integrates with YouTube, Vimeo, and Instagram so you can create video contests to increase your watch time and views across these platforms.
You can target your participants by location and even block certain regions helping you reach your ideal customer.
Easily manage newsletter subscribers, including automated notifications.
Rewards Fuel excels in reporting with real-time data and a Google Analytics integration to capture customer information such as gender, age, device type, and other demographics.
Features:
Replicate existing contests
Geo-targeting
35+ entry methods
Real-time analytics
Publish contests anywhere
Support for 11 languages
Price:
Marketing Master – $13.95/month
Promoter – $19.95/month
Promoter Pro – $29.95/month
6. Woorise (Free plan)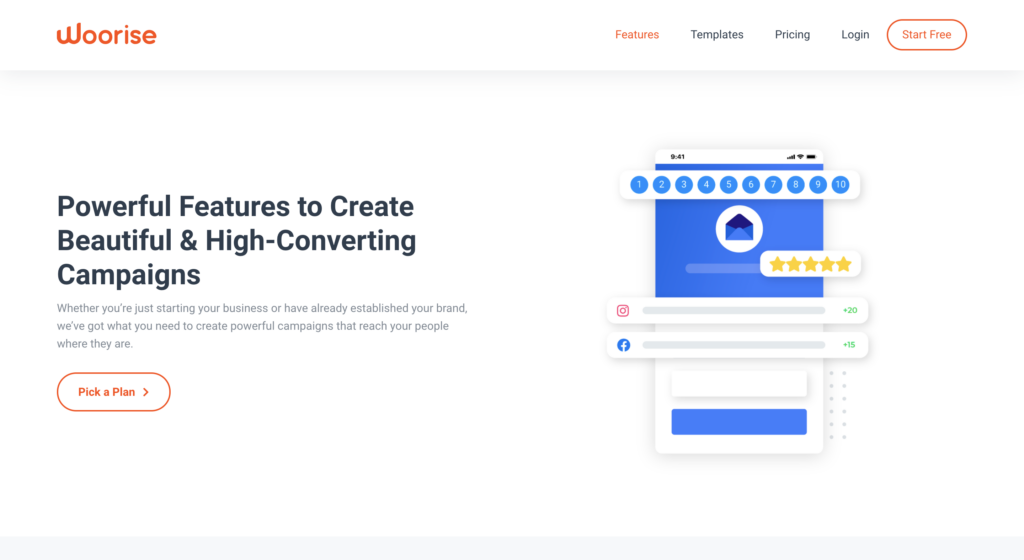 Woorise is a dynamic marketing platform for creating beautiful surveys, landing pages, and quizzes. Woorise also excels in contest marketing and has a giveaway WordPress plugin so you can create campaigns directly from your dashboard.
This plugin has an impressive drag and drop editor that operates similarly to WordPress Blocks (Gutenberg). You have all the design options to create templates exactly how you want them to look with no coding experience.
Use conditional logic to show and hide fields, trigger actions in Woorise's smart forms. You can also use automation to send personalized emails to participants.
If you want to reach a global audience with your giveaway, Woorise supports all languages, including RTL, in addition to targeting specific regions to reach customers in any location.
Create viral contests with instant coupons and refer-a-friend capabilities.
Lastly, if you have a marketing team, you can manage multiple users in the Woorise dashboard.
Features:
Drag and drop editor
Conditional logic
Support for all languages
Geo-targeting
Pre-built templates
Fraud detection
Price:
Free
Basic – $23/month
Grow – $39/month
Pro – $79/month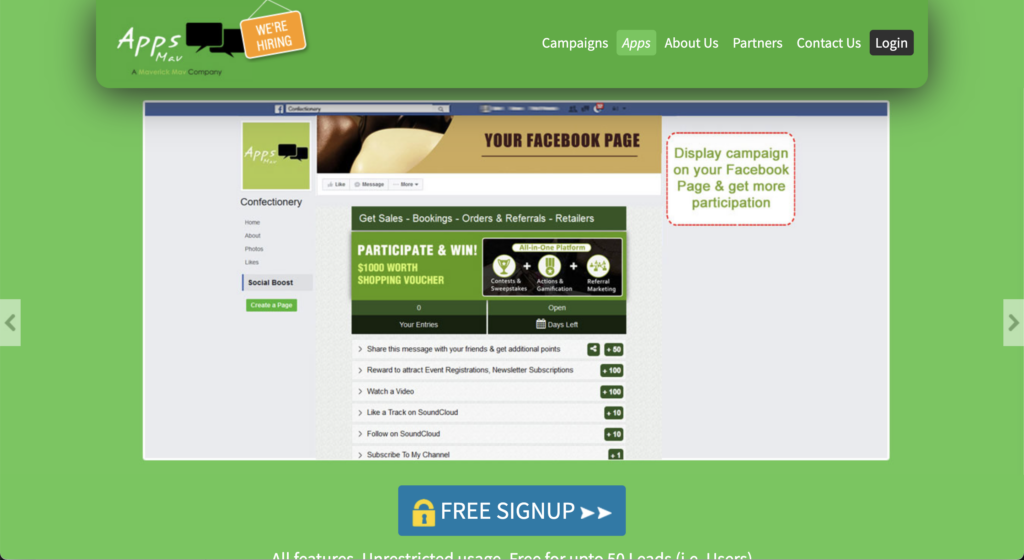 Social Boost is a contest app that integrates with Shopify, Etsy, Big Commerce, and WordPress through a plugin. 
When you sign up to Social Boost, you have options for instant wins, sweepstakes, giveaways, contests, including festival-themed campaigns.
Social Boost has dozens of templates from viral social media sharing to question/query-based forms like "how did you hear about us?" or "help us improve" to collect feedback from your visitors.
If your marketing is more seasonal, Social Boost has you covered with Halloween, Thanksgiving, Christmas, Black Friday, and Valentine's Day templates ready to go.
Creating a contest is as simple as completing an online form. Once your giveaway is ready, you can embed the shortcode on any page or use the link to trigger the popup widget.
Social Boost integrates with the most popular email marketing services and even review sites like judge.me and Yotpo.
Features:
Variety of entry methods and templates
Popup widget
Geo-targeting
Multilingual support
Integrations with review websites
Integrations with email marketing apps
Price:
Up to 50 users – Free
200 users – $9.95/month
500 users – $19.95/month
1000 users – $29/month
2000 users – $39/month
4000 users – $59/month
7000 users – $79/month
Unlimited users – $109/month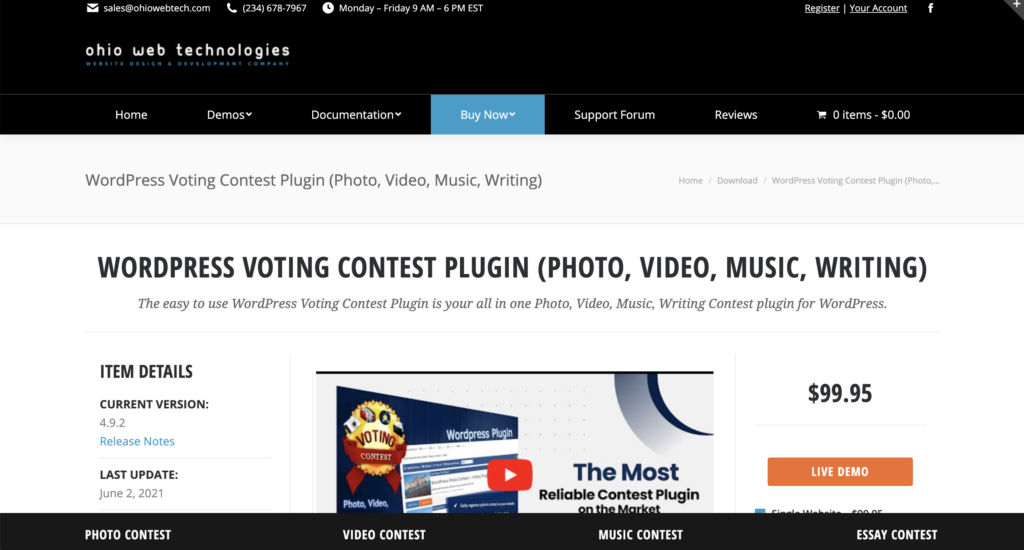 WP Voting Contest is a WordPress plugin focused on helping you run engaging photo, video, music, and written contests. 
In fact, WP Voting Contest is the only plugin that enables you to run multimedia contests simultaneously.
Managing contests is easy whether you're creating a new campaign or reusing an existing one. If your campaigns get overwhelming, you can create different categories to group your contests in the dashboard.
You can organize either public or private contests and have participants securely login in using social media verification. Control voting frequency to ensure the numbers don't get skewed. And when your contest is finished, you can export your contacts into a CSV file.
If you have multiple rounds of voting, you can quickly move contestants from one campaign to another.
WP Voting Contest offers multilingual support and is WPML compatible.
Features:
Multimedia contest options including photo, video, audio, and written
Organize contests by category
Multilingual support
Run campaigns simultaneously
Control voting frequency
Variety of sorting options
Social media logins
Private contests
Import and export participant actions
Price:
Single website – $99.95 (optional $29.99 renewal for support and updates)
Unlimited websites – $199.95 (optional $59.99 renewal for support and updates)
Lifetime developers licence – $599.95 (includes updates for life)
9. Woobox (Free plan)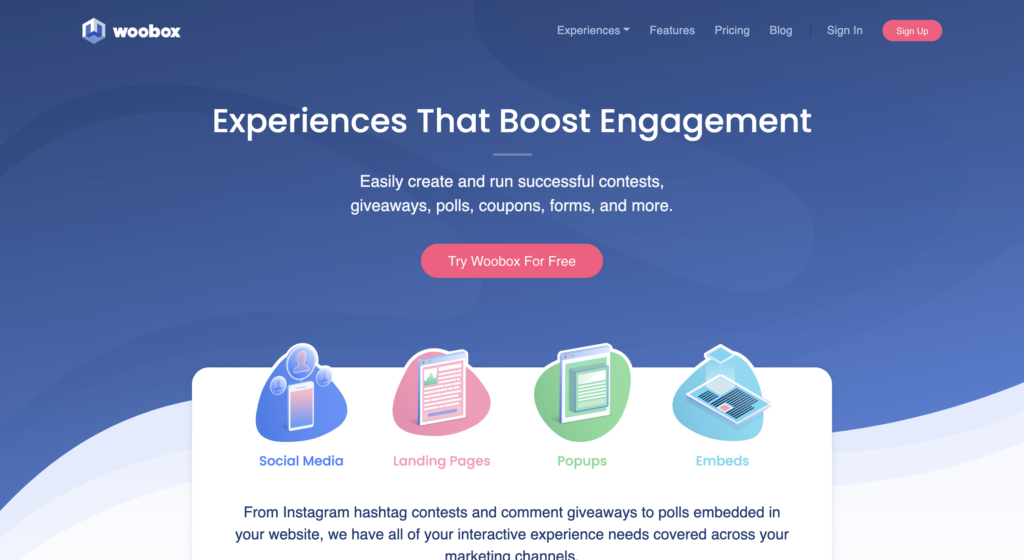 Woobox is a social media marketing platform for creating professional-looking giveaways, contests, polls, forms, and coupons. Regarding competitions, Woobox offers self-hosted formats for both photo and video.
If you want to have some fun with your visitors, you can even run personality tests and trivia quizzes.
Woobox comes armed with a WordPress plugin that doesn't hold back on any functionality. Enjoy the gorgeous drag and drop campaign builder to get your contest looking perfect—no coding experience required.
Take control of the user experience by customizing your pre and post-entry pages, and when you're done, copy and paste the shortcode wherever you see fit.
Hone in your marketing with geo-targeting and pixel tracking for Facebook and Google ads.
Lastly, Woobox has a full-fledged comment management system, which is particularly helpful for social media engagement.
Features:
Sleek user interface
Instant redeem awards
Refer a friend
Creative entry methods like quizzes, tests and visual contests, and leaderboards
Fraud detection
Multilingual support
Auto terms and conditions
Team management
Price:
Free
Basic – $37/month
Standard – $32/month (billed yearly)
Advanced – $99/month (billed yearly)
Power – $249/month (billed yearly)
10. Gleam (Free plan)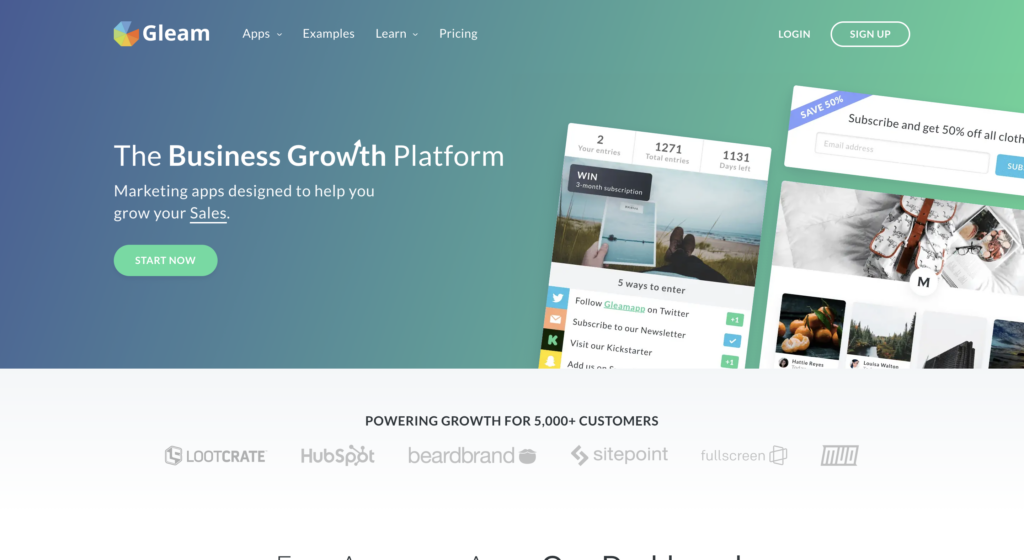 Gleam offers a suite of marketing apps, including a WordPress contest plugin to drive more traffic and interactions to your website.
With over 100 integrations, Gleam is bound to work beautifully with your favorite business and marketing tools. Just a heads up—you'll need to connect your social media and email accounts in the setup wizard to ensure Gleam is talking to your other software services.
Gleam has many entry methods, including emails, social, leaderboards, and hosted photo and video contests to collect valuable user-generated content (USG).
Contestants can log in securely with social media verification. And with the Google Analytics integration, you can get statistics on how participants flow through your marketing funnel.
Gleam is a premium WordPress plugin for more advanced users. So be prepared to invest a bit of time working through the dashboard, adding conditional logic to your forms, and managing sophisticated campaigns.
Features:
Import external actions
Fraud detection
100+ integrations
Hosted video and photo contests
Advanced analytics and reporting
Conditional logic
Geo-targeting
Instant redeem coupons
Refer a friend
Price:
Hobby plan – $10/month
Pro plan – $49/month
Business plan – $149/month
Premium plan – $399/month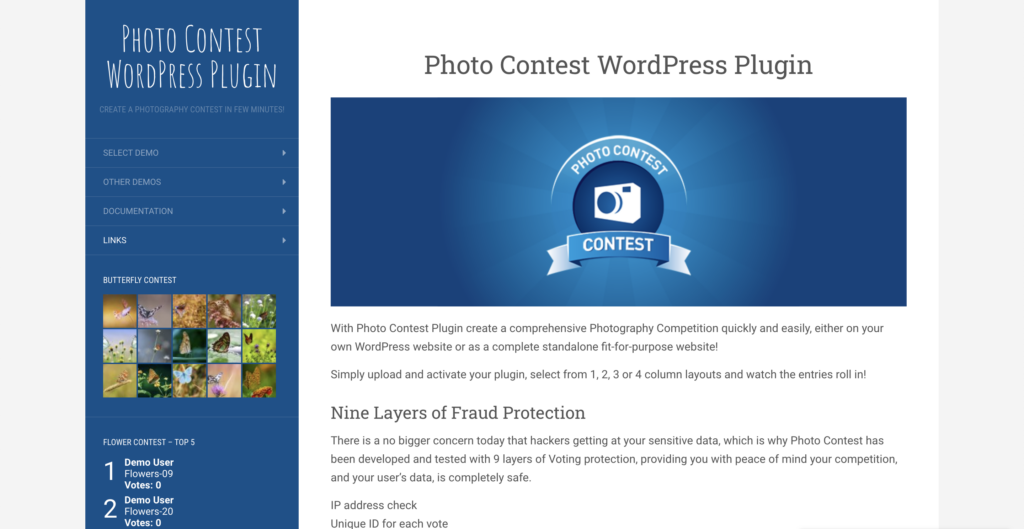 Photo Contest WordPress Plugin enables you to create gorgeous and secure photography competitions easily. You can display your photo contest on your WordPress pages or a standalone website.
The public-facing UI of the Photo Contest WordPress Plugin is user friendly with clear menu options for:
Photo gallery
Form for uploading images
A page where users can view their submissions
Top 10 photographs
It's a simple setup, but it feels approachable and trustworthy.
Photo Contest WordPress Plugin comes equipped with controls for adjusting parameters for voting, new submissions, image sizes, and comments.
When designing your photo competition, you can select between 1 and 4 columns for your gallery which all options are 100% responsive for any screen size. You can also adjust the text, crop, resize, flip and assign photos to categories.
Photo Contest WordPress Plugin offers 9 layers of fraud detection so you can handle sensitive user data with confidence.
Features:
Complete voter control
Gutenberg compatible
Fraud detection
Multilingual support
Responsive design
Lifetime free updates
Price: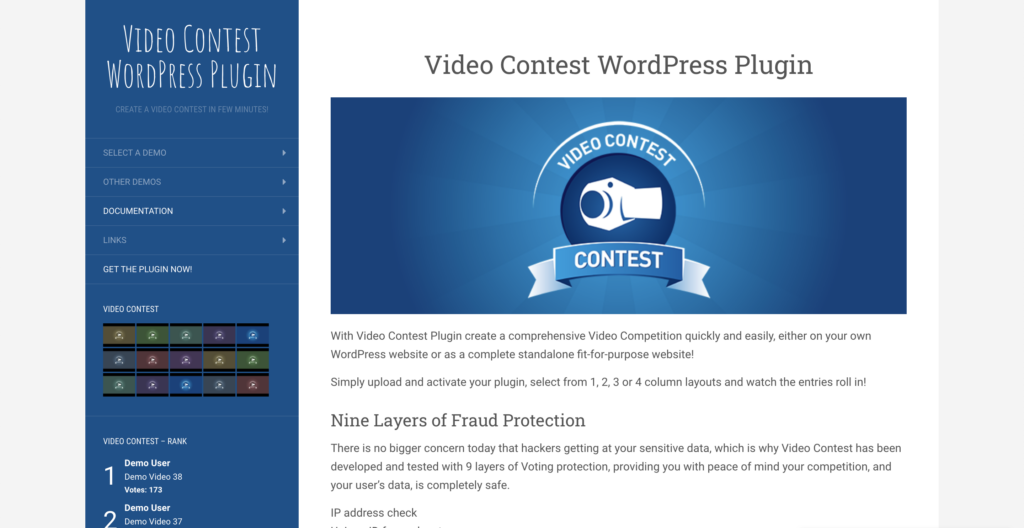 Much like the Photo Contest WordPress Plugin, the Video Contest WordPress Plugin allows you to create professional-looking video contests either on your website or independently.
Video competitions give members of your community to shine and display their creations—all while increasing time on page, lowering your bounce rate, and collecting valuable leads for your business.
Enjoy complete control of submission guidelines, voting, comments, sharing options, and securely export data for further analysis.
Create beautiful galleries ranging between 1 to 4 columns and a fully mobile responsive.
Contestants can add their video links via YouTube, Vimeo, Dailymotion, Facebook, and Instagram.
The Video Contest WordPress Plugin offers 9 layers of fraud detection so your users can feel safe entering personal information to participate in your contests.
Features:
Complete voter control
Compatibility with major video hosting companies
Gutenberg compatible
Fraud detection
Multilingual support
Responsive design
Lifetime free updates
Price:
Conclusion for the best free WordPress giveaway plugins in 2023
That's our list of the best contest plugins for WordPress. You have a plethora of choices, from affordable to premium and different specializations.
Now it's over to you to determine what features are essential for your marketing goals, whether it's the ease of use, team management, visual contests, advanced conditional logic, social media virality, specific integrations, or user-friendly design.
Either way, you're bound to find the perfect WordPress contest plugin for your needs.