* This is an enterprise level feature.
SweepWidget gives you the ability to accept payments into your contest. You can connect your Stripe or PayPal account to SweepWidget to have users pay for entries, products, tickets, ebooks, and so much more. Please read the rules about accepting payments before using it.
Table of contents
You must comply with these terms to use this feature
SweepWidget provides you with the ability to collect payments from your contest. But, most states, countries, and jurisdictions have different laws that dictate how you can legally run a contest while accepting payments. SweepWidget assumes no responsibility for whether you are in compliance with the law. You understand that it is your responsibility to ensure that you are in compliance with the laws of your locality, including offering a free alternate method of entry where applicable. SweepWidget reserves the right at any time to remove the payment feature from your contest at any time.
Types of campaigns that can accept payments
Non-profit raffles and donations
If your company is an approved 501(c)(3) you can accept payments. You will be permitted to run a raffle or collect donations.
Contests
If you are running a skill competition such as an essay contest (something that picks a winner based on judging), you may be allowed to accept payments.
Sell products, tickets, and other items
You can use this feature to collect payments for products, tickets, ebooks, and other digital or physical products.
Sweepstakes
Sweepstakes are promotions that have "no purchase necessary". You are not permitted to accept payments if it's a random draw style sweepstakes.
How to accept payments into a SweepWidget contest
To create a contest that accepts payments, you must first create or edit a giveaway.
Navigate to User Login Steps > Accept Payments and tick the checkbox for Do you want to accept payments.

Next, do the following:
Fill in your Stripe API key or PayPal client ID.
Choose whether or not payment is required
Select the currency
Add a title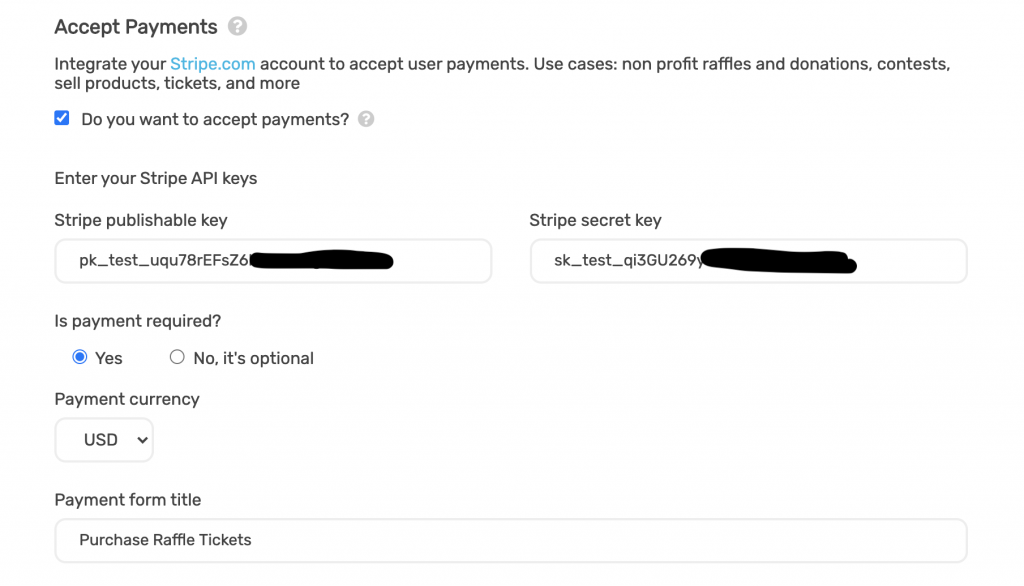 You can select either of the 2 options:
Create a dropdown list of items
Accept a donation
Create a dropdown list of items
This first example is for creating a dropdown list of items. First each item, you must add:
Title
How many entries they will get
Price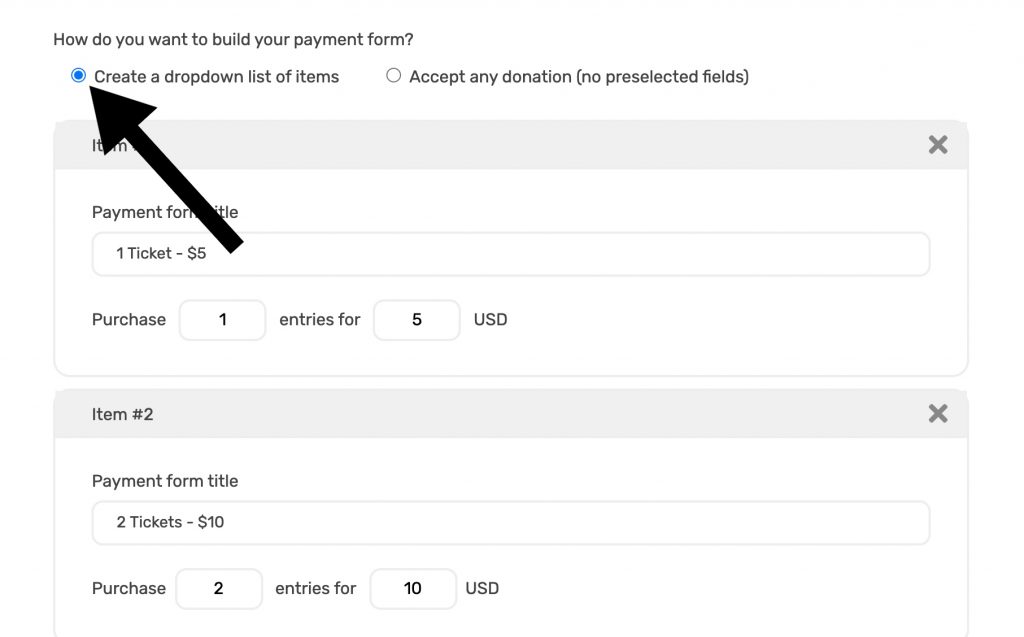 Here's how the live giveaway will look:
Accept a donation
You can also accept a donation. For this, the user can give any amount of money that want (big or small). This is usually good for fundraisers.

Here's how the live giveaway will look: